Abstract
Solids in nature can be generally classified into crystalline and non-crystalline states1,2,3,4,5,6,7, depending on whether long-range lattice periodicity is present in the material. The differentiation of the two states, however, could face fundamental challenges if the degree of long-range order in crystals is significantly reduced. Here we report a paracrystalline state of diamond that is distinct from either crystalline or amorphous diamond8,9,10. The paracrystalline diamond reported in this work, consisting of sub-nanometre-sized paracrystallites that possess a well-defined crystalline medium-range order up to a few atomic shells4,5,11,12,13, was synthesized in high-pressure high-temperature conditions (for example, 30 GPa and 1,600 K) employing face-centred cubic C60 as a precursor. The structural characteristics of the paracrystalline diamond were identified through a combination of X-ray diffraction, high-resolution transmission microscopy and advanced molecular dynamics simulation. The formation of paracrystalline diamond is a result of densely distributed nucleation sites developed in compressed C60 as well as pronounced second-nearest-neighbour short-range order in amorphous diamond due to strong sp3 bonding. The discovery of paracrystalline diamond adds an unusual diamond form to the enriched carbon family14,15,16, which exhibits distinguishing physical properties and can be furthered exploited to develop new materials. Furthermore, this work reveals the missing link in the length scale between amorphous and crystalline states across the structural landscape, having profound implications for recognizing complex structures arising from amorphous materials.
Relevant articles
Open Access articles citing this article.
Yuchen Shang

,

Mingguang Yao

…

Bingbing Liu

Nature Communications Open Access 29 November 2023

Xingjia He

,

Yu Zhang

…

Weitao Zheng

Nature Communications Open Access 11 February 2023
Access options
Access Nature and 54 other Nature Portfolio journals
Get Nature+, our best-value online-access subscription
$29.99 / 30 days
cancel any time
Subscribe to this journal
Receive 51 print issues and online access
$199.00 per year
only $3.90 per issue
Rent or buy this article
Prices vary by article type
from$1.95
to$39.95
Prices may be subject to local taxes which are calculated during checkout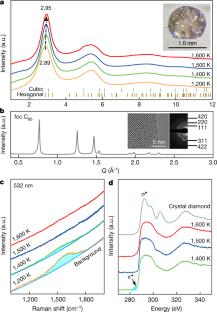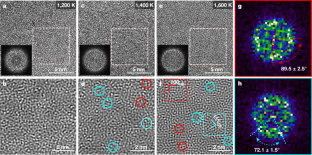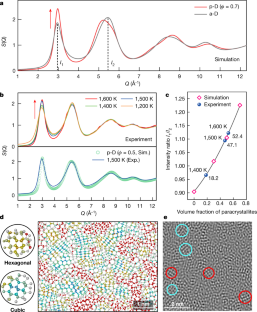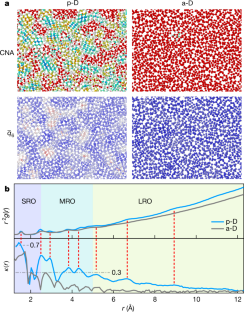 Data availability
The data that support the findings of this study are available from the corresponding authors upon request.
Code availability
The software used for data analysis is available from H.S. upon request.
References
Zallen, R. The Physics of Amorphous Solids (Wiley, 1983).

Zachariasen, W. H. The atomic arrangement in glass. J. Am. Chem. Soc. 54, 3841–3851 (1932).

Elliott, S. R. A continuous random network approach to the structure of vitreous boron trioxide. Philos. Mag. B 37, 435–446 (1978).

Elliott, S. R. Medium-range structural order in covalent amorphous solids. Nature 354, 445–452 (1991).

Sheng, H. W., Luo, W. K., Alamgir, F. M., Bai, J. M. & Ma, E. Atomic packing and short-to-medium-range order in metallic glasses. Nature 439, 419–425 (2006).

Miracle, D. B. A structural model for metallic glasses. Nat. Mater. 3, 697–702 (2004).

Hirata, A. et al. Direct observation of local atomic order in a metallic glass. Nat. Mater. 10, 28–33 (2011).

Hirai, H., Kondo, K., Yoshizawa, N. & Shiraishi, M. Amorphous diamond from C60 fullerene. Appl. Phys. Lett. 64, 1797–1799 (1994).

Zeng, Z. et al. Synthesis of quenchable amorphous diamond. Nat. Commun. 8, 322 (2017).

Lin, Y. et al. Amorphous diamond: a high-pressure superhard carbon allotrope. Phys. Rev. Lett. 107, 175504 (2011).

Treacy, M. M. J. & Borisenko, K. B. The local structure of amorphous silicon. Science 335, 950–953 (2012).

Leocmach, M. & Tanaka, H. Roles of icosahedral and crystal-like order in the hard spheres glass transition. Nat. Commun. 3 (2012).

Gibson, J. M., Treacy, M. M. J., Sun, T. & Zaluzec, N. J. Substantial crystalline topology in amorphous silicon. Phys. Rev. Lett. 105 (2010).

Oganov, A. R., Hemley, R. J., Hazen, R. M. & Jones, A. P. Structure, bonding, and mineralogy of carbon at extreme conditions. Rev. Mineral. Geochem. 75, 47–77 (2013).

Georgakilas, V., Perman, J. A., Tucek, J. & Zboril, R. Broad family of carbon nanoallotropes: classification, chemistry, and applications of fullerenes, carbon dots, nanotubes, graphene, nanodiamonds, and combined superstructures. Chem. Rev. 115, 4744–4822 (2015).

Németh, P. et al. Complex nanostructures in diamond. Nat. Mater. 19, 1126–1131 (2020).

Sarac, B. et al. Origin of large plasticity and multiscale effects in iron-based metallic glasses. Nat. Commun. 9 (2018).

Hwang, J. et al. Nanoscale structure and structural relaxation in Zr50Cu45Al5 bulk metallic glass. Phys. Rev. Lett. 108 (2012).

Voyles, P. M. et al. Structure and physical properties of paracrystalline atomistic models of amorphous silicon. J. Appl. Phys. 90, 4437–4451 (2001).

Robertson, J. Diamond-like amorphous carbon. Mater. Sci. Eng. R Rep. 37, 129–281 (2002).

Ishii, T., Liu, Z. & Katsura, T. A breakthrough in pressure generation by a Kawai-type multi-anvil apparatus with tungsten carbide anvils. Engineering 5, 434–440 (2019).

Iwasa, Y. et al. New phases of C60 synthesized at high pressure. Science 264, 1570–1572 (1994).

Blank, V. D. et al. Phase transformations in solid C60 at high-pressure-high-temperature treatment and the structure of 3D polymerized fullerites. Phys. Lett. A 220, 149–157 (1996).

Zhang, S. et al. Discovery of carbon-based strongest and hardest amorphous material. Preprint at https://arxiv.org/abs/2011.14819 (2020).

Yamanaka, S. et al. Electron conductive three-dimensional polymer of cuboidal C60. Phys. Rev. Lett. 96, 076602 (2006).

Sundqvist, B. Carbon under pressure. Phys. Rep. 909, 1–73 (2021).

Ferrari, A. C. & Robertson, J. Raman spectroscopy of amorphous, nanostructured, diamond–like carbon, and nanodiamond. Philos. Trans. R. Soc. Lond. A Math. Phys. Eng. Sci. 362, 2477–2512 (2004).

Daniels, H., Brydson, R., Rand, B. & Brown, A. Investigating carbonization and graphitization using electron energy loss spectroscopy (EELS) in the transmission electron microscope (TEM). Philos. Mag. 87, 4073–4092 (2007).

Chen, L. J. et al. Structural evolution in amorphous silicon and germanium thin films. Microsc. Microanal. 8, 268–273 (2002).

Wang, Q. et al. The atomic-scale mechanism for the enhanced glass-forming-ability of a Cu-Zr based bulk metallic glass with minor element additions. Sci. Rep. 4 (2014).

Tang, H. et al. Revealing the formation mechanism of ultrahard nanotwinned diamond from onion carbon. Carbon 129, 159–167 (2018).

Plimpton, S. Fast parallel algorithms for short-range molecular dynamics. J. Comput. Phys. 117, 1–19 (1995).

Zhu, S.-c., Yan, X.-z., Liu, J., Oganov, A. R. & Zhu, Q. A revisited mechanism of the graphite-to-diamond transition at high temperature. Matter 3, 864–878 (2020).

Marchi, M. & Ballone, P. Adiabatic bias molecular dynamics: a method to navigate the conformational space of complex molecular systems. J. Chem. Phys. 110, 3697–3702 (1999).

Lee, L. L. Molecular Thermodynamics of Electrolyte Solutions (World Scientific, 2008).

Sheng, H. W. et al. Polyamorphism in a metallic glass. Nat. Mater. 6, 192–197 (2007).

Faken, D. & Jónsson, H. Systematic analysis of local atomic structure combined with 3D computer graphics. Comput. Mater. Sci. 2, 279–286 (1994).

Lechner, W. & Dellago, C. Accurate determination of crystal structures based on averaged local bond order parameters. J. Chem. Phys. 129, 114707 (2008).

Irifune, T., Kurio, A., Sakamoto, S., Inoue, T. & Sumiya, H. Ultrahard polycrystalline diamond from graphite. Nature 421, 599–600 (2003).

Dubrovinskaia, N., Dubrovinsky, L., Langenhorst, F., Jacobsen, S. & Liebske, C. Nanocrystalline diamond synthesized from C60. Diam. Relat. Mater. 14, 16–22 (2005).

Sumiya, H. & Irifune, T. Hardness and deformation microstructures of nano-polycrystalline diamonds synthesized from various carbons under high pressure and high temperature. J. Mater. Res. 22, 2345–2351 (2007).

Huang, Q. et al. Nanotwinned diamond with unprecedented hardness and stability. Nature 510, 250–253 (2014).

Tang, H. et al. Synthesis of nano-polycrystalline diamond in proximity to industrial conditions. Carbon 108, 1–6 (2016).

Hujo, W., Shadrack Jabes, B., Rana, V. K., Chakravarty, C. & Molinero, V. The rise and fall of anomalies in tetrahedral liquids. J. Stat. Phys. 145, 293–312 (2011).

Merlen, A. et al. High pressure–high temperature synthesis of diamond from single-wall pristine and iodine doped carbon nanotube bundles. Carbon 47, 1643–1651 (2009).

Teter, D. M. Computational alchemy: the search for new superhard materials. MRS Bull. 23, 22–27 (1998).

Bewilogua, K. & Hofmann, D. History of diamond-like carbon films — from first experiments to worldwide applications. Surf. Coat. Technol. 242, 214–225 (2014).

Osswald, S., Yushin, G., Mochalin, V., Kucheyev, S. O. & Gogotsi, Y. Control of sp2/sp3 carbon ratio and surface chemistry of nanodiamond powders by selective oxidation in air. J. Am. Chem. Soc. 128, 11635–11642 (2006).

Pu, J.-C., Wang, S.-F. & Sung, J. C. High-temperature oxidation behaviors of CVD diamond films. Appl. Surf. Sci. 256, 668–673 (2009).

Ishii, T. et al. Generation of pressures over 40 GPa using Kawai-type multi-anvil press with tungsten carbide anvils. Rev. Sci. Instrum. 87, 024501 (2016).

Kubo, A. & Akaogi, M. Post-garnet transitions in the system Mg4Si4O12-Mg3Al2Si3O12 up to 28 GPa: phase relations of garnet, ilmenite and perovskite. Phys. Earth Planet. Inter. 121, 85–102 (2000).

Oliver, W. C. & Pharr, G. M. An improved technique for determining hardness and elastic modulus using load and displacement sensing indentation experiments. J. Mater. Res. 7, 1564–1583 (1992).

Kresse, G. & Hafner, J. Ab initio molecular dynamics for liquid metals. Phys. Rev. B 47, 558–561 (1993).

Blöchl, P. E. Projector augmented-wave method. Phys. Rev. B 50, 17953–17979 (1994).

Wooten, F., Winer, K. & Weaire, D. Computer generation of structural models of amorphous Si and Ge. Phys. Rev. Lett. 54, 1392–1395 (1985).

Keating, P. N. Effect of invariance requirements on the elastic strain energy of crystals with application to the diamond structure. Phys. Rev. 145, 637–645 (1966).

Mishin, Y., Mehl, M. J. & Papaconstantopoulos, D. A. Phase stability in the Fe–Ni system: investigation by first-principles calculations and atomistic simulations. Acta Mater. 53, 4029–4041 (2005).

Brommer, P. & Gähler, F. Potfit: effective potentials from ab initio data. Model. Simul. Mat. Sci. Eng. 15, 295–304 (2007).

Cheng, Y. Q., Ma, E. & Sheng, H. W. Atomic level structure in multicomponent bulk metallic glass. Phys. Rev. Lett. 102, 245501 (2009).

Laio, A. & Parrinello, M. Escaping free-energy minima. Proc. Natl Acad. Sci. USA 99, 12562–12566 (2002).

Maragliano, L. & Vanden-Eijnden, E. A temperature accelerated method for sampling free energy and determining reaction pathways in rare events simulations. Chem. Phys. Lett. 426, 168–175 (2006).

Colón-Ramos, D. A., La Riviere, P., Shroff, H. & Oldenbourg, R. Promoting transparency and reproducibility in enhanced molecular simulations. Nat. Methods 16, 670–673 (2019).

Finney, J. L. Random packings and the structure of simple liquids. I. The geometry of random close packing. Proc. R. Soc. Lond. A Math. Phys. Sci. 319, 479–493 (1970).

Steinhardt, P. J., Nelson, D. R. & Ronchetti, M. Bond-orientational order in liquids and glasses. Phys. Rev. B 28, 784–805 (1983).

Stukowski, A. Structure identification methods for atomistic simulations of crystalline materials. Model. Simul. Mat. Sci. Eng. 20, 045021 (2012).

Baxter, R. J. Method of solution of the Percus-Yevick, hypernetted-chain, or similar equations. Phys. Rev. 154, 170–174 (1967).

Dixon, M. & Hutchinson, P. A method for the extrapolation of pair distribution functions. Mol. Phys. 33, 1663–1670 (1977).

Lobato, I., van Aert, S. & Verbeeck, J. Progress and new advances in simulating electron microscopy datasets using MULTEM. Ultramicroscopy 168, 17–27 (2016).

Serebryanaya, N., Blank, V., Ivdenko, V. & Chernozatonskii, L. Pressure-induced superhard phase of C60. Solid State Commun. 118, 183–187 (2001).

Kumar, R. S. et al. X-ray Raman scattering studies on C60 fullerenes and multi-walled carbon nanotubes under pressure. Diam. Relat. Mater. 16, 1250–1253 (2007).

Solozhenko, V. L., Kurakevych, O. O., Andrault, D., Le Godec, Y. & Mezouar, M. Ultimate metastable solubility of boron in diamond: synthesis of superhard diamondlike BC5. Phys. Rev. Lett. 102, 015506 (2009).

Solozhenko, V. L., Dub, S. N. & Novikov, N. V. Mechanical properties of cubic BC2N, a new superhard phase. Diam. Relat. Mater. 10, 2228–2231 (2001).

Pan, Z., Sun, H., Zhang, Y. & Chen, C. Harder than diamond: superior indentation strength of wurtzite BN and lonsdaleite. Phys. Rev. Lett. 102, 055503 (2009).

Blase, X., Gillet, P., Miguel, A. S. & Mélinon, P. Exceptional ideal strength of carbon clathrates. Phys. Rev. Lett. 92 (2004).

Li, B., Sun, H. & Chen, C. Extreme mechanics of probing the ultimate strength of nanotwinned diamond. Phys. Rev. Lett. 117 (2016).

Chang, Y. Y., Jacobsen, S. D., Kimura, M., Irifune, T. & Ohno, I. Elastic properties of transparent nano-polycrystalline diamond measured by GHz-ultrasonic interferometry and resonant sphere methods. Phys. Earth Planet. Inter. 228, 47–55 (2014).
Acknowledgements
We thank H.K. Mao for insightful discussions. This work was supported by the National Natural Science Foundation of China (grant numbers 12075215 and 61471307), the Fundamental Research Funds for the Central Universities (grant number 20720200075) and the European Research Council under the European Union's Horizon 2020 research and innovation programme (proposal no. 787527). The work at George Mason University was supported by the NSF under grant no. DMR-1611064.
Ethics declarations
Competing interests
The authors declare no competing interests.
Additional information
Peer review information Nature thanks Artem Oganov, Alfonso San Miguel, Yogesh Vohra and the other, anonymous, reviewer(s) for their contribution to the peer review of this work. Peer reviewer reports are available.
Publisher's note Springer Nature remains neutral with regard to jurisdictional claims in published maps and institutional affiliations.
Extended data figures and tables
Supplementary information
Nucleation and growth of diamond paracrystallites from MD simulation. Adiabatic-bias MD simulation showing the nucleation process of p-D. The morphologies of the p-D nuclei are dynamically changing. The critical nucleus size (20–30 atoms) is found to be ~3.0 Å, suggesting that the paracrystallites belong to supercritical nuclei.
About this article
Cite this article
Tang, H., Yuan, X., Cheng, Y. et al. Synthesis of paracrystalline diamond. Nature 599, 605–610 (2021). https://doi.org/10.1038/s41586-021-04122-w
Received:

Accepted:

Published:

Issue Date:

DOI: https://doi.org/10.1038/s41586-021-04122-w
Comments
By submitting a comment you agree to abide by our Terms and Community Guidelines. If you find something abusive or that does not comply with our terms or guidelines please flag it as inappropriate.