Abstract
Associative memories guide behavioural adaptation by binding together outcome-predictive sensory stimuli1,2. However, in a feature-rich environment, only a subset of stimuli may predict a desired outcome3,4. How neural circuits enable behavioural adaptation by selectively and durably representing subsets of sensory stimuli that are pertinent to a specific outcome is not known. We investigated this feature selection process in the hippocampus during memory acquisition and subsequent consolidation. Two-photon calcium imaging of CA3 axonal projections to CA1 combined with simultaneous local field potential recordings revealed that CA3 projections that encode behaviourally informative sensory stimuli were selectively recruited during the memory replay events that underlie hippocampal memory consolidation5. These axonal projections formed sequential assemblies that conjunctively link sensory features to spatial location and thus reward proximity. By contrast, axons encoding uninformative, peripatetic sensory cues were notably suppressed during memory replay. Thus, while the hippocampus comprehensively encodes the real-time sensory environment, it implements a flexible filtering mechanism to maximize the utility of memories destined for long-term storage. We propose that utility-dependent recruitment of sensory experience during memory consolidation is a general coding principle for associative learning.
Access options
Access Nature and 54 other Nature Portfolio journals
Get Nature+, our best-value online-access subscription
$29.99 / 30 days
cancel any time
Subscribe to this journal
Receive 51 print issues and online access
$199.00 per year
only $3.90 per issue
Rent or buy this article
Prices vary by article type
from$1.95
to$39.95
Prices may be subject to local taxes which are calculated during checkout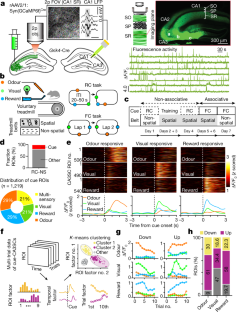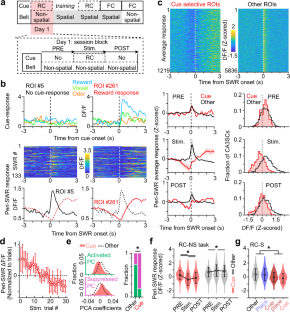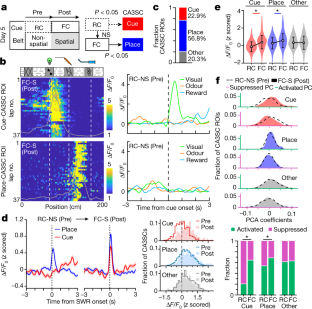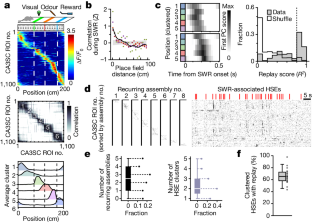 Similar content being viewed by others
Data availability
Datasets included in this study are available from the corresponding author upon reasonable request. Source data are provided with this paper.
References
Eichenbaum, H. A cortical–hippocampal system for declarative memory. Nat. Rev. Neurosci. 1, 41-50, (2000).

Whittington, J. C. R. et al. The Tolman–Eichenbaum machine: unifying space and relational memory through generalization in the hippocampal formation. Cell 183, 1249-1263, (2020).

Desimone, R. & Duncan, J. Neural mechanisms of selective visual attention. Ann. Rev. Neurosci. 18, 193-222, (1995).

Knudsen, E. I. Fundamental components of attention. Ann. Rev. Neurosci. 30, 57-78, (2007).

Buzsaki, G. Hippocampal sharp wave-ripple: a cognitive biomarker for episodic memory and planning. Hippocampus 25, 1073-1188, (2015).

Kentros, C. G., Agnihotri, N. T., Streater, S., Hawkins, R. D. & Kandel, E. R. Increased attention to spatial context increases both place field stability and spatial memory. Neuron 42, 283-295 (2004).

Rowland, D. C. & Kentros, C. G. Potential anatomical basis for attentional modulation of hippocampal neurons. Ann. N.Y. Acad. Sci. 1129, 213-224, (2008).

Aronov, D., Nevers, R. & Tank, D. W. Mapping of a non-spatial dimension by the hippocampal–entorhinal circuit. Nature 543, 719-722, (2017).

Constantinescu, A. O., O'Reilly, J. X. & Behrens, T. E. J. Organizing conceptual knowledge in humans with a gridlike code. Science 352, 1464-1468, (2016).

Kesner, R. P. & Rolls, E. T. A computational theory of hippocampal function, and tests of the theory: new developments. Neurosci. Biobehav. Rev. 48, 92-147, (2015).

Nakazawa, K. et al. Hippocampal CA3 NMDA receptors are crucial for memory acquisition of one-time experience. Neuron 38, 305-315 (2003).

Kudrimoti, H. S., Barnes, C. A. & McNaughton, B. L. Reactivation of hippocampal cell assemblies: effects of behavioral state, experience, and EEG dynamics. J. Neurosci. 19, 4090-4101 (1999).

Wilson, M. A. & McNaughton, B. L. Reactivation of hippocampal ensemble memories during sleep. Science 265, 676-679 (1994).

Jadhav, S. P., Kemere, C., German, P. W. & Frank, L. M. Awake hippocampal sharp-wave ripples support spatial memory. Science 336, 1454-1458, (2012).

Nakashiba, T., Buhl, D. L., McHugh, T. J. & Tonegawa, S. Hippocampal CA3 output is crucial for ripple-associated reactivation and consolidation of memory. Neuron 62, 781-787, (2009).

Nakashiba, T., Young, J. Z., McHugh, T. J., Buhl, D. L. & Tonegawa, S. Transgenic inhibition of synaptic transmission reveals role of CA3 output in hippocampal learning. Science 319, 1260-1264, (2008).

Csicsvari, J., Hirase, H., Mamiya, A. & Buzsaki, G. Ensemble patterns of hippocampal CA3–CA1 neurons during sharp wave-associated population events. Neuron 28, 585-594, (2000).

Diba, K. & Buzsaki, G. Forward and reverse hippocampal place-cell sequences during ripples. Nat. Neurosci. 10, 1241-1242, (2007).

Danielson, N. B. et al. Sublayer-specific coding dynamics during spatial navigation and learning in hippocampal area CA1. Neuron 91, 652-665, (2016).

Zaremba, J. D. et al. Impaired hippocampal place cell dynamics in a mouse model of the 22q11.2 deletion. Nat. Neurosci. 20, 1612-1623, (2017).

O'Keefe, J. & Dostrovsky, J. The hippocampus as a spatial map. Preliminary evidence from unit activity in the freely-moving rat. Brain Res. 34, 171-175 (1971).

Hunt, D. L., Linaro, D., Si, B., Romani, S. & Spruston, N. A novel pyramidal cell type promotes sharp-wave synchronization in the hippocampus. Nat. Neurosci. 21, 985-995, (2018).

Soltesz, I. & Losonczy, A. CA1 pyramidal cell diversity enabling parallel information processing in the hippocampus. Nat. Neurosci. 21, 484-493, (2018).

Mysore, S. P. & Knudsen, E. I. Reciprocal inhibition of inhibition: a circuit motif for flexible categorization in stimulus selection. Neuron 73, 193-205, (2012).

Geiller, T. et al. Large-scale 3D two-photon imaging of molecularly identified CA1 interneuron dynamics in behaving mice. Neuron 108, 968-983, (2020).

Gupta, A. S., van der Meer, M. A., Touretzky, D. S. & Redish, A. D. Hippocampal replay is not a simple function of experience. Neuron 65, 695-705, (2010).

Wu, C. T., Haggerty, D., Kemere, C. & Ji, D. Hippocampal awake replay in fear memory retrieval. Nat. Neurosci. 20, 571-580, (2017).

Ahmed, M. S. et al. Hippocampal network reorganization underlies the formation of a temporal association memory. Neuron, https://doi.org/10.1016/j.neuron.2020.04.013 (2020).

Liu, Y., Mattar, M. G., Behrens, T. E. J., Daw, N. D. & Dolan, R. J. Experience replay is associated with efficient nonlocal learning. Science 372, https://doi.org/10.1126/science.abf1357 (2021).

Grosmark, A. D. & Buzsaki, G. Diversity in neural firing dynamics supports both rigid and learned hippocampal sequences. Science 351, 1440-1443, (2016).

Kaufman, A. M., Geiller, T. & Losonczy, A. A role for the locus coeruleus in hippocampal CA1 place cell reorganization during spatial reward learning. Neuron 105, 1018-1026, (2020).

Kaifosh, P., Lovett-Barron, M., Turi, G. F., Reardon, T. R. & Losonczy, A. Septo-hippocampal GABAergic signaling across multiple modalities in awake mice. Nat. Neurosci. 16, 1182-1184, (2013).

Lovett-Barron, M. et al. Dendritic inhibition in the hippocampus supports fear learning. Science 343, 857-863, (2014).

Pachitariu, M. et al. Suite2p: beyond 10,000 neurons with standard two-photon microscopy. Preprint at bioRxiv, 061507, https://doi.org/10.1101/061507 (2016).

Hainmueller, T. & Bartos, M. Parallel emergence of stable and dynamic memory engrams in the hippocampus. Nature 558, 292-296, (2018).

Dong, C., Madar, A. D. & Sheffield, M. E. J. Distinct place cell dynamics in CA1 and CA3 encode experience in new environments. Nat. Commun. 12, 2977, (2021).

Rajasethupathy, P. et al. Projections from neocortex mediate top–down control of memory retrieval. Nature, https://doi.org/10.1038/nature15389 (2015).

Ali, F. & Kwan, A. C. Interpreting in vivo calcium signals from neuronal cell bodies, axons, and dendrites: a review. Neurophotonics 7, 011402, (2020).

Cox, C. L., Denk, W., Tank, D. W. & Svoboda, K. Action potentials reliably invade axonal arbors of rat neocortical neurons. Proc. Natl Acad. Sci. USA 97, 9724-9728, (2000).

Petreanu, L. et al. Activity in motor-sensory projections reveals distributed coding in somatosensation. Nature 489, 299-303, (2012).

Dugladze, T., Schmitz, D., Whittington, M. A., Vida, I. & Gloveli, T. Segregation of axonal and somatic activity during fast network oscillations. Science 336, 1458-1461, (2012).

Williams, A. H. et al. Unsupervised discovery of demixed, low-dimensional neural dynamics across multiple timescales through tensor component analysis. Neuron 98, 1099-1115, (2018).

Skaggs, W. E., Mcnaughton, B. L., Markus, E. J. & Gothard, K. M. in Advances in Neural Information Process Systems (eds Hanson, S. et al.) Vol. 5, 1030–1037 (Morgan Kaufmann, 1993).

Mackevicius, E. L. et al. Unsupervised discovery of temporal sequences in high-dimensional datasets, with applications to neuroscience. eLife 8, https://doi.org/10.7554/eLife.38471 (2019).

Malvache, A., Reichinnek, S., Villette, V., Haimerl, C. & Cossart, R. Awake hippocampal reactivations project onto orthogonal neuronal assemblies. Science 353, 1280-1283, (2016).

Ecker, A. et al. Hippocampal sharp wave-ripples and the associated sequence replay emerge from structured synaptic interactions in a network model of area CA3. Preprint at bioRxiv, 2021.2002.2018.431868, https://doi.org/10.1101/2021.02.18.431868 (2021).

Friedrich, J., Zhou, P. & Paninski, L. Fast online deconvolution of calcium imaging data. PLoS Comput. Biol. 13, e1005423, (2017).
Acknowledgements
S.T. is supported by a JSPS Overseas Fellowship. A.L. is supported by National Institute of Mental Health (NIMH) 1R01MH124047 and 1R01MH124867, National Institute of Neurological Disorders and Stroke (NINDS) 1U19NS104590 and 1U01NS115530, and the Kavli Foundation. B.V. is supported by grants (NIH) T32GM007367 and (NIMH) F30MH125628, J.O. is supported by F32MH118716. Z.L. is supported by NINDS F31NS120783-01 and NIH T32GM007367. We thank S. Fusi, M. Shadlen, J. Gottlieb, F. Polleux and I. Soltesz, as well as members of the Losonczy laboratory and D. Hadjiabadi (Soltesz laboratory), for their invaluable comments on previous versions of the manuscript.
Ethics declarations
Competing interests
The authors declare no competing interests.
Additional information
Peer review information Nature thanks Aman Saleem and the other, anonymous, reviewer(s) for their contribution to the peer review of this work.
Publisher's note Springer Nature remains neutral with regard to jurisdictional claims in published maps and institutional affiliations.
Extended data figures and tables
Supplementary information
About this article
Cite this article
Terada, S., Geiller, T., Liao, Z. et al. Adaptive stimulus selection for consolidation in the hippocampus. Nature 601, 240–244 (2022). https://doi.org/10.1038/s41586-021-04118-6
Received:

Accepted:

Published:

Issue Date:

DOI: https://doi.org/10.1038/s41586-021-04118-6
This article is cited by
Bert Vancura
Tristan Geiller
Attila Losonczy

Nature Neuroscience (2023)
Comments
By submitting a comment you agree to abide by our Terms and Community Guidelines. If you find something abusive or that does not comply with our terms or guidelines please flag it as inappropriate.