Abstract
Stress responses allow cells to adapt to changes in external conditions by activating specific pathways1. Here we investigate the dynamics of single cells that were subjected to acute stress that is too strong for a regulated response but not lethal. We show that when the growth of bacteria is arrested by acute transient exposure to strong inhibitors, the statistics of their regrowth dynamics can be predicted by a model for the cellular network that ignores most of the details of the underlying molecular interactions. We observed that the same stress, applied either abruptly or gradually, can lead to totally different recovery dynamics. By measuring the regrowth dynamics after stress exposure on thousands of cells, we show that the model can predict the outcome of antibiotic persistence measurements. Our results may account for the ubiquitous antibiotic persistence phenotype2, as well as for the difficulty in attempts to link it to specific genes3. More generally, our approach suggests that two different cellular states can be observed under stress: a regulated state, which prepares cells for fast recovery, and a disrupted cellular state due to acute stress, with slow and heterogeneous recovery dynamics. The disrupted state may be described by general properties of large random networks rather than by specific pathway activation. Better understanding of the disrupted state could shed new light on the survival and evolution of cells under stress.
Relevant articles
Open Access articles citing this article.
Elena Mariotto

,

Elena Rampazzo

…

Luca Persano

Acta Neuropathologica Communications Open Access 17 November 2023

Yifan Yang

,

Omer Karin

…

Uri Alon

Nature Communications Open Access 18 April 2023

Bingyan Wei

,

Tao Zhang

…

Cai-Guang Yang

Nature Communications Open Access 14 November 2022
Access options
Access Nature and 54 other Nature Portfolio journals
Get Nature+, our best-value online-access subscription
$29.99 / 30 days
cancel any time
Subscribe to this journal
Receive 51 print issues and online access
$199.00 per year
only $3.90 per issue
Rent or buy this article
Prices vary by article type
from$1.95
to$39.95
Prices may be subject to local taxes which are calculated during checkout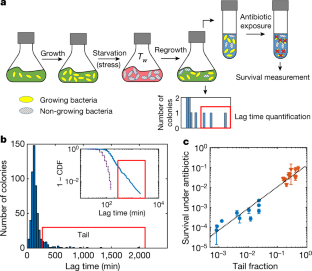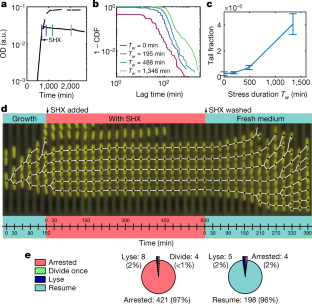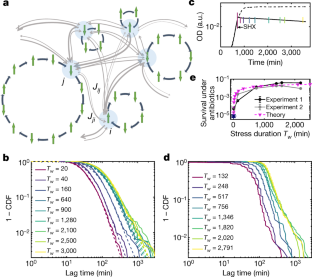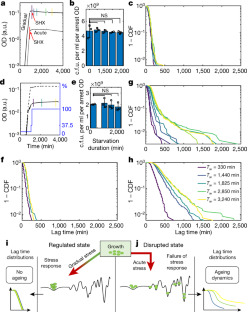 Data availability
Source data for Figs. 1–4 are provided with the paper. Source data are provided with this paper.
References
Storz, G. & Hengge, R. Bacterial Stress Responses (ASM, 2011).

Balaban, N. Q. et al. Definitions and guidelines for research on antibiotic persistence. Nat. Rev. Microbiol. 17, 441–448 (2019).

Levin, B. R., Concepcion-Acevedo, J. & Udekwu, K. I. Persistence: a copacetic and parsimonious hypothesis for the existence of non-inherited resistance to antibiotics. Curr. Opin. Microbiol. 21, 18–21 (2014).

Balaban, N. Q., Merrin, J., Chait, R., Kowalik, L. & Leibler, S. Bacterial persistence as a phenotypic switch. Science 305, 1622–1625 (2004).

Levin-Reisman, I. et al. Automated imaging with ScanLag reveals previously undetectable bacterial growth phenotypes. Nat. Methods 7, 737–739 (2010).

Johnson, P. J. T. & Levin, B. R. Pharmacodynamics, population dynamics, and the evolution of persistence in Staphylococcus aureus. PLoS Genet. 9, e1003123 (2013).

Fridman, O., Goldberg, A., Ronin, I., Shoresh, N. & Balaban, N. Q. Optimization of lag time underlies antibiotic tolerance in evolved bacterial populations. Nature 513, 418–421 (2014).

Lewis, K. Persister Cells and Infectious Disease (Springer Nature, 2019).

Brauner, A., Fridman, O., Gefen, O. & Balaban, N. Q. Distinguishing between resistance, tolerance and persistence to antibiotic treatment. Nat. Rev. Microbiol. 14, 320–330 (2016).

Luidalepp, H., Joers, A., Kaldalu, N. & Tenson, T. Age of inoculum strongly influences persister frequency and can mask effects of mutations implicated in altered persistence. J. Bacteriol. 193, 3598–3605 (2011).

Pin, C. & Baranyi, J. Single-cell and population lag times as a function of cell age. Appl. Environ. Microbiol. 74, 2534–2536 (2008).

Moreno-Gámez, S. et al. Wide lag time distributions break a trade-off between reproduction and survival in bacteria. Proc. Natl Acad. Sci. USA 117, 18729–18736 (2020).

Potrykus, K. & Cashel, M. (p)ppGpp: still magical? Annu. Rev. Microbiol. 62, 35–51 (2008).

Simsek, E. & Kim, M. Power-law tail in lag time distribution underlies bacterial persistence. Proc. Natl Acad. Sci. USA 116, 17635–17640 (2019).

Potvin-Trottier, L., Luro, S. & Paulsson, J. Microfluidics and single-cell microscopy to study stochastic processes in bacteria. Curr. Opin. Microbiol. 43, 186–192 (2018).

Amir, A., Oreg, Y. & Imry, Y. On relaxations and aging of various glasses. Proc. Natl Acad. Sci. USA 109, 1850–1855 (2012).

Struik, L. in Physical Aging in Amorphous Polymers and Other Materials (Elsevier, 1978).

Hwa, T., Marinari, E., Sneppen, K. & Tang, L. H. Localization of denaturation bubbles in random DNA sequences. Proc. Natl Acad. Sci. USA 100, 4411–4416 (2003).

Cugliandolo, L. F. & Kurchan, J. Analytical solution of the off-equilibrium dynamics of a long-range spin-glass model. Phys. Rev. Lett. 71, 173–176 (1993).

Franz, S., Mezard, M., Parisi, G. & Peliti, L. Measuring equilibrium properties in aging systems. Phys. Rev. Lett. 81, 1758–1761 (1998).

Bouchaud, J. P. Weak ergodicity breaking and aging in disordered-systems. J. Phys. I 2, 1705–1713 (1992).

Ackermann, M., Chao, L., Bergstrom, C. T. & Doebeli, M. On the evolutionary origin of aging. Aging Cell 6, 235–244 (2007).

Kirkpatrick, S. & Sherrington, D. Infinite-ranged models of spin-glasses. Phys. Rev. B 17, 4384–4403 (1978).

Sompolinsky, H., Crisanti, A. & Sommers, H. J. Chaos in random neural networks. Phys. Rev. Lett. 61, 259–262 (1988).

Gabalda-Sagarra, M., Carey, L. B. & Garcia-Ojalvo, J. Recurrence-based information processing in gene regulatory networks. Chaos 28, 106313 (2018).

Ravasz, E., Somera, A. L., Mongru, D. A., Oltvai, Z. N. & Barabasi, A. L. Hierarchical organization of modularity in metabolic networks. Science 297, 1551–1555 (2002).

Nagar, N. et al. Harnessing machine learning to unravel protein degradation in Escherichia coli. mSystems 6, e01296-20 (2021).

Kauffman, S., Peterson, C., Samuelsson, B. & Troein, C. Random Boolean network models and the yeast transcriptional network. Proc. Natl Acad. Sci. USA 100, 14796–14799 (2003).

Himeoka, Y. & Kaneko, K. Theory for transitions between exponential and stationary phases: universal laws for lag time. Phys Rev X 7, 021049 (2017).

Nystrom, T. Conditional senescence in bacteria: death of the immortals. Mol. Microbiol. 48, 17–23 (2003).

Schink, S. J., Biselli, E., Ammar, C. & Gerland, U. Death rate of E. coli during starvation is set by maintenance cost and biomass recycling. Cell Syst. 9, 64–73.e3 (2019).

St John, A. C. & Goldberg, A. L. Effects of reduced energy production on protein degradation, guanosine tetraphosphate, and RNA synthesis in Escherichia coli. J. Biol. Chem. 253, 2705–2711 (1978).

Sangurdekar, D. P., Srienc, F. & Khodursky, A. B. A classification based framework for quantitative description of large-scale microarray data. Genome Biol. 7, R32 (2006).

Gurvich, Y., Leshkowitz, D. & Barkai, N. Dual role of starvation signaling in promoting growth and recovery. PLoS Biol. 15, e2002039 (2017).

Link, H., Fuhrer, T., Gerosa, L., Zamboni, N. & Sauer, U. Real-time metabolome profiling of the metabolic switch between starvation and growth. Nat. Methods 12, 1091–1097 (2015).

Erickson, D. W. et al. A global resource allocation strategy governs growth transition kinetics of Escherichia coli. Nature 551, 119–123 (2017).

Koch, A. L. The adaptive responses of Escherichia coli to a feast and famine existence. Adv. Microb. Physiol. 6, 147–217 (1971).

Braun, E. The unforeseen challenge: from genotype-to-phenotype in cell populations. Rep. Prog. Phys. 78, 036602 (2015).

Tripathi, S., Kessler, D. A. & Levine, H. Biological networks regulating cell fate choice are minimally frustrated. Phys. Rev. Lett. 125, 088101 (2020).

Radzikowski, J. L., Schramke, H. & Heinemann, M. Bacterial persistence from a system-level perspective. Curr. Opin. Biotechnol. 46, 98–105 (2017).

Guo, Y. & Amir, A. Stability of gene regulatory networks. Preprint at arXiv https://arxiv.org/abs/2006.00018v2 (2020).

Sekar, K. et al. Synthesis and degradation of FtsZ quantitatively predict the first cell division in starved bacteria. Mol. Syst. Biol. 14, e8623 (2018).

Madar, D. et al. Promoter activity dynamics in the lag phase of Escherichia coli. BMC Syst. Biol. 7, 136 (2013).

Shamir, M., Bar-On, Y., Phillips, R. & Milo, R. SnapShot: timescales in cell biology. Cell 164, 1302–1302.e1 (2016).

Kaldalu, N. et al. In vitro studies of persister cells. Microbiol. Mol. Biol. Rev. 84, e00070-20 (2020).

Craig, W. A. The post-antibiotic effect. Clin. Microbiol. Newslett. 13, 121–128 (1991).

Holmquist, L. & Kjelleberg, S. Changes in viability, respiratory activity and morphology of the marine Vibrio Sp strain S14 during starvation of individual nutrients and subsequent recovery. FEMS Microbiol. Ecol. 12, 215–224 (1993).

Lopatkin, A. J. & Collins, J. J. Predictive biology: modelling, understanding and harnessing microbial complexity. Nat. Rev. Microbiol. 18, 507–520 (2020).

Imdahl, F., Vafadarnejad, E., Homberger, C., Saliba, A. E. & Vogel, J. Single-cell RNA-sequencing reports growth-condition-specific global transcriptomes of individual bacteria. Nat. Microbiol. 5, 1202–1206 (2020).

Gefen, O., Fridman, O., Ronin, I. & Balaban, N. Q. Direct observation of single stationary-phase bacteria reveals a surprisingly long period of constant protein production activity. Proc. Natl Acad. Sci. USA 111, 556–561 (2014).

Edelstein, A. D. et al. Advanced methods of microscope control using μManager software. J. Biol. Methods 1, e10 (2014).

Kaplan, Y. et al. Observation of Universal Ageing Dynamics in Antibiotic Persistence https://doi.org/10.5281/zenodo.5516475 (2021).
Acknowledgements
We thank B. Seo and J. Paulsson for the microfluidic mother-machine templates; and N. Barkai, Y. Burak and A. Rotem for comments on the manuscript and for illuminating discussions. This work was supported by the European Research Council (consolidator grant no. 681819), the Israel Science Foundation (grant no. 597/20) and the Minerva Foundation.
Ethics declarations
Competing interests
The authors declare no competing interests.
Additional information
Peer review information Nature thanks Bruce Levin, Nozomu Yachie and the other, anonymous, reviewer(s) for their contribution to the peer review of this work. Peer reviewer reports are available.
Publisher's note Springer Nature remains neutral with regard to jurisdictional claims in published maps and institutional affiliations.
Extended data figures and tables
Supplementary information
This file contains the Supplementary Methods and Supplementary Notes on the RCCN Model, Supplementary Tables 1–3 and Supplementary References.
About this article
Cite this article
Kaplan, Y., Reich, S., Oster, E. et al. Observation of universal ageing dynamics in antibiotic persistence. Nature 600, 290–294 (2021). https://doi.org/10.1038/s41586-021-04114-w
Received:

Accepted:

Published:

Issue Date:

DOI: https://doi.org/10.1038/s41586-021-04114-w
Comments
By submitting a comment you agree to abide by our Terms and Community Guidelines. If you find something abusive or that does not comply with our terms or guidelines please flag it as inappropriate.