Abstract
Current models to explain how signals emanating from cutaneous mechanoreceptors generate representations of touch are based on comparisons of the tactile responses of mechanoreceptor subtypes and neurons in somatosensory cortex1,2,3,4,5,6,7,8. Here we used mouse genetic manipulations to investigate the contributions of peripheral mechanoreceptor subtypes to cortical responses to touch. Cortical neurons exhibited remarkably homogeneous and transient responses to skin indentation that resembled rapidly adapting (RA) low-threshold mechanoreceptor (LTMR) responses. Concurrent disruption of signals from both Aβ RA-LTMRs and Aβ slowly adapting (SA)-LTMRs eliminated cortical responses to light indentation forces. However, disruption of either LTMR subtype alone caused opposite shifts in cortical sensitivity but otherwise largely unaltered tactile responses, indicating that both subtypes contribute to normal cortical responses. Selective optogenetic activation of single action potentials in Aβ RA-LTMRs or Aβ SA-LTMRs drove low-latency responses in most mechanically sensitive cortical neurons. Similarly, most somatosensory thalamic neurons were also driven by activation of Aβ RA-LTMRs or Aβ SA-LTMRs. These findings support a model in which signals from physiologically distinct mechanoreceptor subtypes are extensively integrated and transformed within the subcortical somatosensory system to generate cortical representations of touch.
This is a preview of subscription content
Access options
Subscribe to Nature+
Get immediate online access to the entire Nature family of 50+ journals
Subscribe to Journal
Get full journal access for 1 year
$199.00
only $3.90 per issue
All prices are NET prices.
VAT will be added later in the checkout.
Tax calculation will be finalised during checkout.
Buy article
Get time limited or full article access on ReadCube.
$32.00
All prices are NET prices.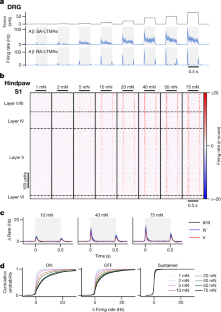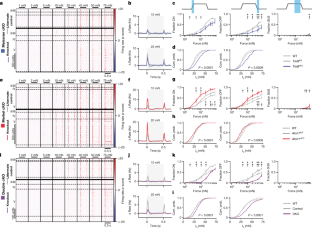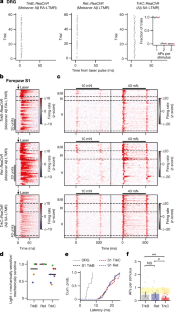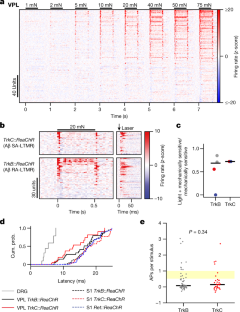 Data availability
Data are available upon request to the corresponding authors. Source data are provided with this paper.
References
Dykes, R. W., Rasmusson, D. D. & Hoeltzell, P. B. Organization of primary somatosensory cortex in the cat. J. Neurophysiol. 43, 1527–1546 (1980).

Mountcastle, V. B. Modality and topographic properties of single neurons of cat's somatic sensory cortex. J. Neurophysiol. 20, 408–434 (1957).

Paul, R. L., Merzenich, M. & Goodman, H. Representation of slowly and rapidly adapting cutaneous mechanoreceptors of the hand in Brodmann's areas 3 and 1 of Macaca mulatta. Brain Res. 36, 229–249 (1972).

Phillips, J. R., Johnson, K. O. & Hsiao, S. S. Spatial pattern representation and transformation in monkey somatosensory cortex. Proc. Natl Acad. Sci. USA 85, 1317–1321 (1988).

Sur, M., Wall, J. T. & Kaas, J. H. Modular segregation of functional cell classes within the postcentral somatosensory cortex of monkeys. Science 212, 1059–1061 (1981).

Sur, M., Wall, J. T. & Kaas, J. H. Modular distribution of neurons with slowly adapting and rapidly adapting responses in area 3b of somatosensory cortex in monkeys. J. Neurophysiol. 51, 724–744 (1984).

Kaas, J. H., Nelson, R. J., Sur, M., Dykes, R. W. & Merzenich, M. M. The somatotopic organization of the ventroposterior thalamus of the squirrel monkey, Saimiri sciureus. J. Comp. Neurol. 226, 111–140 (1984).

Pei, Y. C., Denchev, P. V., Hsiao, S. S., Craig, J. C. & Bensmaia, S. J. Convergence of submodality-specific input onto neurons in primary somatosensory cortex. J. Neurophysiol. 102, 1843–1853 (2009).

Handler, A. & Ginty, D. D. The mechanosensory neurons of touch and their mechanisms of activation. Nat. Rev. Neurosci. 22, 521–537 (2021).

Johnson, K. O. The roles and functions of cutaneous mechanoreceptors. Curr. Opin. Neurobiol. 11, 455–461 (2001).

Bai, L. et al. Genetic identification of an expansive mechanoreceptor sensitive to skin stroking. Cell 163, 1783–1795 (2015).

Moehring, F. et al. Keratinocytes mediate innocuous and noxious touch via ATP-P2X4 signaling. eLife 7, e31684 (2018).

Walcher, J. et al. Specialized mechanoreceptor systems in rodent glabrous skin. J. Physiol. 596, 4995–5016 (2018).

Neubarth, N. L. et al. Meissner corpuscles and their spatially intermingled afferents underlie gentle touch perception. Science 368, eabb2751 (2020).

Lynn, B. & Shakhanbeh, J. Properties of Aδ high threshold mechanoreceptors in the rat hairy and glabrous skin and their response to heat. Neurosci. Lett. 85, 71–76 (1988).

Chapin, J. K. Laminar differences in sizes, shapes, and response profiles of cutaneous receptive fields in the rat SI cortex. Exp. Brain Res. 62, 549–559 (1986).

Enander, J. M. D. & Jörntell, H. Somatosensory cortical neurons decode tactile input patterns and location from both dominant and non-dominant digits. Cell Rep. 26, 3551–3560.e3554 (2019).

Maricich, S. M. et al. Merkel cells are essential for light-touch responses. Science 324, 1580–1582 (2009).

Hooks, B. M., Lin, J. Y., Guo, C. & Svoboda, K. Dual-channel circuit mapping reveals sensorimotor convergence in the primary motor cortex. J. Neurosci. 35, 4418–4426 (2015).

Luo, W., Enomoto, H., Rice, F. L., Milbrandt, J. & Ginty, D. D. Molecular identification of rapidly adapting mechanoreceptors and their developmental dependence on ret signaling. Neuron 64, 841–856 (2009).

Kuehn, E. D., Meltzer, S., Abraira, V. E., Ho, C. Y. & Ginty, D. D. Tiling and somatotopic alignment of mammalian low-threshold mechanoreceptors. Proc. Natl Acad. Sci. USA 116, 9168–9177 (2019).

Gabernet, L., Jadhav, S. P., Feldman, D. E., Carandini, M. & Scanziani, M. Somatosensory integration controlled by dynamic thalamocortical feed-forward inhibition. Neuron 48, 315–327 (2005).

Bruno, R. M. & Simons, D. J. Feedforward mechanisms of excitatory and inhibitory cortical receptive fields. J. Neurosci. 22, 10966–10975 (2002).

Abraira, V. E. et al. The cellular and synaptic architecture of the mechanosensory dorsal horn. Cell 168, 295–310.e219 (2017).

Li, L. et al. The functional organization of cutaneous low-threshold mechanosensory neurons. Cell 147, 1615–1627 (2011).

Prsa, M., Morandell, K., Cuenu, G. & Huber, D. Feature-selective encoding of substrate vibrations in the forelimb somatosensory cortex. Nature 567, 384–388 (2019).

Johnson, K. O. & Hsiao, S. S. Neural mechanisms of tactual form and texture perception. Annu. Rev. Neurosci. 15, 227–250 (1992).

Saal, H. P. & Bensmaia, S. J. Touch is a team effort: interplay of submodalities in cutaneous sensibility. Trends Neurosci. 37, 689–697 (2014).

Sathian, K. Tactile sensing of surface features. Trends Neurosci. 12, 513–519 (1989).

Johansson, R. S. & Flanagan, J. R. Coding and use of tactile signals from the fingertips in object manipulation tasks. Nat. Rev. Neurosci. 10, 345–359 (2009).

Choi, S. et al. Parallel ascending spinal pathways for affective touch and pain. Nature 587, 258–263 (2020).

Madisen, L. et al. A robust and high-throughput Cre reporting and characterization system for the whole mouse brain. Nat. Neurosci. 13, 133–140 (2010).

da Silva, S. et al. Proper formation of whisker barrelettes requires periphery-derived Smad4-dependent TGFβ signaling. Proc. Natl Acad. Sci. USA 108, 3395–3400 (2011).

Liu, Y. et al. Sexually dimorphic BDNF signaling directs sensory innervation of the mammary gland. Science 338, 1357–1360 (2012).

Shroyer, N. F. et al. Intestine-specific ablation of Mouse atonal homolog 1 (Math1) reveals a role in cellular homeostasis. Gastroenterology 132, 2478–2488 (2007).

Ramirez, A. et al. A keratin K5Cre transgenic line appropriate for tissue-specific or generalized Cre-mediated recombination. Genesis 39, 52–57 (2004).

Rutlin, M. et al. The cellular and molecular basis of direction selectivity of Aδ-LTMRs. Cell 159, 1640–1651 (2014).

Wang, V. Y., Rose, M. F. & Zoghbi, H. Y. Math1 expression redefines the rhombic lip derivatives and reveals novel lineages within the brainstem and cerebellum. Neuron 48, 31–43 (2005).

Jun, J. J. et al. Real-time spike sorting platform for high-density extracellular probes with ground-truth validation and drift correction. Preprint at https://doi.org/10.1101/101030 (2017).

Rodriguez, A. & Laio, A. Clustering by fast search and find of density peaks. Science 344, 1492–1496 (2014).

Niell, C. M. & Stryker, M. P. Highly selective receptive fields in mouse visual cortex. J. Neurosci. 28, 7520–7536 (2008).

Bartho, P. et al. Characterization of neocortical principal cells and interneurons by network interactions and extracellular features. J. Neurophysiol. 92, 600–608 (2004).

Shannon, C. E. A mathematical theory of communication. Bell Syst. Tech. J. 27, 379–423, 623–656 (1948).

Magri, C., Whittingstall, K., Singh, V., Logothetis, N. K. & Panzeri, S. A toolbox for the fast information analysis of multiple-site LFP, EEG and spike train recordings. BMC Neurosci. 10, 81 (2009).

Panzeri, S., Senatore, R., Montemurro, M. A. & Petersen, R. S. Correcting for the sampling bias problem in spike train information measures. J. Neurophysiol. 98, 1064–1072 (2007).

Panzeri, S. & Treves, A. Analytical estimates of limited sampling biases in different information measures. Network 7, 87–107 (1996).

Lin, J. Y., Knutsen, P. M., Muller, A., Kleinfeld, D. & Tsien, R. Y. ReaChR: a red-shifted variant of channelrhodopsin enables deep transcranial optogenetic excitation. Nat. Neurosci. 16, 1499–1508 (2013).

Keller, D., Ero, C. & Markram, H. Cell densities in the mouse brain: a systematic review. Front. Neuroanat. 12, 83 (2018).

Cases, O. et al. Lack of barrels in the somatosensory cortex of monoamine oxidase A-deficient mice: role of a serotonin excess during the critical period. Neuron 16, 297–307 (1996).
Acknowledgements
We thank J. Hua, T. Monteiro, and S. Shea for assistance with mouse husbandry and histology, and J. Assad, S. Choi, M. Do, G. Fishell, S. Meltzer, L. Orefice, G. Rankin, C. Santiago and M. Springel for comments on the manuscript. This work was supported by NIH grants F32NS105324 (A.J.E.), K99NS119739 (A.J.E.), R01NS089521 (C.D.H.), DP1MH125776 (C.D.H.), R01NS108410 (C.D.H. and S.P.), NS097344 (D.D.G.), the Fondation Bertarelli (S.P. and D.D.G.) and a Harvard Medical School Dean's Initiative Award (C.D.H. and D.D.G.). D.D.G. is an investigator of the Howard Hughes Medical Institute.
Ethics declarations
Competing interests
The authors declare no competing interests.
Additional information
Peer review information Nature thanks Cheryl Stucky and the other, anonymous, reviewer(s) for their contribution to the peer review of this work.
Publisher's note Springer Nature remains neutral with regard to jurisdictional claims in published maps and institutional affiliations.
Extended data figures and tables
Supplementary information
About this article
Cite this article
Emanuel, A.J., Lehnert, B.P., Panzeri, S. et al. Cortical responses to touch reflect subcortical integration of LTMR signals. Nature 600, 680–685 (2021). https://doi.org/10.1038/s41586-021-04094-x
Received:

Accepted:

Published:

Issue Date:

DOI: https://doi.org/10.1038/s41586-021-04094-x
Comments
By submitting a comment you agree to abide by our Terms and Community Guidelines. If you find something abusive or that does not comply with our terms or guidelines please flag it as inappropriate.