Abstract
Fatty acid uptake and altered metabolism constitute hallmarks of metastasis1,2, yet evidence of the underlying biology, as well as whether all dietary fatty acids are prometastatic, is lacking. Here we show that dietary palmitic acid (PA), but not oleic acid or linoleic acid, promotes metastasis in oral carcinomas and melanoma in mice. Tumours from mice that were fed a short-term palm-oil-rich diet (PA), or tumour cells that were briefly exposed to PA in vitro, remained highly metastatic even after being serially transplanted (without further exposure to high levels of PA). This PA-induced prometastatic memory requires the fatty acid transporter CD36 and is associated with the stable deposition of histone H3 lysine 4 trimethylation by the methyltransferase Set1A (as part of the COMPASS complex (Set1A/COMPASS)). Bulk, single-cell and positional RNA-sequencing analyses indicate that genes with this prometastatic memory predominantly relate to a neural signature that stimulates intratumoural Schwann cells and innervation, two parameters that are strongly correlated with metastasis but are aetiologically poorly understood3,4. Mechanistically, tumour-associated Schwann cells secrete a specialized proregenerative extracellular matrix, the ablation of which inhibits metastasis initiation. Both the PA-induced memory of this proneural signature and its long-term boost in metastasis require the transcription factor EGR2 and the glial-cell-stimulating peptide galanin. In summary, we provide evidence that a dietary metabolite induces stable transcriptional and chromatin changes that lead to a long-term stimulation of metastasis, and that this is related to a proregenerative state of tumour-activated Schwann cells.
Relevant articles
Open Access articles citing this article.
Qiang Zhang

,

Xiaoya Yang

…

Ping Lan

Cell Discovery Open Access 07 March 2023

Mutian Jia

,

Yuanyuan Wang

…

Wei Zhao

Nature Communications Open Access 07 February 2023
Access options
Access Nature and 54 other Nature Portfolio journals
Get Nature+, our best-value online-access subscription
$29.99 / 30 days
cancel any time
Subscribe to this journal
Receive 51 print issues and online access
$199.00 per year
only $3.90 per issue
Rent or buy this article
Get just this article for as long as you need it
$39.95
Prices may be subject to local taxes which are calculated during checkout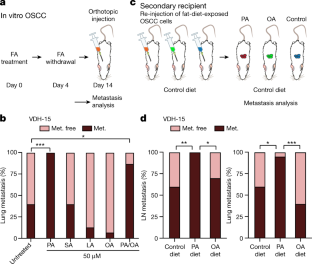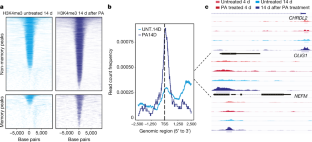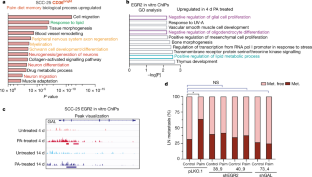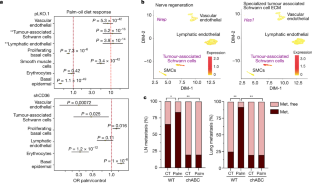 Data availability
All raw data from gene expression RNA microarrays, ChIP–seq, RNA-seq, scRNA-seq, PRO-seq and spatial transcriptomics are available at the Gene Expression Omnibus (GEO) repository under accession code GSE148321. Source data are provided with this paper.
References
Peck, B. & Schulze, A. lipid metabolism at the nexus of diet and tumor microenvironment. Trends Cancer 5, 693–703 (2019).

Pascual, G., Domínguez, D. & Benitah, S. A. The contributions of cancer cell metabolism to metastasis. Dis. Model. Mech. 11, dmm032920 (2018).

Boilly, B., Faulkner, S., Jobling, P. & Hondermarck, H. Nerve dependence: from regeneration to cancer. Cancer Cell 31, 342–354 (2017).

Zahalka, A. H. & Frenette, P. S. Nerves in cancer. Nat. Rev. Cancer 20, 143–157 (2020).

Solans, M., Chan, D. S. M., Mitrou, P., Norat, T. & Romaguera, D. A systematic review and meta-analysis of the 2007 WCRF/AICR score in relation to cancer-related health outcomes. Ann. Oncol. 31, 352–368 (2020).

Pascual, G. et al. Targeting metastasis-initiating cells through the fatty acid receptor CD36. Nature 541, 41–45 (2017).

Lee, C. et al. Tumor metastasis to lymph nodes requires YAP-dependent metabolic adaptation. Science 363, 644–649 (2019).

Rambow, F. et al. Toward minimal residual disease-directed therapy in melanoma. Cell 174, 843–855 (2018).

Haobin, Ye et al. Leukemic stem cells evade chemotherapy by metabolic adaptation to an adipose tissue niche. Cell Stem Cell 19, 23–37.

Abdelmagid, S. A. et al. Comprehensive profiling of plasma fatty acid concentrations in young healthy Canadian adults. PLoS ONE 10, e0116195 (2015).

Feng, R. et al. Free fatty acids profile among lean, overweight and obese non-alcoholic fatty liver disease patients: a case—control study. Lipids Health Dis. 16, 165 (2017).

Nyanbol, Kuol et al. Role of the nervous system in cancer metastasis. J. Exp. Clin. Cancer Res. 37, 5 (2018).

Wang, W. et al. Nerves in the tumour microenvironment: origin and effects. Front. Cell Dev. Biol. 8, 1630 (2020).

Venkatesh, H. S. et al. Electrical and synaptic integration of glioma into neural circuits. Nature 573, 539–545 (2019).

Amit, M. et al. Loss of p53 drives neuron reprogramming in head and neck cancer. Nature 578, 449–454 (2020).

Venkataramani, V. et al. Glutamatergic synaptic input to glioma cells drives brain tumour progression. Nature 573, 532–538 (2019).

Ubink, R., Calza, L. & Hökfelt, T. 'Neuro'-peptides in glia: Focus on NPY and galanin. Trends Neurosci. 26, 604–609 (2003).

Gresle, M. M. et al. Galanin is an autocrine myelin and oligodendrocyte trophic signal induced by leukemia inhibitory factor. Glia 63, 1005–1020 (2015).

Avgustinova, A. & Benitah, S. A. The epigenetics of tumour initiation: cancer stem cells and their chromatin. Curr. Opin. Genet. Dev. 36, 8–15 (2016).

Schuettengruber, B., Bourbon, H.-M., Di Croce, L. & Cavalli, G. Genome regulation by polycomb and trithorax: 70 years and counting. Cell 171, 34–57 (2017).

Fawcett, J. W., Oohashi, T. & Pizzorusso, T. The roles of perineuronal nets and the perinodal extracellular matrix in neuronal function. Nat. Rev. Neurosci. 20, 451–465 (2019)

Quraishe, S., Forbes, L. H. & Andrews, M. R. The extracellular environment of the CNS: influence on plasticity, sprouting, and axonal regeneration after spinal cord injury. Neural Plast. 2018, 2952386 (2018).

Dzyubenko, E., Gottschling, C. & Faissner, A. Neuron-glia interactions in neural plasticity: contributions of neural extracellular matrix and perineuronal nets. Neural Plast. 2016, 5214961 (2016).

Bartus, K. et al. Large-scale chondroitin sulfate proteoglycan digestion with chondroitinase gene therapy leads to reduced pathology and modulates macrophage phenotype following spinal cord contusion injury. J. Neurosci. 34, 4822–4836 (2014).

McDonald, O. G. et al. Epigenomic reprogramming during pancreatic cancer progression links anabolic glucose metabolism to distant metastasis. Nat. Genet. 49, 367–376 (2017).

Shi, X. et al. The abundance of metabolites related to protein methylation correlates with the metastatic capacity of human melanoma xenografts. Sci. Adv. 3, 11 (2017).

Clements. M. P. et al. The wound microenvironment reprograms Schwann cells to invasive mesenchymal-like cells to drive peripheral nerve regeneration. Neuron 96, 98–114 (2017).

Johnston, A. et al. Dedifferentiated Schwann cell precursors secreting paracrine factors are required for regeneration of the mammalian digit tip. Stem Cell 19, 433–448 (2016).

Ana-Maria, E. et al. Targeting CD36 as biomarker for metastasis prognostic: how far from translation into clinical practice? BioMed Res. Int. 2018, 7801202 (2018).

Gabriele, B. & Sarah-Maria, F. The metabolism of cancer cells during metastasis. Nat. Rev. Cancer 21, 162–180 (2021).

Sundaresan, S. & Abumrad, N. A. Dietary lipids inform the gut and brain about meal arrival via CD36-mediated signal transduction. J. Nutr. 145, 2195–2200 (2015).

Wang, L. et al. A cytoplasmic COMPASS is necessary for cell survival and triple-negative breast cancer pathogenesis by regulating metabolism. Genes Dev. 31, 2056–2066 (2017).

Bledau, A. S. et al. The H3K4 methyltransferase Setd1a is first required at the epiblast stage, whereas Setd1b becomes essential after gastrulation. Development 141, 1022–1035 (2014).

Liu, D., Archer, N., Duesing, K., Hannan, G. & Keast, R. Mechanism of fat taste perception: association with diet and obesity. Prog. Lipid Res. 63, 41–49 (2016).

Yang, P. et al. Dietary oleic acid-induced CD36 promotes cervical cancer cell growth and metastasis via up-regulation Src/ERK pathway. Cancer Lett. 438, 76–85 (2018).

Ubellacker, J. M. et al. Lymph protects metastasizing melanoma cells from ferroptosis. Nature 585, 113–118 (2020).

Vriens, K. et al. Evidence for an alternative fatty acid desaturation pathway increasing cancer plasticity. Nature 566, 403–406 (2019).

Myers, J. N., Holsinger, F. C., Jasser, S. A., Bekele, B. N. & Fidler, I. J. An orthotopic nude mouse model of oral tongue squamous cell carcinoma. Clin. Cancer Res. 8, 293–298 (2002).

Benaich, N. et al. Rewiring of an epithelial differentiation factor, miR-203, to inhibit human squamous cell carcinoma metastasis. Cell Rep. 9, 104–117 (2014).

Schneider, T. E. et al. Measuring stem cell frequency in epidermis: a quantitative in vivo functional assay for long-term repopulating cells. Proc. Natl Acad. Sci. USA 100, 11412–11417 (2003).

Shwartz, Y. et al. Cell types promoting goosebumps form a niche to regulate hair follicle stem cells. Cell 182, 578–593, (2021).

Bhandari, M. et al. Galanin receptor antagonist M35 but not M40 or C7 ameliorates cerulein-induced acute pancreatitis in mice. Pancreatology 10, 682–688 (2011).

Zuber, J. et al. Mouse models of human AML accurately predict chemotherapy response. Genes Dev. 23, 877–889 (2009).

Nowak, J. A. & Fuchs, E. Isolation and culture of epithelial stem cells. Methods Mol. Biol. 482, 215–232 (2009).

Wolock, S. L., Lopez, R. & Klein, A. M. Scrublet: computational identification of cell doublets in single-cell transcriptomic data. Cell Syst. 8, 281–291 (2019).

Hao, Y. et al. Integrated analysis of multimodal single-cell data. Cell 184, 3573–3587 (2021).

Hafemeister, C. & Satija, R. Normalization and variance stabilization of single-cell RNA-seq data using regularized negative binomial regression. Genome Biol. 20, 296 (2019).

Korsunsky, I. et al. Fast, sensitive and accurate integration of single-cell data with Harmony. Nat. Methods 16, 1289–1296 (2019).

Soneson, C. & Robinson, M. D. Bias, robustness and scalability in single-cell differential expression analysis. Nat. Methods 15, 255–261 (2018).

Elosua-Bayes, M., Nieto, P., Mereu, E., Gut, I. & Heyn, H. SPOTlight: seeded NMF regression to deconvolute spatial transcriptomics spots with single-cell transcriptomes. Nucleic Acids Res. 49, e50 (2021).

Bolger, A. M., Lohse, M. & Usadel, B. Trimmomatic: a flexible trimmer for Illumina sequence data. Bioinformatics 30, 2114–2120 (2014).

Li, H. & Durbin, R. Fast and accurate short read alignment with Burrows-Wheeler transform. Bioinformatics 25, 1754–1760 (2009).

Li, H. et al. The Sequence Alignment/Map (SAM) Format and SAMtools. Bioinformatics 25, 2078–2079 (2009).

Zhang, Y. et al. Model-based analysis of ChIP-Seq (MACS). Genome Biol. 9, R137 (2008).

Heinz, S. et al. Simple combinations of lineage-determining transcription factors prime cis-regulatory elements required for macrophage and B cell identities. Mol. Cell 38, 576–589 (2010).

R Core Team R: A Language and Environment for Statistical Computing (R Foundation for Statistical Computing, 2018); http://www.R-project.org/

Stark, R. & Brown, G. DiffBind: differential binding ChIP-seq peak data. Bioconductor 1–27 (2011).

Yu, G., Wang, L. G. & He, Q. Y. ChIP seeker: An R/Bioconductor package for ChIP peak annotation, comparison and visualization. Bioinformatics 31, 2382–2383 (2015).

Chen, E. Y. et al. Enrichr: interactive and collaborative HTML5 gene list enrichment analysis tool. BMC Bioinform. 14, 128 (2013).

Robinson, J. T. et al. Integrative genomics viewer. Nat. Biotechnol. 29, 24–26 (2011).

Douillet, D. et al. Uncoupling histone H3K4 trimethylation from developmental gene expression via an equilibrium of COMPASS, Polycomb and DNA methylation. Nat. Genet. https://doi.org/10.1038/s41588-020-0618-1 (2020).

Picelli, S. et al. Smart-seq2 for sensitive full-length transcriptome profiling in single cells. Nat. Methods 10, 1096–1100 (2013).

Butler, A., Hoffman, P., Smibert, P., Papalexi, E. & Satija, R. Integrating single-cell transcriptomic data across different conditions, technologies, and species. Nat. Biotechnol. 36, 411–420 (2018).

Trapnell, C. et al. The dynamics and regulators of cell fate decisions are revealed by pseudotemporal ordering of single cells. Nat. Biotechnol. 32, 381–386 (2014).

Gonzalez-Roca, E. et al. Accurate expression profiling of very small cell populations. PLoS ONE 5, e14418 (2010).

Irizarry, R. A. et al. Exploration, normalization, and summaries of high density oligonucleotide array probe level data. Biostatistics, 4, 249–264 (2003).

Chenj, J. et al. ToppGene Suite for gene list enrichment analysis and candidate genes for priorizitation. Nucleic Acid Res. 37, W305–W311 (2009).

Berriz, G. F., King, O. D., Bryant, B., Sander, C. & Roth, F. P. Characterizing gene sets with FuncAssociate. Bioinformatics 19, 2502–2504 (2003).

Subramanian, A. et al. Gene set enrichment analysis: a knowledge-based approach for interpreting genome-wide expression profiles. Proc. Natl Acad. Sci. USA 102, 15545–15550 (2005).

Dougherty, J. D. et al. Analytical approaches to RNA profiling data for the identification of genes enriched in specific cells. Nucleic Acids Res. 38, 4218–4230 (2010).

Xu, X. et al. Cell type-specific expression analysis to identify putative cellular mechanisms for neurogenetic disorders. J. Neurosci. 34, 1420–1431 (2014).

Shannon, P. et al. Cytoscape: a software environment for integrated models of biomolecular interaction networks. Genome Res. 13, 2498–2504 (2003).

Zambelli, F. et al. Pscan: finding over-represented transcription factor binding site motifs in sequences from co-regulated or co-expressed genes. Nucleic Acids Res. 37, W247–W252 (2009).

Nagy, A. et al. Validation of miRNA prognostic power in hepatocellular carcinoma using expression data of independent datasets. Sci. Rep. 8, 11515 (2018).

R Core Team R: A Language and Environment for Statistical Computing (R Foundation for Statistical Computing, 2008).

Gentleman, R. C. et al. Bioconductor: open software development for computational biology and bioinformatics. Genome Biol. 5, R80 (2004).

Gautier, L., Cope, L., Bolstad, B. M. & Irizarry, R. A., affy—analysis of Affymetrix GeneChip data at the probe level. Bioinformatics 20, 307–315 (2004).

Bolstad, B. M. et al. in Bioinformatics and Computational Biology Solutions Using R and Bioconductor. Statistics for Biology and Health (eds Gentleman R. et al.) 33–47 (Springer, 2005).

Eklund, A. C. & Szallasi, Z. Correction of technical bias in clinical microarray data improves concordance with known biological information. Genome Biol. 9, R26 (2008).

Smyth, G. in Bioinformatics and Computational Biology Solutions Using R and Bioconductor. Statistics for Biology and Health (eds Gentleman R. et al.) 397–420 (Springer, 2005).

Benjamini, Y. H. Y. Controlling the false discovery rate: a practical and powerful approach to multiple testing. J. R. Stat. Soc. B 57, 289–300 (1995).

Wu, D. et al. ROAST: rotation gene set tests for complex microarray experiments. Bioinformatics 26, 2176–2182 (2010).

B., Efron, & R., Tibshirani, On testing the significance of sets of genes. Ann. Appl. Stat. 1, 107–129 (2007).

Goeman, J. J., & Bühlmann, P. Analyzing gene expression data in terms of gene sets: methodological issues. Bioinformatics 23, 980–987 (2007).

Ashburner, M. et al. Gene Ontology: tool for the unification of biology. Nat. Genet. 25, 25–29 (2000).

Carlson M. org.Hs.eg.db: genome wide annotation for Human. R package version 3.8.2. (2019).

Carlson M. org.Mm.eg.db: genome wide annotation for Mouse. R package version 3.8.2. (2019).
Acknowledgements
We thank the staff at the histology and genomics facilities of the IRB Barcelona for their assistance in this work; and V. Raker for manuscript editing. Research in the S.A.B. laboratory is supported in part by the European Research Council (ERC) under the European Union's Horizon 2020 research and innovation programme (grant agreement no. 787041), the Government of Cataluña (SGR grant), the Government of Spain (MINECO), the La Marató/TV3 Foundation, the Foundation Lilliane Bettencourt, the Spanish Association for Cancer Research (AECC), the Worldwide Cancer Research Foundation (WCRF) and the BBVA Foundation. D. Domínguez was supported by a La Caixa International Fellowship for Doctoral studies; C. Bigas by an FPI fellowship (MINECO); and I.H. by the EU Horizon 2020 Marie Skłodowska-Curie award (no. 754510). H.H. has received funding from the Ministerio de Ciencia, Innovación y Universidades (SAF2017-89109-P; AEI/FEDER, UE). Studies in A. Shilatifard laboratory related to COMPASS are supported by NCI's Outstanding Investigator Award R35CA197569; other research, by funding from University of Miami Miller School of Medicine, Sylvester Comprehensive Cancer Center, grant R01 GM078455 and DP1 CA228041 from the National Institute of Health (to R.S.), and the National Cancer Institute of the National Institutes of Health (no. P30CA240139; note that the content is solely the responsibility of the authors and does not necessarily represent the official views of the National Institutes of Health). The IRB Barcelona is a Severo Ochoa Center of Excellence (MINECO award SEV-2015-0505).
Ethics declarations
Competing interests
S.A.B. is a co-founder and scientific advisor of ONA Therapeutics. The other authors declare no competing interests.
Additional information
Peer review information Nature thanks Sarah-Maria Fendt and the other, anonymous, reviewers for their contribution to the peer review of this work.
Publisher's note Springer Nature remains neutral with regard to jurisdictional claims in published maps and institutional affiliations.
Extended data figures and tables
Supplementary information
About this article
Cite this article
Pascual, G., Domínguez, D., Elosúa-Bayes, M. et al. Dietary palmitic acid promotes a prometastatic memory via Schwann cells. Nature 599, 485–490 (2021). https://doi.org/10.1038/s41586-021-04075-0
Received:

Accepted:

Published:

Issue Date:

DOI: https://doi.org/10.1038/s41586-021-04075-0
Comments
By submitting a comment you agree to abide by our Terms and Community Guidelines. If you find something abusive or that does not comply with our terms or guidelines please flag it as inappropriate.