Abstract
In most animals, the majority of the nervous system is generated and assembled into neuronal circuits during embryonic development1. However, during juvenile stages, nervous systems still undergo extensive anatomical and functional changes to eventually form a fully mature nervous system by the adult stage2,3. The molecular changes in post-mitotic neurons across post-embryonic development and the genetic programs that control these temporal transitions are not well understood4,5. Here, using the model system Caenorhabditis elegans, we comprehensively characterized the distinct functional states (locomotor behaviour) and the corresponding distinct molecular states (transcriptome) of the post-mitotic nervous system across temporal transitions during post-embryonic development. We observed pervasive, neuron-type-specific changes in gene expression, many of which are controlled by the developmental upregulation of the conserved heterochronic microRNA LIN-4 and the subsequent promotion of a mature neuronal transcriptional program through the repression of its target, the transcription factor lin-14. The functional relevance of these molecular transitions are exemplified by a temporally regulated target gene of the LIN-14 transcription factor, nlp-45, a neuropeptide-encoding gene, which we find is required for several distinct temporal transitions in exploratory activity during post-embryonic development. Our study provides insights into regulatory strategies that control neuron-type-specific gene batteries to modulate distinct behavioural states across temporal, sexual and environmental dimensions of post-embryonic development.
This is a preview of subscription content
Access options
Subscribe to Nature+
Get immediate online access to the entire Nature family of 50+ journals
Subscribe to Journal
Get full journal access for 1 year
$199.00
only $3.90 per issue
All prices are NET prices.
VAT will be added later in the checkout.
Tax calculation will be finalised during checkout.
Buy article
Get time limited or full article access on ReadCube.
$32.00
All prices are NET prices.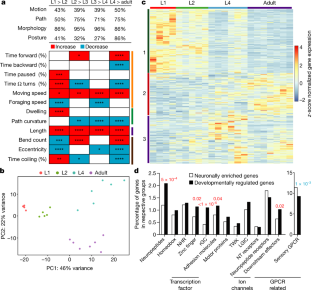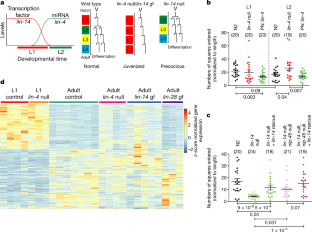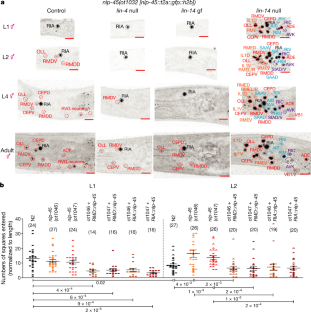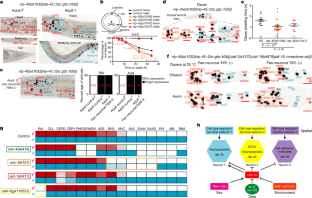 Data availability
Raw and processed RNA-seq data are available under Gene Expression Omnibus (GEO) accession GSE158274. Raw and processed ChIP–seq data are available under GEO accession GSE181288. Raw microscope images of gene expression reporters with NeuroPAL for neuronal cell ID are available at https://zenodo.org/communities/neuropal.
References
Cadwell, C. R., Bhaduri, A., Mostajo-Radji, M. A., Keefe, M. G. & Nowakowski, T. J. Development and arealization of the cerebral cortex. Neuron 103, 980–1004 (2019).

Gogtay, N. et al. Dynamic mapping of human cortical development during childhood through early adulthood. Proc. Natl Acad. Sci. USA 101, 8174–8179 (2004).

Okaty, B. W., Miller, M. N., Sugino, K., Hempel, C. M. & Nelson, S. B. Transcriptional and electrophysiological maturation of neocortical fast-spiking GABAergic interneurons. J. Neurosci. 29, 7040–7052 (2009).

Bakken, T. E. et al. A comprehensive transcriptional map of primate brain development. Nature 535, 367–375 (2016).

Kang, H. J. et al. Spatio-temporal transcriptome of the human brain. Nature 478, 483–489 (2011).

Spitzer, N. C. Electrical activity in early neuronal development. Nature 444, 707–712 (2006).

Stroud, H. et al. An activity-mediated transition in transcription in early postnatal neurons. Neuron 107, 874–890 (2020).

Cepko, C. L. The roles of intrinsic and extrinsic cues and bHLH genes in the determination of retinal cell fates. Curr. Opin. Neurobiol. 9, 37–46 (1999).

Holguera, I. & Desplan, C. Neuronal specification in space and time. Science 362, 176–180 (2018).

Miyares, R. L. & Lee, T. Temporal control of Drosophila central nervous system development. Curr. Opin. Neurobiol. 56, 24–32 (2019).

Pearson, B. J. & Doe, C. Q. Specification of temporal identity in the developing nervous system. Annu. Rev. Cell Dev. Biol. 20, 619–647 (2004).

Witvliet, D. et al. Connectomes across development reveal principles of brain maturation. Nature 596, 257–261 (2021).

Yemini, E., Jucikas, T., Grundy, L. J., Brown, A. E. & Schafer, W. R. A database of Caenorhabditis elegans behavioral phenotypes. Nat. Methods 10, 877–879 (2013).

Steiner, F. A., Talbert, P. B., Kasinathan, S., Deal, R. B. & Henikoff, S. Cell-type-specific nuclei purification from whole animals for genome-wide expression and chromatin profiling. Genome Res. 22, 766–777 (2012).

Deal, R. B. & Henikoff, S. A simple method for gene expression and chromatin profiling of individual cell types within a tissue. Dev. Cell 18, 1030–1040 (2010).

Ambros, V. & Horvitz, H. R. Heterochronic mutants of the nematode Caenorhabditis elegans. Science 226, 409–416 (1984).

Rougvie, A. E. & Moss, E. G. Developmental transitions in C. elegans larval stages. Curr. Top. Dev. Biol. 105, 153–180 (2013).

Feinbaum, R. & Ambros, V. The timing of lin-4 RNA accumulation controls the timing of postembryonic developmental events in Caenorhabditis elegans. Dev. Biol. 210, 87–95 (1999).

Ruvkun, G. & Giusto, J. The Caenorhabditis elegans heterochronic gene lin-14 encodes a nuclear protein that forms a temporal developmental switch. Nature 338, 313–319 (1989).

Marder, E. Neuromodulation of neuronal circuits: back to the future. Neuron 76, 1–11 (2012).

Schoofs, L. & Beets, I. Neuropeptides control life-phase transitions. Proc. Natl Acad. Sci. USA 110, 7973–7974 (2013).

Barrios, A., Ghosh, R., Fang, C., Emmons, S. W. & Barr, M. M. PDF-1 neuropeptide signaling modulates a neural circuit for mate-searching behavior in C. elegans. Nat. Neurosci. 15, 1675–1682 (2012).

Lipton, J., Kleemann, G., Ghosh, R., Lints, R. & Emmons, S. W. Mate searching in Caenorhabditis elegans: a genetic model for sex drive in a simple invertebrate. J. Neurosci. 24, 7427–7434 (2004).

Berkseth, M., Ikegami, K., Arur, S., Lieb, J. D. & Zarkower, D. TRA-1 ChIP-seq reveals regulators of sexual differentiation and multilevel feedback in nematode sex determination. Proc. Natl Acad. Sci. USA 110, 16033–16038 (2013).

Oren-Suissa, M., Bayer, E. A. & Hobert, O. Sex-specific pruning of neuronal synapses in Caenorhabditis elegans. Nature 533, 206–211 (2016).

Lee, K. & Portman, D. S. Neural sex modifies the function of a C. elegans sensory circuit. Curr. Biol. 17, 1858–1863 (2007).

Fielenbach, N. & Antebi, A. C. elegans dauer formation and the molecular basis of plasticity. Genes Dev. 22, 2149–2165 (2008).

Kumar, N. et al. Genome-wide endogenous DAF-16/FOXO recruitment dynamics during lowered insulin signalling in C. elegans. Oncotarget 6, 41418–41433 (2015).

Hobert, O. Terminal selectors of neuronal identity. Curr. Top. Dev. Biol. 116, 455–475 (2016).

Berghoff, E. G. et al. The Prop1-like homeobox gene unc-42 specifies the identity of synaptically connected neurons. eLife 10, e64903 (2021).

Yemini, E. et al. NeuroPAL: a multicolor atlas for whole-brain neuronal identification in C. elegans. Cell 184, 272–288 (2021).

Tursun, B., Cochella, L., Carrera, I. & Hobert, O. A toolkit and robust pipeline for the generation of fosmid-based reporter genes in C. elegans. PLoS ONE 4, e4625 (2009).

Dokshin, G. A., Ghanta, K. S., Piscopo, K. M. & Mello, C. C. Robust genome editing with short single-stranded and long, partially single-stranded dna donors in Caenorhabditis elegans. Genetics 210, 781–787 (2018).

Dickinson, D. J., Pani, A. M., Heppert, J. K., Higgins, C. D. & Goldstein, B. Streamlined genome engineering with a self-excising drug selection cassette. Genetics 200, 1035–1049 (2015).

Ahier, A. & Jarriault, S. Simultaneous expression of multiple proteins under a single promoter in Caenorhabditis elegans via a versatile 2A-based toolkit. Genetics 196, 605–613 (2014).

Frokjaer-Jensen, C. et al. Random and targeted transgene insertion in Caenorhabditis elegans using a modified Mos1 transposon. Nat. Methods 11, 529–534 (2014).

Zhang, F. et al. The LIM and POU homeobox genes ttx-3 and unc-86 act as terminal selectors in distinct cholinergic and serotonergic neuron types. Development 141, 422–435 (2014).

Brockie, P. J., Madsen, D. M., Zheng, Y., Mellem, J. & Maricq, A. V. Differential expression of glutamate receptor subunits in the nervous system of Caenorhabditis elegans and their regulation by the homeodomain protein UNC-42. J. Neurosci. 21, 1510–1522 (2001).

Bhattacharya, A., Aghayeva, U., Berghoff, E. G. & Hobert, O. Plasticity of the electrical connectome of C. elegans. Cell 176, 1174–1189 (2019).

Flavell, S. W. et al. Serotonin and the neuropeptide PDF initiate and extend opposing behavioral states in C. elegans. Cell 154, 1023–1035 (2013).

Chalfie, M., Horvitz, H. R. & Sulston, J. E. Mutations that lead to reiterations in the cell lineages of C. elegans. Cell 24, 59–69 (1981).

Liao, Y., Smyth, G. K. & Shi, W. The R package Rsubread is easier, faster, cheaper and better for alignment and quantification of RNA sequencing reads. Nucleic Acids Res. 47, e47 (2019).

Love, M. I., Huber, W. & Anders, S. Moderated estimation of fold change and dispersion for RNA-seq data with DESeq2. Genome Biol. 15, 550 (2014).

Li, Y. et al. Establishment and maintenance of motor neuron identity via temporal modularity in terminal selector function. eLife 9, e59464 (2020).

Li, H. & Durbin, R. Fast and accurate short read alignment with Burrows-Wheeler transform. Bioinformatics 25, 1754–1760 (2009).

Li, H. et al. The Sequence Alignment/Map format and SAMtools. Bioinformatics 25, 2078–2079 (2009).

Feng, J., Liu, T., Qin, B., Zhang, Y. & Liu, X. S. Identifying ChIP-seq enrichment using MACS. Nat. Protoc. 7, 1728–1740 (2012).

Yu, G., Wang, L. G. & He, Q. Y. ChIPseeker: an R/Bioconductor package for ChIP peak annotation, comparison and visualization. Bioinformatics 31, 2382–2383 (2015).

Machanick, P. & Bailey, T. L. MEME-ChIP: motif analysis of large DNA datasets. Bioinformatics 27, 1696–1697 (2011).

Ross-Innes, C. S. et al. Differential oestrogen receptor binding is associated with clinical outcome in breast cancer. Nature 481, 389–393 (2012).

Zhang, L., Ward, J. D., Cheng, Z. & Dernburg, A. F. The auxin-inducible degradation (AID) system enables versatile conditional protein depletion in C. elegans. Development 142, 4374–4384 (2015).

Aghayeva, U., Bhattacharya, A. & Hobert, O. A panel of fluorophore-tagged daf-16 alleles. MicroPubl. Biol. 2020, https://doi.org/10.17912/micropub.biology.000210 (2020).

Harris, D. T. & Horvitz, H. R. MAB-10/NAB acts with LIN-29/EGR to regulate terminal differentiation and the transition from larva to adult in C. elegans. Development 138, 4051–4062 (2011).

Aeschimann, F. et al. LIN41 post-transcriptionally silences mRNAs by two distinct and position-dependent mechanisms. Mol. Cell 65, 476–489 (2017).

Ramirez, F. et al. deepTools2: a next generation web server for deep-sequencing data analysis. Nucleic Acids Res. 44, W160–W165 (2016).
Acknowledgements
We thank Q. Chen and A. Bhattacharya for generating transgenic lines; D. Rahe for help with INTACT optimization; A. Romero and E. Yemini for help with worm tracking; L. Cochella, M. P. Hart, I. Beets and members of the Hobert laboratory for comments on the manuscript; and staff at Wormbase and the CGC for providing resources and reagents. This work was funded by the NIH K99 HD098371, National Research Council of Canada (Holmes Award) and by the Howard Hughes Medical Institute. Some strains were provided by the CGC, which is funded by the NIH Office of Research Infrastructure Program (P40 OLD010440).
Ethics declarations
Competing interests
The authors declare no competing interests.
Additional information
Peer review information Nature thanks Douglas Portman and the other, anonymous, reviewer(s) for their contribution to the peer review of this work. Peer reviewer reports are available.
Publisher's note Springer Nature remains neutral with regard to jurisdictional claims in published maps and institutional affiliations.
Extended data figures and tables
Supplementary information
About this article
Cite this article
Sun, H., Hobert, O. Temporal transitions in the post-mitotic nervous system of Caenorhabditis elegans. Nature 600, 93–99 (2021). https://doi.org/10.1038/s41586-021-04071-4
Received:

Accepted:

Published:

Issue Date:

DOI: https://doi.org/10.1038/s41586-021-04071-4
Comments
By submitting a comment you agree to abide by our Terms and Community Guidelines. If you find something abusive or that does not comply with our terms or guidelines please flag it as inappropriate.