Abstract
Could learning that uses cognitive control to judiciously use relevant information while ignoring distractions generally improve brain function, beyond forming explicit memories? According to a neuroplasticity hypothesis for how some cognitive behavioural therapies are effective, cognitive control training (CCT) changes neural circuit information processing1,2,3. Here we investigated whether CCT persistently alters hippocampal neural circuit function. We show that mice learned and remembered a conditioned place avoidance during CCT that required ignoring irrelevant locations of shock. CCT facilitated learning new tasks in novel environments for several weeks, relative to unconditioned controls and control mice that avoided the same place during reduced distraction. CCT rapidly changes entorhinal cortex-to-dentate gyrus synaptic circuit function, resulting in an excitatory–inhibitory subcircuit change that persists for months. CCT increases inhibition that attenuates the dentate response to medial entorhinal cortical input, and through disinhibition, potentiates the response to strong inputs, pointing to overall signal-to-noise enhancement. These neurobiological findings support the neuroplasticity hypothesis that, as well as storing item–event associations, CCT persistently optimizes neural circuit information processing.
Relevant articles
Open Access articles citing this article.
Kevin T. Jones

,

Avery E. Ostrand

…

Theodore P. Zanto

Scientific Reports Open Access 08 May 2023
Access options
Access Nature and 54 other Nature Portfolio journals
Get Nature+, our best-value online-access subscription
$29.99 / 30 days
cancel any time
Subscribe to this journal
Receive 51 print issues and online access
$199.00 per year
only $3.90 per issue
Rent or buy this article
Get just this article for as long as you need it
$39.95
Prices may be subject to local taxes which are calculated during checkout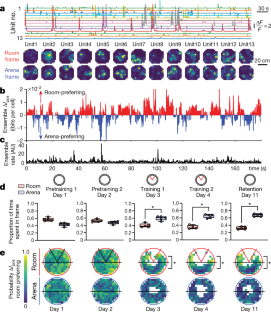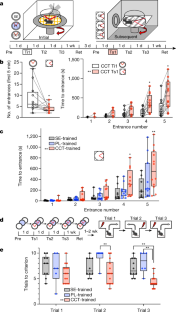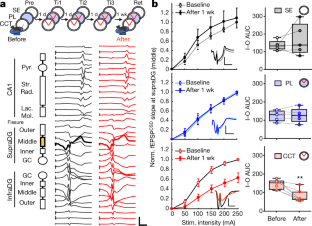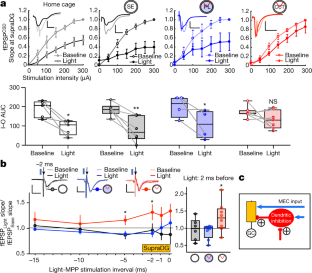 References
Subramaniam, K. et al. Computerized cognitive training restores neural activity within the reality monitoring network in schizophrenia. Neuron 73, 842–853 (2012).

Anguera, J. A. et al. Video game training enhances cognitive control in older adults. Nature 501, 97–101 (2013).

Mishra, J., de Villers-Sidani, E., Merzenich, M. & Gazzaley, A. Adaptive training diminishes distractibility in aging across species. Neuron 84, 1091–1103 (2014).

Thomas, C. & Baker, C. I. Teaching an adult brain new tricks: a critical review of evidence for training-dependent structural plasticity in humans. Neuroimage 73, 225–236 (2013).

Alonso, A., van der Meij, J., Tse, D. & Genzel, L. Naïve to expert: Considering the role of previous knowledge in memory. Brain. Neurosci. Adv. 4, 2398212820948686 (2020).

Yeager, D. S. et al. A national experiment reveals where a growth mindset improves achievement. Nature 573, 364–369 (2019).

Bavelier, D., Green, C. S., Pouget, A. & Schrater, P. Brain plasticity through the life span: learning to learn and action video games. Annu. Rev. Neurosci. 35, 391–416 (2012).

Harlow, H. F. The formation of learning sets. Psychol. Rev. 56, 51–65 (1949).

Brewin, C. R. Theoretical foundations of cognitive-behavior therapy for anxiety and depression. Annu. Rev. Psychol. 47, 33–57 (1996).

de Villers-Sidani, E. et al. Recovery of functional and structural age-related changes in the rat primary auditory cortex with operant training. Proc. Natl Acad. Sci. USA 107, 13900–13905 (2010).

Pavlowsky, A., Wallace, E., Fenton, A. A. & Alarcon, J. M. Persistent modifications of hippocampal synaptic function during remote spatial memory. Neurobiol. Learn. Mem. 138, 182–197 (2017).

Cimadevilla, J. M., Wesierska, M., Fenton, A. A. & Bures, J. Inactivating one hippocampus impairs avoidance of a stable room-defined place during dissociation of arena cues from room cues by rotation of the arena. Proc. Natl Acad. Sci. USA 98, 3531–3536 (2001).

Hsieh, C. et al. Persistent increases of PKMzeta in memory-activated neurons trace LTP maintenance during spatial long-term memory storage. Eur. J. Neurosci. https://doi.org/10.1111/ejn.15137 (2021).

Pastalkova, E. et al. Storage of spatial information by the maintenance mechanism of LTP. Science 313, 1141–1144 (2006).

Tsokas, P. et al. Compensation for PKMzeta in long-term potentiation and spatial long-term memory in mutant mice. eLife 5, e14846, (2016).

Talbot, Z. N. et al. Normal CA1 place fields but discoordinated network discharge in a Fmr1-null mouse model of fragile X syndrome. Neuron 97, 684–697 (2018).

van Dijk, M. T. & Fenton, A. A. On how the dentate gyrus contributes to memory discrimination. Neuron 98, 832–845 (2018).

Wesierska, M., Dockery, C. & Fenton, A. A. Beyond memory, navigation, and inhibition: behavioral evidence for hippocampus-dependent cognitive coordination in the rat. J. Neurosci. 25, 2413–2419 (2005).

Dvorak, D., Chung, A., Park, E. H. & Fenton, A. A. Dentate spikes and external control of hippocampal function. Cell Rep. 36, 109497 (2021).

Whishaw, I. Q. & Gorny, B. Path integration absent in scent-tracking fimbria-fornix rats: evidence for hippocampal involvement in "sense of direction" and "sense of distance" using self-movement cues. J. Neurosci. 19, 4662–4673 (1999).

Bures, J. et al. Dissociation of exteroceptive and idiothetic orientation cues: effect on hippocampal place cells and place navigation. Philos. Trans. R. Soc. Lond. B 352, 1515–1524 (1997).

Jezek, K. et al. Stress-induced out-of-context activation of memory. PLoS Biol. 8, e1000570 (2010).

Garner, A. R. et al. Generation of a synthetic memory trace. Science 335, 1513–1516 (2012).

Witter, M. P. The perforant path: projections from the entorhinal cortex to the dentate gyrus. Prog. Brain Res. 163, 43–61 (2007).

O'Reilly, K. C., Perica, M. I. & Fenton, A. A. Synaptic plasticity/dysplasticity, process memory and item memory in rodent models of mental dysfunction. Schizophr. Res. 207, 22–36 (2019).

Nitz, D. & McNaughton, B. Differential modulation of CA1 and dentate gyrus interneurons during exploration of novel environments. J. Neurophysiol. 91, 863–872 (2004).

Madar, A. D., Ewell, L. A. & Jones, M. V. Temporal pattern separation in hippocampal neurons through multiplexed neural codes. PLoS Comput. Biol. 15, e1006932 (2019).

Mercer, L. F., Jr., Remley, N. R. & Gilman, D. P. Effects of urethane on hippocampal unit activity in the rat. Brain Res. Bull. 3, 567–570 (1978).

Ferrante, M., Migliore, M. & Ascoli, G. A. Feed-forward inhibition as a buffer of the neuronal input-output relation. Proc. Natl Acad. Sci. USA 106, 18004–18009 (2009).

Vasuta, C. et al. Metaplastic regulation of CA1 Schaffer collateral pathway plasticity by Hebbian MGluR1a-mediated plasticity at excitatory synapses onto somatostatin-expressing interneurons. eNeuro 2, ENEURO.0051-15.2015 (2015).

Donato, F., Rompani, S. B. & Caroni, P. Parvalbumin-expressing basket-cell network plasticity induced by experience regulates adult learning. Nature 504, 272–276 (2013).

Letzkus, J. J., Wolff, S. B. & Luthi, A. Disinhibition, a circuit mechanism for associative learning and memory. Neuron 88, 264–276 (2015).

Ling, D. S. et al. Protein kinase Mzeta is necessary and sufficient for LTP maintenance. Nat. Neurosci. 5, 295–296 (2002).

Takeuchi, T., Duszkiewicz, A. J. & Morris, R. G. The synaptic plasticity and memory hypothesis: encoding, storage and persistence. Philos. Trans. R. Soc. Lond. B 369, 20130288 (2013).

Lee, J. W. & Jung, M. W. Separation or binding? Role of the dentate gyrus in hippocampal mnemonic processing. Neurosci. Biobehav. Rev. 75, 183–194 (2017).

Lee, J. W., Kim, W. R., Sun, W. & Jung, M. W. Role of dentate gyrus in aligning internal spatial map to external landmark. Learn. Mem. 16, 530–536 (2009).

Luna, V. M. et al. Adult-born hippocampal neurons bidirectionally modulate entorhinal inputs into the dentate gyrus. Science 364, 578–583 (2019).

Lee, H. et al. Early cognitive experience prevents adult deficits in a neurodevelopmental schizophrenia model. Neuron 75, 714–724 (2012).

Aharoni, D. & Hoogland, T. M. Circuit investigations with open-source miniaturized microscopes: past, present and future. Front. Cell Neurosci. 13, 141 (2019).

Pnevmatikakis, E. A. & Giovannucci, A. NoRMCorre: An online algorithm for piecewise rigid motion correction of calcium imaging data. J. Neurosci. Methods 291, 83–94 (2017).

Pnevmatikakis, E. A. et al. Simultaneous denoising, deconvolution, and demixing of calcium imaging data. Neuron 89, 285–299 (2016).

Zhou, P. et al. Efficient and accurate extraction of in vivo calcium signals from microendoscopic video data. eLife 7, e28728 (2018).

Huang, L. et al. Relationship between simultaneously recorded spiking activity and fluorescence signal in GCaMP6 transgenic mice. eLife 10, e51675 (2021).

Olypher, A. V., Lansky, P., Muller, R. U. & Fenton, A. A. Quantifying location-specific information in the discharge of rat hippocampal place cells. J. Neurosci. Methods 127, 123–135 (2003).

Franklin, K. B. J. & Paxinos, G. The Mouse Brain in Stereotaxic Coordinates 2nd edn (Academic Press, 2001).

Harrison, R. R. et al. A Low-power integrated circuit for a wireless 100-electrode neural recording system. IEEE J. Solid State Circuits 42, 123–133 (2007).

Hrabetova, S. Extracellular diffusion is fast and isotropic in the stratum radiatum of hippocampal CA1 region in rat brain slices. Hippocampus 15, 441–450 (2005).

Holsheimer, J. Electrical conductivity of the hippocampal CA1 layers and application to current-source-density analysis. Exp. Brain Res. 67, 402–410 (1987).

Pettersen, K. H., Devor, A., Ulbert, I., Dale, A. M. & Einevoll, G. T. Current-source density estimation based on inversion of electrostatic forward solution: effects of finite extent of neuronal activity and conductivity discontinuities. J. Neurosci. Methods 154, 116–133 (2006).

Penttonen, M., Kamondi, A., Sik, A., Acsady, L. & Buzsaki, G. Feed-forward and feed-back activation of the dentate gyrus in vivo during dentate spikes and sharp wave bursts. Hippocampus 7, 437–450 (1997).

Bragin, A., Jando, G., Nadasdy, Z., van Landeghem, M. & Buzsaki, G. Dentate EEG spikes and associated interneuronal population bursts in the hippocampal hilar region of the rat. J. Neurophysiol. 73, 1691–1705 (1995).

Kanter, B. R. et al. A novel mechanism for the grid-to-place cell transformation revealed by transgenic depolarization of medial entorhinal cortex layer II. Neuron 93, 1480–1492.e1486 (2017).
Acknowledgements
Supported by NIH grants R01MH115304, R01NS105472, and R01AG043688. We thank T. Sacktor for valuable discussions.
Ethics declarations
Competing interests
The authors declare no competing interests.
Additional information
Peer review information Nature thanks the anonymous, reviewer(s) for their contribution to the peer review of this work.
Publisher's note Springer Nature remains neutral with regard to jurisdictional claims in published maps and institutional affiliations.
Extended data figures and tables
Supplementary information
About this article
Cite this article
Chung, A., Jou, C., Grau-Perales, A. et al. Cognitive control persistently enhances hippocampal information processing. Nature 600, 484–488 (2021). https://doi.org/10.1038/s41586-021-04070-5
Received:

Accepted:

Published:

Issue Date:

DOI: https://doi.org/10.1038/s41586-021-04070-5
This article is cited by
Kevin T. Jones
Avery E. Ostrand
Theodore P. Zanto

Scientific Reports (2023)
Comments
By submitting a comment you agree to abide by our Terms and Community Guidelines. If you find something abusive or that does not comply with our terms or guidelines please flag it as inappropriate.