Abstract
Many behavioural tasks require the manipulation of mathematical vectors, but, outside of computational models1,2,3,4,5,6,7, it is not known how brains perform vector operations. Here we show how the Drosophila central complex, a region implicated in goal-directed navigation7,8,9,10, performs vector arithmetic. First, we describe a neural signal in the fan-shaped body that explicitly tracks the allocentric travelling angle of a fly, that is, the travelling angle in reference to external cues. Past work has identified neurons in Drosophila8,11,12,13 and mammals14 that track the heading angle of an animal referenced to external cues (for example, head direction cells), but this new signal illuminates how the sense of space is properly updated when travelling and heading angles differ (for example, when walking sideways). We then characterize a neuronal circuit that performs an egocentric-to-allocentric (that is, body-centred to world-centred) coordinate transformation and vector addition to compute the allocentric travelling direction. This circuit operates by mapping two-dimensional vectors onto sinusoidal patterns of activity across distinct neuronal populations, with the amplitude of the sinusoid representing the length of the vector and its phase representing the angle of the vector. The principles of this circuit may generalize to other brains and to domains beyond navigation where vector operations or reference-frame transformations are required.
Your institute does not have access to this article
Relevant articles
Open Access articles citing this article.
Andrew M. M. Matheson

,

Aaron J. Lanz

…

Katherine I. Nagel

Nature Communications Open Access 08 August 2022
Access options
Subscribe to Nature+
Get immediate online access to the entire Nature family of 50+ journals
Subscribe to Journal
Get full journal access for 1 year
$199.00
only $3.90 per issue
All prices are NET prices.
VAT will be added later in the checkout.
Tax calculation will be finalised during checkout.
Buy article
Get time limited or full article access on ReadCube.
$32.00
All prices are NET prices.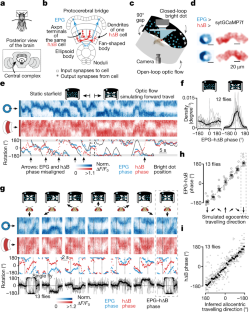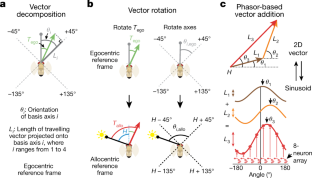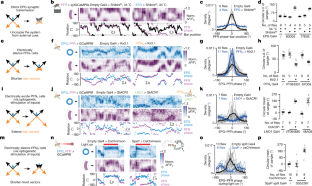 References
Zipser, D. & Andersen, R. A. A back-propagation programmed network that simulates response properties of a subset of posterior parietal neurons. Nature 331, 679–684 (1988).

O'Keefe, J. An allocentric spatial model for the hippocampal cognitive map. Hippocampus 1, 230–235 (1991).

Touretzky, D. S., Redish, A. D. & Wan, H. S. Neural representation of space using sinusoidal arrays. Neural Comput. 5, 869–884 (1993).

Pouget, A. & Sejnowski, T. J. A neural model of the cortical representation of egocentric distance. Cereb. Cortex 4, 314–329 (1994).

Salinas, E. & Abbott, L. F. Transfer of coded information from sensory to motor networks. J. Neurosci. 15, 6461–6474 (1995).

Wittmann, T. & Schwegler, H. Path integration—a network model. Biol. Cybern. 73, 569–575 (1995).

Stone, T. et al. An anatomically constrained model for path integration in the bee brain. Curr. Biol. 27, 3069-3085.e11 (2017).

Seelig, J. D. & Jayaraman, V. Neural dynamics for landmark orientation and angular path integration. Nature 521, 186–191 (2015).

Green, J., Vijayan, V., Mussells Pires, P., Adachi, A. & Maimon, G. A neural heading estimate is compared with an internal goal to guide oriented navigation. Nat. Neurosci. 22, 1460–1468 (2019).

Giraldo, Y. M. et al. Sun navigation requires compass neurons in Drosophila. Curr. Biol. 28, 2845-2852.e4 (2018).

Green, J. et al. A neural circuit architecture for angular integration in Drosophila. Nature 546, 101–106 (2017).

Turner-Evans, D. et al. Angular velocity integration in a fly heading circuit. eLife 6, e23496 (2017).

Shiozaki, H. M., Ohta, K. & Kazama, H. A multi-regional network encoding heading and steering maneuvers in Drosophila. Neuron 106, 126–141 (2020).

Taube, J. S., Muller, R. U. & Ranck, J. B. Head-direction cells recorded from the postsubiculum in freely moving rats. I. Description and quantitative analysis. J. Neurosci. 10, 420–435 (1990).

Seeley, T. D. Honeybee Democracy (Princeton Univ. Press, 2010).

Wehner, R. Desert Navigator (Harvard Univ. Press, 2020).

Ardin, P. B., Mangan, M. & Webb, B. Ant homing ability is not diminished when traveling backwards. Front. Behav. Neurosci. 10, 69 (2016).

Pfeffer, S. E. & Wittlinger, M. How to find home backwards? Navigation during rearward homing of Cataglyphis fortis desert ants. J. Exp. Biol. 219, 2119–2126 (2016).

Riley, J. R. et al. Compensation for wind drift by bumble-bees. Nature 400, 126–126 (1999).

Scheffer, L. K. et al. A connectome and analysis of the adult Drosophila central brain. eLife 9, e57443 (2020).

Wolff, T., Iyer, N. A. & Rubin, G. M. Neuroarchitecture and neuroanatomy of the Drosophila central complex: a GAL4-based dissection of protocerebral bridge neurons and circuits. J. Comp. Neurol. 523, 997–1037 (2015).

Kim, S. S., Rouault, H., Druckmann, S. & Jayaraman, V. Ring attractor dynamics in the Drosophila central brain. Science 356, 849–853 (2017).

Cohn, R., Morantte, I. & Ruta, V. Coordinated and compartmentalized neuromodulation shapes sensory processing in Drosophila. Cell 163, 1742–1755 (2015).

Maimon, G., Straw, A. D. & Dickinson, M. H. Active flight increases the gain of visual motion processing in Drosophila. Nat. Neurosci. 13, 393–399 (2010).

Srinivasan, M. V., Zhang, S. W., Lehrer, M. & Collett, T. S. Honeybee navigation en route to the goal: visual flight control and odometry. J. Exp. Biol. 199, 237–244 (1996).

Weir, P. T. & Dickinson, M. H. Functional divisions for visual processing in the central brain of flying Drosophila. Proc. Natl Acad. Sci. USA 112, E5523–E5532 (2015).

Kim, A. J., Fenk, L. M., Lyu, C. & Maimon, G. Quantitative predictions orchestrate visual signaling in Drosophila. Cell 168, 280-294.e12 (2017).

Hulse, B. K. et al. A connectome of the Drosophila central complex reveals network motifs suitable for flexible navigation and context-dependent action selection. eLife 10, e66039 (2021).

Poodry, C. & Edgar, L. Reversible alteration in the neuromuscular junctions of Drosophila melanogaster bearing a temperature-sensitive mutation, shibire. J. Cell Biol. 81, 520–527 (1979).

Baines, R. A., Uhler, J. P., Thompson, A., Sweeney, S. T. & Bate, M. Altered electrical properties in Drosophila neurons developing without synaptic transmission. J. Neurosci. 21, 1523–1531 (2001).

Govorunova, E. G., Sineshchekov, O. A., Janz, R., Liu, X. & Spudich, J. L. Natural light-gated anion channels: a family of microbial rhodopsins for advanced optogenetics. Science 349, 647–650 (2015).

Mohammad, F. et al. Optogenetic inhibition of behavior with anion channelrhodopsins. Nat. Methods 14, 271–274 (2017).

Wolff, T. & Rubin, G. M. Neuroarchitecture of the Drosophila central complex: a catalog of nodulus and asymmetrical body neurons and a revision of the protocerebral bridge catalog. J. Comp. Neurol. 526, 2585–2611 (2018).

Klapoetke, N. C. et al. Independent optical excitation of distinct neural populations. Nat. Methods 11, 338–346 (2014).

Cei, A., et al Reversed theta sequences of hippocampal cell assemblies during backward travel. Nat. Neurosci. 17, 719–724 (2014).

Maurer, A. P., Lester, A. W., Burke, S. N., Ferng, J. J. & Barnes, C. A. Back to the future: preserved hippocampal network activity during reverse ambulation. J. Neurosci. 34, 15022–15031 (2014).

Bicanski, A. & Burgess, N. Neuronal vector coding in spatial cognition. Nat. Rev. Neurosci. 21, 453–470 (2020).

Wang, C., Chen, X. & Knierim, J. J. Egocentric and allocentric representations of space in the rodent brain. Curr. Opin. Neurobiol. 60, 12–20 (2020).

Vaswani, A. et al. Attention is all you need. Preprint at https://arxiv.org/abs/1706.03762 (2017).

Lu, J. et al. Transforming representations of movement from body- to world-centric space. Nature https://doi.org/10.1038/s41586-021-04191-x (2021).

Dana, H. et al. Sensitive red protein calcium indicators for imaging neural activity. eLife 5, e12727 (2016).

Lin, C. Y. et al. A comprehensive wiring diagram of the protocerebral bridge for visual information processing in the Drosophila brain. Cell Rep. 3, 1739–1753 (2013).

Turner-Evans, D. et al. The neuroanatomical ultrastructure and function of a biological ring attractor. Neuron 108, 145–163 (2020).

Nern, A., Pfeiffer, B. D. & Rubin, G. M. Optimized tools for multicolor stochastic labeling reveal diverse stereotyped cell arrangements in the fly visual system. Proc. Natl Acad. Sci. USA 112, E2967–E2976 (2015).

Reiser, M. B. & Dickinson, M. H. A modular display system for insect behavioral neuroscience. J. Neurosci. Methods 167, 127–139 (2008).

Maimon, G., Straw, A. D. & Dickinson, M. H. A simple vision-based algorithm for decision making in flying Drosophila. Curr. Biol. 18, 464–470 (2008).

Fry, S. N., Rohrseitz, N., Straw, A. D. & Dickinson, M. H. Visual control of flight speed in Drosophila melanogaster. J. Exp. Biol. 212, 1120–1130 (2009).

Leitch, K. J., Ponce, F. V., Dickson, W. B., van Breugel, F. & Dickinson, M. H. The long-distance flight behavior of Drosophila supports an agent-based model for wind-assisted dispersal in insects. Proc. Natl Acad. Sci. 118, e2013342118 (2021).

Moore, R. J. D. et al. FicTrac: a visual method for tracking spherical motion and generating fictive animal paths. J. Neurosci. Methods 225, 106–119 (2014).

Wu, M. et al. Visual projection neurons in the Drosophila lobula link feature detection to distinct behavioral programs. eLife 5, e21022 (2016).
Acknowledgements
We thank the laboratories of V. Ruta, B. Dickson and L. Vosshall for fly stocks and members of the Maimon laboratory, especially P. Mussells-Pires, for helpful discussions; R. Wilson and J. Lu for sharing the hypothesis that the h∆B cells may be the locus for the four-vector integration process rather than PFR cells, given anatomical considerations; A. Rizvi and S. Lewallen for helpful comments on the manuscript; J. Green and A. Adachi for recombinant stocks, and A. Adachi for initial anatomical characterization of some of the cell types and driver lines, which made this study progress faster than otherwise possible; V. Vijayan and J. Weisman for helping to optimize the csChrimson optogenetics approach during two-photon imaging; A. Kim for sharing the code for making optic-flow stimuli, developed off of the code initially given to us by P. Weir in the laboratory of M. Dickinson; and I. Morantte from the laboratory of V. Ruta and P. Mussells-Pires for developing the genetic strategy and organizing the plasmids needed to generate the UAS-sytGCaMP7f fly line. Stocks obtained from the Bloomington Drosophila Stock Center (NIH P40OD018537) and the Vienna Drosophila Resource Center were used in this study. Research reported in this publication was supported by a Brain Initiative grant from the National Institute of Neurological Disorders and Stroke (R01NS104934) to G.M. and a Kavli Foundation seed grant to C.L. L.F.A. was supported by NSF NeuroNex Award DBI-1707398 and the Simons Collaboration for the Global Brain. G.M. is a Howard Hughes Medical Institute Investigator.
Ethics declarations
Competing interests
The authors declare no competing interests.
Additional information
Peer review information Nature thanks the anonymous reviewers for their contribution to the peer review of this work.
Publisher's note Springer Nature remains neutral with regard to jurisdictional claims in published maps and institutional affiliations.
Extended data figures and tables
Supplementary information
About this article
Cite this article
Lyu, C., Abbott, L.F. & Maimon, G. Building an allocentric travelling direction signal via vector computation. Nature 601, 92–97 (2022). https://doi.org/10.1038/s41586-021-04067-0
Received:

Accepted:

Published:

Issue Date:

DOI: https://doi.org/10.1038/s41586-021-04067-0
Further reading
Jenny Lu
Amir H. Behbahani
Rachel I. Wilson

Nature (2022)

Andrew M. M. Matheson
Aaron J. Lanz
Katherine I. Nagel

Nature Communications (2022)
Comments
By submitting a comment you agree to abide by our Terms and Community Guidelines. If you find something abusive or that does not comply with our terms or guidelines please flag it as inappropriate.