Abstract
Loss of functional mitochondrial complex I (MCI) in the dopaminergic neurons of the substantia nigra is a hallmark of Parkinson's disease1. Yet, whether this change contributes to Parkinson's disease pathogenesis is unclear2. Here we used intersectional genetics to disrupt the function of MCI in mouse dopaminergic neurons. Disruption of MCI induced a Warburg-like shift in metabolism that enabled neuronal survival, but triggered a progressive loss of the dopaminergic phenotype that was first evident in nigrostriatal axons. This axonal deficit was accompanied by motor learning and fine motor deficits, but not by clear levodopa-responsive parkinsonism—which emerged only after the later loss of dopamine release in the substantia nigra. Thus, MCI dysfunction alone is sufficient to cause progressive, human-like parkinsonism in which the loss of nigral dopamine release makes a critical contribution to motor dysfunction, contrary to the current Parkinson's disease paradigm3,4.
Relevant articles
Open Access articles citing this article.
Alise Zagare

,

German Preciat

…

Jens C. Schwamborn

Communications Biology Open Access 20 November 2023

Martin T. Henrich

,

Wolfgang H. Oertel

…

Fanni F. Geibl

Molecular Neurodegeneration Open Access 11 November 2023

Shon A. Koren

,

Nada Ahmed Selim

…

Andrew P. Wojtovich

Nature Communications Open Access 27 September 2023
Access options
Access Nature and 54 other Nature Portfolio journals
Get Nature+, our best-value online-access subscription
$29.99 / 30 days
cancel any time
Subscribe to this journal
Receive 51 print issues and online access
$199.00 per year
only $3.90 per issue
Rent or buy this article
Prices vary by article type
from$1.95
to$39.95
Prices may be subject to local taxes which are calculated during checkout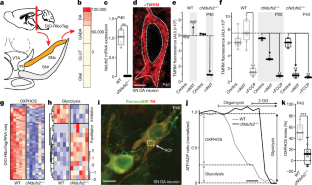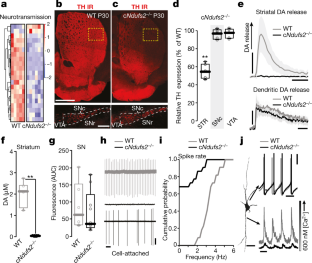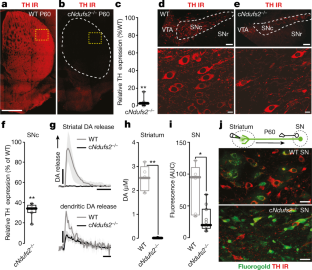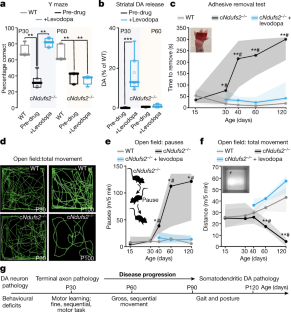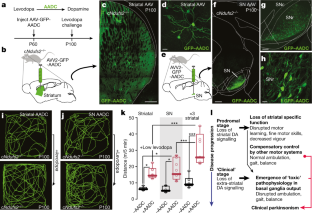 Data availability
RNA-seq reads have been deposited at the NCBI Sequence Read Archive under BioProject accession number PRJNA752682. DA release data measured using fast-scan cyclic voltammetry were analysed using custom software that is available at GitHub (https://github.com/surmeierlab/imagej_macros)42. The mouse model will be made available on request. All data generated or analysed in this study are included in this published Article and the Supplementary Information). Source data are provided with this paper.
References
Surmeier, D. J., Obeso, J. A. & Halliday, G. M. Selective neuronal vulnerability in Parkinson disease. Nat. Rev. Neurosci. 18, 101–113 (2017).

Kim, H. W. et al. Genetic reduction of mitochondrial complex I function does not lead to loss of dopamine neurons in vivo. Neurobiol. Aging 36, 2617–2627 (2015).

Albin, R. L., Young, A. B. & Penney, J. B. The functional anatomy of basal ganglia disorders. Trends Neurosci. 12, 366–375 (1989).

Wichmann, T. Changing views of the pathophysiology of parkinsonism. Mov. Disord. 34, 1130–1143 (2019).

Poewe, W. et al. Parkinson disease. Nat. Rev. Dis. Primers 3, 17013 (2017).

Beilina, A. & Cookson, M. R. Genes associated with Parkinson's disease: regulation of autophagy and beyond. J. Neurochem. 139, 91–107 (2016).

Haelterman, N. A. et al. A mitocentric view of Parkinson's disease. Annu. Rev. Neurosci. 37, 137–159 (2014).

Faustini, G. et al. Mitochondria and α-synuclein: friends or foes in the pathogenesis of Parkinson's disease? Genes 8, 377 (2017).

Bolam, J. P. & Pissadaki, E. K. Living on the edge with too many mouths to feed: why dopamine neurons die. Mov. Disord. 27, 1478–1483 (2012).

Guzman, J. N. et al. Systemic isradipine treatment diminishes calcium-dependent mitochondrial oxidant stress. J. Clin. Invest. 128, 2266–2280 (2018).

Fernández-Agüera, M. C. et al. Oxygen sensing by arterial chemoreceptors depends on mitochondrial complex I signaling. Cell Metab. 22, 825–837 (2015).

Kordower, J. H. & Burke, R. E. Disease modification for Parkinson's disease: axonal regeneration and trophic factors. Mov. Disord. 33, 678–683 (2018).

Sanz, E. et al. Cell-type-specific isolation of ribosome-associated mRNA from complex tissues. Proc. Natl Acad. Sci. USA 106, 13939–13944 (2009).

Fornasiero, E. F. et al. Precisely measured protein lifetimes in the mouse brain reveal differences across tissues and subcellular fractions. Nat. Commun. 9, 4230 (2018).

Narendra, D., Walker, J. E. & Youle, R. Mitochondrial quality control mediated by PINK1 and Parkin: links to parkinsonism. Cold Spring Harb. Perspect. Biol. 4, 11 (2012).

Baker, N., Patel, J. & Khacho, M. Linking mitochondrial dynamics, cristae remodeling and supercomplex formation: how mitochondrial structure can regulate bioenergetics. Mitochondrion 49, 259–268 (2019).

Ekstrand, M. I. et al. Progressive parkinsonism in mice with respiratory-chain-deficient dopamine neurons. Proc. Natl Acad. Sci. USA 104, 1325–1330 (2007).

Tantama, M. et al. Imaging energy status in live cells with a fluorescent biosensor of the intracellular ATP-to-ADP ratio. Nat. Commun. 4, 2550 (2013).

Patriarchi, T. et al. Ultrafast neuronal imaging of dopamine dynamics with designed genetically encoded sensors. Science 360, 6396 (2018).

Paladini, C. A. & Roeper, J. Generating bursts (and pauses) in the dopamine midbrain neurons. Neuroscience 282, 109–121 (2014).

Roeper, J. Dissecting the diversity of midbrain dopamine neurons. Trends Neurosci. 36, 336–342, (2013).

Yu, H. et al. MinK-related peptide 1: a beta subunit for the HCN ion channel subunit family enhances expression and speeds activation. Circ. Res. 88, E84–E87 (2001).

Klaus, A. et al.What, if, and when to move: basal ganglia circuits and self-paced action initiation. Annu. Rev. Neurosci. 42, 459–483 (2019).

Baker, K. A. et al. Simultaneous intrastriatal and intranigral dopaminergic grafts in the Parkinsonian rat model: role of the intranigral graft. J. Comp. Neurol. 426, 106–116 (2000).

Mukhida, K. et al. Enhancement of sensorimotor behavioural recovery in hemiparkinsonian rats with intrastriatal, intranigral, and intrasubthalamic nucleus dopaminergic transplants. J. Neurosci. 21, 3521–3530 (2001).

Robertson, G. S. & Robertson, H. A. D1 and D2 dopamine agonist synergism: separate sites of action? Trends Pharmacol. Sci. 8, 295–299 (1987).

Coune, P. G., Schneider, B. L. & Aebischer, P. Parkinson's disease: gene therapies. Cold Spring Harb. Perspect. Med. 2, a009431 (2012).

Sarre, S. et al. Biotransformation of l-DOPA to dopamine in the substantia nigra of freely moving rats: effect of dopamine receptor agonists and antagonists. J. Neurochem. 70, 1730–1739 (1998).

Diederich, N. J. et al. Parkinson's disease: is it a consequence of human brain evolution? Mov. Disord. 34, 453–459 (2019).

Pacelli, C. et al. Elevated mitochondrial bioenergetics and axonal arborization size are key contributors to the vulnerability of dopamine neurons. Curr. Biol. 25, 2349–2360 (2015).

Berthet, A. et al. Loss of mitochondrial fission depletes axonal mitochondria in midbrain dopamine neurons. J. Neurosci. 34, 14304–14317 (2014).

Collier, T. J., Kanaan, N. M. & Kordower, J. H. Ageing as a primary risk factor for Parkinson's disease: evidence from studies of non-human primates. Nat. Rev. Neurosci. 12, 359–366 (2011).

Kordower, J. H. & Bjorklund, A. Trophic factor gene therapy for Parkinson's disease. Mov. Disord. 28, 96–109 (2013).

Rodriguez, M. C. et al. Subthalamic nucleus-mediated excitotoxicity in Parkinson's disease: a target for neuroprotection. Ann. Neurol. 44, S175–S188 (1998).

Martínez-Reyes, I. & Chandel, N. S. Mitochondrial TCA cycle metabolites control physiology and disease. Nat. Commun. 11, 102 (2020).

Kordower, J. H. et al. Disease duration and the integrity of the nigrostriatal system in Parkinson's disease. Brain 136, 2419–2431 (2013).

Kovaleski, R. F. et al. Dysregulation of external globus pallidus‐subthalamic nucleus network dynamics in Parkinsonian mice during cortical slow‐wave activity and activation. J. Physiol. 598, 1897–1927 (2020).

Kravitz, A. V. et al. Regulation of Parkinsonian motor behaviours by optogenetic control of basal ganglia circuitry. Nature 466, 622–626 (2010).

Gerfen, C. R. & Surmeier, D. J. Modulation of striatal projection systems by dopamine. Annu. Rev. Neurosci. 34, 441–466 (2011).

Cheramy, A., Leviel, V. & Glowinski, J. Dendritic release of dopamine in the substantia nigra. Nature 289, 537–542 (1981).

Cáceres-Chávez, V. A. et al. Acute dopamine receptor blockade in substantia nigra pars reticulata: a possible model for drug-induced parkinsonism. J. Neurophysiol. 120, 2922–2938 (2018).

Galtieri D. J. & Estep, C. M. Neurphsy. https://github.com/surmeierlab/neurphys (2014).

Bouet, V. et al. The adhesive removal test: a sensitive method to assess sensorimotor deficits in mice. Nat. Protoc. 4, 1560–1564 (2009).

Schmued, L. et al. Collateralization and GAD immunoreactivity of descending pallidal efferents. Brain Res. 487, 131–142 (1989)

Heiman, M. et al. Cell type-specific mRNA purification by translating ribosome affinity purification (TRAP). Nat. Protoc. 9, 1282–1291 (2014).

Martin, M. et al. Cutadapt removes adapter sequences from high-throughput sequencing reads. Embnet J. 17, 10–12 (2011).

Dobin, A. et al. STAR: ultrafast universal RNA-seq aligner. Bioinformatics. 29, 15–21 (2013).

Anders, S., Pyl, P. T. & Huber, W. HTSeq—a Python framework to work with high-throughput sequencing data. Bioinformatics 31, 166–169 (2015).

Love, M. I. et al. Moderated estimation of fold change and dispersion for RNA-seq data with DESeq2. Genome Biol. 15, 550–558 (2014).

Zhou, Y. et al. Metascape provides a biologist-oriented resource for the analysis of systems-level datasets. Nat. Commun. 10, 1523 (2019).

West, M. J., Slomianka, L. & Gundersen, H. J. G., Unbiased stereological estimation of the total number of neurons in the subdivisions of the rat hippocampus using the optical fractionator. Anat. Rec. 231, 482–497 (1991).

Ilijic, E. et al. The L-type channel antagonist isradipine is neuroprotective in a mouse model of Parkinson's disease. Neurobiol Dis. 43, 364–371 (2011).

Oorschot, D. E. Total number of neurons in the neostriatal, pallidal, subthalamic, and substantia nigral nuclei of the rat basal ganglia: a stereological study using the cavalieri and optical disector methods. J. Comp. Neurol. 366, 580–599 (1996).

Gundersen, H. J. G. & Jensen, E. B., The efficiency of systematic sampling in stereology and its prediction. J. Microsc. 147, 229–263 (1987).

Zhou, et al. Serotonergic sprouting is induced by dopamine-lesion in substantia nigra of adult rat brain. Brain Res. 556, 108–116 (1991).
Acknowledgements
We thank the staff at the Metabolomic Core Facility at Robert H. Lurie Comprehensive Cancer Center of Northwestern University for HPLC–MS experiments and staff at the NUSeq Core Facility for RNA-seq analysis; D.G. Galtieri for the original scripts in the Surmeier lab GitHub; and G. Yellen for insights on PercevalHR experiments. Electron microscopy tissue processing and imaging was performed at the Northwestern University Center for Advanced Microscopy, supported by NCI CCSG P30 CA060553 awarded to the Robert H. Lurie Comprehensive Cancer Center. This study was supported by grants from the Michael J. Fox Foundation (to D.J.S.), the JPB Foundation (to D.J.S.), the IDP Foundation (to D.J.S.), the Flanagan Fellowship (to P.G.-R.) and the European Research Council ERC Advanced Grant PRJ201502629 (to J.L.-B.).
Ethics declarations
Competing interests
The authors declare no competing interests.
Additional information
Peer review information Nature thanks Ken Nakamura and the other, anonymous, reviewer(s) for their contribution to the peer review of this work. Peer reviewer reports are available.
Publisher's note Springer Nature remains neutral with regard to jurisdictional claims in published maps and institutional affiliations.
Extended data figures and tables
Supplementary information
This file contains Supplementary Tables 1–8 and their descriptions.
About this article
Cite this article
González-Rodríguez, P., Zampese, E., Stout, K.A. et al. Disruption of mitochondrial complex I induces progressive parkinsonism. Nature 599, 650–656 (2021). https://doi.org/10.1038/s41586-021-04059-0
Received:

Accepted:

Published:

Issue Date:

DOI: https://doi.org/10.1038/s41586-021-04059-0
Comments
By submitting a comment you agree to abide by our Terms and Community Guidelines. If you find something abusive or that does not comply with our terms or guidelines please flag it as inappropriate.