Abstract
The ability to suppress actions that lead to a negative outcome and explore alternative actions is necessary for optimal decision making. Although the basal ganglia have been implicated in these processes1,2,3,4,5, the circuit mechanisms underlying action selection and exploration remain unclear. Here, using a simple lateralized licking task, we show that indirect striatal projection neurons (iSPN) in the basal ganglia contribute to these processes through modulation of the superior colliculus (SC). Optogenetic activation of iSPNs suppresses contraversive licking and promotes ipsiversive licking. Activity in lateral superior colliculus (lSC), a region downstream of the basal ganglia, is necessary for task performance and predicts lick direction. Furthermore, iSPN activation suppresses ipsilateral lSC, but surprisingly excites contralateral lSC, explaining the emergence of ipsiversive licking. Optogenetic inactivation reveals inter-collicular competition whereby each hemisphere of the superior colliculus inhibits the other, thus allowing the indirect pathway to disinhibit the contralateral lSC and trigger licking. Finally, inactivating iSPNs impairs suppression of devalued but previously rewarded licking and reduces exploratory licking. Our results reveal that iSPNs engage the competitive interaction between lSC hemispheres to trigger a motor action and suggest a general circuit mechanism for exploration during action selection.
Relevant articles
Open Access articles citing this article.
Alyse Thomas

,

Weiguo Yang

…

Nuo Li

Nature Communications Open Access 14 November 2023

Marie A. Labouesse

,

Arturo Torres-Herraez

…

Christoph Kellendonk

Nature Communications Open Access 23 October 2023

Suma Chinta

&

Scott R. Pluta

Nature Communications Open Access 30 September 2023
Access options
Access Nature and 54 other Nature Portfolio journals
Get Nature+, our best-value online-access subscription
$29.99 / 30 days
cancel any time
Subscribe to this journal
Receive 51 print issues and online access
$199.00 per year
only $3.90 per issue
Rent or buy this article
Prices vary by article type
from$1.95
to$39.95
Prices may be subject to local taxes which are calculated during checkout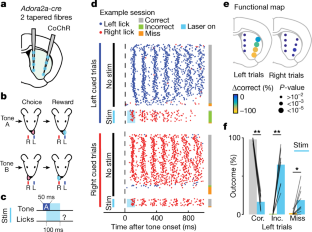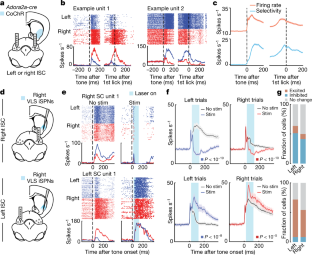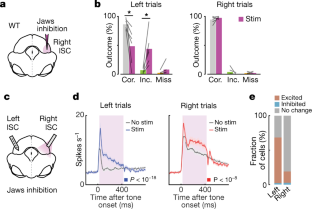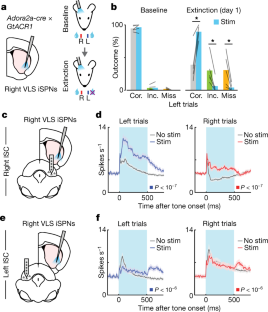 Data availability
The data that support the findings of this study are available from the corresponding author upon reasonable request.
Code availability
The code used for analysis (Matlab) is available from the corresponding author upon reasonable request.
References
Amita, H. & Hikosaka, O. Indirect pathway from caudate tail mediates rejection of bad objects in periphery. Sci. Adv. 5, eaaw9297 (2019).

Tai, L.-H., Lee, A. M., Benavidez, N., Bonci, A. & Wilbrecht, L. Transient stimulation of distinct subpopulations of striatal neurons mimics changes in action value. Nat. Neurosci. 15, 1281–1289 (2012).

Nonomura, S. et al. Monitoring and updating of action selection for goal-directed behavior through the striatal direct and indirect pathways. Neuron 99, 1302–1314.e5 (2018).

Parker, N. F. et al. Reward and choice encoding in terminals of midbrain dopamine neurons depends on striatal target. Nat. Neurosci. 19, 845–854 (2016).

Cox, J. & Witten, I. B. Striatal circuits for reward learning and decision-making. Nat. Rev. Neurosci. 20, 482–494 (2019).

Kravitz, A. V. et al. Regulation of parkinsonian motor behaviours by optogenetic control of basal ganglia circuitry. Nature 466, 622–626 (2010).

Kravitz, A. V., Tye, L. D. & Kreitzer, A. C. Distinct roles for direct and indirect pathway striatal neurons in reinforcement. Nat. Neurosci. 15, 816–818 (2012).

Roseberry, T. K. et al. Cell-type-specific control of brainstem locomotor circuits by basal ganglia. Cell 164, 526–537 (2016).

Smith, Y., Bevan, M. D., Shink, E. & Bolam, J. P. Microcircuitry of the direct and indirect pathways of the basal ganglia. Neuroscience 86, 353–387 (1998).

Sheng, M., Lu, D., Shen, Z. & Poo, M. Emergence of stable striatal D1R and D2R neuronal ensembles with distinct firing sequence during motor learning. Proc. Natl Acad. Sci. USA 116, 11038–11047 (2019).

Bakhurin, K. I. et al. Opponent regulation of action performance and timing by striatonigral and striatopallidal pathways. eLife 9, e54831 (2020).

Freeze, B. S., Kravitz, A. V., Hammack, N., Berke, J. D. & Kreitzer, A. C. Control of basal ganglia output by direct and indirect pathway projection neurons. J. Neurosci. 33, 18531–18539 (2013).

Garr, E. & Delamater, A. R. Chemogenetic inhibition in the dorsal striatum reveals regional specificity of direct and indirect pathway control of action sequencing. Neurobiol. Learn. Mem. 169, 107169 (2020).

McPeek, R. M. & Keller, E. L. Deficits in saccade target selection after inactivation of superior colliculus. Nat. Neurosci. 7, 757–763 (2004).

Song, J.-H., Rafal, R. D. & McPeek, R. M. Deficits in reach target selection during inactivation of the midbrain superior colliculus. Proc. Natl Acad. Sci. USA 108, E1433–E1440 (2011).

Mana, S. & Chevalier, G. Honeycomb-like structure of the intermediate layers of the rat superior colliculus: afferent and efferent connections. Neuroscience 103, 673–693 (2001).

Hikosaka, O., Takikawa, Y. & Kawagoe, R. Role of the basal ganglia in the control of purposive saccadic eye movements. Physiol. Rev. 80, 953–978 (2000).

Felsen, G. & Mainen, Z. F. Midbrain contributions to sensorimotor decision making. J. Neurophysiol. 108, 135–147 (2012).

Kopec, C. D., Erlich, J. C., Brunton, B. W., Deisseroth, K. & Brody, C. D. Cortical and subcortical contributions to short-term memory for orienting movements. Neuron 88, 367–377 (2015).

Kaneda, K., Isa, K., Yanagawa, Y. & Isa, T. Nigral inhibition of GABAergic neurons in mouse superior colliculus. J. Neurosci. 28, 11071–11078 (2008).

Rossi, M. A. et al. A GABAergic nigrotectal pathway for coordination of drinking behavior. Nat. Neurosci. 19, 742–748 (2016).

Lee, J., Wang, W. & Sabatini, B. L. Anatomically segregated basal ganglia pathways allow parallel behavioral modulation. Nat. Neurosci. 23, 1388–1398 (2020).

Shin, J. H., Kim, D. & Jung, M. W. Differential coding of reward and movement information in the dorsomedial striatal direct and indirect pathways. Nat. Commun. 9, 404 (2018).

Li, N. et al. Spatiotemporal constraints on optogenetic inactivation in cortical circuits. eLife 8, e48622 (2019).

Essig, J., Hunt, J. B. & Felsen, G. Inhibitory midbrain neurons mediate decision making. Preprint at https://doi.org/10.1101/2020.02.25.965699 (2020).

Takahashi, M., Sugiuchi, Y. & Shinoda, Y. Topographic organization of excitatory and inhibitory commissural connections in the superior colliculi and their functional roles in saccade generation. J. Neurophysiol. 104, 3146–3167 (2010).

Sooksawate, T., Isa, K., Behan, M., Yanagawa, Y. & Isa, T. Organization of GABAergic inhibition in the motor output layer of the superior colliculus. Eur. J. Neurosci. 33, 421–432 (2011).

Takahashi, M., Sugiuchi, Y., Izawa, Y. & Shinoda, Y. Commissural excitation and inhibition by the superior colliculus in tectoreticular neurons projecting to omnipause neuron and inhibitory burst neuron regions. J. Neurophysiol. 94, 1707–1726 (2005).

Doykos, T. K., Gilmer, J. I., Person, A. L. & Felsen, G. Monosynaptic inputs to excitatory and inhibitory neurons of the intermediate and deep layers of the superior colliculus. J. Comp. Neurol. 528, 2254–2268 (2020).

Mysore, S. P. & Knudsen, E. I. A shared inhibitory circuit for both exogenous and endogenous control of stimulus selection. Nat. Neurosci. 16, 473–478 (2013).

Mysore, S. P. & Knudsen, E. I. The role of a midbrain network in competitive stimulus selection. Curr. Opin. Neurobiol. 21, 653–660 (2011).

Jiang, H., Stein, B. E. & McHaffie, J. G. Opposing basal ganglia processes shape midbrain visuomotor activity bilaterally. Nature 423, 982–986 (2003).

Liu, P. & Basso, M. A. Substantia nigra stimulation influences monkey superior colliculus neuronal activity bilaterally. J. Neurophysiol. 100, 1098–1112 (2008).

Geddes, C. E., Li, H. & Jin, X. Optogenetic editing reveals the hierarchical organization of learned action sequences. Cell 174, 32–43.e15 (2018).

Tecuapetla, F., Jin, X., Lima, S. Q. & Costa, R. M. Complementary contributions of striatal projection pathways to action initiation and execution. Cell 166, 703–715 (2016).

Zalocusky, K. A. et al. Nucleus accumbens D2R cells signal prior outcomes and control risky decision-making. Nature 531, 642–646 (2016).

Schultz, W., Dayan, P. & Montague, P. R. A Neural substrate of prediction and reward. Science 275, 1593–1599 (1997).

Cohen, J. Y., Haesler, S., Vong, L., Lowell, B. B. & Uchida, N. Neuron-type-specific signals for reward and punishment in the ventral tegmental area. Nature 482, 85–88 (2012).

Iino, Y. et al. Dopamine D2 receptors in discrimination learning and spine enlargement. Nature 579, 555–560 (2020).

Yamaguchi, T. et al. Role of PKA signaling in D2 receptor-expressing neurons in the core of the nucleus accumbens in aversive learning. Proc. Natl Acad. Sci. USA 112, 11383–11388 (2015).

Lee, S. J. et al. Cell-type-specific asynchronous modulation of PKA by dopamine in learning. Nature 590, 451–456 (2021).

Gerfen, C. R., Paletzki, R. & Heintz, N. GENSAT BAC Cre-recombinase driver lines to study the functional organization of cerebral cortical and basal ganglia circuits. Neuron 80, 1368–1383 (2013).

Guo, Z. V. et al. Flow of cortical activity underlying a tactile decision in mice. Neuron 81, 179–194 (2014).

Mante, V., Sussillo, D., Shenoy, K. V. & Newsome, W. T. Context-dependent computation by recurrent dynamics in prefrontal cortex. Nature 503, 78–84 (2013).

Li, N., Daie, K., Svoboda, K. & Druckmann, S. Robust neuronal dynamics in premotor cortex during motor planning. Nature 532, 459–464 (2016).

Bro, R., Acar, E. & Kolda, T. G. Resolving the sign ambiguity in the singular value decomposition. J. Chemom. 22, 135–140 (2008).

Peron, S. P., Freeman, J., Iyer, V., Guo, C. & Svoboda, K. A cellular resolution map of barrel cortex activity during tactile behavior. Neuron 86, 783–799 (2015).

Franklin, K. B. J. & Paxinos, G. Paxinos and Franklin's the Mouse Brain in Stereotaxic Coordinates, Compact: The Coronal Plates and Diagrams (Academic Press, 2019).
Acknowledgements
We thank members of the Sabatini laboratory and W. Regehr, M. Andermann, N. Uchida and S. Gershman for helpful discussions; J. Levasseur for mouse husbandry and genotyping; J. Saulnier and L. Worth for laboratory administration; and W. Kuwamoto, J. Grande, M. Ambrosino, B. Pryor, E. Lubbers and R. Griep for assistance with behavioural experiments and histology. This work was supported by the NIH (NINDS NS103226, U19NS113201), a P30 Core Center Grant (NINDS NS072030), an Iljou Foundation scholarship and a grant from the Simons Collaborative on the Global Brain.
Ethics declarations
Competing interests
B.L.S. is a founder of and holds private equity in Optogenix. Tapered fibres commercially available from Optogenix were used as tools in the research.
Additional information
Peer review information Nature thanks the anonymous reviewer(s) for their contribution to the peer review of this work. Peer reviewer reports are available.
Publisher's note Springer Nature remains neutral with regard to jurisdictional claims in published maps and institutional affiliations.
Extended data figures and tables
Supplementary information
About this article
Cite this article
Lee, J., Sabatini, B.L. Striatal indirect pathway mediates exploration via collicular competition. Nature 599, 645–649 (2021). https://doi.org/10.1038/s41586-021-04055-4
Received:

Accepted:

Published:

Issue Date:

DOI: https://doi.org/10.1038/s41586-021-04055-4
Comments
By submitting a comment you agree to abide by our Terms and Community Guidelines. If you find something abusive or that does not comply with our terms or guidelines please flag it as inappropriate.