Abstract
Inflammation early in life can prime the local immune milieu of peripheral tissues, which can cause lasting changes in immunological tone that confer disease protection or susceptibility1. The cellular and molecular mechanisms that prompt changes in immune tone in many nonlymphoid tissues remain largely unknown. Here we find that time-limited neonatal inflammation induced by a transient reduction in neonatal regulatory T cells causes a dysregulation of subcutaneous tissue in mouse skin. This is accompanied by the selective accumulation of type 2 helper T (TH2) cells within a distinct microanatomical niche. TH2 cells are maintained into adulthood through interactions with a fibroblast population in skin fascia that we refer to as TH2-interacting fascial fibroblasts (TIFFs), which expand in response to TH2 cytokines to form subcutaneous fibrous bands. Activation of the TH2–TIFF niche due to neonatal inflammation primes the skin for altered reparative responses to wounding. Furthermore, we identify fibroblasts in healthy human skin that express the TIFF transcriptional signature and detect these cells at high levels in eosinophilic fasciitis, an orphan disease characterized by inflammation and fibrosis of the skin fascia. Taken together, these data define a previously unidentified TH2 cell niche in skin and functionally characterize a disease-associated fibroblast population. The results also suggest a mechanism of immunological priming whereby inflammation early in life creates networks between adaptive immune cells and stromal cells to establish an immunological set-point in tissues that is maintained throughout life.
Your institute does not have access to this article
Access options
Subscribe to Nature+
Get immediate online access to the entire Nature family of 50+ journals
Subscribe to Journal
Get full journal access for 1 year
$199.00
only $3.90 per issue
All prices are NET prices.
VAT will be added later in the checkout.
Tax calculation will be finalised during checkout.
Buy article
Get time limited or full article access on ReadCube.
$32.00
All prices are NET prices.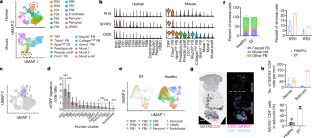 Data availability
Sequencing data are publicly available at the Gene Expression Omnibus under accession number GSE183031. Cross-tissue fibroblast atlas data9 were downloaded from https://www.fibroxplorer.com/download. Additional data presented here are available upon request from the corresponding author. Source data are provided with this paper.
Code availability
Code used for analysis of scRNA-seq data is available upon request from the corresponding author.
References
Al Nabhani, Z. & Eberl, G. Imprinting of the immune system by the microbiota early in life. Mucosal Immunol. 13, 183–189 (2020).

Scharschmidt, T. C. et al. A wave of regulatory T cells into neonatal skin mediates tolerance to commensal microbes. Immunity 43, 1011–1021 (2015).

Scharschmidt, T. C. et al. Commensal microbes and hair follicle morphogenesis coordinately drive Treg migration into neonatal skin. Cell Host Microbe 21, 467–477 (2017).

Kim, J. M., Rasmussen, J. P. & Rudensky, A. Y. Regulatory T cells prevent catastrophic autoimmunity throughout the lifespan of mice. Nat. Immunol. 8, 191–197 (2007).

Nussbaum, J. C. et al. Type 2 innate lymphoid cells control eosinophil homeostasis. Nature 502, 245–248 (2013).

Collins, N. et al. Skin CD4+ memory T cells exhibit combined cluster-mediated retention and equilibration with the circulation. Nat. Commun. 7, 11514 (2016).

Kobayashi, T. et al. Homeostatic control of sebaceous glands by innate lymphoid cells regulates commensal bacteria equilibrium. Cell 176, 982–997.e16 (2019).

Ali, N. et al. Regulatory T cells in skin facilitate epithelial stem cell differentiation. Cell 169, 1119–1129.e11 (2017).

Buechler, M. B. et al. Cross-tissue organization of the fibroblast lineage. Nature 593, 575–579 (2021).

Joost, S. et al. The molecular anatomy of mouse skin during hair growth and rest. Cell Stem Cell 26, 441–457.e7 (2020).

Zhang, L. et al. Diet-induced obesity promotes infection by impairment of the innate antimicrobial defense function of dermal adipocyte progenitors. Sci. Transl. Med. 13, eabb5280 (2021).

Driskell, R. R. et al. Distinct fibroblast lineages determine dermal architecture in skin development and repair. Nature 504, 277–281 (2013).

Kimura-Ueki, M. et al. Hair cycle resting phase is regulated by cyclic epithelial FGF18 signaling. J. Invest. Dermatol. 132, 1338–1345 (2012).

Kim, B. S. et al. TSLP elicits IL-33-independent innate lymphoid cell responses to promote skin inflammation. Sci. Transl. Med. 5, 170ra16 (2013).

Salimi, M. et al. A role for IL-25 and IL-33-driven type-2 innate lymphoid cells in atopic dermatitis. J. Exp. Med. 210, 2939–2950 (2013).

Ricardo-Gonzalez, R. R. et al. Tissue signals imprint ILC2 identity with anticipatory function. Nat. Immunol. 19, 1093–1099 (2018).

Obata-Ninomiya, K. et al. The skin is an important bulwark of acquired immunity against intestinal helminths. J. Exp. Med. 210, 2583–2595 (2013).

Boothby, I. C., Cohen, J. N. & Rosenblum, M. D. Regulatory T cells in skin injury: at the crossroads of tolerance and tissue repair. Sci. Immunol. 5, eaaz9631 (2020).

Correa-Gallegos, D. et al. Patch repair of deep wounds by mobilized fascia. Nature 576, 287–292 (2019).

Naik, S. et al. Inflammatory memory sensitizes skin epithelial stem cells to tissue damage. Nature 550, 475–480 (2017).

Findley, T. W., Chaitow, L. & Huijing, P. (eds) Fascia: The Tensional Network of the Human Body (Churchill Livingstone, 2012).

Stuart, T. et al. Comprehensive integration of single-cell data. Cell 177, 1888–1902 (2019).

Ramachandran, P. et al. Resolving the fibrotic niche of human liver cirrhosis at single-cell level. Nature 575, 512–518 (2019).

Chan, K. K. et al. Eosinophilic fasciitis following checkpoint inhibitor therapy: four cases and a review of literature. Oncologist 25, 140–149 (2020).

Mortezavi, M., Barrett, M. & Edrissian, M. Successful treatment of refractory eosinophilic fasciitis with reslizumab. JAAD Case Rep. 6, 951–953 (2020).

Merrick, D. et al. Identification of a mesenchymal progenitor cell hierarchy in adipose tissue. Science 364, eaav2501 (2019).

Dahlgren, M. W. et al. Adventitial stromal cells define group 2 innate lymphoid cell tissue niches. Immunity 50, 707–722.e6 (2019).

Spallanzani, R. G. et al. Distinct immunocyte-promoting and adipocyte-generating stromal components coordinate adipose tissue immune and metabolic tenors. Sci. Immunol. 4, eaaw3658 (2019).

Schwalie, P. C. et al. A stromal cell population that inhibits adipogenesis in mammalian fat depots. Nature 559, 103–108 (2018).

Scott, R. W., Arostegui, M., Schweitzer, R., Rossi, F. M. V. & Underhill, T. M. Hic1 defines quiescent mesenchymal progenitor subpopulations with distinct functions and fates in skeletal muscle regeneration. Cell Stem Cell 25, 797–813.e9 (2019).

Dahlgren, M. W. & Molofsky, A. B. Adventitial cuffs: regional hubs for tissue immunity. Trends Immunol. 40, 877–887 (2019).

Vainchtein, I. D. et al. Astrocyte-derived interleukin-33 promotes microglial synapse engulfment and neural circuit development. Science 359, 1269–1273 (2018).

Hagan, A. S., Zhang, B. & Ornitz, D. M. Identification of a FGF18-expressing alveolar myofibroblast that is developmentally cleared during alveologenesis. Development 147, dev181032 (2020).

Camberis, M. et al. Evaluating the in vivo Th2 priming potential among common allergens. J. Immunol. Methods 394, 62–72 (2013).

Bankhead, P. et al. QuPath: open source software for digital pathology image analysis. Sci. Rep. 7, 16878 (2017).

Yang, B. et al. Single-cell phenotyping within transparent intact tissue through whole-body clearing. Cell 158, 945–958 (2014).

Korotkevich, G. et al. Fast gene set enrichment analysis. Preprint at bioRxiv https://doi.org/10.1101/060012 (2021).
Acknowledgements
We thank the staff at the UCSF Parnassus Flow Cytometry Core (RRID:SCR_018206) for assistance with flow cytometry analysis and cell sorting (supported in part by NIH P30 DK063720 and by the NIH S10 instrumentation grant 1S10OD021822-01); the UCSF Biological Imaging and Development Core for confocal microscopy and analysis; the UCSF Genomics CoLab and Institute for Human Genetics for scRNA-seq and the UCSF Mouse Pathology Core for histology; and T. Scharschmidt, C. Lowell, J. Cyster, M. Ansel, T. Peng and A. Abbas for comments and discussion; D. Ornitz and A. Hagan for the donation of Fgf18CreERT2 tissue; and R. Locksley and H.-E. Liang for N. brasiliensis larvae. Figs. 1a, b and Extended Data Figs. 8a, g, 9a, e, o and v were created using BioRender.com. I.C.B. was supported by NIH F30AI147364, NIH T32GM007618 and NIH T32AI007334. M.D.R. is supported by NIH R01AR077553 and R01AR071944.
Ethics declarations
Competing interests
Funding for scRNA-seq studies of healthy human skin was provided by LEO Pharmaceuticals. M.D.R. is a founder and consultant for TRex Bio., Sitryx Bio. and Mozart Therapeutics.
Additional information
Peer review information Nature thanks Christopher Buckley, Laura Mackay and the other, anonymous, reviewer(s) for their contribution to the peer review of this work. Peer reviewer reports are available.
Publisher's note Springer Nature remains neutral with regard to jurisdictional claims in published maps and institutional affiliations.
Extended data figures and tables
Supplementary information
About this article
Cite this article
Boothby, I.C., Kinet, M.J., Boda, D.P. et al. Early-life inflammation primes a T helper 2 cell–fibroblast niche in skin. Nature 599, 667–672 (2021). https://doi.org/10.1038/s41586-021-04044-7
Received:

Accepted:

Published:

Issue Date:

DOI: https://doi.org/10.1038/s41586-021-04044-7
Further reading
Juan M. Inclan-Rico
Heather L. Rossi
De'Broski R. Herbert

Mucosal Immunology (2022)

Chenlu Zhang
Geil R. Merana
Tiffany C. Scharschmidt

Mucosal Immunology (2022)

Nature Reviews Immunology (2022)
Comments
By submitting a comment you agree to abide by our Terms and Community Guidelines. If you find something abusive or that does not comply with our terms or guidelines please flag it as inappropriate.