Abstract
A central question in chordate evolution is the origin of sessility in adult ascidians, and whether the appendicularian complete free-living style represents a primitive or derived condition among tunicates1. According to the 'a new heart for a new head' hypothesis, the evolution of the cardiopharyngeal gene regulatory network appears as a pivotal aspect to understand the evolution of the lifestyles of chordates2,3,4. Here we show that appendicularians experienced massive ancestral losses of cardiopharyngeal genes and subfunctions, leading to the 'deconstruction' of two ancestral modules of the tunicate cardiopharyngeal gene regulatory network. In ascidians, these modules are related to early and late multipotency, which is involved in lineage cell-fate determination towards the first and second heart fields and siphon muscles. Our work shows that the deconstruction of the cardiopharyngeal gene regulatory network involved the regressive loss of the siphon muscle, supporting an evolutionary scenario in which ancestral tunicates had a sessile ascidian-like adult lifestyle. In agreement with this scenario, our findings also suggest that this deconstruction contributed to the acceleration of cardiogenesis and the redesign of the heart into an open-wide laminar structure in appendicularians as evolutionary adaptations during their transition to a complete pelagic free-living style upon the innovation of the food-filtering house5.
Relevant articles
Open Access articles citing this article.
Aki Masunaga

,

Michael J. Mansfield

…

Nicholas M. Luscombe

Marine Biology Open Access 27 November 2022
Access options
Access Nature and 54 other Nature Portfolio journals
Get Nature+, our best-value online-access subscription
$29.99 / 30 days
cancel any time
Subscribe to this journal
Receive 51 print issues and online access
$199.00 per year
only $3.90 per issue
Rent or buy this article
Get just this article for as long as you need it
$39.95
Prices may be subject to local taxes which are calculated during checkout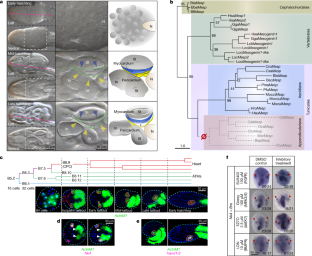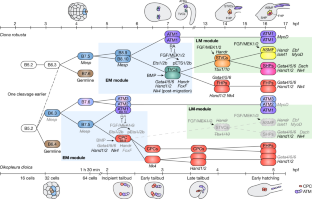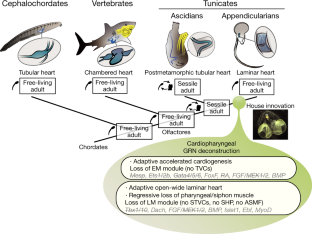 Data availability
Accession numbers and URLs of databases from publicly available sources are provided in the Methods, Supplementary Information and Supplementary Data 1.
References
Satoh, N. in Chordate Origins and Evolution (ed. Satoh, N.) 17–30 (Academic, 2016).

Diogo, R. et al. A new heart for a new head in vertebrate cardiopharyngeal evolution. Nature 520, 466–473 (2015).

Razy-Krajka, F. & Stolfi, A. Regulation and evolution of muscle development in tunicates. Evodevo 10, 1–34 (2019).

Stolfi, A. et al. Early chordate origins of the vertebrate second heart field. Science 565, 565–569 (2010).

Mikhaleva, Y., Skinnes, R., Sumic, S., Thompson, E. M. & Chourrout, D. Development of the house secreting epithelium, a major innovation of tunicate larvaceans, involves multiple homeodomain transcription factors. Dev. Biol. 443, 117–126 (2018).

Garstang, W. The morphology of the Tunicata, and its bearings on the phylogeny of the Chrodata. Quar. J. Micr. Sci. 72, 51–186 (1928).

Bourlat, S. J. et al. Deuterostome phylogeny reveals monophyletic chordates and the new phylum Xenoturbellida. Nature 444, 85–88 (2006).

Delsuc, F., Brinkmann, H., Chourrout, D. & Philippe, H. Tunicates and not cephalochordates are the closest living relatives of vertebrates. Nature 439, 965–968 (2006).

Swalla, B. J., Cameron, C. B., Corley, L. S. & Garey, J. R. Urochordates are monophyletic within the deuterostomes. Syst. Biol. 49, 52–64 (2000).

Delsuc, F. et al. A phylogenomic framework and timescale for comparative studies of tunicates. BMC Biol. 16, 39 (2018).

Kocot, K. M., Tassia, M. G., Halanych, K. M. & Swalla, B. J. Phylogenomics offers resolution of major tunicate relationships. Mol. Phylogenet. Evol. 121, 166–173 (2018).

Braun, K., Leubner, F. & Stach, T. Phylogenetic analysis of phenotypic characters of Tunicata supports basal Appendicularia and monophyletic Ascidiacea. Cladistics 36, 259–300 (2020).

Stach, T. Ontogeny of the appendicularian Oikopleura dioica (Tunicata, Chordata) reveals characters similar to ascidian larvae with sessile adults. Zoomorphology 126, 203–214 (2007).

Nishida, H., Ohno, N., Caicci, F. & Manni, L. 3D reconstruction of structures of hatched larva and young juvenile of the larvacean Oikopleura dioica using SBF-SEM. Sci. Rep. 11, 1–14 (2021).

Almazán, A., Ferrández-Roldán, A., Albalat, R. & Cañestro, C. Developmental atlas of appendicularian Oikopleura dioica actins provides new insights into the evolution of the notochord and the cardio-paraxial muscle in chordates. Dev. Biol. 448, 260–270 (2019).

Stach, T., Winter, J., Bouquet, J.-M. M., Chourrout, D. & Schnabel, R. Embryology of a planktonic tunicate reveals traces of sessility. Proc. Natl Acad. Sci. USA 105, 7229–7234 (2008).

Davidson, B. Ciona intestinalis as a model for cardiac development. Semin. Cell Dev. Biol. 18, 16–26 (2007).

Christiaen, L., Stolfi, A. & Levine, M. BMP signaling coordinates gene expression and cell migration during precardiac mesoderm development. Dev. Biol. 340, 179–187 (2010).

Wang, W. et al. A single-cell transcriptional roadmap for cardiopharyngeal fate diversification. Nat. Cell Biol. 21, 674–686 (2019).

Racioppi, C., Wiechecki, K. A. & Christiaen, L. Combinatorial chromatin dynamics foster accurate cardiopharyngeal fate choices. eLife 8, 1–33 (2019).

Lescroart, F. et al. Early lineage restriction in temporally distinct populations of Mesp1 progenitors during mammalian heart development. Nat. Cell Biol. 16, 829–840 (2014).

Satou, Y., Imai, K. S. & Satoh, N. The ascidian Mesp gene specifies heart precursor cells. Development 131, 2533–2541 (2004).

Davidson, B., Shi, W., Beh, J., Christiaen, L. & Levine, M. FGF signaling delineates the cardiac progenitor field in the simple chordate, Ciona intestinalis. Genes Dev. 20, 2728–2738 (2006).

Bernadskaya, Y. Y., Brahmbhatt, S., Gline, S. E., Wang, W. & Christiaen, L. Discoidin-domain receptor coordinates cell-matrix adhesion and collective polarity in migratory cardiopharyngeal progenitors. Nat. Commun. 10, 57 (2019).

Shi, Y., Katsev, S., Cai, C. & Evans, S. BMP signaling is required for heart formation in vertebrates. Dev. Biol. 224, 226–237 (2000).

Davidson, B., Shi, W. & Levine, M. Uncoupling heart cell specification and migration in the simple chordate Ciona intestinalis. Development 132, 4811–4818 (2005).

Schachterle, W., Rojas, A., Xu, S.-M. & Black, B. L. ETS-dependent regulation of a distal Gata4 cardiac enhancer. Dev. Biol. 361, 439–449 (2012).

Wang, W., Razy-Krajka, F., Siu, E., Ketcham, A. & Christiaen, L. NK4 antagonizes Tbx1/10 to promote cardiac versus pharyngeal muscle fate in the ascidian second heart field. PLoS Biol. 11, e1001725 (2013).

Delsman, H. C. Contributions on the ontogeny of Oikopleura dioica. Verch. Rijksinst. Onderz. Zee 3, 1–24 (1910).

Fujii, S., Nishio, T. & Nishida, H. Cleavage pattern, gastrulation, and neurulation in the appendicularian, Oikopleura dioica. Dev. Genes Evol. 218, 69–79 (2008).

Hogan, B. Deconstructing the genesis of animal form. Development 131, 2515–2520 (2004).

Fenaux, R. in The Biology of Pelagic Tunicates (ed. Bone, Q.) 25–34 (Oxford Univ. Press, 1998).

Martí-Solans, J. et al. Oikopleura dioica culturing made easy: a low-cost facility for an emerging animal model in EvoDevo. Genesis 53, 183–193 (2015).

Brozovic, M. et al. ANISEED 2017: extending the integrated ascidian database to the exploration and evolutionary comparison of genome-scale datasets. Nucleic Acids Res. 46, D718–D725 (2018).

Naville, M. et al. Massive changes of genome size driven by expansions of non-autonomous transposable elements. Curr. Biol. 29, 1161–1168 (2019).

Guindon, S. et al. New algorithms and methods to estimate maximum-likelihood phylogenies: assessing the performance of PhyML 3.0. Syst. Biol. 59, 307–321 (2010).

Larsson, A. AliView: a fast and lightweight alignment viewer and editor for large datasets. Bioinformatics 30, 3276–3278 (2014).

Conklin, E. G. The organization and cell lineage of the ascidian egg. J. Acad. Nat. Sci. Phila. 13, 1–119 (1905).

Martí-Solans, J. et al. Coelimination and survival in gene network evolution: dismantling the RA-signaling in a chordate. Mol. Biol. Evol. 33, 2401–2416 (2016).

Bassham, S. & Postlethwait, J. Brachyury (T) expression in embryos of a larvacean urochordate, Oikopleura dioica, and the ancestral role of T. Dev. Biol. 220, 322–332 (2000).

Cañestro, C. & Postlethwait, J. H. Development of a chordate anterior–posterior axis without classical retinoic acid signaling. Dev. Biol. 305, 522–538 (2007).

Schindelin, J. et al. Fiji: an open-source platform for biological-image analysis. Nat. Methods 9, 676–682 (2012).

Torres-Águila, N. P. et al. Diatom bloom-derived biotoxins cause aberrant development and gene expression in the appendicularian chordate Oikopleura dioica. Commun. Biol. 1, 121 (2018).
Acknowledgements
We thank all team members of the C.C. and R.A. laboratories for discussions; S. Artime for assistance with the animal facility; and L. Christiaen and A. Elewa for reading and commenting on the manuscript. C.C. was supported by BFU2016-80601-P and PID2019-110562GB-I00, R.A. by BIO2015-67358-C2-1-P and J.G.-F. by BFU2017-861152-P and PID2020-117820GB-I00 grants from Ministerio de Ciencia y Innovación (Spain). C.C., R.A. and J.G.-F. were also supported by grant 2017-SGR-1665 from Generalitat de Catalunya. A.F.-R. was supported by FPU14/02654, G.S.-S. by FPU18/02414, M.P.-C. by colaboración-2015/16, P.B. by colaboración-2016/17 and M.J.-L. by colaboración-2019/20 fellowships from Ministerio de Educación Cultura y Deporte. M.F.-T. was supported by a PREDOC2020/58 fellowship from the University of Barcelona. M.P.-C. was supported by PPL1415, A.F.-R by PPL1314 and P.B. by PPLB1617 from Asociación Española Contra el Cáncer (AECC).
Ethics declarations
Competing interests
The authors declare no competing interests.
Additional information
Peer review information Nature thanks Benoit Bruneau, Brad Davidson and the other, anonymous, reviewer(s) for their contribution to the peer review of this work. Peer reviewer reports are available.
Publisher's note Springer Nature remains neutral with regard to jurisdictional claims in published maps and institutional affiliations.
Extended data figures and tables
Supplementary information
About this article
Cite this article
Ferrández-Roldán, A., Fabregà-Torrus, M., Sánchez-Serna, G. et al. Cardiopharyngeal deconstruction and ancestral tunicate sessility. Nature 599, 431–435 (2021). https://doi.org/10.1038/s41586-021-04041-w
Received:

Accepted:

Published:

Issue Date:

DOI: https://doi.org/10.1038/s41586-021-04041-w
This article is cited by
Nature (2022)

Aki Masunaga
Michael J. Mansfield
Nicholas M. Luscombe

Marine Biology (2022)
Comments
By submitting a comment you agree to abide by our Terms and Community Guidelines. If you find something abusive or that does not comply with our terms or guidelines please flag it as inappropriate.