Abstract
The cognitive abilities that characterize humans are thought to emerge from unique features of the cortical circuit architecture of the human brain, which include increased cortico–cortical connectivity. However, the evolutionary origin of these changes in connectivity and how they affected cortical circuit function and behaviour are currently unknown. The human-specific gene duplication SRGAP2C emerged in the ancestral genome of the Homo lineage before the major phase of increase in brain size1,2. SRGAP2C expression in mice increases the density of excitatory and inhibitory synapses received by layer 2/3 pyramidal neurons (PNs)3,4,5. Here we show that the increased number of excitatory synapses received by layer 2/3 PNs induced by SRGAP2C expression originates from a specific increase in local and long-range cortico–cortical connections. Mice humanized for SRGAP2C expression in all cortical PNs displayed a shift in the fraction of layer 2/3 PNs activated by sensory stimulation and an enhanced ability to learn a cortex-dependent sensory-discrimination task. Computational modelling revealed that the increased layer 4 to layer 2/3 connectivity induced by SRGAP2C expression explains some of the key changes in sensory coding properties. These results suggest that the emergence of SRGAP2C at the birth of the Homo lineage contributed to the evolution of specific structural and functional features of cortical circuits in the human cortex.
Access options
Subscribe to Nature+
Get immediate online access to Nature and 55 other Nature journal
Subscribe to Journal
Get full journal access for 1 year
$199.00
only $3.90 per issue
All prices are NET prices.
VAT will be added later in the checkout.
Tax calculation will be finalised during checkout.
Buy article
Get time limited or full article access on ReadCube.
$32.00
All prices are NET prices.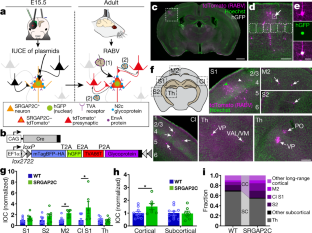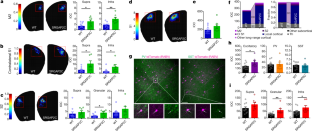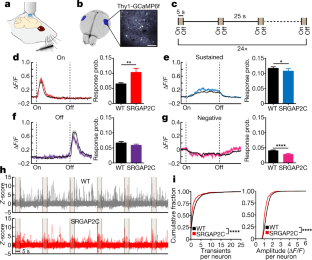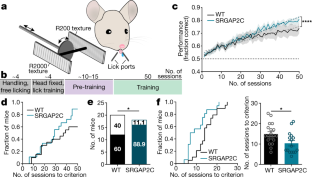 Data availability
The reagents, mouse line and datasets generated and/or analysed during the current study are available from the corresponding author upon request.
Code availability
Custom-written Matlab and Python code is available upon request from the corresponding author.
References
Dennis, M. Y. et al. The evolution and population diversity of human-specific segmental duplications. Nat. Ecol. Evol. 1, 0069 (2017).

Ponce de León, M. S. et al. The primitive brain of early Homo. Science 372, 165–171 (2021).

Charrier, C. et al. Inhibition of SRGAP2 function by its human-specific paralogs induces neoteny during spine maturation. Cell 149, 923–935 (2012).

Fossati, M. et al. SRGAP2 and its human-specific paralog co-regulate the development of excitatory and inhibitory synapses. Neuron 91, 356–369 (2016).

Schmidt, E. R. E., Kupferman, J. V., Stackmann, M. & Polleux, F. The human-specific paralogs SRGAP2B and SRGAP2C differentially modulate SRGAP2A-dependent synaptic development. Sci. Rep. 9, 18692 (2019).

Sudmant, P. H. et al. Diversity of human copy number variation and multicopy genes. Science 330, 641–646 (2010).

Fortna, A. et al. Lineage-specific gene duplication and loss in human and great ape evolution. PLoS Biol. 2, E207 (2004).

Sporny, M. et al. Structural history of human SRGAP2 proteins. Mol. Biol. Evol. 34, 1463–1478 (2017).

Benavides-Piccione, R., Ballesteros-Yáñez, I., DeFelipe, J. & Yuste, R. Cortical area and species differences in dendritic spine morphology. J. Neurocytol. 31, 337–346 (2002).

Elston, G. N., Benavides-Piccione, R. & DeFelipe, J. The pyramidal cell in cognition: a comparative study in human and monkey. J. Neurosci. 21, RC163 (2001).

Reardon, T. R. et al. Rabies virus CVS-N2cδG strain enhances retrograde synaptic transfer and neuronal viability. Neuron 89, 711–724 (2016).

Wickersham, I. R., Finke, S., Conzelmann, K. K. & Callaway, E. M. Retrograde neuronal tracing with a deletion-mutant rabies virus. Nat. Methods 4, 47–49 (2007).

Allen Mouse Common Coordinate Framework. Technical White Paper (Allen Institute for Brain Science, 2015).

Minamisawa, G., Kwon, S. E., Chevée, M., Brown, S. P. & O'Connor, D. H. A non-canonical feedback circuit for rapid interactions between somatosensory cortices. Cell Rep. 23, 2718–2731.e6 (2018).

Tremblay, R., Lee, S. & Rudy, B. GABAergic interneurons in the neocortex: from cellular properties to circuits. Neuron 91, 260–292 (2016).

Genescu, I. & Garel, S. Being superficial: a developmental viewpoint on cortical layer 1 wiring. Curr. Opin. Neurobiol. 66, 125–134 (2021).

Dana, H. et al. Thy1-GCaMP6 transgenic mice for neuronal population imaging in vivo. PLoS ONE 9, e108697 (2014).

Goebbels, S. et al. Genetic targeting of principal neurons in neocortex and hippocampus of NEX-Cre mice. Genesis 44, 611–621 (2006).

Grienberger, C. & Konnerth, A. Imaging calcium in neurons. Neuron 73, 862–885 (2012).

Petersen, C. C. H. Sensorimotor processing in the rodent barrel cortex. Nat. Rev. Neurosci. 20, 533–546 (2019).

Guic-Robles, E., Jenkins, W. M. & Bravo, H. Vibrissal roughness discrimination is barrelcortex-dependent. Behav. Brain Res. 48, 145–152 (1992).

Manita, S. et al. A top-down cortical circuit for accurate sensory perception. Neuron 86, 1304–1316 (2015).

Park, J. M. et al. Deep and superficial layers of the primary somatosensory cortex are critical for whisker-based texture discrimination in mice. Preprint at bioRxiv https://doi.org/10.1101/2020.08.12.245381 (2020).

Geiller, T. et al. Large-scale 3D two-photon imaging of molecularly identified CA1 interneuron dynamics in behaving mice. Neuron 108, 968–983.e9 (2020).

Rossi, L. F., Harris, K. D. & Carandini, M. Spatial connectivity matches direction selectivity in visual cortex. Nature 588, 648–652 (2020).

Courchet, J. et al. Terminal axon branching is regulated by the LKB1–NUAK1 kinase pathway via presynaptic mitochondrial capture. Cell 153, 1510–1525 (2013).

Hand, R. & Polleux, F. Neurogenin2 regulates the initial axon guidance of cortical pyramidal neurons projecting medially to the corpus callosum. Neural Dev. 6, 30 (2011).

Paxinos, G. & Franklin, K. B. J. The Mouse Brain in Stereotaxic Coordinates (Academic, 2001).

Ma, Y. et al. Wide-field optical mapping of neural activity and brain haemodynamics: considerations and novel approaches. Philos. Trans. R. Soc. B Biol. Sci. 371, 20150360 (2016).

Pnevmatikakis, E. A. & Giovannucci, A. NoRMCorre: an online algorithm for piecewise rigid motion correction of calcium imaging data. J. Neurosci. Methods 291, 83–94 (2017).

Peters, A. J., Chen, S. X. & Komiyama, T. Emergence of reproducible spatiotemporal activity during motor learning. Nature 510, 263–267 (2014).

Deneux, T. et al. Accurate spike estimation from noisy calcium signals for ultrafast three-dimensional imaging of large neuronal populations in vivo. Nat. Commun. 7, 12190 (2016).

Hansel, D. & van Vreeswijk, C. How noise contributes to contrast invariance of orientation tuning in cat visual cortex. J. Neurosci. 22, 5118–5128 (2002).

Miller, K. D. & Troyer, T. W. Neural noise can explain expansive, power-law nonlinearities in neural response functions. J. Neurophysiol. 87, 653–659 (2002).

Priebe, N. J. & Ferster, D. Inhibition, spike threshold, and stimulus selectivity in primary visual cortex. Neuron 57, 482–497 (2008).

Rubin, D. B., Van Hooser, S. D. & Miller, K. D. The stabilized supralinear network: a unifying circuit motif underlying multi-input integration in sensory cortex. Neuron 85, 402–417 (2015).

Hennequin, G., Ahmadian, Y., Rubin, D. B., Lengyel, M. & Miller, K. D. The dynamical regime of sensory cortex: stable dynamics around a single stimulus-tuned attractor account for patterns of noise variability. Neuron 98, 846–860.e5 (2018).

Keller, A. J. et al. A disinhibitory circuit for contextual modulation in primary visual cortex. Neuron 108, 1181–1193.e8 (2020).
Acknowledgements
The transgenic inducible knock-in mouse model described here was developed in collaboration with genOway (Lyon, France). We thank T. Reardon and S. Fageiry for providing RABV; M. Hirabayashi and Q. Liu for technical help; D. Peterka and the staff at the Zuckerman Institute's Cellular Imaging platform for instrument use and technical advice; and members of the Polleux laboratory and P. Vanderhaeghen for valuable discussions and input. This work was supported by NIH R01 (RO1NS067557) (to F.P.); an award from the Roger De Spoelberch Fondation (to F.P.); an award from the Nomis Foundation (to F.P.); the Netherlands Organization for Scientific Research (NWO Rubicon 825.14.017) (to E.R.E.S.); the European Molecular Biology Organization (EMBO Long-Term Fellowship ALTF 1055-2014) (to E.R.E.S.); NIH K99 (NS109323) (to E.R.E.S.); NSF GRFP (to J.M.P.); NIH R01 (NS094659) and NIH R01 (NS069679) (to R.M.B.); NIH U19 (U19NS107613) (to M.D., M.M.M.-M. and K.D.M.); a NSF NeuroNex Award (DBI-1707398) (to K.D.M. and M.D.); The Gatsby Charitable Foundation (GAT3708) (to K.D.M. and M.D.); the Simons Collaboration on the Global Brain (543017) (to K.D.M. and M.D.); and R01 NS063226, RF1 MH114276, UF1 NS108213 and U19NS104649 (to E.M.C.H.).
Ethics declarations
Competing interests
The authors declare no competing interests.
Additional information
Peer review information Nature thanks Tatiana Engel and the other, anonymous, reviewer(s) for their contribution to the peer review of this work.
Publisher's note Springer Nature remains neutral with regard to jurisdictional claims in published maps and institutional affiliations.
Extended data figures and tables
Supplementary information
About this article
Cite this article
Schmidt, E.R.E., Zhao, H.T., Park, J.M. et al. A human-specific modifier of cortical connectivity and circuit function. Nature 599, 640–644 (2021). https://doi.org/10.1038/s41586-021-04039-4
Received:

Accepted:

Published:

Issue Date:

DOI: https://doi.org/10.1038/s41586-021-04039-4
This article is cited by
Ruairí J. V. Roberts
Sinziana Pop
Lucia L. Prieto-Godino

Nature Reviews Neuroscience (2022)

Oliver L. Eichmüller
Juergen A. Knoblich

Nature Reviews Neurology (2022)
Comments
By submitting a comment you agree to abide by our Terms and Community Guidelines. If you find something abusive or that does not comply with our terms or guidelines please flag it as inappropriate.