Abstract
Glutathione (GSH) is a small-molecule thiol that is abundant in all eukaryotes and has key roles in oxidative metabolism1. Mitochondria, as the major site of oxidative reactions, must maintain sufficient levels of GSH to perform protective and biosynthetic functions2. GSH is synthesized exclusively in the cytosol, yet the molecular machinery involved in mitochondrial GSH import remains unknown. Here, using organellar proteomics and metabolomics approaches, we identify SLC25A39, a mitochondrial membrane carrier of unknown function, as a regulator of GSH transport into mitochondria. Loss of SLC25A39 reduces mitochondrial GSH import and abundance without affecting cellular GSH levels. Cells lacking both SLC25A39 and its paralogue SLC25A40 exhibit defects in the activity and stability of proteins containing iron–sulfur clusters. We find that mitochondrial GSH import is necessary for cell proliferation in vitro and red blood cell development in mice. Heterologous expression of an engineered bifunctional bacterial GSH biosynthetic enzyme (GshF) in mitochondria enables mitochondrial GSH production and ameliorates the metabolic and proliferative defects caused by its depletion. Finally, GSH availability negatively regulates SLC25A39 protein abundance, coupling redox homeostasis to mitochondrial GSH import in mammalian cells. Our work identifies SLC25A39 as an essential and regulated component of the mitochondrial GSH-import machinery.
Access options
Subscribe to Journal
Get full journal access for 1 year
$199.00
only $3.90 per issue
All prices are NET prices.
VAT will be added later in the checkout.
Tax calculation will be finalised during checkout.
Rent or Buy article
Get time limited or full article access on ReadCube.
from$8.99
All prices are NET prices.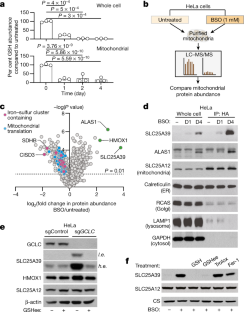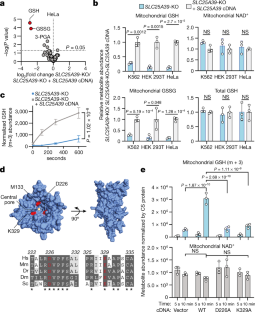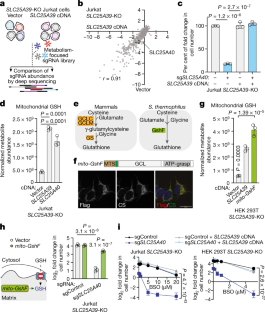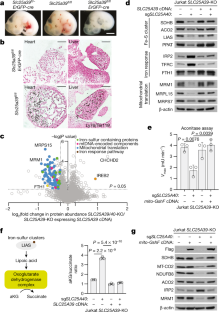 Data availability
Proteomics data have been deposited to the ProteomeXchange Consortium with the dataset identifier PXD027673. Other data generated are available from the corresponding author upon reasonable request. Source data are provided with this paper.
References
1.

Meister, A. & Anderson, M. E. Glutathione. Annu. Rev. Biochem. 52, 711–760 (1983).

2.

Mårtensson, J., Lai, J. C. & Meister, A. High-affinity transport of glutathione is part of a multicomponent system essential for mitochondrial function. Proc. Natl Acad. Sci. USA 87, 7185–7189 (1990).

3.

Deponte, M. The incomplete glutathione puzzle: just guessing at numbers and figures? Antioxid. Redox Signal. 27, 1130–1161 (2017).

4.

Griffith, O. W. & Meister, A. Origin and turnover of mitochondrial glutathione. Proc. Natl Acad. Sci. USA 82, 4668–4672 (1985).

5.

Hwang, C., Sinskey, A. J. & Lodish, H. F. Oxidized redox state of glutathione in the endoplasmic reticulum. Science 257, 1496–1502 (1992).

6.

Meredith, M. J. & Reed, D. J. Status of the mitochondrial pool of glutathione in the isolated hepatocyte. J. Biol. Chem. 257, 3747–3753 (1982).

7.

Deneke, S. M. & Fanburg, B. L. Regulation of cellular glutathione. Am. J. Physiol. Lung Cell. Mol. Physiol. 257, L163–L173 (1989).

8.

Jones, D. P. Redox potential of GSH/GSSG couple: assay and biological significance. Methods Enzymol. 348, 93–112 (2002).

9.

Kurosawa, K., Hayashi, N., Sato, N., Kamada, T. & Tagawa, K. Transport of glutathione across the mitochondrial membranes. Biochem. Biophys. Res. Commun. 167, 367–372 (1990).

10.

Griffith, O. W. & Meister, A. Potent and specific inhibition of glutathione synthesis by buthionine sulfoximine (S-n-butyl homocysteine sulfoximine). J. Biol. Chem. 254, 7558–7560 (1979).

11.

Münch, C. & Harper, J. W. Mitochondrial unfolded protein response controls matrix pre-RNA processing and translation. Nature 534, 710–713 (2016).

12.

Lee, H.-R. et al. Adaptive response to GSH depletion and resistance to l-buthionine-(S,R)-sulfoximine: involvement of Nrf2 activation. Mol. Cell. Biochem. 318, 23–31 (2008).

13.

Sun, X. et al. Activation of the p62–Keap1–NRF2 pathway protects against ferroptosis in hepatocellular carcinoma cells. Hepatology 63, 173–184 (2016).

14.

Booty, L. M. et al. Selective disruption of mitochondrial thiol redox state in cells and in vivo. Cell Chem. Biol. 26, 449-461.e8 (2019).

15.

Ruprecht, J. J. & Kunji, E. R. S. The SLC25 mitochondrial carrier family: structure and mechanism. Trends Biochem. Sci. 45, 244–258 (2020).

16.

Pebay-Peyroula, E. et al. Structure of mitochondrial ADP/ATP carrier in complex with carboxyatractyloside. Nature 426, 39–44 (2003).

17.

Zhu, X. G. et al. CHP1 regulates compartmentalized glycerolipid synthesis by activating GPAT4. Mol. Cell 74, 45–58.e7 (2019).

18.

Zhang, H., Go, Y.-M. & Jones, D. P. Mitochondrial thioredoxin-2/peroxiredoxin-3 system functions in parallel with mitochondrial GSH system in protection against oxidative stress. Arch. Biochem. Biophys. 465, 119–126 (2007).

19.

Seelig, G. F., Simondsen, R. P. & Meister, A. Reversible dissociation of gamma-glutamylcysteine synthetase into two subunits. J. Biol. Chem. 259, 9345–9347 (1984).

20.

Li, W., Li, Z., Yang, J. & Ye, Q. Production of glutathione using a bifunctional enzyme encoded by gshF from Streptococcus thermophilus expressed in Escherichia coli. J. Biotechnol. 154, 261–268 (2011).

21.

Chen, W. W., Freinkman, E., Wang, T., Birsoy, K. & Sabatini, D. M. Absolute quantification of matrix metabolites reveals the dynamics of mitochondrial metabolism. Cell 166, 1324–1337.e11 (2016).

22.

Slabbaert, J. R. et al. Shawn, the Drosophila homolog of SLC25A39/40, is a mitochondrial carrier that promotes neuronal survival. J. Neurosci. 36, 1914–1929 (2016).

23.

Usaj, M. et al. TheCellMap.org: a web-accessible database for visualizing and mining the global yeast genetic interaction network. Genes Genomes Genet. 7, 1539–1549 (2017).

24.

Luk, E., Carroll, M., Baker, M. & Culotta, V. C. Manganese activation of superoxide dismutase 2 in Saccharomyces cerevisiae requires MTM1, a member of the mitochondrial carrier family. Proc. Natl Acad. Sci. USA 100, 10353–10357 (2003).

25.

Nilsson, R. et al. Discovery of genes essential for heme biosynthesis through large-scale gene expression analysis. Cell Metab. 10, 119–130 (2009).

26.

Biederbick, A. et al. Role of human mitochondrial Nfs1 in cytosolic iron–sulfur protein biogenesis and iron regulation. Mol. Cell. Biol. 26, 5675–5687 (2006).

27.

Mayr, J. A., Feichtinger, R. G., Tort, F., Ribes, A. & Sperl, W. Lipoic acid biosynthesis defects. J. Inherit. Metab. Dis. 37, 553–563 (2014).

28.

Chen, Z. & Lash, L. H. Evidence for mitochondrial uptake of glutathione by dicarboxylate and 2-oxoglutarate carriers. J. Pharmacol. Exp. Ther. 285, 608–618 (1998).

29.

Booty, L. M. et al. The mitochondrial dicarboxylate and 2-oxoglutarate carriers do not transport glutathione. FEBS Lett. 589, 621–628 (2015).

30.

Kumar, C. et al. Glutathione revisited: a vital function in iron metabolism and ancillary role in thiol-redox control. EMBO J. 30, 2044–2056 (2011).

31.

Rodríguez-Manzaneque, M. T., Tamarit, J., Bellí, G., Ros, J. & Herrero, E. Grx5 is a mitochondrial glutaredoxin required for the activity of iron/sulfur enzymes. Mol. Biol. Cell 13, 1109–1121 (2002).

32.

Almusafri, F. et al. Clinical and molecular characterization of 6 children with glutamate–cysteine ligase deficiency causing hemolytic anemia. Blood Cells. Mol. Dis. 65, 73–77 (2017).

33.

Wessel, D. & Flügge, U. I. A method for the quantitative recovery of protein in dilute solution in the presence of detergents and lipids. Anal. Biochem. 138, 141–143 (1984).

34.

McAlister, G. C. et al. MultiNotch MS3 enables accurate, sensitive, and multiplexed detection of differential expression across cancer cell line proteomes. Anal. Chem. 86, 7150–7158 (2014).

35.

Tyanova, S. et al. The Perseus computational platform for comprehensive analysis of (prote)omics data. Nat. Methods 13, 731–740 (2016).

36.

Birsoy, K. et al. An essential role of the mitochondrial electron transport chain in cell proliferation is to enable aspartate synthesis. Cell 162, 540–551 (2015).

37.

Concordet, J.-P. & Haeussler, M. CRISPOR: intuitive guide selection for CRISPR/Cas9 genome editing experiments and screens. Nucleic Acids Res. 46, W242–W245 (2018).

38.

Shola, D. T. N., Yang, C., Han, C., Norinsky, R. & Peraza, R. D. in Mouse Genetics: Methods and Protocols (eds. Singh, S. R., Hoffman, R. M. & Singh, A.) 1–27 (Springer US, 2021).

39.

Murgha, Y. E., Rouillard, J.-M. & Gulari, E. Methods for the preparation of large quantities of complex single-stranded oligonucleotide libraries. PLoS ONE 9, e94752 (2014).

40.

Sadreyev, I. R., Ji, F., Cohen, E., Ruvkun, G. & Tabach, Y. PhyloGene server for identification and visualization of co-evolving proteins using normalized phylogenetic profiles. Nucleic Acids Res. 43, W154–W159 (2015).

41.

Ruan, J. et al. TreeFam: 2008 update. Nucleic Acids Res. 36, D735–D740 (2008).

42.

Thomas, P. D. et al. PANTHER: a library of protein families and subfamilies indexed by function. Genome Res. 13, 2129–2141 (2003).

43.

Studer, G. et al. ProMod3—a versatile homology modelling toolbox. PLOS Comput. Biol. 17, e1008667 (2021).

44.

Pebay-Peyroula, E. et al. Structure of mitochondrial ADP/ATP carrier in complex with carboxyatractyloside. Nature 426, 39–44 (2003).

45.

Robinson, A. J. & Kunji, E. R. S. Mitochondrial carriers in the cytoplasmic state have a common substrate binding site. Proc. Natl. Acad. Sci. 103, 2617–2622 (2006).

46.

Pettersen, E. F. et al. UCSF Chimera—a visualization system for exploratory research and analysis. J. Comput. Chem. 25, 1605–1612 (2004).

47.

Bycroft, C. et al. The UK Biobank resource with deep phenotyping and genomic data. Nature 562, 203–209 (2018).

48.

Barbeira, A. N. et al. Integrating predicted transcriptome from multiple tissues improves association detection. PLoS Genet. 15, e1007889 (2019).

49.

Zhou, D. et al. A unified framework for joint-tissue transcriptome-wide association and Mendelian randomization analysis. Nat. Genet. 52, 1239–1246 (2020).

50.

Unlu, G. et al. Phenome-based approach identifies RIC1-linked Mendelian syndrome through zebrafish models, biobank associations and clinical studies. Nat. Med. 26, 98–109 (2020).

51.

Aguet, F. et al. Genetic effects on gene expression across human tissues. Nature 550, 204–213 (2017).
Acknowledgements
We thank all members of the Birsoy laboratory for helpful suggestions. Y.W. is supported by UL1 TR001866 from the National Center for Advancing Translational Sciences (NCATS, National Institutes of Health (NIH) Clinical and Translational Science Award (CTSA) programme. F.S.Y. and R.W. are supported by a Medical Scientist Training Program grant from the National Institute of General Medical Sciences of the NIH under award number T32GM007739 to the Weill Cornell/Rockefeller/Sloan Kettering Tri-Institutional MD-PhD Program. G.U. is a Damon Runyon Fellow supported by the Damon Runyon Cancer Research Foundation (DRG-2431-21). E.R.G. was supported by NIH/NHGRI R01HG011138 and R35HG010718. H.L. is funded by NIH K99 DK128602-01. M.G.K. is a Scholar of the Leukemia and Lymphoma Society and is supported by the US NIH NIDDK R01-DK101989-01A1; NCI 1R01CA193842-01, 1R01CA193842-06A1, 5R01CA186702-07, 1R01DK1010989-06A1, R01HL135564 and R01CA225231-01; NYSTEM 0266-A121-4609, the Alex's Lemonade Stand A Award. R.H. is supported by NIH/NCI Cancer Center Support Grant (P30 CA008748) and the Searle Scholars Program. We thank R. Vaughan, Director of Biostatistics at the Rockefeller University for his assistance with statistics used in this manuscript. K.B. is supported by the NIH/NCI (DP2 OD024174-01), NIH/NIDDK (R01 DK123323-01), Pershing Square Sohn Foundation and Mark Foundation Emerging Leader Award; and is a Searle and Pew-Stewart Scholar.
Ethics declarations
Competing interests
K.B. is scientific advisor to Nanocare Pharmaceuticals and Barer Institute.
Additional information
Peer review information Nature thanks Michael Murphy, Tracey Rouault and the other, anonymous, reviewer(s) for their contribution to the peer review of this work. Peer reviewer reports are available.
Publisher's note Springer Nature remains neutral with regard to jurisdictional claims in published maps and institutional affiliations.
Extended data figures and tables
Supplementary information
About this article
Cite this article
Wang, Y., Yen, F.S., Zhu, X.G. et al. SLC25A39 is necessary for mitochondrial glutathione import in mammalian cells. Nature 599, 136–140 (2021). https://doi.org/10.1038/s41586-021-04025-w
Received:

Accepted:

Published:

Issue Date:
Comments
By submitting a comment you agree to abide by our Terms and Community Guidelines. If you find something abusive or that does not comply with our terms or guidelines please flag it as inappropriate.