Abstract
Tissue maintenance and repair depend on the integrated activity of multiple cell types1. Whereas the contributions of epithelial2,3, immune4,5 and stromal cells6,7 in intestinal tissue integrity are well understood, the role of intrinsic neuroglia networks remains largely unknown. Here we uncover important roles of enteric glial cells (EGCs) in intestinal homeostasis, immunity and tissue repair. We demonstrate that infection of mice with Heligmosomoides polygyrus leads to enteric gliosis and the upregulation of an interferon gamma (IFNγ) gene signature. IFNγ-dependent gene modules were also induced in EGCs from patients with inflammatory bowel disease8. Single-cell transcriptomics analysis of the tunica muscularis showed that glia-specific abrogation of IFNγ signalling leads to tissue-wide activation of pro-inflammatory transcriptional programs. Furthermore, disruption of the IFNγ–EGC signalling axis enhanced the inflammatory and granulomatous response of the tunica muscularis to helminths. Mechanistically, we show that the upregulation of Cxcl10 is an early immediate response of EGCs to IFNγ signalling and provide evidence that this chemokine and the downstream amplification of IFNγ signalling in the tunica muscularis are required for a measured inflammatory response to helminths and resolution of the granulomatous pathology. Our study demonstrates that IFNγ signalling in enteric glia is central to intestinal homeostasis and reveals critical roles of the IFNγ–EGC–CXCL10 axis in immune response and tissue repair after infectious challenge.
Relevant articles
Open Access articles citing this article.
Reiner Schneider

,

Patrick Leven

…

Sven Wehner

Communications Biology Open Access 12 August 2022

Vladimir Grubišić

,

Vedrana Bali

…

Brian D. Gulbransen

Mucosal Immunology Open Access 22 July 2022

Bhavya Kapse

,

Hongwei Zhang

…

Sebastian Rausch

Mucosal Immunology Open Access 11 June 2022
Access options
Subscribe to Nature+
Get immediate online access to Nature and 55 other Nature journal
Subscribe to Journal
Get full journal access for 1 year
$199.00
only $3.90 per issue
All prices are NET prices.
VAT will be added later in the checkout.
Tax calculation will be finalised during checkout.
Buy article
Get time limited or full article access on ReadCube.
$32.00
All prices are NET prices.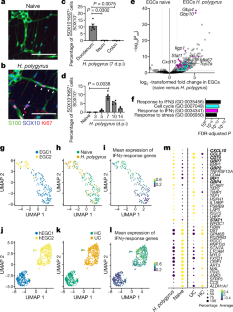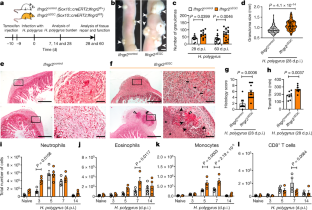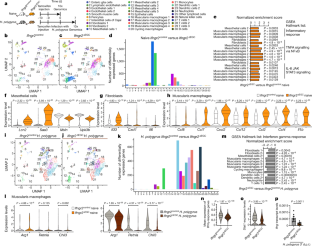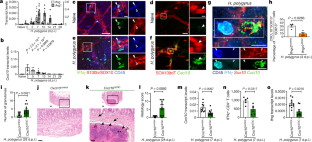 References
Kotas, M. E. & Medzhitov, R. Homeostasis, inflammation, and disease susceptibility. Cell 160, 816–827 (2015).

Turner, J. R. Intestinal mucosal barrier function in health and disease. Nat. Rev. Immunol. 9, 799–809 (2009).

Abreu, M. T. Toll-like receptor signalling in the intestinal epithelium: how bacterial recognition shapes intestinal function. Nat. Rev. Immunol. 10, 131–144 (2010).

Maloy, K. J. & Powrie, F. Intestinal homeostasis and its breakdown in inflammatory bowel disease. Nature 474, 298–306 (2011).

Klose, C. S. & Artis, D. Innate lymphoid cells as regulators of immunity, inflammation and tissue homeostasis. Nat. Immunol. 17, 765–774 (2016).

Roulis, M. & Flavell, R. A. Fibroblasts and myofibroblasts of the intestinal lamina propria in physiology and disease. Differentiation 92, 116–131 (2016).

Koliaraki, V., Prados, A., Armaka, M. & Kollias, G. The mesenchymal context in inflammation, immunity and cancer. Nat. Immunol. 21, 974–982 (2020).

Kinchen, J. et al. Structural remodeling of the human colonic mesenchyme in inflammatory bowel disease. Cell 175, 372–386 (2018).

Laranjeira, C. et al. Glial cells in the mouse enteric nervous system can undergo neurogenesis in response to injury. J. Clin. Invest. 121, 3412–3424 (2011).

Reynolds, L. A., Filbey, K. J. & Maizels, R. M. Immunity to the model intestinal helminth parasite Heligmosomoides polygyrus. Semin. Immunopathol. 34, 829–846 (2012).

Boesmans, W., Lasrado, R., Vanden Berghe, P. & Pachnis, V. Heterogeneity and phenotypic plasticity of glial cells in the mammalian enteric nervous system. Glia 63, 229–241 (2015).

Heanue, T. A. & Pachnis, V. Prospective identification and isolation of enteric nervous system progenitors using Sox2. Stem Cells 29, 128–140 (2011).

Lasrado, R. et al. Lineage-dependent spatial and functional organization of the mammalian enteric nervous system. Science 356, 722–726 (2017).

Bach, E. A., Aguet, M. & Schreiber, R. D. The IFNγ receptor: a paradigm for cytokine receptor signaling. Annu. Rev. Immunol. 15, 563–591 (1997).

Lee, H. M. et al. IFNγ signaling endows DCs with the capacity to control type I inflammation during parasitic infection through promoting T-bet+ regulatory T cells. PLoS Pathog. 11, e1004635 (2015).

Huang, S. et al. Immune response in mice that lack the interferon-γ receptor. Science 259, 1742–1745 (1993).

Gentile, M. E. et al. NK cell recruitment limits tissue damage during an enteric helminth infection. Mucosal Immunol. 13, 357–370 (2020).

Nusse, Y. M. et al. Parasitic helminths induce fetal-like reversion in the intestinal stem cell niche. Nature 559, 109–113 (2018).

Roulis, M. et al. Paracrine orchestration of intestinal tumorigenesis by a mesenchymal niche. Nature 580, 524–529 (2020).

Rinkevich, Y. et al. Identification and prospective isolation of a mesothelial precursor lineage giving rise to smooth muscle cells and fibroblasts for mammalian internal organs, and their vasculature. Nat. Cell Biol. 14, 1251–1260 (2012).

Mutsaers, S. E. et al. Mesothelial cells in tissue repair and fibrosis. Front. Pharmacol. 6, 113 (2015).

Stetson, D. B. et al. Constitutive cytokine mRNAs mark natural killer (NK) and NK T cells poised for rapid effector function. J. Exp. Med. 198, 1069–1076 (2003).

Dufour, J. H. et al. IFN-γ-inducible protein 10 (IP-10; CXCL10)-deficient mice reveal a role for IP-10 in effector T cell generation and trafficking. J. Immunol. 168, 3195–3204 (2002).

Mills Ko, E. et al. Deletion of astroglial CXCL10 delays clinical onset but does not affect progressive axon loss in a murine autoimmune multiple sclerosis model. J. Neuroinflammation 11, 105 (2014).

Ostvik, A. E. et al. Enhanced expression of CXCL10 in inflammatory bowel disease: potential role of mucosal Toll-like receptor 3 stimulation. Inflamm. Bowel Dis. 19, 265–274 (2013).

Wang, L. et al. An atlas of genetic variation linking pathogen-induced cellular traits to human disease. Cell Host Microbe 24, 308–323 (2018).

Sasselli, V. et al. Planar cell polarity genes control the connectivity of enteric neurons. J. Clin. Invest. 123, 1763–1772 (2013).

Schindelin, J. et al. Fiji: an open-source platform for biological-image analysis. Nat. Methods 9, 676–682 (2012).

Tavares, G. et al. Employing an open-source tool to assess astrocyte tridimensional structure. Brain Struct. Funct. 222, 1989–1999 (2017).

Martin, M. Cutadapt removes adapter sequences from high-throughput sequencing reads. EMBnet J. 17, 10–12 (2011).

Dobin, A. et al. STAR: ultrafast universal RNA-seq aligner. Bioinformatics 29, 15–21 (2013).

Butler, A., Hoffman, P., Smibert, P., Papalexi, E. & Satija, R. Integrating single-cell transcriptomic data across different conditions, technologies, and species. Nat. Biotechnol. 36, 411–420 (2018).

Su, S. et al. CellBench: R/Bioconductor software for comparing single-cell RNA-seq analysis methods. Bioinformatics 36, 2288–2290 (2020).

Finak, G. et al. MAST: a flexible statistical framework for assessing transcriptional changes and characterizing heterogeneity in single-cell RNA sequencing data. Genome Biol. 16, 278 (2015).

Reimand, J. et al. g:Profiler—a web server for functional interpretation of gene lists (2016 update). Nucleic Acids Res. 44, W83–W89 (2016).

Sergushichev, A. An algorithm for fast preranked gene set enrichment analysis using cumulative statistic calculation. Preprint at https://doi.org/10.1101/060012 (2016).

NCBI Resource Coordinators Database resources of the national center for biotechnology information. Nucleic Acids Res. 46, D8–D13 (2018).

R Core Team R: A Language and Environment for Statistical Computing (R Foundation for Statistical Computing, 2019).

Stuart, T. et al. Comprehensive integration of single-cell data. Cell 177, 1888–1902 (2019).

Wickham, H. ggplot2: Elegant Graphics for Data Analysis. (Springer, 2016).

ggsignif: significance brackets for 'ggplot2'. Preprint at https://doi.org/10.31234/osf.io/7awm6 (2019).

ggrepel: automatically position non-overlapping text labels with 'ggplot2'. R package version 0.9.1; https://CRAN.R-project.org/package=ggrepel (2020).

ggsci: scientific journal and sci-fi themed color palettes for 'ggplot2'. R package version 2.9; https://CRAN.R-project.org/package=ggsci (2018).
Acknowledgements
We thank staff at the Crick Science Technology Platforms (STPs) for expert support, in particular, the Biological Research Facility (R. Subramaniam, A. Vanderplank, M. Miah, S. Cooper), the Flow Cytometry STP (D. Das, K. Bartolovic), the Advanced Sequencing Facility (R. Goldstone, D. Jackson, A. Edwards, M. Costa) and the Experimental Histopathology Laboratory (E. Nye). We also thank C. Minutti and all members of the Pachnis laboratory for useful advice, discussions and insightful comments on the manuscript. We thank W. Müller for providing the Ifngr2 floxed mice and R. Locksley and A. Luster for giving us permission to use the Yeti and Cxcl10−/− mice, respectively. Ifngr2 This work was supported by the Francis Crick Institute, which receives its core funding from Cancer Research UK (FC001128, FC001159), the UK Medical Research Council (FC001128, FC001159) and the Wellcome Trust (FC001128, FC001159). V.P. acknowledges additional funding from BBSRC (BB/L022974) and the Wellcome Trust (212300/Z/18/Z). B.S. was also funded by the Wellcome Trust (210556/Z/18/Z).
Ethics declarations
Competing interests
The authors declare no competing interests.
Additional information
Peer review information Nature thanks Isaac Chiu and the other, anonymous, reviewer(s) for their contribution to the peer review of this work. Peer reviewer reports are available.
Publisher's note Springer Nature remains neutral with regard to jurisdictional claims in published maps and institutional affiliations.
Extended data figures and tables
Supplementary information
About this article
Cite this article
Progatzky, F., Shapiro, M., Chng, S.H. et al. Regulation of intestinal immunity and tissue repair by enteric glia. Nature 599, 125–130 (2021). https://doi.org/10.1038/s41586-021-04006-z
Received:

Accepted:

Published:

Issue Date:

DOI: https://doi.org/10.1038/s41586-021-04006-z
Comments
By submitting a comment you agree to abide by our Terms and Community Guidelines. If you find something abusive or that does not comply with our terms or guidelines please flag it as inappropriate.