Abstract
Musical and athletic skills are learned and maintained through intensive practice to enable precise and reliable performance for an audience. Consequently, understanding such complex behaviours requires insight into how the brain functions during both practice and performance. Male zebra finches learn to produce courtship songs that are more varied when alone and more stereotyped in the presence of females1. These differences are thought to reflect song practice and performance, respectively2,3, providing a useful system in which to explore how neurons encode and regulate motor variability in these two states. Here we show that calcium signals in ensembles of spiny neurons (SNs) in the basal ganglia are highly variable relative to their cortical afferents during song practice. By contrast, SN calcium signals are strongly suppressed during female-directed performance, and optogenetically suppressing SNs during practice strongly reduces vocal variability. Unsupervised learning methods4,5 show that specific SN activity patterns map onto distinct song practice variants. Finally, we establish that noradrenergic signalling reduces vocal variability by directly suppressing SN activity. Thus, SN ensembles encode and drive vocal exploration during practice, and the noradrenergic suppression of SN activity promotes stereotyped and precise song performance for an audience.
This is a preview of subscription content
Access options
Subscribe to Journal
Get full journal access for 1 year
$199.00
only $3.90 per issue
All prices are NET prices.
VAT will be added later in the checkout.
Tax calculation will be finalised during checkout.
Rent or Buy article
Get time limited or full article access on ReadCube.
from$8.99
All prices are NET prices.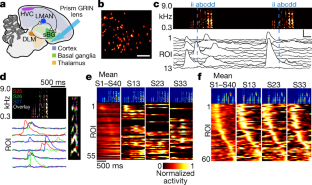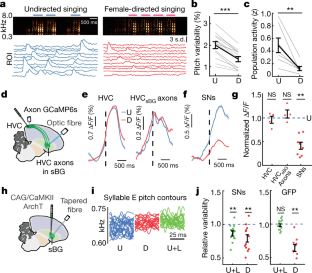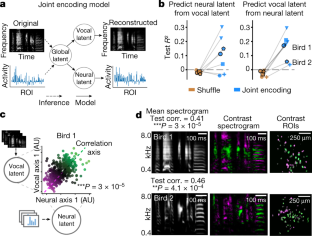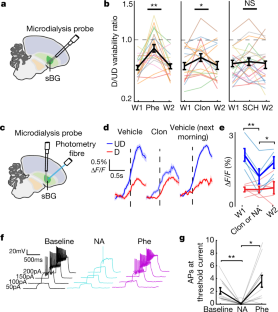 References
1.

Sossinka, R. & Böhner, J. Song types in the zebra finch Poephila guttata castanotis 1. Zeitschrift für Tierpsychologie 53, 123–132 (1980).

2.

Kao, M. H., Doupe, A. J. & Brainard, M. S. Contributions of an avian basal ganglia–forebrain circuit to real-time modulation of song. Nature 433, 638–643 (2005).

3.

Jarvis, E. D., Scharff, C., Grossman, M. R., Ramos, J. A. & Nottebohm, F. For whom the bird sings: context-dependent gene expression. Neuron 21, 775–788 (1998).

4.

Goffinet, J., Brudner, S., Mooney, R. & Pearson, J. Low-dimensional learned feature spaces quantify individual and group differences in vocal repertoires. eLife 10, e67855 (2021).

5.

Sainburg, T., Thielk, M. & Gentner, T. Q. Finding, visualizing, and quantifying latent structure across diverse animal vocal repertoires. PLoS Comput. Biol. 16, e1008228 (2020).

6.

Woolley, S. C. & Doupe, A. J. Social context-induced song variation affects female behavior and gene expression. PLoS Biol. 6, e62 (2008).

7.

Kao, M. H., Wright, B. D. & Doupe, A. J. Neurons in a forebrain nucleus required for vocal plasticity rapidly switch between precise firing and variable bursting depending on social context. J. Neurosci. 28, 13232–13247 (2008).

8.

Woolley, S. C., Rajan, R., Joshua, M. & Doupe, A. J. Emergence of context-dependent variability across a basal ganglia network. Neuron 82, 208–223 (2014).

9.

Kojima, S., Kao, M. H., Doupe, A. J. & Brainard, M. S. The avian basal ganglia are a source of rapid behavioral variation that enables vocal motor exploration. J. Neurosci. 38, 9635–9647 (2018).

10.

Hein, A. M., Sridharan, A., Nordeen, K. W. & Nordeen, E. J. Characterization of CaMKII-expressing neurons within a striatal region implicated in avian vocal learning. Brain Res. 1155, 125–133 (2007).

11.

Kozhevnikov, A. A. & Fee, M. S. Singing-related activity of identified HVC neurons in the zebra finch. J. Neurophysiol. 97, 4271–4283 (2007).

12.

Hahnloser, R. H. R., Kozhevnikov, A. A. & Fee, M. S. An ultra-sparse code underlies the generation of neural sequences in a songbird. Nature 419, 65–70 (2002).

13.

Liberti, W. A. 3rd et al. Unstable neurons underlie a stable learned behavior. Nat. Neurosci. 19, 1665–1671 (2016).

14.

Kingma D. P. & Welling M. Auto-encoding variational Bayes. Preprint at https://arxiv.org/abs/1312.6114 (2013).

15.

Rezende D. J., Mohamed S. & Wierstra D. Stochastic backpropagation and approximate inference in deep generative models. Preprint at http://arxiv.org/abs/1401.4082 (2014).

16.

Björklund, A. & Dunnett, S. B. Dopamine neuron systems in the brain: an update. Trends Neurosci. 30, 194–202 (2007).

17.

Zerbi, V. et al. Rapid reconfiguration of the functional connectome after chemogenetic locus coeruleus activation. Neuron 103, 702–718.e5 (2019).

18.

Castelino, C. B., Diekamp, B. & Ball, G. F. Noradrenergic projections to the song control nucleus area X of the medial striatum in male zebra finches (Taeniopygia guttata). J. Comp. Neurol. 502, 544–562 (2007).

19.

Person, A. L., Gale, S. D., Farries, M. A. & Perkel, D. J. Organization of the songbird basal ganglia, including area X. J. Comp. Neurol. 508, 840–866 (2008).

20.

Castelino, C. B. & Ball, G. F. A role for norepinephrine in the regulation of context-dependent ZENK expression in male zebra finches (Taeniopygia guttata). Eur. J. Neurosci. 21, 1962–1972 (2005).

21.

Leblois, A., Wendel, B. J. & Perkel, D. J. Striatal dopamine modulates basal ganglia output and regulates social context-dependent behavioral variability through D1 receptors. J. Neurosci. 30, 5730–5743 (2010).

22.

Hara, M. et al. Role of adrenoceptors in the regulation of dopamine/DARPP-32 signaling in neostriatal neurons. J. Neurochem. 113, 1046–1059 (2010).

23.

Bharati, I. S. & Goodson, J. L. Fos responses of dopamine neurons to sociosexual stimuli in male zebra finches. Neuroscience 143, 661–670 (2006).

24.

Budzillo, A., Duffy, A., Miller, K. E., Fairhall, A. L. & Perkel, D. J. Dopaminergic modulation of basal ganglia output through coupled excitation-inhibition. Proc. Natl Acad. Sci. USA 114, 5713–5718 (2017).

25.

Aston-Jones, G. & Cohen, J. D. An integrative theory of locus coeruleus-norepinephrine function: adaptive gain and optimal performance. Annu. Rev. Neurosci. 28, 403–450 (2005).

26.

Breton-Provencher, V. & Sur, M. Active control of arousal by a locus coeruleus GABAergic circuit. Nat. Neurosci. 22, 218–228 (2019).

27.

Cooper, B. G. & Goller, F. Physiological insights into the social-context-dependent changes in the rhythm of the song motor program. J. Neurophysiol. 95, 3798–3809 (2006).

28.

Wong, A. L., Lindquist, M. A., Haith, A. M. & Krakauer, J. W. Explicit knowledge enhances motor vigor and performance: motivation versus practice in sequence tasks. J. Neurophysiol. 114, 219–232 (2015).

29.

Pekny, S. E., Izawa, J. & Shadmehr, R. Reward-dependent modulation of movement variability. J. Neurosci. 35, 4015–4024 (2015).

30.

Jaffe, P. I. & Brainard, M. S. Acetylcholine acts on songbird premotor circuitry to invigorate vocal output. eLife 9, e53288 (2020).

31.

Olveczky, B. P., Andalman, A. S. & Fee, M. S. Vocal experimentation in the juvenile songbird requires a basal ganglia circuit. PLoS Biol. 3, e153 (2005).

32.

Sober, S. J., Wohlgemuth, M. J. & Brainard, M. S. Central contributions to acoustic variation in birdsong. J. Neurosci. 28, 10370–10379 (2008).

33.

Sheldon, Z. P. et al. Regulation of vocal precision by noradrenergic modulation of a motor nucleus. J. Neurophysiol. 124, 458–470 (2020).

34.

Fee, M. S. & Goldberg, J. H. A hypothesis for basal ganglia-dependent reinforcement learning in the songbird. Neuroscience 198, 152–170 (2011).

35.

Markowitz, J. E. et al. The striatum organizes 3D behavior via moment-to-moment action selection. Cell 174, 44–58.e17 (2018).

36.

Klaus, A. et al. The spatiotemporal organization of the striatum encodes action space. Neuron 95, 1171–1180.e7 (2017).

37.

Hisey, E., Kearney, M. G. & Mooney, R. A common neural circuit mechanism for internally guided and externally reinforced forms of motor learning. Nat. Neurosci. 21, 589–597 (2018).

38.

Xiao, L. et al. A basal ganglia circuit sufficient to guide birdsong learning. Neuron 98, 208–221.e5 (2018).

39.

Coddington, L. T. & Dudman, J. T. The timing of action determines reward prediction signals in identified midbrain dopamine neurons. Nat. Neurosci. 21, 1563–1573 (2018).

40.

Ghosh, K. K. et al. Miniaturized integration of a fluorescence microscope. Nat. Methods 8, 871–878 (2011).

41.

Zhou, P. et al. Efficient and accurate extraction of in vivo calcium signals from microendoscopic video data. eLife 7, e28728 (2018).

42.

Pisanello, M. et al. Tailoring light delivery for optogenetics by modal demultiplexing in tapered optical fibers. Sci. Rep. 8, 4467 (2018).

43.

Murphy, K. P. Machine Learning: A Probabilistic Perspective (MIT Press, 2012).

44.

Wu, M. & Goodman, N. Multimodal generative models for scalable weakly-supervised learning. Adv. Neural Info. Process. Syst. 31, 5575–5585 (2018).

45.

Farries, M. A., Ding, L. & Perkel, D. J. Evidence for "direct" and "indirect" pathways through the song system basal ganglia. J. Comp. Neurol. 484, 93–104 (2005).
Acknowledgements
The authors thank M. Booze for animal husbandry and K. Franks, F. Wang and D. Purves for editorial comments on an earlier version of this manuscript. This work was supported by NIH R01 NS099288 (R.M.), R01 NS118424 (R.M., J.P. and T.G.), the George Barth Geller Fund (R.M.), a Broad Predoctoral Fellowship (J.S.A.) and NIH Predoctoral Fellowship F31 DC017879 (V.M.).
Ethics declarations
Competing interests
The authors declare no competing interests.
Additional information
Peer review information Nature thanks David Robbe, Kazuhiro Wada and the other, anonymous, reviewer(s) for their contribution to the peer review of this work. Peer reviewer reports are available.
Publisher's note Springer Nature remains neutral with regard to jurisdictional claims in published maps and institutional affiliations.
Extended data figures and tables
Supplementary information
About this article
Cite this article
Singh Alvarado, J., Goffinet, J., Michael, V. et al. Neural dynamics underlying birdsong practice and performance. Nature 599, 635–639 (2021). https://doi.org/10.1038/s41586-021-04004-1
Received:

Accepted:

Published:

Issue Date:
Comments
By submitting a comment you agree to abide by our Terms and Community Guidelines. If you find something abusive or that does not comply with our terms or guidelines please flag it as inappropriate.