Abstract
Somatosensory autonomic reflexes allow electroacupuncture stimulation (ES) to modulate body physiology at distant sites1,2,3,4,5,6 (for example, suppressing severe systemic inflammation6,7,8,9). Since the 1970s, an emerging organizational rule about these reflexes has been the presence of body-region specificity1,2,3,4,5,6. For example, ES at the hindlimb ST36 acupoint but not the abdominal ST25 acupoint can drive the vagal–adrenal anti-inflammatory axis in mice10,11. The neuroanatomical basis of this somatotopic organization is, however, unknown. Here we show that PROKR2Cre-marked sensory neurons, which innervate the deep hindlimb fascia (for example, the periosteum) but not abdominal fascia (for example, the peritoneum), are crucial for driving the vagal–adrenal axis. Low-intensity ES at the ST36 site in mice with ablated PROKR2Cre-marked sensory neurons failed to activate hindbrain vagal efferent neurons or to drive catecholamine release from adrenal glands. As a result, ES no longer suppressed systemic inflammation induced by bacterial endotoxins. By contrast, spinal sympathetic reflexes evoked by high-intensity ES at both ST25 and ST36 sites were unaffected. We also show that optogenetic stimulation of PROKR2Cre-marked nerve terminals through the ST36 site is sufficient to drive the vagal–adrenal axis but not sympathetic reflexes. Furthermore, the distribution patterns of PROKR2Cre nerve fibres can retrospectively predict body regions at which low-intensity ES will or will not effectively produce anti-inflammatory effects. Our studies provide a neuroanatomical basis for the selectivity and specificity of acupoints in driving specific autonomic pathways.
Access options
Access Nature and 54 other Nature Portfolio journals
Get Nature+, our best-value online-access subscription
$29.99 / 30 days
cancel any time
Subscribe to this journal
Receive 51 print issues and online access
$199.00 per year
only $3.90 per issue
Rent or buy this article
Prices vary by article type
from$1.95
to$39.95
Prices may be subject to local taxes which are calculated during checkout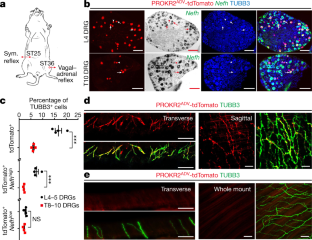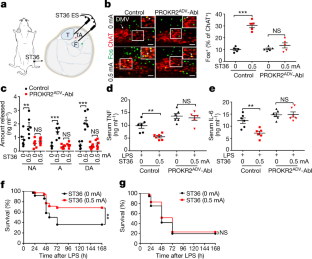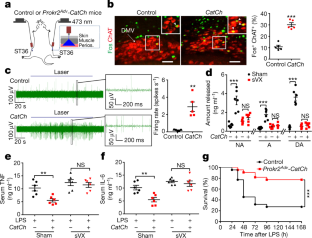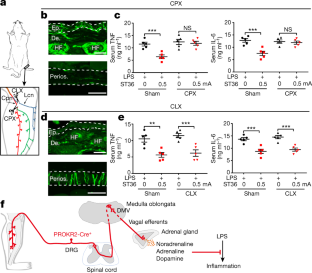 Similar content being viewed by others
Data availability
All data are included in the paper and available from the corresponding author upon request. Source data are provided with this paper.
References
Kametani, H., Sato, A., Sato, Y. & Simpson, A. Neural mechanisms of reflex facilitation and inhibition of gastric motility to stimulation of various skin areas in rats. J. Physiol. 294, 407–418 (1979).

Sato, A. & Schmidt, R. F. The modulation of visceral functions by somatic afferent activity. Jpn. J. Physiol. 37, 1–17 (1987).

Sato, A. Neural mechanisms of autonomic responses elicited by somatic sensory stimulation. Neurosci. Behav. Physiol. 27, 610–621 (1997).

Li, Y. Q., Zhu, B., Rong, P. J., Ben, H. & Li, Y. H. Neural mechanism of acupuncture-modulated gastric motility. World J. Gastroenterol. 13, 709–716 (2007).

Takahashi, T. Effect and mechanism of acupuncture on gastrointestinal diseases. Int. Rev. Neurobiol. 111, 273–294 (2013).

Ma, Q. Somato–autonomic reflexes of acupuncture. Med. Acupunct. 32, 362–366 (2020).

Chavan, S. S., Pavlov, V. A. & Tracey, K. J. Mechanisms and therapeutic relevance of neuro-immune communication. Immunity 46, 927–942 (2017).

Ulloa, L., Quiroz-Gonzalez, S. & Torres-Rosas, R. Nerve stimulation: immunomodulation and control of inflammation. Trends Mol. Med. 23, 1103–1120 (2017).

Pan, W. X., Fan, A. Y., Chen, S. & Alemi, S. F. Acupuncture modulates immunity in sepsis: toward a science-based protocol. Auton. Neurosci. 232, 102793 (2021).

Torres-Rosas, R. et al. Dopamine mediates vagal modulation of the immune system by electroacupuncture. Nat. Med. 20, 291–295 (2014).

Liu, S. et al. Somatotopic organization and intensity dependence in driving distinct NPY-expressing sympathetic pathways by electroacupuncture. Neuron 108, 436−435 (2020).

Longhurst, J. C. Defining meridians: a modern basis of understanding. J. Acupunct. Meridian Stud. 3, 67–74 (2010).

Yang, F. C. et al. Genetic control of the segregation of pain-related sensory neurons innervating the cutaneous versus deep tissues. Cell Rep. 5, 1353–1364 (2013).

Choi, S. et al. Parallel ascending spinal pathways for affective touch and pain. Nature 587, 258–263 (2020).

Zylka, M. J., Rice, F. L. & Anderson, D. J. Topographically distinct epidermal nociceptive circuits revealed by axonal tracers targeted to Mrgprd. Neuron 45, 17–25 (2005).

Ghitani, N. et al. Specialized mechanosensory nociceptors mediating rapid responses to hair pull. Neuron 95, 944–954.e4 (2017).

Sharma, N. et al. The emergence of transcriptional identity in somatosensory neurons. Nature 577, 392–398 (2020).

Kupari, J. et al. Single cell transcriptomics of primate sensory neurons identifies cell types associated with chronic pain. Nat. Commun. 12, 1510 (2021).

Kucera, J. & Walro, J. M. An immunocytochemical marker for early type I muscle fibers in the developing rat hindlimb. Anat. Embryol. (Berl.) 192, 137–147 (1995).

Remick, D. G., Newcomb, D. E., Bolgos, G. L. & Call, D. R. Comparison of the mortality and inflammatory response of two models of sepsis: lipopolysaccharide vs. cecal ligation and puncture. Shock 13, 110–116 (2000).

Kleinlogel, S. et al. Ultra light-sensitive and fast neuronal activation with the Ca2+-permeable channelrhodopsin CatCh. Nat. Neurosci. 14, 513–518 (2011).

Lima, D. in The Senses: A Comprehensive Reference Vol. 5 (eds Masland, R. H. et al.) 477–526 (Academic, 2008).

Travagli, R. A. & Anselmi, L. Vagal neurocircuitry and its influence on gastric motility. Nat. Rev. Gastroenterol. Hepatol. 13, 389–401 (2016).

Damarey, B. et al. Imaging of the nerves of the knee region. Eur. J. Radiol. 82, 27–37 (2013).

Quiroz-Gonzalez, S., Segura-Alegria, B., Guadarrama-Olmos, J. C. & Jimenez-Estrada, I. Cord dorsum potentials evoked by electroacupuncture applied to the hind limbs of rats. J. Acupunct. Meridian Stud. 7, 25–32 (2014).

Peng, Z., Nan, G., Cheng, M. & Zhou, K. The comparison of trigger point acupuncture and traditional acupuncture. World J. Acupunct. Moxibustion 26, 1–6 (2016).

Choi, E. M., Jiang, F. & Longhurst, J. C. Point specificity in acupuncture. Chin. Med. 7, 4 (2012).

Xing, J. J., Zeng, B. Y., Li, J., Zhuang, Y. & Liang, F. R. Acupuncture point specificity. Int. Rev. Neurobiol. 111, 49–65 (2013).

Langevin, H. M. & Wayne, P. M. What is the point? The problem with acupuncture research that no one wants to talk about. J. Altern. Complement. Med. 24, 200–207 (2018).

van der Poll, T., van de Veerdonk, F. L., Scicluna, B. P. & Netea, M. G. The immunopathology of sepsis and potential therapeutic targets. Nat. Rev. Immunol. 17, 407–420 (2017).

Gerfen, C. R., Paletzki, R. & Heintz, N. GENSAT BAC Cre-recombinase driver lines to study the functional organization of cerebral cortical and basal ganglia circuits. Neuron 80, 1368–1383 (2013).

Bourane, S. et al. Identification of a spinal circuit for light touch and fine motor control. Cell 160, 503–515 (2015).

Liu, Y. et al. VGLUT2-dependent glutamate release from peripheral nociceptors is required to sense pain and suppress itch. Neuron 68, 543–556 (2010).
Acknowledgements
We thank D. D. Ginty for critical comments, and W. Lu and B. Zhao for helpful discussions; D. D. Ginty, M. Goulding, S. M. Dymecki, staff at GENSAT/MMRRC at the University of Davis, and the Allen Brain Institute/the Jackson Laboratory for genetically modified mice; and S. Celine for her assistance in histochemical analyses. All experimental data were generated at the Dana-Farber Cancer Institute, and the work was supported primarily by a NIH grant (R01AT010629) and partially by the Harvard/MIT Joint Research Program in Basic Neuroscience and a Wellcome Trust grant (200183/Z/15/Z) to Q.M. S.L.'s salary was supported primarily by a NIH grant (R01AT010629) and partly by the China Postdoctoral Science Foundation (KLF101846) and by the Development Project of Shanghai Peak Disciplines-Integrated Medicine (20150407) during an early period before the NIH grant (R01AT010629) was funded. Y.S.'s and W.Y.'s salary was supported by the China Scholarship Council (CSC no. 201609110039 and CSC no. 20190600178, respectively). Z.W.'s salary was supported by Fujian University of Traditional Chinese Medicine and by the Harvard/MIT Joint Research Program in Basic Neuroscience. Histochemical imaging was supported by Boston Children's Hospital IDDRC (1U54HD090255).
Ethics declarations
Competing interests
The authors declare no competing interests.
Additional information
Peer review information Nature thanks Patrik Ernfors, Kevin Tracey, Luis Ulloa and the other, anonymous, reviewer(s) for their contribution to the peer review of this work. Peer review reports are available.
Publisher's note Springer Nature remains neutral with regard to jurisdictional claims in published maps and institutional affiliations.
Extended data figures and tables
Supplementary information
About this article
Cite this article
Liu, S., Wang, Z., Su, Y. et al. A neuroanatomical basis for electroacupuncture to drive the vagal–adrenal axis. Nature 598, 641–645 (2021). https://doi.org/10.1038/s41586-021-04001-4
Received:

Accepted:

Published:

Issue Date:

DOI: https://doi.org/10.1038/s41586-021-04001-4
Comments
By submitting a comment you agree to abide by our Terms and Community Guidelines. If you find something abusive or that does not comply with our terms or guidelines please flag it as inappropriate.