Abstract
Competitive interactions have a vital role in the ecology of most animal species1,2,3 and powerfully influence the behaviour of groups4,5. To succeed, individuals must exert effort based on not only the resources available but also the social rank and behaviour of other group members2,6,7. The single-cellular mechanisms that precisely drive competitive interactions or the behaviour of social groups, however, remain poorly understood. Here we developed a naturalistic group paradigm in which large cohorts of mice competitively foraged for food as we wirelessly tracked neuronal activities across thousands of unique interactions. By following the collective behaviour of the groups, we found neurons in the anterior cingulate that adaptively represented the social rank of the animals in relation to others. Although social rank was closely behaviourally linked to success, these cells disambiguated the relative rank of the mice from their competitive behaviour, and incorporated information about the resources available, the environment, and past success of the mice to influence their decisions. Using multiclass models, we show how these neurons tracked other individuals within the group and accurately predicted upcoming success. Using neuromodulation techniques, we also show how the neurons conditionally influenced competitive effort—increasing the effort of the animals only when they were more dominant to their groupmates and decreasing it when they were subordinate—effects that were not observed in other frontal lobe areas. Together, these findings reveal cingulate neurons that serve to adaptively drive competitive interactions and a putative process that could intermediate the social and economic behaviour of groups.
Relevant articles
Open Access articles citing this article.
Angelo Forli

&

Michael M. Yartsev

Nature Open Access 30 August 2023

Robert N. Fetcho

,

Baila S. Hall

…

Conor Liston

Nature Communications Open Access 29 April 2023
Access options
Access Nature and 54 other Nature Portfolio journals
Get Nature+, our best-value online-access subscription
$29.99 / 30 days
cancel any time
Subscribe to this journal
Receive 51 print issues and online access
$199.00 per year
only $3.90 per issue
Rent or buy this article
Prices vary by article type
from$1.95
to$39.95
Prices may be subject to local taxes which are calculated during checkout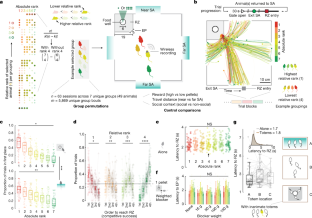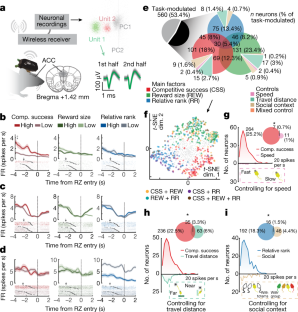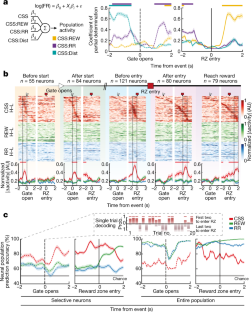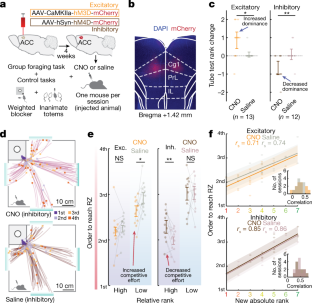 Data availability
Additional behavioural and neuronal data that support the findings of the study are available from the corresponding author upon reasonable request. Source data are provided with this paper.
Code availability
All software packages used in this study are listed in the Reporting Summary along with their versions. The custom MALAB codes used to perform data and statistical analyses that support the findings of this study are available from the corresponding author upon reasonable request.
References
Darwin, C. On the Origin of Species by Means of Natural Selection, or, the Preservation of Favoured Races in the Struggle for Life (John Murray, 1859).

Huntingford, F. A. & Turner, A. K. In Animal Conflict (eds Huntingford, F. A. & Turner, A. K.) 227–250 (Springer, 1987).

Zink, C. F. et al. Know your place: neural processing of social hierarchy in humans. Neuron 58, 273–283 (2008).

Hoshaw, B. A., Evans, J. C., Mueller, B., Valentino, R. J. & Lucki, I. Social competition in rats: cell proliferation and behavior. Behav. Brain Res. 175, 343–351 (2006).

Nagy, M., Akos, Z., Biro, D. & Vicsek, T. Hierarchical group dynamics in pigeon flocks. Nature 464, 890–893 (2010).

Stephens, D. W. In Encyclopedia of Ecology (eds Jorgensen, S. E. & Fath, B.) 284–289 (Elsevier, 2008).

Clark, C. W. & Mangel, M. The evolutionary advantages of group foraging. Theor. Popul. Biol. 30, 45–75 (1986).

Sapolsky, R. M. The influence of social hierarchy on primate health. Science 308, 648–652 (2005).

Waite, T. A. The Bible of Social Foraging Theory. Ecology 82, 906–907 (2001).

Zhou, T. et al. History of winning remodels thalamo-PFC circuit to reinforce social dominance. Science 357, 162–168 (2017).

Wang, F. et al. Bidirectional control of social hierarchy by synaptic efficacy in medial prefrontal cortex. Science 334, 693–697 (2011).

Levy, D. R. et al. Dynamics of social representation in the mouse prefrontal cortex. Nat. Neurosci. 22, 2013–2022 (2019).

Allsop, S. A. et al. Corticoamygdala transfer of socially derived information gates observational learning. Cell 173, 1329–1342 (2018).

Haroush, K. & Williams, Z. M. Neuronal prediction of opponent's behavior during cooperative social interchange in primates. Cell 160, 1233–1245 (2015).

Kingsbury, L. et al. Correlated neural activity and encoding of behavior across brains of socially interacting animals. Cell 178, 429–446 (2019).

Lee, D. K. et al. Reduced sociability and social agency encoding in adult Shank3-mutant mice are restored through gene re-expression in real time. Nat. Neurosci. 24, 1243–1255 (2021).

Dal Monte, O., Chu, C. C. J., Fagan, N. A. & Chang, S. W. C. Specialized medial prefrontal-amygdala coordination in other-regarding decision preference. Nat. Neurosci. 23, 565–574 (2020).

Fan, Z. et al. Using the tube test to measure social hierarchy in mice. Nat. Protoc. 14, 819–831 (2019).

Rushworth, M. F. & Behrens, T. E. Choice, uncertainty and value in prefrontal and cingulate cortex. Nat. Neurosci. 11, 389–397 (2008).

Ruff, C. C. & Fehr, E. The neurobiology of rewards and values in social decision making. Nat. Rev. Neurosci. 15, 549–562 (2014).

Cowen, S. L., Davis, G. A. & Nitz, D. A. Anterior cingulate neurons in the rat map anticipated effort and reward to their associated action sequences. J. Neurophysiol. 107, 2393–2407 (2012).

Hillman, K. L. & Bilkey, D. K. Neural encoding of competitive effort in the anterior cingulate cortex. Nat. Neurosci. 15, 1290–1297 (2012).

Pereira, T. D., Shaevitz, J. W. & Murthy, M. Quantifying behavior to understand the brain. Nat. Neurosci. 23, 1537–1549 (2020).

Desjardins, C., Maruniak, J. A. & Bronson, F. H. Social rank in house mice: differentiation revealed by ultraviolet visualization of urinary marking patterns. Science 182, 939–941 (1973).

Kareem, A. M. & Barnard, C. J. The importance of kinship and familiarity in social interactions between mice. Anim. Behav. 30, 594–601 (1982).

Calhoun, J. B. The social aspects of population dynamics. J. Mammal. 33, 139–159 (1952).

Williamson, C. M., Lee, W. & Curley, J. P. Temporal dynamics of social hierarchy formation and maintenance in male mice. Anim. Behav. 115, 259–272 (2016).

Marlin, B. J., Mitre, M., D'Amour J, A., Chao, M. V. & Froemke, R. C. Oxytocin enables maternal behaviour by balancing cortical inhibition. Nature 520, 499–504 (2015).

Baez-Mendoza, R., Harris, C. J. & Schultz, W. Activity of striatal neurons reflects social action and own reward. Proc. Natl Acad. Sci. USA. 110, 16634–16639 (2013).

Snyder-Mackler, N. et al. Social determinants of health and survival in humans and other animals. Science 368, eaax9553 (2020).

Manning, C. J., Wakeland, E. K. & Potts, W. K. Communal nesting patterns in mice implicate MHC genes in kin recognition. Nature 360, 581–583 (1992).

Yang, M., Weber, M. D. & Crawley, J. N. Light phase testing of social behaviors: not a problem. Front. Neurosci. 2, 186–191 (2008).

Lindzey, G., Winston, H. & Manosevitz, M. Social dominance in inbred mouse strains. Nature 191, 474–476 (1961).

Xu, H. et al. A disinhibitory microcircuit mediates conditioned social fear in the prefrontal cortex. Neuron, 102, 668–682 (2019).

Murugan, M. et al. Combined social and spatial coding in a descending projection from the prefrontal cortex. Cell 171, 1663–1677 (2017).

Olsson, I. A. S. et al. Understanding behaviour: the relevance of ethological approaches in laboratory animal science. Appl. Anim. Behav. Sci. 81, 245–264 (2003).

Dewsbury, D. A. Comparative psychology, ethology, and animal behavior. Annu. Rev. Psychol. 40, 581–602 (1989).

Musallam, S., Bak, M. J., Troyk, P. R. & Andersen, R. A. A floating metal microelectrode array for chronic implantation. J. Neurosci. Methods 160, 122–127 (2007).

Prasad, A. et al. Abiotic-biotic characterization of Pt/Ir microelectrode arrays in chronic implants. Front. Neuroeng. 7, 2 (2014).

Gremel, C. M. & Costa, R. M. Orbitofrontal and striatal circuits dynamically encode the shift between goal-directed and habitual actions. Nat. Commun. 4, 2264 (2013).

Han, W. et al. Integrated control of predatory hunting by the central nucleus of the amygdala. Cell 168, 311–324 (2017).

Scheggia, D. et al. Somatostatin interneurons in the prefrontal cortex control affective state discrimination in mice. Nat. Neurosci. 23, 47–60 (2020).

Gehrlach, D. A. et al. Aversive state processing in the posterior insular cortex. Nat. Neurosci. 22, 1424–1437 (2019).

Klavir, O., Prigge, M., Sarel, A., Paz, R. & Yizhar, O. Manipulating fear associations via optogenetic modulation of amygdala inputs to prefrontal cortex. Nat. Neurosci. 20, 836–844 (2017).

Hung, C. P., Kreiman, G., Poggio, T. & DiCarlo, J. J. Fast readout of object identity from macaque inferior temporal cortex. Science 310, 863–866 (2005).

Wasserman, L. All of Statistics: a Concise Course in Statistical Inference (Springer Texts, 2004).
Acknowledgements
We thank M. Mejdell, N. Occidental and S. Folz for their help with data collection and behavioural scoring; and A. Khanna, Y. Cohen, Y. Kfir, M. Mustroph, M. Jamali, N. Padilla, K. Tye, D. Rosene, K. Rockland and L. Toth for feedback. S.W.L. is supported by the Autism Science Foundation; R.B.-M. is funded by an MGH-ECOR Fund for Medical Discovery Fellowship and a NARSAD Young Investigator Grant from the Brain & Behavior Research Foundation; and Z.M.W. is supported by NIH R01HD059852, NIH R01NS091390 and NIH U01NS123130.
Ethics declarations
Competing interests
The authors declare no competing financial or non-financial interests.
Additional information
Peer review information Nature thanks Steve Chang and the other, anonymous, reviewer(s) for their contribution to the peer review of this work.
Publisher's note Springer Nature remains neutral with regard to jurisdictional claims in published maps and institutional affiliations.
Extended data figures and tables
Supplementary information
Competitive foraging apparatus design. Video displaying a three-dimensional render of the competitive foraging apparatus. See Methods, Fig. 1a and Extended Data Fig. 1a for more details.
Example group competitive foraging trial. A representative trial depicting a group of four mice engaging the competitive foraging task. In this trial, the recorded animal (green fur) is the most dominant (red circle) relative to others (squares). The animals started from a common staging area and competed for food within the reward zone (grey). Kinematic position labels were created using custom-adapted automated tracking software (see methods). Timestamp shows the elapsing time from gate opening.
About this article
Cite this article
Li, S.W., Zeliger, O., Strahs, L. et al. Frontal neurons driving competitive behaviour and ecology of social groups. Nature 603, 661–666 (2022). https://doi.org/10.1038/s41586-021-04000-5
Received:

Accepted:

Published:

Issue Date:

DOI: https://doi.org/10.1038/s41586-021-04000-5
Comments
By submitting a comment you agree to abide by our Terms and Community Guidelines. If you find something abusive or that does not comply with our terms or guidelines please flag it as inappropriate.