Abstract
Molecular switch proteins whose cycling between states is controlled by opposing regulators1,2 are central to biological signal transduction. As switch proteins function within highly connected interaction networks3, the fundamental question arises of how functional specificity is achieved when different processes share common regulators. Here we show that functional specificity of the small GTPase switch protein Gsp1 in Saccharomyces cerevisiae (the homologue of the human protein RAN)4 is linked to differential sensitivity of biological processes to different kinetics of the Gsp1 (RAN) switch cycle. We make 55 targeted point mutations to individual protein interaction interfaces of Gsp1 (RAN) and show through quantitative genetic5 and physical interaction mapping that Gsp1 (RAN) interface perturbations have widespread cellular consequences. Contrary to expectation, the cellular effects of the interface mutations group by their biophysical effects on kinetic parameters of the GTPase switch cycle and not by the targeted interfaces. Instead, we show that interface mutations allosterically tune the GTPase cycle kinetics. These results suggest a model in which protein partner binding, or post-translational modifications at distal sites, could act as allosteric regulators of GTPase switching. Similar mechanisms may underlie regulation by other GTPases, and other biological switches. Furthermore, our integrative platform to determine the quantitative consequences of molecular perturbations may help to explain the effects of disease mutations that target central molecular switches.
Access options
Access Nature and 54 other Nature Portfolio journals
Get Nature+, our best-value online-access subscription
$29.99 per month
cancel any time
Subscribe to this journal
Receive 51 print issues and online access
$199.00 per year
only $3.90 per issue
Rent or buy this article
Get just this article for as long as you need it
$39.95
Prices may be subject to local taxes which are calculated during checkout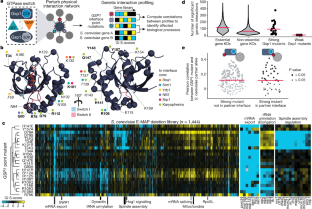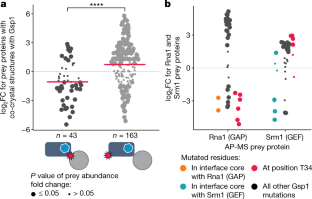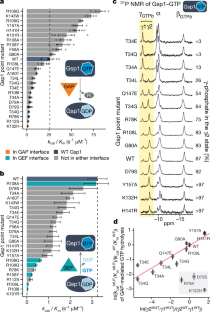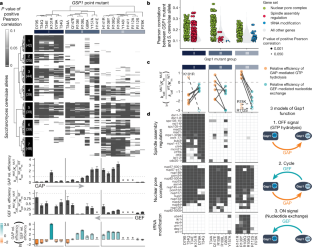 Data availability
The mass spectrometry proteomics data have been deposited to the PRIDE proteomics data repository with the dataset identifier PXD016338 and are available as Supplementary Tables. Raw biophysics data (cycle kinetics, circular dichroism spectroscopy and NMR), and E-MAP S-scores, scaled SGA scores and their correlations are available from https://github.com/tinaperica/Gsp1_manuscript/tree/master/Data. All other data that support the findings of this study are available within the paper and its supplementary files. Source data are provided with this paper.
References
Ferrell, J. E. & Ha, S. H. Ultrasensitivity part I: Michaelian responses and zero-order ultrasensitivity. Trends Biochem. Sci 39, 496–503 (2014).

Goldbeter, A. & Koshland, D. E. An amplified sensitivity arising from covalent modification in biological systems. Proc. Natl Acad. Sci. USA 78, 6840–6844 (1981).

Eisenberg, D., Marcotte, E. M., Xenarios, I. & Yeates, T. O. Protein function in the post-genomic era. Nature 405, 823–826 (2000).

Rush, M. G., Drivas, G. & D'Eustachio, P. The small nuclear GTPase Ran: how much does it run? BioEssays 18, 103–112 (1996).

Collins, S. R., Schuldiner, M., Krogan, N. J. & Weissman, J. S. A strategy for extracting and analyzing large-scale quantitative epistatic interaction data. Genome Biol. 7, R63 (2006).

Braberg, H. et al. Genetic interaction mapping informs integrative structure determination of protein complexes. Science 370, eaaz4910 (2020).

Braberg, H. et al. From structure to systems: high-resolution, quantitative genetic analysis of RNA polymerase II. Cell 154, 775–788 (2013).

Dasso, M. The Ran GTPase: theme and variations. Curr. Biol. 12, R502–R508 (2002).

Bischoff, F. R. & Ponstingl, H. in The Small GTPase Ran Vol. 1 (eds Rush, M. & D'Eustachio, P.) 163–176 (Springer, 2001); https://doi.org/10.1007/978-1-4615-1501-2_9

Moore, M. S. & Blobel, G. The GTP-binding protein Ran/TC4 is required for protein import into the nucleus. Nature 365, 661–663 (1993).

Köhler, A. & Hurt, E. Exporting RNA from the nucleus to the cytoplasm. Nat. Rev. Mol. Cell Biol. 8, 761–773 (2007).

Arnaoutov, A. & Dasso, M. The Ran GTPase regulates kinetochore function. Dev. Cell 5, 99–111 (2003).

Ren, M. et al. Separate domains of the Ran GTPase interact with different factors to regulate nuclear protein import and RNA processing. Mol. Cell. Biol. 15, 2117–2124 (1995).

Costanzo, M. et al. A global genetic interaction network maps a wiring diagram of cellular function. Science 353, aaf1420 (2016).

Geyer, M. et al. Conformational states of the nuclear GTP-binding protein Ran and its complexes with the exchange factor RCC1 and the effector protein RanBP1. Biochemistry 38, 11250–11260 (1999).

Henriksen, P. et al. Proteome-wide analysis of lysine acetylation suggests its broad regulatory scope in Saccharomyces cerevisiae. Mol. Cell. Proteomics 11, 1510–1522 (2012).

de Boor, S. et al. Small GTP-binding protein Ran is regulated by posttranslational lysine acetylation. Proc. Natl Acad. Sci. USA 112, E3679–E3688 (2015).

Besray Unal, E. et al. Systems level expression correlation of Ras GTPase regulators. Cell Commun. Signal. 16, 46 (2018).

Görlich, D., Seewald, M. J. & Ribbeck, K. Characterization of Ran-driven cargo transport and the RanGTPase system by kinetic measurements and computer simulation. EMBO J. 22, 1088–1100 (2003).

Barr, F. A. Review series: Rab GTPases and membrane identity: causal or inconsequential? J. Cell Biol. 202, 191–199 (2013).

Levy, E. D. A simple definition of structural regions in proteins and its use in analyzing interface evolution. J. Mol. Biol. 403, 660–670 (2010).

Rojas, A. M., Fuentes, G., Rausell, A. & Valencia, A. The Ras protein superfamily: evolutionary tree and role of conserved amino acids. J. Cell Biol. 196, 189–201 (2012).

Collins, S. R., Roguev, A. & Krogan, N. J. Quantitative genetic interaction mapping using the E-MAP approach. Methods Enzymol. 470, 205–231 (2010).

Schuldiner, M. et al. Exploration of the function and organization of the yeast early secretory pathway through an epistatic miniarray profile. Cell 123, 507–519 (2005).

Giaever, G. et al. Functional profiling of the Saccharomyces cerevisiae genome. Nature 418, 387–391 (2002).

Collins, S. R. et al. Functional dissection of protein complexes involved in yeast chromosome biology using a genetic interaction map. Nature 446, 806–810 (2007).

Cherry, J. M. et al. SGD: Saccharomyces Genome Database. Nucleic Acids Res. 26, 73–79 (1998).

Benjamini, Y. & Hochberg, Y. Controlling the false discovery rate—a practical and powerful approach to multiple testing. J. R. Stat. Soc. B 57, 289–300 (1995).

Benjamini, Y. & Yekutieli, D. The control of the false discovery rate in multiple testing under dependency. Ann. Stat. 29, 1165–1188, 1124 (2001).

Jäger, S. et al. Global landscape of HIV–human protein complexes. Nature 481, 365–370 (2011).

Jäger, S. et al. Purification and characterization of HIV–human protein complexes. Methods 53, 13–19 (2011).

Cox, J. & Mann, M. MaxQuant enables high peptide identification rates, individualized p.p.b.-range mass accuracies and proteome-wide protein quantification. Nat. Biotechnol. 26, 1367–1372 (2008).

Cox, J. et al. Accurate proteome-wide label-free quantification by delayed normalization and maximal peptide ratio extraction, termed MaxLFQ. Mol. Cell. Proteomics 13, 2513–2526 (2014).

Teo, G. et al. SAINTexpress: improvements and additional features in Significance Analysis of INTeractome software. J. Proteomics 100, 37–43 (2014).

Choi, M. et al. MSstats: an R package for statistical analysis of quantitative mass spectrometry-based proteomic experiments. Bioinformatics 30, 2524–2526 (2014).

Studier, F. W. Protein production by auto-induction in high density shaking cultures. Protein Expression Purif. 41, 207–234 (2005).

Markley, J. L. et al. Recommendations for the presentation of NMR structures of proteins and nucleic acids—IUPAC-IUBMB-IUPAB Inter-Union Task Group on the Standardization of Data Bases of Protein and Nucleic Acid Structures Determined by NMR Spectroscopy. J. Biomol. NMR 12, 1–23 (1998).

Mishra, A. K. & Lambright, D. G. High-throughput assay for profiling the substrate specificity of Rab GTPase-activating proteins. Methods Mol. Biol. 1298, 47–60 (2015).

Goudar, C. T., Sonnad, J. R. & Duggleby, R. G. Parameter estimation using a direct solution of the integrated Michaelis–Menten equation. Biochim. Biophys. Acta 1429, 377–383 (1999).

Malaby, A. W. et al. Methods for analysis of size-exclusion chromatography–small-angle X-ray scattering and reconstruction of protein scattering. J. Appl. Crystallogr. 48, 1102–1113 (2015).

Klebe, C., Bischoff, F. R., Ponstingl, H. & Wittinghofer, A. Interaction of the nuclear GTP-binding protein Ran with its regulatory proteins RCC1 and RanGAP1. Biochemistry 34, 639–647 (1995).
Acknowledgements
We thank R. Ordonez for contributions to the design of mutations; C. Melero, D. Jeon, S. Mathur, R. D. Kim and K. Kundert for technical help; M. Jaime Garza for contributions to the conformational analysis by NMR; C. Ryan for advice on E-MAP analysis; and D. Agard, G. Narlikar, J. Fraser and J. M. Thornton for discussions. This work was supported by a grant from the National Institutes of Health (R01-GM117189) to T.K. and a Sir Henry Wellcome Postdoctoral Fellowship (101614/Z/13/Z) to T.P. C.J.P.M. is a UCSF Discovery Fellow. T.K. is a Chan Zuckerberg Biohub investigator.
Ethics declarations
Competing interests
The authors declare no competing interests.
Additional information
Peer review information Nature thanks Katrin Rittinger and the other, anonymous, reviewer(s) for their contribution to the peer review of this work.
Publisher's note Springer Nature remains neutral with regard to jurisdictional claims in published maps and institutional affiliations.
Extended data figures and tables
Supplementary information
About this article
Cite this article
Perica, T., Mathy, C.J.P., Xu, J. et al. Systems-level effects of allosteric perturbations to a model molecular switch. Nature 599, 152–157 (2021). https://doi.org/10.1038/s41586-021-03982-6
Received:

Accepted:

Published:

Issue Date:

DOI: https://doi.org/10.1038/s41586-021-03982-6
This article is cited by
Hannes Braberg
Ignacia Echeverria
Nevan J. Krogan

Nature Reviews Genetics (2022)
Comments
By submitting a comment you agree to abide by our Terms and Community Guidelines. If you find something abusive or that does not comply with our terms or guidelines please flag it as inappropriate.