Abstract
The progression of chronic liver disease to hepatocellular carcinoma is caused by the acquisition of somatic mutations that affect 20–30 cancer genes1,2,3,4,5,6,7,8. Burdens of somatic mutations are higher and clonal expansions larger in chronic liver disease9,10,11,12,13 than in normal liver13,14,15,16, which enables positive selection to shape the genomic landscape9,10,11,12,13. Here we analysed somatic mutations from 1,590 genomes across 34 liver samples, including healthy controls, alcohol-related liver disease and non-alcoholic fatty liver disease. Seven of the 29 patients with liver disease had mutations in FOXO1, the major transcription factor in insulin signalling. These mutations affected a single hotspot within the gene, impairing the insulin-mediated nuclear export of FOXO1. Notably, six of the seven patients with FOXO1S22W hotspot mutations showed convergent evolution, with variants acquired independently by up to nine distinct hepatocyte clones per patient. CIDEB, which regulates lipid droplet metabolism in hepatocytes17,18,19, and GPAM, which produces storage triacylglycerol from free fatty acids20,21, also had a significant excess of mutations. We again observed frequent convergent evolution: up to fourteen independent clones per patient with CIDEB mutations and up to seven clones per patient with GPAM mutations. Mutations in metabolism genes were distributed across multiple anatomical segments of the liver, increased clone size and were seen in both alcohol-related liver disease and non-alcoholic fatty liver disease, but rarely in hepatocellular carcinoma. Master regulators of metabolic pathways are a frequent target of convergent somatic mutation in alcohol-related and non-alcoholic fatty liver disease.
Relevant articles
Open Access articles citing this article.
Sigurgeir Olafsson

,

Elke Rodriguez

…

Carl A. Anderson

Nature Genetics Open Access 26 October 2023

Tian Lan

,

Adrien Guillot

&

Frank Tacke

Signal Transduction and Targeted Therapy Open Access 25 August 2023

Aik Seng Ng

&

Dedrick Kok Hong Chan

Oncogene Open Access 12 August 2023
Access options
Access Nature and 54 other Nature Portfolio journals
Get Nature+, our best-value online-access subscription
$29.99 / 30 days
cancel any time
Subscribe to this journal
Receive 51 print issues and online access
$199.00 per year
only $3.90 per issue
Rent or buy this article
Prices vary by article type
from$1.95
to$39.95
Prices may be subject to local taxes which are calculated during checkout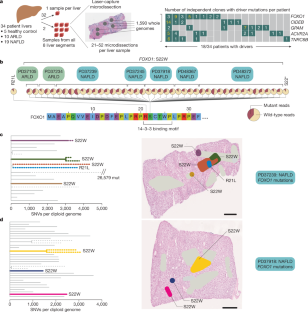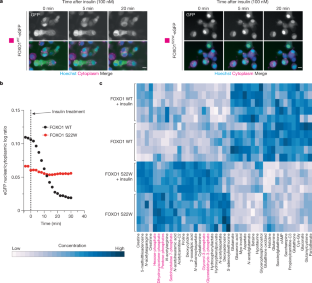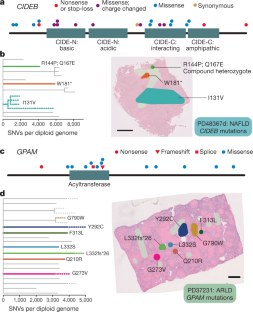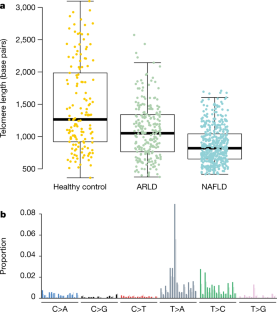 Data availability
WGS data in the form of BAM files across samples reported in this study have been deposited in the European Genome-Phenome Archive (accession number EGAD00001006255). RNA-sequencing data have been deposited in the European Nucleotide Archive (https://www.ebi.ac.uk/ena/browser/home) with accession number ERP123192.
Code availability
Detailed methods and custom R scripts for the analysis of clinical features, telomere lengths and metabolomics data are available in the Supplementary Code. Other packages used in the analysis are listed below: R: v.3.5.1, Perl: v.5.3.0, Python: v.3.8.5, MATLAB: v.R2019b, BWA-MEM: v.0.7.17 (https://sourceforge.net/projects/bio-bwa/), cgpCaVEMan: v.1.11.2/1.13.14/1.15.1 (https://github.com/cancerit/CaVEMan), cgpPindel: v.2.2.2/2.2.4/2.2.5/3.2.0/3.3.0 (https://github.com/cancerit/cgpPindel), Brass: v.5.4.1/6.0.5/6.1.2/6.2.0/6.3.4 (https://github.com/cancerit/BRASS), ASCAT NGS: v.4.0.1/ 4.1.2/4.2.1 (https://github.com/cancerit/ascatNgs), JBrowse: v.1.16.1 (https://jbrowse.org/), cgpVAF: v.2.4.0 (https://github.com/cancerit/vafCorrect), alleleCount: v.4.1.0 (https://github.com/cancerit/alleleCount), SigProfiler: v.1.0.0-GRCh37 (https://github.com/AlexandrovLab), HDP: v.0.1.5 (https://github.com/nicolaroberts/hdp), dNdScv: v.0.0.1 (https://github.com/im3sanger/dndscv), Telomerecat: v.3.4.0 (https://github.com/jhrf/telomerecat), STAR: v.2.7.6a (https://github.com/alexdobin/STAR), Picard-tools: v.2.20.7 (https://broadinstitute.github.io/picard/), Samtools: v.1.12 (http://www.htslib.org/), TrimGalore: v.0.6.4 (https://github.com/FelixKrueger/TrimGalore), GATK: v.4.1.4.1 (https://gatk.broadinstitute.org/hc/en-us), GSEA: v.3.0 (https://www.gsea-msigdb.org/gsea/index.jsp), XGBoost: v.0.82.1 (https://xgboost.readthedocs.io/en/latest/), NDP.view2 (https://www.hamamatsu.com/eu/en/product/type/U12388-01/index.html), label.switching: v.1.8 (https://cran.r-project.org/web/packages/label.switching/index.html), philentropy: v.0.3.0 (https://cran.r-project.org/web/packages/philentropy/index.html), MCMCglmm: v.2.29 (https://cran.r-project.org/web/packages/MCMCglmm/index.html), Magick: v.2.0 (https://cran.r-project.org/web/packages/magick/index.html), Pheatmap: v.1.0.12 (https://cran.r-project.org/web/packages/pheatmap/index.html), Thermo Fisher software Tracefinder: v.5.0 (https://www.thermofisher.com/uk/en/home/industrial/mass-spectrometry/liquid-chromatography-mass-spectrometry-lc-ms/lc-ms-software/lc-ms-data-acquisition-software/tracefinder-software.html), CellProfiler: v.4.0.3 (https://cellprofiler.org/), PerkinElmer Harmony: v.4.9 (https://www.perkinelmer.com/category/cellular-imaging-software).
References
The Cancer Genome Atlas Research Network. Comprehensive and integrative genomic characterization of hepatocellular carcinoma. Cell 169, 1327–1341 (2017).

Schulze, K. et al. Exome sequencing of hepatocellular carcinomas identifies new mutational signatures and potential therapeutic targets. Nat. Genet. 47, 505–511 (2015).

Totoki, Y. et al. Trans-ancestry mutational landscape of hepatocellular carcinoma genomes. Nat. Genet. 46, 1267–1273 (2014).

Fujimoto, A. et al. Whole-genome sequencing of liver cancers identifies etiological influences on mutation patterns and recurrent mutations in chromatin regulators. Nat. Genet. 44, 760–764 (2012).

Letouzé, E. et al. Mutational signatures reveal the dynamic interplay of risk factors and cellular processes during liver tumorigenesis. Nat. Commun. 8, 1315 (2017).

Guichard, C. et al. Integrated analysis of somatic mutations and focal copy-number changes identifies key genes and pathways in hepatocellular carcinoma. Nat. Genet. 44, 694–698 (2012).

Fujimoto, A. et al. Whole-genome mutational landscape and characterization of noncoding and structural mutations in liver cancer. Nat. Genet. 48, 500–509 (2016).

Pinyol, R. et al. Molecular characterization of hepatocellular carcinoma in patients with non-alcoholic steatohepatitis. J. Hepatol. 75, 865–878 (2021).

Nault, J. C. et al. Telomerase reverse transcriptase promoter mutation is an early somatic genetic alteration in the transformation of premalignant nodules in hepatocellular carcinoma on cirrhosis. Hepatology 60, 1983–1992 (2014).

Torrecilla, S. et al. Trunk mutational events present minimal intra- and inter-tumoral heterogeneity in hepatocellular carcinoma. J. Hepatol. 67, 1222–1231 (2017).

Zhu, M. et al. Somatic mutations increase hepatic clonal fitness and regeneration in chronic liver disease. Cell 177, 608–621 (2019).

Kim, S. K. et al. Comprehensive analysis of genetic aberrations linked to tumorigenesis in regenerative nodules of liver cirrhosis. J. Gastroenterol. 54, 628–640 (2019).

Brunner, S. F. et al. Somatic mutations and clonal dynamics in healthy and cirrhotic human liver. Nature 574, 538–542 (2019).

Blokzijl, F. et al. Tissue-specific mutation accumulation in human adult stem cells during life. Nature 538, 260–264 (2016).

Yizhak, K. et al. RNA sequence analysis reveals macroscopic somatic clonal expansion across normal tissues. Science 364, eaaw0726 (2019).

Brazhnik, K. et al. Single-cell analysis reveals different age-related somatic mutation profiles between stem and differentiated cells in human liver. Sci. Adv. 6, eaax2659 (2020).

Barneda, D. et al. The brown adipocyte protein CIDEA promotes lipid droplet fusion via a phosphatidic acid-binding amphipathic helix. Elife 4, e07485 (2015).

Sun, Z. et al. Perilipin1 promotes unilocular lipid droplet formation through the activation of Fsp27 in adipocytes. Nat. Commun. 4, 1594 (2013).

Li, J. Z. et al. Cideb regulates diet-induced obesity, liver steatosis, and insulin sensitivity by controlling lipogenesis and fatty acid oxidation. Diabetes 56, 2523–2532 (2007).

Hammond, L. E. et al. Mitochondrial glycerol-3-phosphate acyltransferase-1 is essential in liver for the metabolism of excess acyl-CoAs. J. Biol. Chem. 280, 25629–25636 (2005).

Wendel, A. A., Cooper, D. E., Ilkayeva, O. R., Muoio, D. M. & Coleman, R. A. Glycerol-3-phosphate acyltransferase (GPAT)−1, but not GPAT4, incorporates newly synthesized fatty acids into triacylglycerol and diminishes fatty acid oxidation. J. Biol. Chem. 288, 27299–27306 (2013).

Jeon, S. & Carr, R. Alcohol effects on hepatic lipid metabolism. J. Lipid Res. 61, 470–479 (2020).

Friedman, S. L., Neuschwander-Tetri, B. A., Rinella, M. & Sanyal, A. J. Mechanisms of NAFLD development and therapeutic strategies. Nat. Med. 24, 908–922 (2018).

Clugston, R. D. et al. Altered hepatic lipid metabolism in C57BL/6 mice fed alcohol: a targeted lipidomic and gene expression study. J. Lipid Res. 52, 2021–2031 (2011).

Puri, P. et al. A lipidomic analysis of nonalcoholic fatty liver disease. Hepatology 46, 1081–1090 (2007).

Meister, G. et al. Identification of novel argonaute-associated proteins. Curr. Biol. 15, 2149–2155 (2005).

Rheinbay, E. et al. Analyses of non-coding somatic drivers in 2,658 cancer whole genomes. Nature 578, 102–111 (2020).

Yaffe, M. B. et al. The structural basis for 14-3-3:phosphopeptide binding specificity. Cell 91, 961–971 (1997).

Saline, M. et al. AMPK and AKT protein kinases hierarchically phosphorylate the N-terminus of the FOXO1 transcription factor, modulating interactions with 14-3-3 proteins. J. Biol. Chem. 294, 13106–13116 (2019).

Kleiner, D. E. et al. Design and validation of a histological scoring system for nonalcoholic fatty liver disease. Hepatology 41, 1313–1321 (2005).

Ishak, K. et al. Histological grading and staging of chronic hepatitis. J. Hepatol. 22, 696–699 (1995).

Ellis, P. et al. Reliable detection of somatic mutations in solid tissues by laser-capture microdissection and low-input DNA sequencing. Nat. Protoc. 16, 841–871 (2021).

Jones, D. et al. cgpCaVEManWrapper: simple execution of CaVEMan in order to detect somatic single nucleotide variants in NGS data. Curr. Protoc. Bioinformatics 56, 15.10.1–15.10.18 (2016).

Yoshida, K. et al. Tobacco smoking and somatic mutations in human bronchial epithelium. Nature 578, 266–272 (2020).

Papastamoulis, P. label.switching: an R package for dealing with the label switching problem in MCMC outputs. J. Stat. Softw. 69, Code Snippet 1 (2015).

Nik-Zainal, S. et al. The life history of 21 breast cancers. Cell 149, 994–1007 (2012).

Martincorena, I. et al. Universal patterns of selection in cancer and somatic tissues. Cell 171, 1029–1041 (2017).

Raine, K. M. et al. cgpPindel: identifying somatically acquired insertion and deletion events from paired end sequencing. Curr. Protoc. Bioinformatics 52, 15.7.1–15.7.12 (2015).

Campbell, P. J. et al. Identification of somatically acquired rearrangements in cancer using genome-wide massively parallel paired-end sequencing. Nat. Genet. 40, 722–729 (2008).

Stephens, P. J. et al. Massive genomic rearrangement acquired in a single catastrophic event during cancer development. Cell 144, 27–40 (2011).

Sohlenius-Sternbeck, A. K. Determination of the hepatocellularity number for human, dog, rabbit, rat and mouse livers from protein concentration measurements. Toxicol. Vitr. 20, 1582–1586 (2006).

Lipscomb, J. C., Fisher, J. W., Confer, P. D. & Byczkowski, J. Z. In vitro to in vivo extrapolation for trichloroethylene metabolism in humans. Toxicol. Appl. Pharmacol. 152, 376–387 (1998).

Bergstrom, E. N. et al. SigProfilerMatrixGenerator: a tool for visualizing and exploring patterns of small mutational events. BMC Genomics 20, 685 (2019).

Alexandrov, L. B. et al. The repertoire of mutational signatures in human cancer. Nature 578, 94–101 (2020).

Drost, H.-G. Philentropy: information theory and distance quantification with R. J. Open Source Softw. 3, 765 (2018).

Qiao, W. et al. PERT: a method for expression deconvolution of human blood samples from varied microenvironmental and developmental conditions. PLoS Comput. Biol. 8, (2012).

Farmery, J. H. R. et al. Telomerecat: a ploidy-agnostic method for estimating telomere length from whole genome sequencing data. Sci. Rep. 8, 1300 (2018).

Hadfield, J. D. MCMC methods for multi-response generalized linear mixed models: the MCMCglmm R package. J. Stat. Softw. 33, v033i02 (2010).

Hoare, M. et al. NOTCH1 mediates a switch between two distinct secretomes during senescence. Nat. Cell Biol. 18, 979–992 (2016).

Liao, Y., Smyth, G. K. & Shi, W. FeatureCounts: an efficient general purpose program for assigning sequence reads to genomic features. Bioinformatics 30, 923–930 (2014).

Robinson, M. D., McCarthy, D. J. & Smyth, G. K. edgeR: a Bioconductor package for differential expression analysis of digital gene expression data. Bioinformatics 26, 139–140 (2009).
Acknowledgements
This work was supported by a Cancer Research UK Grand Challenge Award (C98/A24032) and the Wellcome Trust. S.W.K.N. holds an EMBO Long Term Fellowship (ALTF 721-2019). S.F.B. was supported by the Swiss National Science Foundation (P2SKP3-171753 and P400PB-180790). M.A.S. is supported by a Rubicon fellowship from NWO (019.153LW.038). The Cambridge Human Research Tissue Bank is supported by the NIHR Cambridge Biomedical Research Centre. M.H. is supported by a CRUK Clinician Scientist Fellowship (C52489/A19924) and a CRUK Accelerator Award (C18873/A26813). P.J.C. was supported by a Wellcome Senior Clinical Fellowship until 2020 (WT088340MA).
Ethics declarations
Competing interests
A patent has been filed by CRUK's technology transfer office, with support from that of Wellcome Sanger Institute (named inventors: S.W.K.N., M.H. and P.J.C.), covering the use of somatic mutations in liver tissue for stratifying diagnosis and treatment of patients with metabolic diseases.
Additional information
Peer review information Nature thanks the anonymous reviewers for their contribution to the peer review of this work. Peer reviewer reports are available.
Publisher's note Springer Nature remains neutral with regard to jurisdictional claims in published maps and institutional affiliations.
Extended data figures and tables
Supplementary information
About this article
Cite this article
Ng, S.W.K., Rouhani, F.J., Brunner, S.F. et al. Convergent somatic mutations in metabolism genes in chronic liver disease. Nature 598, 473–478 (2021). https://doi.org/10.1038/s41586-021-03974-6
Received:

Accepted:

Published:

Issue Date:

DOI: https://doi.org/10.1038/s41586-021-03974-6
Comments
By submitting a comment you agree to abide by our Terms and Community Guidelines. If you find something abusive or that does not comply with our terms or guidelines please flag it as inappropriate.