Abstract
Humans have co-evolved with a dense community of microbial symbionts that inhabit the lower intestine. In the colon, secreted mucus creates a barrier that separates these microorganisms from the intestinal epithelium1. Some gut bacteria are able to utilize mucin glycoproteins, the main mucus component, as a nutrient source. However, it remains unclear which bacterial enzymes initiate degradation of the complex O-glycans found in mucins. In the distal colon, these glycans are heavily sulfated, but specific sulfatases that are active on colonic mucins have not been identified. Here we show that sulfatases are essential to the utilization of distal colonic mucin O-glycans by the human gut symbiont Bacteroides thetaiotaomicron. We characterized the activity of 12 different sulfatases produced by this species, showing that they are collectively active on all known sulfate linkages in O-glycans. Crystal structures of three enzymes provide mechanistic insight into the molecular basis of substrate specificity. Unexpectedly, we found that a single sulfatase is essential for utilization of sulfated O-glycans in vitro and also has a major role in vivo. Our results provide insight into the mechanisms of mucin degradation by a prominent group of gut bacteria, an important process for both normal microbial gut colonization2 and diseases such as inflammatory bowel disease3.
Relevant articles
Open Access articles citing this article.
Ryuichi Mashima

,

Mari Ohira

…

Shuji Takada

Scientific Reports Open Access 15 May 2023

Bashar Shuoker

,

Michael J. Pichler

…

Maher Abou Hachem

Nature Communications Open Access 01 April 2023

Li Wang

,

Li Shao

…

Wei-Hua Huang

Chinese Medicine Open Access 28 December 2022
Access options
Access Nature and 54 other Nature Portfolio journals
Get Nature+, our best-value online-access subscription
$29.99 / 30 days
cancel any time
Subscribe to this journal
Receive 51 print issues and online access
$199.00 per year
only $3.90 per issue
Rent or buy this article
Prices vary by article type
from$1.95
to$39.95
Prices may be subject to local taxes which are calculated during checkout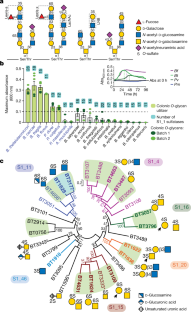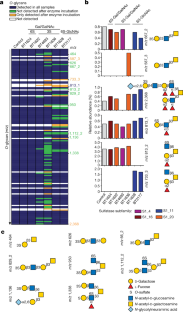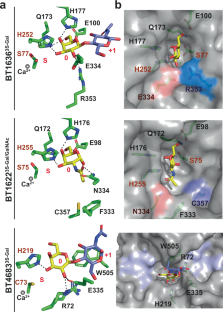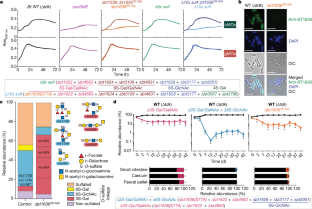 Data availability
All data for the experiments, along with corresponding statistical test values, where appropriate, are provided within the paper and in its Supplementary Information. The crystal structure datasets generated have been deposited in the PDB under the following accession numbers: 7ANB, 7ANA, 7AN1, 7OQD and 7ALL. The MS raw files have been deposited in the GlycoPOST database under the following IDs: GPST000150 and GPST000196. Glycan structural annotations were deposited to the UniCarb database at https://unicarb-dr.glycosmos.org/references/462. There are no restrictions on data or biological resource availability. Data and biological resources can be obtained by contacting the corresponding authors. Source data are provided with this paper.
Code availability
No new codes were developed or compiled in this study.
References
Johansson, M. E. et al. The inner of the two Muc2 mucin-dependent mucus layers in colon is devoid of bacteria. Proc. Natl Acad. Sci. USA 105, 15064–15069 (2008).

Benjdia, A., Martens, E. C., Gordon, J. I. & Berteau, O. Sulfatases and a radical S-adenosyl-l-methionine (AdoMet) enzyme are key for mucosal foraging and fitness of the prominent human gut symbiont, Bacteroides thetaiotaomicron. J. Biol. Chem. 286, 25973–25982 (2011).

Hickey, C. A. et al. Colitogenic Bacteroides thetaiotaomicron antigens access host immune cells in a sulfatase-dependent manner via outer membrane vesicles. Cell Host Microbe 17, 672–680 (2015).

Packey, C. D. & Sartor, R. B. Commensal bacteria, traditional and opportunistic pathogens, dysbiosis and bacterial killing in inflammatory bowel diseases. Curr. Opin. Infect. Dis. 22, 292–301 (2009).

Sears, C. L. & Garrett, W. S. Microbes, microbiota, and colon cancer. Cell Host Microbe 15, 317–328 (2014).

Van der Sluis, M. et al. Muc2-deficient mice spontaneously develop colitis, indicating that Muc2 is critical for colonic protection. Gastroenterology 131, 117–129 (2006).

Velcich, A. et al. Colorectal cancer in mice genetically deficient in the mucin Muc2. Science 295, 1726–1729 (2002).

Bergstrom, K. et al. Core 1- and 3-derived O-glycans collectively maintain the colonic mucus barrier and protect against spontaneous colitis in mice. Mucosal Immunol. 10, 91–103 (2016).

Larsson, J. M. et al. Altered O-glycosylation profile of MUC2 mucin occurs in active ulcerative colitis and is associated with increased inflammation. Inflamm. Bowel Dis. 17, 2299–2307 (2011).

Fu, J. et al. Loss of intestinal core 1-derived O-glycans causes spontaneous colitis in mice. J. Clin. Invest. 121, 1657–1666 (2011).

Kudelka, M. R. et al. Cosmc is an X-linked inflammatory bowel disease risk gene that spatially regulates gut microbiota and contributes to sex-specific risk. Proc. Natl. Acad. Sci. USA 113, 14787–14792 (2016).

Larsson, J. M., Karlsson, H., Sjovall, H. & Hansson, G. C. A complex, but uniform O-glycosylation of the human MUC2 mucin from colonic biopsies analyzed by nanoLC/MSn. Glycobiology 19, 756–766 (2009).

Holmen Larsson, J. M., Thomsson, K. A., Rodriguez-Pineiro, A. M., Karlsson, H. & Hansson, G. C. Studies of mucus in mouse stomach, small intestine, and colon. III. Gastrointestinal Muc5ac and Muc2 mucin O-glycan patterns reveal a regiospecific distribution. Am. J. Physiol. Gastrointest. Liver Physiol. 305, G357–G363 (2013).

Thomsson, K. A. et al. Detailed O-glycomics of the Muc2 mucin from colon of wild-type, core 1- and core 3-transferase-deficient mice highlights differences compared with human MUC2. Glycobiology 22, 1128–1139 (2012).

Robbe, C. et al. Evidence of regio-specific glycosylation in human intestinal mucins—presence of an acidic gradient along the intestinal tract. J. Biol. Chem. 278, 46337–46348 (2003).

Katoh, T. et al. Identification and characterization of a sulfoglycosidase from Bifidobacterium bifidum implicated in mucin glycan utilization. Biosci. Biotechnol. Biochem. 81, 2018–2027 (2017).

Martens, E. C., Chiang, H. C. & Gordon, J. I. Mucosal glycan foraging enhances fitness and transmission of a saccharolytic human gut bacterial symbiont. Cell Host Microbe 4, 447–457 (2008).

Diez-Roux, G. & Ballabio, A. Sulfatases and human disease. Annu. Rev. Genomics Hum. Genet. 6, 355–379 (2005).

Wlodarska, M. et al. Indoleacrylic acid produced by commensal Peptostreptococcus species suppresses inflammation. Cell Host Microbe 22, 25–37 (2017).

Tramontano, M. et al. Nutritional preferences of human gut bacteria reveal their metabolic idiosyncrasies. Nat. Microbiol. 3, 514–522 (2018).

Derrien, M., Vaughan, E. E., Plugge, C. M. & de Vos, W. M. Akkermansia muciniphila gen. nov., sp. nov., a human intestinal mucin-degrading bacterium. Int. J. Syst. Evol. Microbiol. 54, 1469–1476 (2004).

Pudlo, N. A. et al. Symbiotic human gut bacteria with variable metabolic priorities for host mucosal glycans. mBio 6, e01282 (2015).

Barbeyron, T. et al. Matching the diversity of sulfated biomolecules: creation of a classification database for sulfatases reflecting their substrate specificity. PLoS ONE 11, e0164846 (2016).

Benjdia, A. et al. Anaerobic sulfatase-maturating enzymes, first dual substrate radical S-adenosylmethionine enzymes. J. Biol. Chem. 283, 17815–17826 (2008).

Cartmell, A. et al. How members of the human gut microbiota overcome the sulfation problem posed by glycosaminoglycans. Proc. Natl Acad. Sci. USA 114, 7037–7042 (2017).

Ndeh, D. et al. Metabolism of multiple glycosaminoglycans by Bacteroides thetaiotaomicron is orchestrated by a versatile core genetic locus. Nat. Commun. 11, 646 (2020).

Ulmer, J. E. et al. Characterization of glycosaminoglycan (GAG) sulfatases from the human gut symbiont Bacteroides thetaiotaomicron reveals the first GAG-specific bacterial endosulfatase. J. Biol. Chem. 289, 24289–24303 (2014).

Tobisawa, Y., Imai, Y., Fukuda, M. & Kawashima, H. Sulfation of colonic mucins by N-acetylglucosamine 6-O-sulfotransferase-2 and its protective function in experimental colitis in mice. J. Biol. Chem. 285, 6750–6760 (2010).

Neelamegham, S. et al. Updates to the Symbol Nomenclature for Glycans guidelines. Glycobiology 29, 620–624 (2019).

Egan, M., Jiang, H., O'Connell Motherway, M., Oscarson, S. & van Sinderen, D. Glycosulfatase-encoding gene cluster in Bifidobacterium breve UCC2003. Appl. Environ. Microbiol. 82, 6611–6623 (2016).

Briliute, J. et al. Complex N-glycan breakdown by gut Bacteroides involves an extensive enzymatic apparatus encoded by multiple co-regulated genetic loci. Nat. Microbiol. 4, 1571–1581 (2019).

Packer, N. H., Lawson, M. A., Jardine, D. R. & Redmond, J. W. A general approach to desalting oligosaccharides released from glycoproteins. Glycoconjugate J. 15, 737–747 (1998).

Hayes, C. A. et al. UniCarb-DB: a database resource for glycomic discovery. Bioinformatics 27, 1343–1344 (2011).

Everest-Dass, A. V., Abrahams, J. L., Kolarich, D., Packer, N. H. & Campbell, M. P. Structural feature ions for distinguishing N- and O-linked glycan isomers by LC–ESI–IT MS/MS. J. Am. Soc. Mass Spectrom. 24, 895–906 (2013).

Domon, B. & Costello, C. E. Structure elucidation of glycosphingolipids and gangliosides using high-performance tandem mass spectrometry. Biochemistry 27, 1534–1543 (1988).

Byrne, D. P. et al. New tools for carbohydrate sulfation analysis: heparan sulfate 2-O-sulfotransferase (HS2ST) is a target for small-molecule protein kinase inhibitors. Biochem. J. 475, 2417–2433 (2018).

Byrne, D. P. et al. cAMP-dependent protein kinase (PKA) complexes probed by complementary differential scanning fluorimetry and ion mobility–mass spectrometry. Biochem. J. 473, 3159–3175 (2016).

Das, T. M., Rao, C. P. & Kolehmainen, E. Synthesis and characterisation of N-glycosyl amines from the reaction between 4,6-O-benzylidene-d-glucopyranose and substituted aromatic amines and also between 2-(O-aminophenyl) benzimidazole and pentoses or hexoses. Carbohydr. Res. 334, 261–269 (2001).

Kabsch, W. Xds. Acta Crystallogr. D Biol. Crystallogr. 66, 125–132 (2010).

Winter, S. E., Lopez, C. A. & Baumler, A. J. The dynamics of gut-associated microbial communities during inflammation. EMBO Rep. 14, 319–327 (2013).

Evans, P. R. & Murshudov, G. N. How good are my data and what is the resolution? Acta Crystallogr. D Biol. Crystallogr. 69, 1204–1214 (2013).

Long, F., Vagin, A. A., Young, P. & Murshudov, G. N. BALBES: a molecular-replacement pipeline. Acta Crystallogr. D Biol. Crystallogr. 64, 125–132 (2008).

Vagin, A. & Teplyakov, A. Molecular replacement with MOLREP. Acta Crystallogr. D Biol. Crystallogr. 66, 22–25 (2010).

Emsley, P., Lohkamp, B., Scott, W. G. & Cowtan, K. Features and development of Coot. Acta Crystallogr. D Biol. Crystallogr. 66, 486–501 (2010).

Murshudov, G. N. et al. REFMAC5 for the refinement of macromolecular crystal structures. Acta Crystallogr. D Biol. Crystallogr. 67, 355–367 (2011).

Lebedev, A. A. et al. JLigand: a graphical tool for the CCP4 template-restraint library. Acta Crystallogr. D Biol. Crystallogr. 68, 431–440 (2012).

Chen, V. B. et al. MolProbity: all-atom structure validation for macromolecular crystallography. Acta Crystallogr. D Biol. Crystallogr. 66, 12–21 (2010).

Agirre, J. et al. Privateer: software for the conformational validation of carbohydrate structures. Nat. Struct. Mol. Biol. 22, 833–834 (2015).

Terwilliger, T. C. et al. Iterative-build OMIT maps: map improvement by iterative model building and refinement without model bias. Acta Crystallogr. D Biol. Crystallogr. 64, 515–524 (2008).

Collaborative Computational Project, Number 4. The CCP4 suite: programs for protein crystallography. Acta Crystallogr. D Biol. Crystallogr. 50, 760–763 (1994).

Potterton, L. et al. CCP4i2: the new graphical user interface to the CCP4 program suite. Acta Crystallogr. D Struct. Biol. 74, 68–84 (2018).

Micsonai, A. et al. BeStSel: a web server for accurate protein secondary structure prediction and fold recognition from the circular dichroism spectra. Nucleic Acids Res. 46, W315–W322 (2018).

Desai, M. S. et al. A dietary fiber-deprived gut microbiota degrades the colonic mucus barrier and enhances pathogen susceptibility. Cell 167, 1339–1353 (2016).

Koropatkin, N. M., Martens, E. C., Gordon, J. I. & Smith, T. J. Starch catabolism by a prominent human gut symbiont is directed by the recognition of amylose helices. Structure 16, 1105–1115 (2008).

Degnan, P. H., Barry, N. A., Mok, K. C., Taga, M. E. & Goodman, A. L. Human gut microbes use multiple transporters to distinguish vitamin B12 analogs and compete in the gut. Cell Host Microbe 15, 47–57 (2014).

Katoh, K., Misawa, K., Kuma, K. & Miyata, T. MAFFT: a novel method for rapid multiple sequence alignment based on fast Fourier transform. Nucleic Acids Res. 30, 3059–3066 (2002).

Clamp, M., Cuff, J., Searle, S. M. & Barton, G. J. The Jalview Java alignment editor. Bioinformatics 20, 426–427 (2004).

Stamatakis, A. RAxML version 8: a tool for phylogenetic analysis and post-analysis of large phylogenies. Bioinformatics 30, 1312–1313 (2014).

Felsenstein, J. Evolutionary trees from DNA sequences: a maximum likelihood approach. J. Mol. Evol. 17, 368–376 (1981).

Le, S. Q. & Gascuel, O. An improved general amino acid replacement matrix. Mol. Biol. Evol. 25, 1307–1320 (2008).

Felsenstein, J. Confidence limits on phylogenies: an approach using the bootstrap. Evolution 39, 783–791 (1985).

Kumar, S., Stecher, G. & Tamura, K. MEGA7: Molecular Evolutionary Genetics Analysis version 7.0 for bigger datasets. Mol. Biol. Evol. 33, 1870–1874 (2016).
Acknowledgements
This project has received funding from the European Union's Horizon 2020 research and innovation programme under Marie Skłodowska-Curie grant agreement no. 748336. This work was supported by National Institutes of Health grants (DK118024 and DK125445 awarded to E.C.M., U01AI095473 awarded to G.C.H.), the European Research Council (ERC; 694181), the Knut and Alice Wallenberg Foundation (2017.0028), the Swedish Research Council (2017-00958), Wilhelm och Martina Lundgrens Vetenskapsfond (2020.3597, awarded to A.S.L.) and the Academy of Medical Sciences/Wellcome Trust through Springboard grant SBF005\1065 163470 awarded to A.C. We acknowledge access to the SOLEIL and Diamond Light sources via both University of Liverpool and Newcastle University BAGs (proposal nos mx21970 and mx18598, respectively). We thank the staff of DIAMOND and SOLEIL and members of Liverpool's molecular biophysics group for assistance with data collection. We thank members of the University of Michigan Mouse Facility and acknowledge the University of Michigan Center for Gastrointestinal Research (UMCGR; NIDDK 5P30DK034933) for support. MS analysis of glycans was performed in the Swedish Infrastructure for Biologic Mass Spectrometry (BioMS) supported by the Swedish Research Council. We are also grateful for E. Corre's help regarding bioinformatics analyses (ABIMS platform, Station Biologique de Roscoff, France).
Ethics declarations
Competing interests
The authors declare no competing interests.
Additional information
Peer review information Nature thanks B. van den Berg and the other, anonymous, reviewer(s) for their contribution to the peer review of this work. Peer reviewer reports are available.
Publisher's note Springer Nature remains neutral with regard to jurisdictional claims in published maps and institutional affiliations.
Extended data figures and tables
Supplementary information
About this article
Cite this article
Luis, A.S., Jin, C., Pereira, G.V. et al. A single sulfatase is required to access colonic mucin by a gut bacterium. Nature 598, 332–337 (2021). https://doi.org/10.1038/s41586-021-03967-5
Received:

Accepted:

Published:

Issue Date:

DOI: https://doi.org/10.1038/s41586-021-03967-5
Comments
By submitting a comment you agree to abide by our Terms and Community Guidelines. If you find something abusive or that does not comply with our terms or guidelines please flag it as inappropriate.