Abstract
Human epithelial tissues accumulate cancer-driver mutations with age1,2,3,4,5,6,7,8,9, yet tumour formation remains rare. The positive selection of these mutations suggests that they alter the behaviour and fitness of proliferating cells10,11,12. Thus, normal adult tissues become a patchwork of mutant clones competing for space and survival, with the fittest clones expanding by eliminating their less competitive neighbours11,12,13,14. However, little is known about how such dynamic competition in normal epithelia influences early tumorigenesis. Here we show that the majority of newly formed oesophageal tumours are eliminated through competition with mutant clones in the adjacent normal epithelium. We followed the fate of nascent, microscopic, pre-malignant tumours in a mouse model of oesophageal carcinogenesis and found that most were rapidly lost with no indication of tumour cell death, decreased proliferation or an anti-tumour immune response. However, deep sequencing of ten-day-old and one-year-old tumours showed evidence of selection on the surviving neoplasms. Induction of highly competitive clones in transgenic mice increased early tumour removal, whereas pharmacological inhibition of clonal competition reduced tumour loss. These results support a model in which survival of early neoplasms depends on their competitive fitness relative to that of mutant clones in the surrounding normal tissue. Mutant clones in normal epithelium have an unexpected anti-tumorigenic role in purging early tumours through cell competition, thereby preserving tissue integrity.
Relevant articles
Open Access articles citing this article.
Emilie Abby

,

Stefan C. Dentro

…

Philip H. Jones

Nature Genetics Open Access 19 January 2023

Kasumi Murai

,

Stefan Dentro

…

Philip H. Jones

Nature Communications Open Access 20 October 2022

Nanase Igarashi

,

Kenichi Miyata

…

Akiko Takahashi

Nature Communications Open Access 18 July 2022
Access options
Subscribe to Nature+
Get immediate online access to Nature and 55 other Nature journal
Subscribe to Journal
Get full journal access for 1 year
$199.00
only $3.90 per issue
All prices are NET prices.
VAT will be added later in the checkout.
Tax calculation will be finalised during checkout.
Buy article
Get time limited or full article access on ReadCube.
$32.00
All prices are NET prices.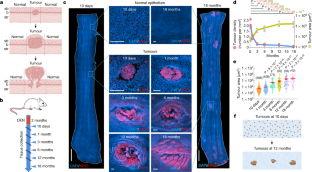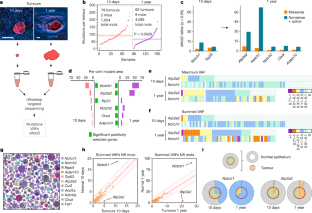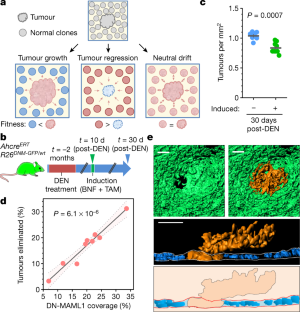 Data availability
Individual datasets are available in Supplementary Tables 1–11. The targeted DNA sequences from 10-day normal tissue and 10-day and 1-year tumours are available from the European Nucleotide Archive under accession ERP022921. Whole-exome sequences and whole-genome sequences of tumours are available from the European Nucleotide Archive under accessions ERP015469 and ERP122780, respectively. Source data are provided with this paper.
References
Lee-Six, H. et al. The landscape of somatic mutation in normal colorectal epithelial cells. Nature 574, 532–537 (2019).

Martincorena, I. et al. Somatic mutant clones colonize the human esophagus with age. Science 362, 911–917 (2018).

Martincorena, I. et al. High burden and pervasive positive selection of somatic mutations in normal human skin. Science 348, 880–886 (2015).

Suda, K. et al. Clonal expansion and diversification of cancer-associated mutations in endometriosis and normal endometrium. Cell Rep. 24, 1777–1789 (2018).

Yokoyama, A. et al. Age-related remodelling of oesophageal epithelia by mutated cancer drivers. Nature 565, 312–317 (2019).

Moore, L. et al. The mutational landscape of normal human endometrial epithelium. Nature 580, 640–646 (2020).

Yoshida, K. et al. Tobacco smoking and somatic mutations in human bronchial epithelium. Nature 578, 266–272 (2020).

Fowler, J. C. et al. Selection of oncogenic mutant clones in normal human skin varies with body site. Cancer Discov. 11, 340–361 (2021).

Lawson, A. R. J. et al. Extensive heterogeneity in somatic mutation and selection in the human bladder. Science 370, 75–82 (2020).

Vermeulen, L. et al. Defining stem cell dynamics in models of intestinal tumor initiation. Science 342, 995–998 (2013).

Alcolea, M. P. et al. Differentiation imbalance in single oesophageal progenitor cells causes clonal immortalization and field change. Nat. Cell Biol. 16, 615–622 (2014).

Fernandez-Antoran, D. et al. Outcompeting p53-mutant cells in the normal esophagus by redox manipulation. Cell Stem Cell 25, 329–341 (2019).

Colom, B. et al. Spatial competition shapes the dynamic mutational landscape of normal esophageal epithelium. Nat. Genet. 52, 604–614 (2020).

Murai, K. et al. Epidermal tissue adapts to restrain progenitors carrying clonal p53 mutations. Cell Stem Cell 23, 687–699.e688 (2018).

Doupe, D. P. et al. A single progenitor population switches behavior to maintain and repair esophageal epithelium. Science 337, 1091–1093 (2012).

Piedrafita, G. et al. A single-progenitor model as the unifying paradigm of epidermal and esophageal epithelial maintenance in mice. Nat. Commun. 11, 1429 (2020).

Frede, J., Greulich, P., Nagy, T., Simons, B. D. & Jones, P. H. A single dividing cell population with imbalanced fate drives oesophageal tumour growth. Nat. Cell Biol. 18, 967–978 (2016).

Nair, R. R. et al. A role for keratin 17 during DNA damage response and tumor initiation. Proc. Natl Acad. Sci. USA 118, e2020150118 (2021).

Hobbs, R. P. et al. Keratin-dependent regulation of Aire and gene expression in skin tumor keratinocytes. Nat. Genet. 47, 933–938 (2015).

Liu, Z. et al. Keratin 17 activates AKT signalling and induces epithelial-mesenchymal transition in oesophageal squamous cell carcinoma. J. Proteomics 211, 103557 (2020).

Narushima, K. et al. Establishment of a DEN-induced mouse model of esophageal squamous cell carcinoma metastasis. Esophagus 14, 131–137 (2017).

Rubio, C. A., Liu, F. S., Chejfec, G. & Sveander, M. The induction of esophageal tumors in mice: dose and time dependency. In Vivo 1, 35–38 (1987).

McGranahan, N. & Swanton, C. Clonal heterogeneity and tumor evolution: past, present, and the future. Cell 168, 613–628 (2017).

Greaves, M. & Maley, C. C. Clonal evolution in cancer. Nature 481, 306–313 (2012).

Hall, M. W. J., Jones, P. H. & Hall, B. A. Relating evolutionary selection and mutant clonal dynamics in normal epithelia. J. R. Soc. Interface 16, 20190230 (2019).

Martincorena, I. et al. Universal patterns of selection in cancer and somatic tissues. Cell 171, 1029–1041.e1021 (2017).

Martincorena, I., Jones, P. H. & Campbell, P. J. Constrained positive selection on cancer mutations in normal skin. Proc. Natl Acad. Sci. USA 113, E1128–E1129 (2016).

Prasad, V. et al. Haploinsufficiency of Atp2a2, encoding the sarco(endo)plasmic reticulum Ca2+-ATPase isoform 2 Ca2+ pump, predisposes mice to squamous cell tumors via a novel mode of cancer susceptibility. Cancer Res. 65, 8655–8661 (2005).

Liu, L. H., Boivin, G. P., Prasad, V., Periasamy, M. & Shull, G. E. Squamous cell tumors in mice heterozygous for a null allele of Atp2a2, encoding the sarco(endo)plasmic reticulum Ca2+-ATPase isoform 2 Ca2+pump. J. Biol. Chem. 276, 26737–26740 (2001).

Tumbar, T. et al. Defining the epithelial stem cell niche in skin. Science 303, 359–363 (2004).

Brown, S. et al. Correction of aberrant growth preserves tissue homeostasis. Nature 548, 334–337 (2017).

Kon, S. et al. Cell competition with normal epithelial cells promotes apical extrusion of transformed cells through metabolic changes. Nat. Cell Biol. 19, 530–541 (2017).

Shultz, L. D. et al. Human lymphoid and myeloid cell development in NOD/LtSz-scid IL2Rγnull mice engrafted with mobilized human hemopoietic stem cells. J. Immunol. 174, 6477–6489 (2005).

Ellis, P. et al. Reliable detection of somatic mutations in solid tissues by laser-capture microdissection and low-input DNA sequencing. Nat. Protoc. 16, 841–871 (2021).

Li, H. Aligning sequence reads, clone sequences and assembly contigs with BWA-MEM. Preprint at https://arxiv.org/abs/1303.3997 (2013).

Gerstung, M., Papaemmanuil, E. & Campbell, P. J. Subclonal variant calling with multiple samples and prior knowledge. Bioinformatics 30, 1198–1204, (2014).

Alexandrov, L. B. et al. The repertoire of mutational signatures in human cancer. Nature 578, 94–101 (2020).

Rosenthal, R., McGranahan, N., Herrero, J., Taylor, B. S. & Swanton, C. DeconstructSigs: delineating mutational processes in single tumors distinguishes DNA repair deficiencies and patterns of carcinoma evolution. Genome Biol. 17, 31 (2016).

Jones, D. et al. cgpCaVEManWrapper: simple execution of CaVEMan in order to detect somatic single nucleotide variants in NGS data. Curr. Protoc. Bioinformatics 56, 15.10.11–15.10.18 (2016).

Menzies, A. et al. VAGrENT: variation annotation generator. Curr. Protoc. Bioinformatics 52, 15.18.11–15.18.11 (2015).

Scheinin, I. et al. DNA copy number analysis of fresh and formalin-fixed specimens by shallow whole-genome sequencing with identification and exclusion of problematic regions in the genome assembly. Genome Res. 24, 2022–2032 (2014).

Kuilman, T. et al. CopywriteR: DNA copy number detection from off-target sequence data. Genome Biol. 16, 49 (2015).

Nik-Zainal, S. et al. Mutational processes molding the genomes of 21 breast cancers. Cell 149, 979–993 (2012).

Toni, T., Welch, D., Strelkowa, N., Ipsen, A. & Stumpf, M. P. Approximate Bayesian computation scheme for parameter inference and model selection in dynamical systems. J. R. Soc. Interface 6, 187–202 (2009).

Klinger, E., Rickert, D. & Hasenauer, J. pyABC: distributed, likelihood-free inference. Bioinformatics 34, 3591–3593 (2018).
Acknowledgements
We thank E. Choolun, T. Metcalf and staff at the MRC ARES and Sanger RSF animal facilities for technical support. This work was supported by grants from the Wellcome Trust to the Wellcome Sanger Institute (098051 and 296194) and Cancer Research UK Programme Grants to P.H.J. (C609/A17257 and C609/A27326). B.A.H. and M.W.J.H. are supported by the Medical Research Council (Grant-in-Aid to the MRC Cancer unit grant number MC_UU_12022/9 and NIRG to B.A.H., grant number MR/S000216/1). A.H. benefited from the award of an EMBO long term fellowship. M.W.J.H. acknowledges support from the Harrison Watson Fund at Clare College, Cambridge. B.A.H. acknowledges support from the Royal Society (grant no. UF130039). S.C.D. benefited from the award of an ESPOD fellowship, 2018-21, from the Wellcome Sanger Institute and the European Bioinformatics Institute EMBL-EBI. K.T.M. benefited from the support of the Chan Zuckerberg Initiative. We thank B. Mahler-Araujo and the MRC Metabolic Diseases Unit (MC_UU_00014/5) for the histological analysis of tumour samples. We are grateful to the Cambridge Biorepository for Translational Medicine for access to human tissue. The authors acknowledge the use and/or adaption of diagrams from Servier Medical Art (https://smart.servier.com).
Ethics declarations
Competing interests
The authors declare no competing interests.
Additional information
Peer review information Nature thanks Francesca Ciccarelli, James DeGregori and the other, anonymous, reviewer(s) for their contribution to the peer review of this work. Peer reviewer reports are available.
Publisher's note Springer Nature remains neutral with regard to jurisdictional claims in published maps and institutional affiliations.
Extended data figures and tables
Supplementary information
About this article
Cite this article
Colom, B., Herms, A., Hall, M.W.J. et al. Mutant clones in normal epithelium outcompete and eliminate emerging tumours. Nature 598, 510–514 (2021). https://doi.org/10.1038/s41586-021-03965-7
Received:

Accepted:

Published:

Issue Date:

DOI: https://doi.org/10.1038/s41586-021-03965-7
Comments
By submitting a comment you agree to abide by our Terms and Community Guidelines. If you find something abusive or that does not comply with our terms or guidelines please flag it as inappropriate.