Abstract
The ability to help and care for others fosters social cohesiveness and is vital to the physical and emotional well-being of social species, including humans1,2,3. Affiliative social touch, such as allogrooming (grooming behaviour directed towards another individual), is a major type of prosocial behaviour that provides comfort to others1,2,3,4,5,6. Affiliative touch serves to establish and strengthen social bonds between animals and can help to console distressed conspecifics. However, the neural circuits that promote prosocial affiliative touch have remained unclear. Here we show that mice exhibit affiliative allogrooming behaviour towards distressed partners, providing a consoling effect. The increase in allogrooming occurs in response to different types of stressors and can be elicited by olfactory cues from distressed individuals. Using microendoscopic calcium imaging, we find that neural activity in the medial amygdala (MeA) responds differentially to naive and distressed conspecifics and encodes allogrooming behaviour. Through intersectional functional manipulations, we establish a direct causal role of the MeA in controlling affiliative allogrooming and identify a select, tachykinin-expressing subpopulation of MeA GABAergic (γ-aminobutyric-acid-expressing) neurons that promote this behaviour through their projections to the medial preoptic area. Together, our study demonstrates that mice display prosocial comforting behaviour and reveals a neural circuit mechanism that underlies the encoding and control of affiliative touch during prosocial interactions.
Relevant articles
Open Access articles citing this article.
Kansai Fukumitsu

,

Arthur J. Huang

…

Kumi O. Kuroda

Molecular Brain Open Access 19 January 2023

Ruining Hu

&

Rongfeng K. Hu

Signal Transduction and Targeted Therapy Open Access 31 August 2022

Liyao Qiu

,

Bin Zhang

&

Zhihua Gao

Neuroscience Bulletin Open Access 16 May 2022
Access options
Subscribe to Nature+
Get immediate online access to Nature and 55 other Nature journal
Subscribe to Journal
Get full journal access for 1 year
$199.00
only $3.90 per issue
All prices are NET prices.
VAT will be added later in the checkout.
Tax calculation will be finalised during checkout.
Buy article
Get time limited or full article access on ReadCube.
$32.00
All prices are NET prices.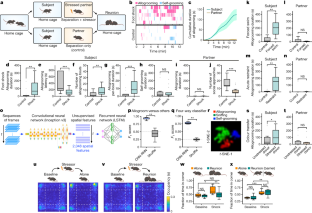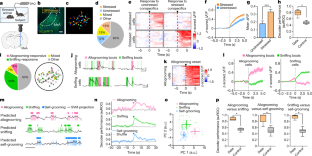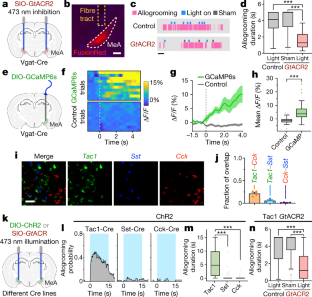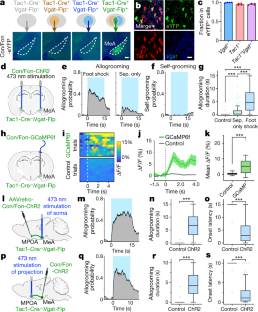 Data availability
Additional data relating to the paper are available from the corresponding author on reasonable request. Source data are provided with this paper.
References
de Waal, F. B. M. & Preston, S. D. Mammalian empathy: behavioural manifestations and neural basis. Nat. Rev. Neurosci. 18, 498–509 (2017).

Dunfield, K. A. A construct divided: prosocial behavior as helping, sharing, and comforting subtypes. Front. Psychol 5, 958 (2014).

Rault, J.-L. Be kind to others: prosocial behaviours and their implications for animal welfare. Appl. Anim. Behav. Sci. 210, 113–123 (2019).

Morrison, I. Keep calm and cuddle on: social touch as a stress buffer. Adapt. Hum. Behav. Physiol. 2, 344–362 (2016).

Spruijt, B. M., Hooff, J. A. V. & Gispen, W. H. Ethology and neurobiology of grooming behavior. Physiol. Rev. 72, 825–852 (1992).

Jablonski, N. G. Social and affective touch in primates and its role in the evolution of social cohesion. Neuroscience 464, 117–125 (2020).

Burkett, J. P. et al. Oxytocin-dependent consolation behavior in rodents. Science 351, 375–378 (2016).

Li, L.-F. et al. Involvement of oxytocin and GABA in consolation behavior elicited by socially defeated individuals in mandarin voles. Psychoneuroendocrinology 103, 14–24 (2019).

Sterley, T.-L. & Bains, J. S. Social communication of affective states. Curr. Opin. Neurobiol. 68, 44–51 (2021).

Paradiso, E., Gazzola, V. & Keysers, C. Neural mechanisms necessary for empathy-related phenomena across species. Curr. Opin. Neurobiol. 68, 107–115 (2021).

Kwon, J.-T. et al. An amygdala circuit that suppresses social engagement. Nature 593, 114–118 (2021).

Chen, P. & Hong, W. Neural circuit mechanisms of social behavior. Neuron 98, 16–30 (2018).

Raam, T. & Hong, W. Organization of neural circuits underlying social behavior: a consideration of the medial amygdala. Curr. Opin. Neurobiol. 68, 124–136 (2021).

Unger, E. K. et al. Medial amygdalar aromatase neurons regulate aggression in both sexes. Cell Rep. 10, 453–462 (2015).

Li, Y. et al. Neuronal representation of social information in the medial amygdala of awake behaving mice. Cell 171, 1176–1190 (2017).

Twining, R. C., Vantrease, J. E., Love, S., Padival, M. & Rosenkranz, J. A. An intra-amygdala circuit specifically regulates social fear learning. Nat. Neurosci. 20, 459–469 (2017).

Hong, W., Kim, D.-W. & Anderson, D. J. Antagonistic control of social versus repetitive self-grooming behaviors by separable amygdala neuronal subsets. Cell 158, 1348–1361 (2014).

Chen, P. B. et al. Sexually dimorphic control of parenting behavior by the medial amygdala. Cell 176, 1206–1221 (2019).

Allsop, S. A. et al. Corticoamygdala transfer of socially derived information gates observational learning. Cell 173, 1329–1342 (2018).

Jeon, D. et al. Observational fear learning involves affective pain system and Cav1.2 Ca2+ channels in ACC. Nat. Neurosci. 13, 482–488 (2010).

Sterley, T.-L. et al. Social transmission and buffering of synaptic changes after stress. Nat. Neurosci. 21, 393–403 (2018).

Gangopadhyay, P., Chawla, M., Monte, O. D. & Chang, S. W. C. Prefrontal–amygdala circuits in social decision-making. Nat. Neurosci. 24, 5–18 (2021).

Canteras, N. S., Simerly, R. B. & Swanson, L. W. Organization of projections from the medial nucleus of the amygdala: a PHAL study in the rat. J. Comp. Neurol. 360, 213–245 (1995).

Cádiz-Moretti, B., Otero-García, M., Martínez-García, F. & Lanuza, E. Afferent projections to the different medial amygdala subdivisions: a retrograde tracing study in the mouse. Brain Struct. Funct. 221, 1033–1065 (2016).

Mahn, M. et al. High-efficiency optogenetic silencing with soma-targeted anion-conducting channelrhodopsins. Nat. Commun. 9, 4125 (2018).

Fenno, L. E. et al. Targeting cells with single vectors using multiple-feature Boolean logic. Nat. Methods 11, 763–772 (2014).

Chen, T.-W. et al. Ultrasensitive fluorescent proteins for imaging neuronal activity. Nature 499, 295–300 (2013).

Dana, H. et al. High-performance calcium sensors for imaging activity in neuronal populations and microcompartments. Nat. Methods 16, 649–657 (2019).

Lim, B. K., Huang, K. W., Grueter, B. A., Rothwell, P. E. & Malenka, R. C. Anhedonia requires MC4R-mediated synaptic adaptations in nucleus accumbens. Nature 487, 183–189 (2012).

Ghosh, K. K. et al. Miniaturized integration of a fluorescence microscope. Nat. Methods 8, 871–878 (2011).

Kingsbury, L. et al. Correlated neural activity and encoding of behavior across brains of socially interacting animals. Cell 178, 429–446 (2019).

Pnevmatikakis, E. A. & Giovannucci, A. NoRMCorre: an online algorithm for piecewise rigid motion correction of calcium imaging data. J. Neurosci. Methods 291, 83–94 (2017).

Zhou, P. et al. Efficient and accurate extraction of in vivo calcium signals from microendoscopic video data. Elife 7, e28728 (2018).

Kingsbury, L. et al. Cortical representations of conspecific sex shape social behavior. Neuron 107, 941–953 (2020).

Hong, W. et al. Automated measurement of mouse social behaviors using depth sensing, video tracking, and machine learning. Proc. Natl Acad. Sci. USA 112, E5351–E5360 (2015).

Wiltschko, A. B. et al. Mapping sub-second structure in mouse behavior. Neuron 88, 1121–1135 (2015).

Kabra, M., Robie, A. A., Rivera-Alba, M., Branson, S. & Branson, K. JAABA: interactive machine learning for automatic annotation of animal behavior. Nat. Methods 10, 64–67 (2013).

Jhuang, H. et al. Automated home-cage behavioural phenotyping of mice. Nat. Commun. 1, 68 (2010).

Nilsson, S. R. et al. Simple Behavioral Analysis (SimBA)—an open source toolkit for computer classification of complex social behaviors in experimental animals. Preprint at bioRxiv https://doi.org/10.1101/2020.04.19.049452 (2020).

LeCun, Y., Bengio, Y. & Hinton, G. Deep learning. Nature 521, 436–444 (2015).

Szegedy, C., Vanhoucke, V., Ioffe, S., Shlens, J. & Wojna, Z. Rethinking the inception architecture for computer vision. Preprint at https://arxiv.org/abs/1512.00567v3 (2015).

Pereira, T. D. et al. SLEAP: multi-animal pose tracking. Preprint at bioRxiv https://doi.org/10.1101/2020.08.31.276246 (2020).

Hochreiter, S. & Schmidhuber, J. Long short-term memory. Neural Comput. 9, 1735–1780 (1997).

Lipton, Z. C., Berkowitz, J. & Elkan, C. A critical review of recurrent neural networks for sequence learning. Preprint at https://arxiv.org/abs/1506.00019 (2015).

Wu, Y. E., Pan, L., Zuo, Y., Li, X. & Hong, W. Detecting activated cell populations using single-cell RNA-seq. Neuron 96, 313–329 (2017).

Harris, J. A. et al. Anatomical characterization of Cre driver mice for neural circuit mapping and manipulation. Front. Neural Circuits 8, 76 (2014).

Taniguchi, H. et al. A resource of Cre driver lines for genetic targeting of GABAergic neurons in cerebral cortex. Neuron 71, 995–1013 (2011).

Daigle, T. L. et al. A suite of transgenic driver and reporter mouse lines with enhanced brain-cell-type targeting and functionality. Cell 174, 465–480 (2018).

Hu, R. K. et al. An amygdala-to-hypothalamus circuit for social reward. Nat. Neurosci. 24, 831–842 (2021).

Stuber, G. D. et al. Excitatory transmission from the amygdala to nucleus accumbens facilitates reward seeking. Nature 475, 377–380 (2011).

Bankhead, P. et al. QuPath: open source software for digital pathology image analysis. Sci. Rep. 7, 16878 (2017).

Fenno, L. E. et al. Comprehensive dual- and triple-feature intersectional single-vector delivery of diverse functional payloads to cells of behaving mammals. Neuron 107, 836–853 (2020).
Acknowledgements
We thank V. Wan and P. B. Chen for technical assistance and contributions to the project; D. Aharoni, P. Golshani and P. Zhao for assistance in setting up the miniscope (v4) imaging system; D. J. Anderson for comments and feedback on the project; and members of the Hong laboratory for valuable comments. Illustrations of mice and mouse brain schematics in Figs. 1a, u–x, 2a, 3a, e, k and 4d, h, l, p and Extended Data Figs. 7b, 8c, h, 9a and 10b were created using BioRender.com. This work was supported in part by NIH grants (R01 NS113124 and U01 NS122124), a Searle Scholars Award, a Packard Fellowship in Science and Engineering, a Keck Foundation Junior Faculty Award, a McKnight Scholar Award, a Vallee Scholar Award, a Mallinckrodt Scholar Award, a NARSAD Young Investigator grant, a Klingenstein-Simons Fellowship Award and a Brain Research Foundation grant (to W.H.) and NIH training grant (T32 NS048004, to J.D.).
Ethics declarations
Competing interests
The authors declare no competing interests.
Additional information
Peer review information Nature thanks Steve Chang and the other, anonymous, reviewer(s) for their contribution to the peer review of this work.
Publisher's note Springer Nature remains neutral with regard to jurisdictional claims in published maps and institutional affiliations.
Extended data figures and tables
Supplementary information
About this article
Cite this article
Wu, Y.E., Dang, J., Kingsbury, L. et al. Neural control of affiliative touch in prosocial interaction. Nature 599, 262–267 (2021). https://doi.org/10.1038/s41586-021-03962-w
Received:

Accepted:

Published:

Issue Date:

DOI: https://doi.org/10.1038/s41586-021-03962-w
Comments
By submitting a comment you agree to abide by our Terms and Community Guidelines. If you find something abusive or that does not comply with our terms or guidelines please flag it as inappropriate.