Abstract
Social memory—the ability to recognize and remember familiar conspecifics—is critical for the survival of an animal in its social group1,2. The dorsal CA2 (dCA2)3,4,5 and ventral CA1 (vCA1)6 subregions of the hippocampus, and their projection targets6,7, have important roles in social memory. However, the relevant extrahippocampal input regions remain poorly defined. Here we identify the medial septum (MS) as a dCA2 input region that is critical for social memory and reveal that modulation of the MS by serotonin (5-HT) bidirectionally controls social memory formation, thereby affecting memory stability. Novel social interactions increase activity in dCA2-projecting MS neurons and induce plasticity at glutamatergic synapses from MS neurons onto dCA2 pyramidal neurons. The activity of dCA2-projecting MS cells is enhanced by the neuromodulator 5-HT acting on 5-HT1B receptors. Moreover, optogenetic manipulation of median raphe 5-HT terminals in the MS bidirectionally regulates social memory stability. This work expands our understanding of the neural mechanisms by which social interactions lead to social memory and provides evidence that 5-HT has a critical role in promoting not only prosocial behaviours8,9, but also social memory, by influencing distinct target structures.
Relevant articles
Open Access articles citing this article.
Liyao Qiu

,

Bin Zhang

&

Zhihua Gao

Neuroscience Bulletin Open Access 16 May 2022
Access options
Subscribe to Nature+
Get immediate online access to the entire Nature family of 50+ journals
Subscribe to Journal
Get full journal access for 1 year
$199.00
only $3.90 per issue
All prices are NET prices.
VAT will be added later in the checkout.
Tax calculation will be finalised during checkout.
Buy article
Get time limited or full article access on ReadCube.
$32.00
All prices are NET prices.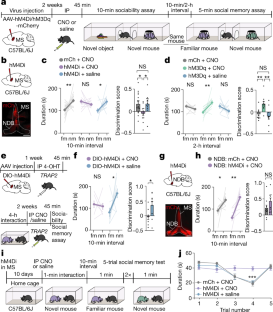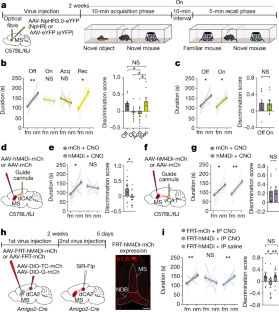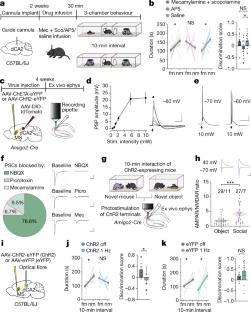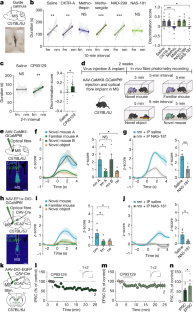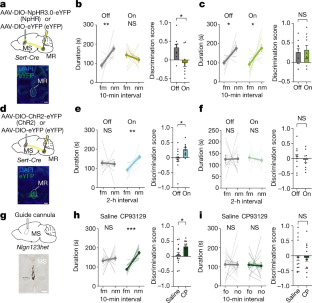 Data availability
The datasets generated and analysed during this study are included in this published article and its supplementary information files. Any additional data generated during and/or analysed during this study are available from the corresponding author upon reasonable request. Source data are provided with this paper.
Code availability
Code used for data processing and analysis is available from the corresponding author upon reasonable request. The MATLAB code used for analyses of fibre photometry data is provided as a supplementary file.
References
McGraw, L. A. & Young, L. J. The prairie vole: an emerging model organism for understanding the social brain. Trends Neurosci. 33, 103–109 (2010).

Okuyama, T. Social memory engram in the hippocampus. Neurosci. Res. 129, 17–23 (2018).

Hitti, F. L. & Siegelbaum, S. A. The hippocampal CA2 region is essential for social memory. Nature 508, 88–92 (2014).

Leroy, F., Brann, D. H., Meira, T. & Siegelbaum, S. A. Input-timing-dependent plasticity in the hippocampal CA2 region and its potential role in social memory. Neuron 95, 1089–1102 (2017).

Meira, T. et al. A hippocampal circuit linking dorsal CA2 to ventral CA1 critical for social memory dynamics. Nat. Commun. 9, 4163 (2018).

Okuyama, T., Kitamura, T., Roy, D. S., Itohara, S. & Tonegawa, S. Ventral CA1 neurons store social memory. Science 353, 1536–1541 (2016).

Phillips, M. L., Robinson, H. A. & Pozzo-Miller, L. Ventral hippocampal projections to the medial prefrontal cortex regulate social memory. Elife 8, e44182 (2019).

Walsh, J. J. et al. 5-HT release in nucleus accumbens rescues social deficits in mouse autism model. Nature 560, 589–594 (2018).

Heifets, B. D. et al. Distinct neural mechanisms for the prosocial and rewarding properties of MDMA. Sci Transl Med 11, eaaw6435 (2019).

Chiang, M. C., Huang, A. J. Y., Wintzer, M. E., Ohshima, T. & McHugh, T. J. A role for CA3 in social recognition memory. Behav. Brain Res. 354, 22–30 (2018).

Leroy, F. et al. A circuit from hippocampal CA2 to lateral septum disinhibits social aggression. Nature 564, 213–218 (2018).

Chandler, J. P. & Crutcher, K. A. The septohippocampal projection in the rat: an electron microscopic horseradish peroxidase study. Neuroscience 10, 685–696 (1983).

Buzsaki, G. Theta oscillations in the hippocampus. Neuron 33, 325–340 (2002).

Kaifosh, P., Lovett-Barron, M., Turi, G. F., Reardon, T. R. & Losonczy, A. Septo-hippocampal GABAergic signaling across multiple modalities in awake mice. Nat. Neurosci. 16, 1182–1184 (2013).

Ciabatti, E., Gonzalez-Rueda, A., Mariotti, L., Morgese, F. & Tripodi, M. Life-long genetic and functional access to neural circuits using self-inactivating rabies virus. Cell 170, 382–392 (2017).

Sans-Dublanc, A. et al. Septal GABAergic inputs to CA1 govern contextual memory retrieval. Sci. Adv. 6, aba5003 (2020).

Zhang, G. W. et al. Transforming sensory cues into aversive emotion via septal-habenular pathway. Neuron 99, 1016–1028 (2018).

Zhang, G. W. et al. A non-canonical reticular-limbic central auditory pathway via medial septum contributes to fear conditioning. Neuron 97, 406–417 (2018).

Papouin, T., Dunphy, J. M., Tolman, M., Dineley, K. T. & Haydon, P. G. Septal cholinergic neuromodulation tunes the astrocyte-dependent gating of hippocampal NMDA receptors to wakefulness. Neuron 94, 840–854 (2017).

Meng, X. et al. Manipulations of MeCP2 in glutamatergic neurons highlight their contributions to Rett and other neurological disorders. Elife 5, e14199 (2016).

Kauer, J. A. & Malenka, R. C. Synaptic plasticity and addiction. Nat. Rev. Neurosci. 8, 844–858 (2007).

Sharma, K. et al. Sexually dimorphic oxytocin receptor-expressing neurons in the preoptic area of the mouse brain. PLoS One 14, e0219784 (2019).

Cloez-Tayarani, I. et al. Autoradiographic characterization of [3H]-5-HT-moduline binding sites in rodent brain and their relationship to 5-HT1B receptors. Proc. Natl Acad. Sci. USA 94, 9899–9904 (1997).

Elvander-Tottie, E., Eriksson, T. M., Sandin, J. & Ogren, S. O. 5-HT1A and NMDA receptors interact in the rat medial septum and modulate hippocampal-dependent spatial learning. Hippocampus 19, 1187–1198 (2009).

Sari, Y. Serotonin1B receptors: from protein to physiological function and behavior. Neurosci. Biobehav. Rev. 28, 565–582 (2004).

Leranth, C. & Vertes, R. P. Median raphe serotonergic innervation of medial septum/diagonal band of broca (MSDB) parvalbumin-containing neurons: possible involvement of the MSDB in the desynchronization of the hippocampal EEG. J. Comp. Neurol. 410, 586–598 (1999).

Schwarz, L. A. et al. Viral-genetic tracing of the input-output organization of a central noradrenaline circuit. Nature 524, 88–92 (2015).

Jiang, M. et al. Conditional ablation of neuroligin-1 in CA1 pyramidal neurons blocks LTP by a cell-autonomous NMDA receptor-independent mechanism. Mol. Psychiatry 22, 375–383 (2017).

Bariselli, S. et al. Role of VTA dopamine neurons and neuroligin 3 in sociability traits related to nonfamiliar conspecific interaction. Nat. Commun. 9, 3173 (2018).

Etherton, M. et al. Autism-linked neuroligin-3 R451C mutation differentially alters hippocampal and cortical synaptic function. Proc. Natl Acad. Sci. USA 108, 13764–13769 (2011).

Wu, X. et al. Neuroligin-1 signaling controls LTP and NMDA receptors by distinct molecular pathways. Neuron 102, 621–635 (2019).

Bunin, M. A. & Wightman, R. M. Quantitative evaluation of 5-hydroxytryptamine (serotonin) neuronal release and uptake: an investigation of extrasynaptic transmission. J. Neurosci. 18, 4854–4860 (1998).

Jennings, K. A. A comparison of the subsecond dynamics of neurotransmission of dopamine and serotonin. ACS Chem. Neurosci. 4, 704–714 (2013).

Liu, C., Goel, P. & Kaeser, P. S. Spatial and temporal scales of dopamine transmission. Nat. Rev. Neurosci. 22, 345–358 (2021).

Nelson, R. J. & Trainor, B. C. Neural mechanisms of aggression. Nat. Rev. Neurosci. 8, 536–546 (2007).

Nautiyal, K. M. et al. Distinct circuits underlie the effects of 5-HT1B receptors on aggression and impulsivity. Neuron 86, 813–826 (2015).

Okaty, B. W. et al. Multi-scale molecular deconstruction of the serotonin neuron system. Neuron 88, 774–791 (2015).

Jensen, P. et al. Redefining the serotonergic system by genetic lineage. Nat. Neurosci. 11, 417–419 (2008).

Baskin, B. M., Mai, J. J., Dymecki, S. M. & Kantak, K. M. Cocaine reward and memory after chemogenetic inhibition of distinct serotonin neuron subtypes in mice. Psychopharmacology 237, 2633–2648 (2020).

Senft, R. A., Freret, M. E., Sturrock, N. & Dymecki, S. M. Neurochemically and hodologically distinct ascending VGLUT3 versus serotonin subsystems comprise the r2-Pet1 median raphe. J. Neurosci. 41, 2581–2600 (2021).

Ferguson, J. N. et al. Social amnesia in mice lacking the oxytocin gene. Nat. Genet. 25, 284–288 (2000).

Raam, T., McAvoy, K. M., Besnard, A., Veenema, A. H. & Sahay, A. Hippocampal oxytocin receptors are necessary for discrimination of social stimuli. Nat. Commun. 8, 2001 (2017).

Allen, W. E. et al. Thirst-associated preoptic neurons encode an aversive motivational drive. Science 357, 1149–1155 (2017).

Beier, K. T. et al. Circuit architecture of VTA dopamine neurons revealed by systematic input-output mapping. Cell 162, 622–634 (2015).

Kremer, E. J., Boutin, S., Chillon, M. & Danos, O. Canine adenovirus vectors: an alternative for adenovirus-mediated gene transfer. J. Virol. 74, 505–512 (2000).

Hung, L. W. et al. Gating of social reward by oxytocin in the ventral tegmental area. Science 357, 1406–1411 (2017).

Ferguson, J. N., Young, L. J. & Insel, T. R. The neuroendocrine basis of social recognition. Front. Neuroendocrinol. 23, 200–224 (2002).

Cunningham, C. L., Gremel, C. M. & Groblewski, P. A. Drug-induced conditioned place preference and aversion in mice. Nat. Protoc. 1, 1662–1670 (2006).

Wang, F. et al. RNAscope: a novel in situ RNA analysis platform for formalin-fixed, paraffin-embedded tissues. J. Mol. Diagn. 14, 22–29 (2012).

Cardozo Pinto, D. F. et al. Characterization of transgenic mouse models targeting neuromodulatory systems reveals organizational principles of the dorsal raphe. Nat. Commun. 10, 4633 (2019).
Acknowledgements
This work was supported by philanthropic funds donated to the Nancy Pritzker Laboratory at Stanford University. X.W. was supported by a NIH K99 Career Development Award (MH122697). K.T.B. was supported by NIH grant DP2 AG067666. B.D.H. was supported by a NIH K08 Career Development Award (MH110610). We thank B. S. Bentzley for providing assistance with the fear conditioning experiments; P. A. Neumann and S. R. Golf for providing mouse breeding pairs; and members of the Malenka laboratory for discussions. Extended Data Fig. 10 schematic by Sci Stories, LLC.
Ethics declarations
Competing interests
All protocols used during this study are freely available for non-profit use from the corresponding author upon reasonable request. R.C.M. is on the scientific advisory boards of MapLight Therapeutics and MindMed.
Additional information
Peer review information Nature thanks Susan Dymecki and the other, anonymous, reviewer(s) for their contribution to the peer review of this work.
Publisher's note Springer Nature remains neutral with regard to jurisdictional claims in published maps and institutional affiliations.
Extended data figures and tables
Supplementary information
About this article
Cite this article
Wu, X., Morishita, W., Beier, K.T. et al. 5-HT modulation of a medial septal circuit tunes social memory stability. Nature 599, 96–101 (2021). https://doi.org/10.1038/s41586-021-03956-8
Received:

Accepted:

Published:

Issue Date:

DOI: https://doi.org/10.1038/s41586-021-03956-8
This article is cited by
Jessica J. Walsh
Daniel J. Christoffel
Robert C. Malenka

Neuropsychopharmacology (2022)

Guangyi Yang
Hongyan Geng
Chun Hu

Neuroscience Bulletin (2022)

Liyao Qiu
Bin Zhang
Zhihua Gao

Neuroscience Bulletin (2022)
Comments
By submitting a comment you agree to abide by our Terms and Community Guidelines. If you find something abusive or that does not comply with our terms or guidelines please flag it as inappropriate.