Abstract
One of the hallmarks of the cerebral cortex is the extreme diversity of interneurons1,2,3. The two largest subtypes of cortical interneurons, parvalbumin- and somatostatin-positive cells, are morphologically and functionally distinct in adulthood but arise from common lineages within the medial ganglionic eminence4,5,6,7,8,9,10,11. This makes them an attractive model for studying the generation of cell diversity. Here we examine how developmental changes in transcription and chromatin structure enable these cells to acquire distinct identities in the mouse cortex. Generic interneuron features are first detected upon cell cycle exit through the opening of chromatin at distal elements. By constructing cell-type-specific gene regulatory networks, we observed that parvalbumin- and somatostatin-positive cells initiate distinct programs upon settling within the cortex. We used these networks to model the differential transcriptional requirement of a shared regulator, Mef2c, and confirmed the accuracy of our predictions through experimental loss-of-function experiments. We therefore reveal how a common molecular program diverges to enable these neuronal subtypes to acquire highly specialized properties by adulthood. Our methods provide a framework for examining the emergence of cellular diversity, as well as for quantifying and predicting the effect of candidate genes on cell-type-specific development.
Relevant articles
Open Access articles citing this article.
Di Zhang

,

Yanxiang Deng

…

Rong Fan

Nature Open Access 15 March 2023

Konstantin Khodosevich

&

Carl M. Sellgren

Molecular Psychiatry Open Access 25 November 2022

Tulsi Patel

,

Jennifer Hammelman

…

Hynek Wichterle

Nature Communications Open Access 15 September 2022
Access options
Access Nature and 54 other Nature Portfolio journals
Get Nature+, our best-value online-access subscription
$29.99 / 30 days
cancel any time
Subscribe to this journal
Receive 51 print issues and online access
$199.00 per year
only $3.90 per issue
Rent or buy this article
Prices vary by article type
from$1.95
to$39.95
Prices may be subject to local taxes which are calculated during checkout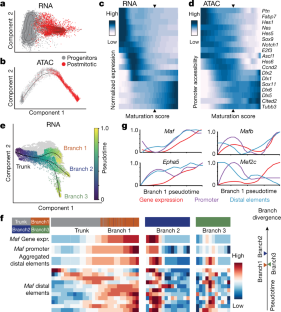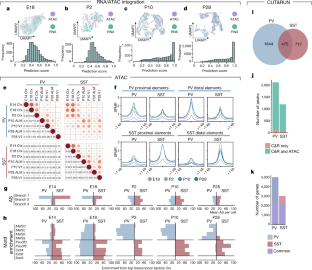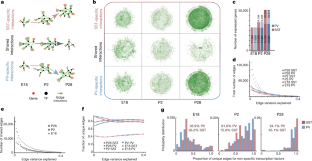 Data Availability
All sequencing data produced for this study are available at the Gene Expression Omnibus (GEO) at accession number GSE165233.
References
Ascoli, G. A. et al. Petilla terminology: Nomenclature of features of GABAergic interneurons of the cerebral cortex. Nat. Rev. Neurosci. 9, 557–568 (2008).

Defelipe, J. et al. New insights into the classification and nomenclature of cortical GABAergic interneurons. Nat. Rev. Neurosci. 14, 202–216 (2013).

Kepecs, A. & Fishell, G. Interneuron cell types are fit to function. Nature 505, 318–326 (2014).

Mayer, C. et al. Clonally related forebrain interneurons disperse broadly across both functional areas and structural boundaries. Neuron 87, 989–998 (2015).

Harwell, C. C. et al. Wide dispersion and diversity of clonally related inhibitory interneurons. Neuron 87, 999–1007 (2015).

Freund, T. F. Interneuron diversity series: rhythm and mood in perisomatic inhibition. Trends Neurosci. 26, 489–495 (2003).

Tremblay, R., Lee, S. & Rudy, B. GABAergic interneurons in the neocortex: from cellular properties to circuits. Neuron 91, 260–292 (2016).

Mayer, C. et al. Developmental diversification of cortical inhibitory interneurons. Nature 555, 457–462 (2018).

Mi, D. et al. Early emergence of cortical interneuron diversity in the mouse embryo. Science 360, 81–85 (2018).

Wonders, C. P. et al. A spatial bias for the origins of interneuron subgroups within the medial ganglionic eminence. Dev. Biol. 314, 127–136 (2008).

Batista-Brito, R. & Fishell, G. The developmental integration of cortical interneurons into a functional network. Curr. Top. Dev. Biol. 87, 81–118 (2009).

Wang, Y. et al. Dlx5 and Dlx6 regulate the development of parvalbumin-expressing cortical interneurons. J. Neurosci. 30, 5334–5345 (2010).

Pai, E. L.-L. et al. Mafb and c-Maf have prenatal compensatory and postnatal antagonistic roles in cortical interneuron fate and function. Cell Rep. 26, 1157–1173.e5 (2019).

Pai, E. L.-L. et al. Maf and Mafb control mouse pallial interneuron fate and maturation through neuropsychiatric disease gene regulation. eLife 9, e54903 (2020).

Ma, S. et al. Chromatin potential identified by shared single-cell profiling of RNA and chromatin. Cell 183, 1103–1116.e20 (2020).

Sinnamon, J. R. et al. The accessible chromatin landscape of the murine hippocampus at single-cell resolution. Genome Res. 29, 857–869 (2019).

Preissl, S. et al. Single-nucleus analysis of accessible chromatin in developing mouse forebrain reveals cell-type-specific transcriptional regulation. Nat. Neurosci. 21, 432–439 (2018).

Fang, R. et al. Comprehensive analysis of single cell ATAC-seq data with SnapATAC. Nat. Commun. 12, 1337 (2021).

Stuart, T. et al. Comprehensive integration of single-cell data. Cell 177, 1888–1902.e21 (2019).

Barkas, N. et al. Joint analysis of heterogeneous single-cell RNA-seq dataset collections. Nat. Methods 16, 695–698 (2019).

Miyoshi, G. & Fishell, G. GABAergic interneuron lineages selectively sort into specific cortical layers during early postnatal development. Cereb. Cortex 21, 845–852 (2011).

Batista-Brito, R. et al. The cell-intrinsic requirement of Sox6 for cortical interneuron development. Neuron 63, 466–481 (2009).

Azim, E., Jabaudon, D., Fame, R. M. & MacKlis, J. D. SOX6 controls dorsal progenitor identity and interneuron diversity during neocortical development. Nat. Neurosci. 12, 1238–1247 (2009).

Au, E. et al. A modular gain-of-function approach to generate cortical interneuron subtypes from ES cells. Neuron 80, 1145–1158 (2013).

Castro, D. M., de Veaux, N. R., Miraldi, E. R. & Bonneau, R. Multi-study inference of regulatory networks for more accurate models of gene regulation. PLoS Comput. Biol. 15, 1–22 (2019).

Yadav, T., Quivy, J.-P. & Almouzni, G. Chromatin plasticity: a versatile landscape that underlies cell fate and identity. Science 361, 1332–1336 (2018).

Ladstätter, S. & Tachibana, K. Genomic insights into chromatin reprogramming to totipotency in embryos. J. Cell Biol. 218, 70–82 (2019).

Harrington, A. J. et al. MEF2C regulates cortical inhibitory and excitatory synapses and behaviors relevant to neurodevelopmental disorders. eLife 5, e20059 (2016).

Cosgrove, D. et al. Genes influenced by MEF2C contribute to neurodevelopmental disease via gene expression changes that affect multiple types of cortical excitatory neurons. Hum. Mol. Genet. 30, 961–970 (2021).

Monory, K. et al. The endocannabinoid system controls key epileptogenic circuits in the hippocampus. Neuron 51, 455–466 (2006).

Madisen, L. et al. A robust and high-throughput Cre reporting and characterization system for the whole mouse brain. Nat. Neurosci. 13, 133–140 (2010).

Mo, A. et al. Epigenomic signatures of neuronal diversity in the mammalian brain. Neuron 86, 1369–1384 (2015).

Vong, L. H., Ragusa, M. J. & Schwarz, J. J. Generation of conditional Mef2cloxP/loxP mice for temporal- and tissue-specific analyses. Genesis 43, 43–48 (2005).

Fogarty, M. et al. Spatial genetic patterning of the embryonic neuroepithelium generates GABAergic interneuron diversity in the adult cortex. J. Neurosci. 27, 10935–10946 (2007).

Tirosh, I. et al. Single-cell RNA-seq supports a developmental hierarchy in human oligodendroglioma. Nature 539, 309–313 (2016).

Setty, M. et al. Characterization of cell fate probabilities in single-cell data with Palantir. Nat. Biotechnol. 37, 451–460 (2019).

Street, K. et al. Slingshot: cell lineage and pseudotime inference for single-cell transcriptomics. BMC Genomics 19, 477 (2018).

Gabitto, M. I. et al. Characterizing chromatin landscape from aggregate and single-cell genomic assays using flexible duration modeling. Nat. Commun. 11, 1–10 (2020).

Heinz, S. et al. Simple combinations of lineage-determining transcription factors prime cis-regulatory elements required for macrophage and B cell identities. Mol. Cell 38, 576–589 (2010).

Stroud, H. et al. An activity-mediated transition in transcription in early postnatal neurons. Neuron 107, 874–890.e8 (2020).

Liu, N. et al. Direct promoter repression by BCL11A controls the fetal to adult hemoglobin switch. Cell 173, 430–442.e17 (2018).

Zhu, Q., Liu, N., Orkin, S. H. & Yuan, G.-C. CUT&RUNTools: a flexible pipeline for CUT&RUN processing and footprint analysis. Genome Biol. 20, 192 (2019).

Pliner, H. et al. Chromatin accessibility dynamics of myogenesis at single cell resolution. Preprint at https://doi.org/10.1101/155473 (2017).

Jackson, C. & Skok Gibbs, C. Inferelator example data and scripts. https://doi.org/10.5281/zenodo.3355524 (2019).
Acknowledgements
We thank J. Dimidschstein, E. Favuzzi, D. Ginty, E. Macosko and E. Miraldi for feedback and discussion; N. Yusuf and M. Fernandez-Otero for technical assistance; R. Batista-Brito for providing mice for the Mef2c loss-of-function experiments; and C. Davis for sharing the CUT&RUN protocol and reagents. G.F. and K.C.A. acknowledge support from the following sources: National Institutes of Health (NIH) 1UG3MH120096-01 (G.F.), NIH 5R01MH071679-15 (G.F.) and NIH F31NS103398 (K.C.A.). R.B. and M.I.G. acknowledge support from the following sources: NIH R01DK103358, Simons Foundation, NSF-IOS 1546218, NIH R35GM122515, NSF-CBET 1728858 and NIH R01AI130945.
Ethics declarations
Competing interests
The authors declare no competing interests.
Additional information
Peer review information Nature thanks the anonymous reviewers for their contribution to the peer review of this work. Peer reviewer reports are available.
Publisher's note Springer Nature remains neutral with regard to jurisdictional claims in published maps and institutional affiliations.
Extended data figures and tables
Supplementary information
About this article
Cite this article
Allaway, K.C., Gabitto, M.I., Wapinski, O. et al. Genetic and epigenetic coordination of cortical interneuron development. Nature 597, 693–697 (2021). https://doi.org/10.1038/s41586-021-03933-1
Received:

Accepted:

Published:

Issue Date:

DOI: https://doi.org/10.1038/s41586-021-03933-1
Comments
By submitting a comment you agree to abide by our Terms and Community Guidelines. If you find something abusive or that does not comply with our terms or guidelines please flag it as inappropriate.