Abstract
UTX (also known as KDM6A) encodes a histone H3K27 demethylase and is an important tumour suppressor that is frequently mutated in human cancers1. However, as the demethylase activity of UTX is often dispensable for mediating tumour suppression and developmental regulation2,3,4,5,6,7,8, the underlying molecular activity of UTX remains unknown. Here we show that phase separation of UTX underlies its chromatin-regulatory activity in tumour suppression. A core intrinsically disordered region (cIDR) of UTX forms phase-separated liquid condensates, and cIDR loss caused by the most frequent cancer mutation of UTX is mainly responsible for abolishing tumour suppression. Deletion, mutagenesis and replacement assays of the intrinsically disordered region demonstrate a critical role of UTX condensation in tumour suppression and embryonic stem cell differentiation. As shown by reconstitution in vitro and engineered systems in cells, UTX recruits the histone methyltransferase MLL4 (also known as KMT2D) to the same condensates and enriches the H3K4 methylation activity of MLL4. Moreover, UTX regulates genome-wide histone modifications and high-order chromatin interactions in a condensation-dependent manner. We also found that UTY, the Y chromosome homologue of UTX with weaker tumour-suppressive activity, forms condensates with reduced molecular dynamics. These studies demonstrate a crucial biological function of liquid condensates with proper material states in enabling the tumour-suppressive activity of a chromatin regulator.
Relevant articles
Open Access articles citing this article.
Xiaoru Ling

,

Xinyi Liu

…

Junjun Ding

Cell Regeneration Open Access 21 December 2022

Mirna Barsoum

,

Alexander T. Stenzel

…

Bernhard Lüscher

Scientific Reports Open Access 13 December 2022

Enkhjin Batdorj

,

Najla AlOgayil

…

Anna K. Naumova

Mammalian Genome Open Access 01 December 2022
Access options
Access Nature and 54 other Nature Portfolio journals
Get Nature+, our best-value online-access subscription
$29.99 per month
cancel any time
Subscribe to this journal
Receive 51 print issues and online access
$199.00 per year
only $3.90 per issue
Rent or buy this article
Get just this article for as long as you need it
$39.95
Prices may be subject to local taxes which are calculated during checkout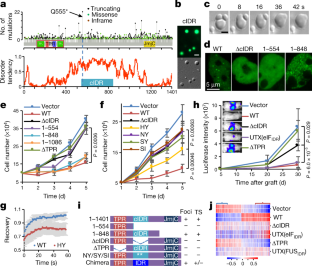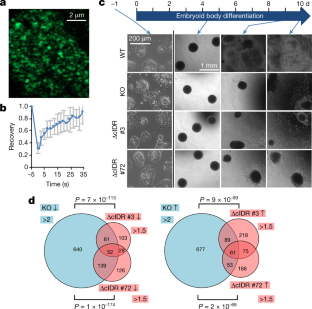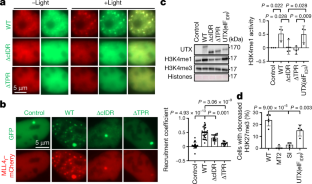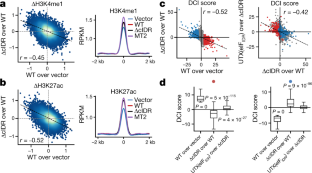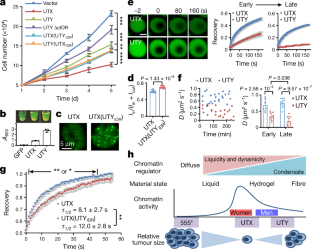 Data availability
The high-throughput sequencing data, including RNA-seq, ChIP-seq, PRO-seq and HiChIP, have been deposited in the Gene Expression Omnibus with the accession number GSE149420. Cancer mutation data are available from cBioPortal (http://www.cbioportal.org/) and the TCGA database. Source data are provided with this paper.
References
Wang, L. & Shilatifard, A. UTX mutations in human cancer. Cancer Cell 35, 168–176 (2019).

Gozdecka, M. et al. UTX-mediated enhancer and chromatin remodeling suppresses myeloid leukemogenesis through noncatalytic inverse regulation of ETS and GATA programs. Nat. Genet. 50, 883–894 (2018).

Andricovich, J. et al. Loss of KDM6A activates super-enhancers to induce gender-specific squamous-like pancreatic cancer and confers sensitivity to BET inhibitors. Cancer Cell 33, 512–526.e8 (2018).

Morales Torres, C., Laugesen, A. & Helin, K. Utx is required for proper induction of ectoderm and mesoderm during differentiation of embryonic stem cells. PLoS ONE 8, e60020 (2013).

Wang, C. et al. UTX regulates mesoderm differentiation of embryonic stem cells independent of H3K27 demethylase activity. Proc. Natl Acad. Sci. USA 109, 15324–15329 (2012).

Shpargel, K. B., Sengoku, T., Yokoyama, S. & Magnuson, T. UTX and UTY demonstrate histone demethylase-independent function in mouse embryonic development. PLoS Genet. 8, e1002964 (2012).

Shpargel, K. B., Starmer, J., Wang, C., Ge, K. & Magnuson, T. UTX-guided neural crest function underlies craniofacial features of Kabuki syndrome. Proc. Natl. Acad. Sci. USA 114, E9046–E9055 (2017).

Miller, S. A., Mohn, S. E. & Weinmann, A. S. Jmjd3 and UTX play a demethylase-independent role in chromatin remodeling to regulate T-box family member-dependent gene expression. Mol. Cell 40, 594–605 (2010).

Banani, S. F., Lee, H. O., Hyman, A. A. & Rosen, M. K. Biomolecular condensates: organizers of cellular biochemistry. Nat. Rev. Mol. Cell Biol. 18, 285–298 (2017).

Li, W. et al. Biophysical properties of AKAP95 protein condensates regulate splicing and tumorigenesis. Nat. Cell Biol. 22, 960–972 (2020).

Lin, Y., Protter, D. S., Rosen, M. K. & Parker, R. Formation and maturation of phase-separated liquid droplets by RNA-binding proteins. Mol. Cell 60, 208–219 (2015).

Alam, H. et al. KMT2D deficiency impairs super-enhancers to confer a glycolytic vulnerability in lung cancer. Cancer Cell 37, 599–617 (2020).

Mansour, A. A. et al. The H3K27 demethylase Utx regulates somatic and germ cell epigenetic reprogramming. Nature 488, 409–413 (2012).

Tran, N., Broun, A. & Ge, K. Lysine demethylase KDM6A in differentiation, development, and cancer. Mol. Cell. Biol. 40, e00341-20 (2020).

Shin, Y. et al. Spatiotemporal control of intracellular phase transitions using light-activated optoDroplets. Cell 168, 159–171.e14 (2017).

Kim, J. H. et al. UTX and MLL4 coordinately regulate transcriptional programs for cell proliferation and invasiveness in breast cancer cells. Cancer Res. 74, 1705–1717 (2014).

Janicki, S. M. et al. From silencing to gene expression: real-time analysis in single cells. Cell 116, 683–698 (2004).

Wang, S. P. et al. A UTX–MLL4–p300 transcriptional regulatory network coordinately shapes active enhancer landscapes for eliciting transcription. Mol. Cell 67, 308–321.e6 (2017).

Tie, F., Banerjee, R., Conrad, P. A., Scacheri, P. C. & Harte, P. J. Histone demethylase UTX and chromatin remodeler BRM bind directly to CBP and modulate acetylation of histone H3 lysine 27. Mol. Cell. Biol. 32, 2323–2334 (2012).

Mumbach, M. R. et al. HiChIP: efficient and sensitive analysis of protein-directed genome architecture. Nat. Methods 13, 919–922 (2016).

Fang, R. et al. Mapping of long-range chromatin interactions by proximity ligation-assisted ChIP-seq. Cell Res. 26, 1345–1348 (2016).

Wang, Z., Zhang, Y. & Zang, C. BART3D: inferring transcriptional regulators associated with differential chromatin interactions from Hi-C data. Bioinformatics https://doi.org/10.1093/bioinformatics/btab173 (2021).

Dunford, A. et al. Tumor-suppressor genes that escape from X-inactivation contribute to cancer sex bias. Nat. Genet. 49, 10–16 (2017).

Gazova, I., Lengeling, A. & Summers, K. M. Lysine demethylases KDM6A and UTY: the X and Y of histone demethylation. Mol. Genet. Metabol. 127, 31–44 (2019).

Li, X. et al. UTX is an escape from X-inactivation tumor-suppressor in B cell lymphoma. Nat. Commun. 9, 2720 (2018).

Sze, C. C. & Shilatifard, A. MLL3/MLL4/COMPASS family on epigenetic regulation of enhancer function and cancer. Cold Spring Harb. Perspect. Med. 6, a026427 (2016).

Herz, H. M. et al. The H3K27me3 demethylase dUTX is a suppressor of Notch- and Rb-dependent tumors in Drosophila. Mol. Cell. Biol. 30, 2485–2497 (2010).

Ma, L. et al. Co-condensation between transcription factor and coactivator p300 modulates transcriptional bursting kinetics. Mol. Cell 81, 1682–1697.e7 (2021).

Fasciani, A. et al. MLL4-associated condensates counterbalance Polycomb-mediated nuclear mechanical stress in Kabuki syndrome. Nat. Genet. 52, 1397–1411 (2020).

Boija, A. et al. Transcription factors activate genes through the phase-separation capacity of their activation domains. Cell 175, 1842–1855.e16 (2018).

Benyoucef, A. et al. UTX inhibition as selective epigenetic therapy against TAL1-driven T-cell acute lymphoblastic leukemia. Genes Dev. 30, 508–521 (2016).

Faralli, H. et al. UTX demethylase activity is required for satellite cell-mediated muscle regeneration. J. Clin. Invest. 126, 1555–1565 (2016).

Beyaz, S. et al. The histone demethylase UTX regulates the lineage-specific epigenetic program of invariant natural killer T cells. Nat. Immunol. 18, 184–195 (2017).

Bogershausen, N. et al. Mutation update for Kabuki syndrome genes KMT2D and KDM6A and further delineation of X-linked Kabuki syndrome subtype 2. Hum. Mutat. 37, 847–864 (2016).

Yang, Z. et al. The DPY30 subunit in SET1/MLL complexes regulates the proliferation and differentiation of hematopoietic progenitor cells. Blood 124, 2025–2033 (2014).

Jiang, H. et al. Role for Dpy-30 in ES cell-fate specification by regulation of H3K4 methylation within bivalent domains. Cell 144, 513–525 (2011).

Schulz, W. A., Lang, A., Koch, J. & Greife, A. The histone demethylase UTX/KDM6A in cancer: progress and puzzles. Int. J. Cancer 145, 614–620 (2019).

Wang, J. et al. A molecular grammar governing the driving forces for phase separation of prion-like RNA binding proteins. Cell 174, 688–699.e16 (2018).

Niaki, A. G. et al. Loss of dynamic RNA interaction and aberrant phase separation induced by two distinct types of ALS/FTD-linked FUS mutations. Mol. Cell 77, 82–94.e4 (2020).

Holehouse, A. S., Das, R. K., Ahad, J. N., Richardson, M. O. & Pappu, R. V. CIDER: resources to analyze sequence-ensemble relationships of intrinsically disordered proteins. Biophys. J. 112, 16–21 (2017).

Dignam, J. D., Lebovitz, R. M. & Roeder, R. G. Accurate transcription initiation by RNA polymerase II in a soluble extract from isolated mammalian nuclei. Nucleic Acids Res. 11, 1475–1489 (1983).

Fujioka, A. et al. Dynamics of the Ras/ERK MAPK cascade as monitored by fluorescent probes. J. Biol. Chem. 281, 8917–8926 (2006).

[No authors listed] Illuminating the dark proteome. Cell 166, 1074–1077 (2016).

Rossow, M. J., Sasaki, J. M., Digman, M. A. & Gratton, E. Raster image correlation spectroscopy in live cells. Nat. Protoc. 5, 1761–1774 (2010).

Digman, M. A. & Gratton, E. Analysis of diffusion and binding in cells using the RICS approach. Microsc. Res. Tech. 72, 323–332 (2009).

Day, C. A., Kraft, L. J., Kang, M. & Kenworthy, A. K. Analysis of protein and lipid dynamics using confocal fluorescence recovery after photobleaching (FRAP). Curr. Protoc. Cytometry Ch. 2, Unit2.19 (2012).

Kwak, H., Fuda, N. J., Core, L. J. & Lis, J. T. Precise maps of RNA polymerase reveal how promoters direct initiation and pausing. Science 339, 950–953 (2013).

Judd, J. et al. A rapid, sensitive, scalable method for precision run-on sequencing (PRO-seq). Preprint at bioRxiv https://doi.org/10.1101/2020.05.18.102277 (2020).

Dobin, A. et al. STAR: ultrafast universal RNA-seq aligner. Bioinformatics 29, 15–21 (2013).

Li, B. & Dewey, C. N. RSEM: accurate transcript quantification from RNA-seq data with or without a reference genome. BMC Bioinformatics 12, 323 (2011).

Love, M. I., Huber, W. & Anders, S. Moderated estimation of fold change and dispersion for RNA-seq data with DESeq2. Genome Biol. 15, 550 (2014).

Huang da, W., Sherman, B. T. & Lempicki, R. A. Systematic and integrative analysis of large gene lists using DAVID bioinformatics resources. Nat. Protoc. 4, 44–57 (2009).

Zhou, Y. et al. Metascape provides a biologist-oriented resource for the analysis of systems-level datasets. Nat. Commun. 10, 1523 (2019).

Li, H. & Durbin, R. Fast and accurate short read alignment with Burrows–Wheeler transform. Bioinformatics 25, 1754–1760 (2009).

Li, H. et al. The Sequence Alignment/Map format and SAMtools. Bioinformatics 25, 2078–2079 (2009).

Zhang, Y. et al. Model-based analysis of ChIP-seq (MACS). Genome Biol. 9, R137 (2008).

Quinlan, A. R. & Hall, I. M. BEDTools: a flexible suite of utilities for comparing genomic features. Bioinformatics 26, 841–842 (2010).

Zang, C. et al. A clustering approach for identification of enriched domains from histone modification ChIP-seq data. Bioinformatics 25, 1952–1958 (2009).

Juric, I. et al. MAPS: model-based analysis of long-range chromatin interactions from PLAC-seq and HiChIP experiments. PLoS Comput. Biol. 15, e1006982 (2019).

Li, D., Hsu, S., Purushotham, D., Sears, R. L. & Wang, T. WashU Epigenome Browser update 2019. Nucleic Acids Res. 47, W158–W165 (2019).

Wang, S. et al. Modeling cis-regulation with a compendium of genome-wide histone H3K27ac profiles. Genome Res. 26, 1417–1429 (2016).

Servant, N. et al. HiC-Pro: an optimized and flexible pipeline for Hi-C data processing. Genome Biol. 16, 259 (2015).
Acknowledgements
We thank K. Kelly for MiaPaca2 cells; J.-B. Shin for COS-7 cells; T. Stukenberg for LacO array-containing cells; M. Mayo for the luciferase plasmid; T. Stukenberg and C. Brangwynne for the Cry2-containing plasmid; B. Ren for advice on HiChIP assays; M. Guertin and K. M. Sathyan for advice on PRO-seq assays; K. Ge for advice on immunoblotting for MLL3 and MLL4 and providing MLL3 antibody; Y. Bao and UVa Genome Analysis and Technology Core for deep sequencing services; and K. Siller, G. A. Bautista, J. Huband, R. Sun and E. Hall at the University of Virginia Research Computing Center for technical support. H.J. was supported by NIH grant 1 R21 CA257936-01 and start-up funds from the University of Virginia. The confocal microscopy system at the Keck Center of University of Virginia was supported by grants from NIH (OD016446 and S10 OD025156). Sequencing in this research was supported by NCI Cancer Center Support Grant 5P30CA044579. H.J. is a recipient of the American Cancer Society Research Scholar Award (RSG-15-166-01-DMC) and the Leukemia & Lymphoma Society Scholar Award (1354-19). C.Z. was supported by NIH grant R35 GM133712. Z.W. was supported by the Farrow Fellowship and by the NCI Cancer Center Support Grant P30 CA44579. F.P. and M.A.D. were supported in part by a grant from the NSF (MCB-1615701). M.A.D. and E.G. were funded by NIH grant number P41-GM103540.
Ethics declarations
Competing interests
The authors declare no competing interests.
Additional information
Peer review information Nature thanks Brian Huntly, Tanja Mittag and Panagiotis Ntziachristos for their contribution to the peer review of this work.
Publisher's note Springer Nature remains neutral with regard to jurisdictional claims in published maps and institutional affiliations.
Extended data figures and tables
Supplementary information
About this article
Cite this article
Shi, B., Li, W., Song, Y. et al. UTX condensation underlies its tumour-suppressive activity. Nature 597, 726–731 (2021). https://doi.org/10.1038/s41586-021-03903-7
Received:

Accepted:

Published:

Issue Date:

DOI: https://doi.org/10.1038/s41586-021-03903-7
Comments
By submitting a comment you agree to abide by our Terms and Community Guidelines. If you find something abusive or that does not comply with our terms or guidelines please flag it as inappropriate.