Abstract
CRISPR–Cas interference is mediated by Cas effector nucleases that are either components of multisubunit complexes—in class 1 CRISPR–Cas systems—or domains of a single protein—in class 2 systems1,2,3. Here we show that the subtype III-E effector Cas7-11 is a single-protein effector in the class 1 CRISPR–Cas systems originating from the fusion of a putative Cas11 domain and multiple Cas7 subunits that are derived from subtype III-D. Cas7-11 from Desulfonema ishimotonii (DiCas7-11), when expressed in Escherichia coli, has substantial RNA interference effectivity against mRNAs and bacteriophages. Similar to many class 2 effectors—and unique among class 1 systems—DiCas7-11 processes pre-CRISPR RNA into mature CRISPR RNA (crRNA) and cleaves RNA at positions defined by the target:spacer duplex, without detectable non-specific activity. We engineered Cas7-11 for RNA knockdown and editing in mammalian cells. We show that Cas7-11 has no effects on cell viability, whereas other RNA-targeting tools (such as short hairpin RNAs and Cas13) show substantial cell toxicity4,5. This study illustrates the evolution of a single-protein effector from multisubunit class 1 effector complexes, expanding our understanding of the diversity of CRISPR systems. Cas7-11 provides the basis for new programmable RNA-targeting tools that are free of collateral activity and cell toxicity.
Relevant articles
Open Access articles citing this article.
Leiping Zeng

,

Yanxia Liu

…

Lei S. Qi

Nature Communications Open Access 19 May 2022
Access options
Subscribe to Nature+
Get immediate online access to Nature and 55 other Nature journal
Subscribe to Journal
Get full journal access for 1 year
$199.00
only $3.90 per issue
All prices are NET prices.
VAT will be added later in the checkout.
Tax calculation will be finalised during checkout.
Buy article
Get time limited or full article access on ReadCube.
$32.00
All prices are NET prices.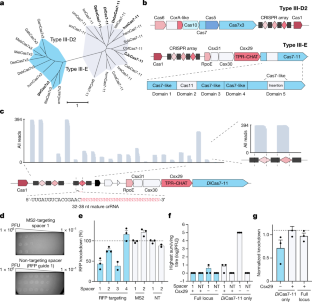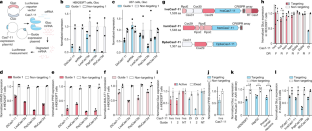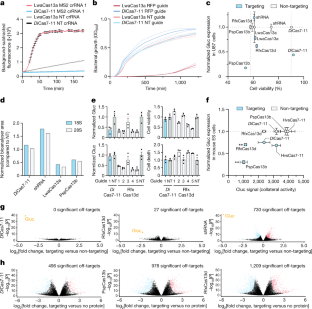 Data availability
Sequencing data are available from the Sequence Read Archive under BioProject accession number PRJNA657647.
Code availability
Supporting information and computational tools are available on the Abudayyeh–Gootenberg laboratory website (https://www.abugootlab.org/).
References
Wright, A. V., Nuñez, J. K. & Doudna, J. A. Biology and applications of CRISPR systems: harnessing nature's toolbox for genome engineering. Cell 164, 29–44 (2016).

Hsu, P. D., Lander, E. S. & Zhang, F. Development and applications of CRISPR–Cas9 for genome engineering. Cell 157, 1262–1278 (2014).

Makarova, K. S. et al. Evolutionary classification of CRISPR–Cas systems: a burst of class 2 and derived variants. Nat. Rev. Microbiol. 18, 67–83 (2020).

Wang, Q. et al. The CRISPR–Cas13a gene‐editing system induces collateral cleavage of RNA in glioma cells. Adv. Sci. 1, 1901299 (2019).

Wang, L., Zhou, J., Wang, Q., Wang, Y. & Kang, C. Rapid design and development of CRISPR–Cas13a targeting SARS-CoV-2 spike protein. Theranostics 11, 649–664 (2021).

Shmakov, S. et al. Discovery and functional characterization of diverse class 2 CRISPR–Cas systems. Mol. Cell 60, 385–397 (2015).

Samai, P. et al. Co-transcriptional DNA and RNA cleavage during type III CRISPR–Cas immunity. Cell 161, 1164–1174 (2015).

Staals, R. H. J. et al. RNA targeting by the type III-A CRISPR–Cas Csm complex of Thermus thermophilus. Mol. Cell 56, 518–530 (2014).

Tamulaitis, G. et al. Programmable RNA shredding by the type III-A CRISPR–Cas system of Streptococcus thermophilus. Mol. Cell 56, 506–517 (2014).

Hale, C. R. et al. RNA-guided RNA cleavage by a CRISPR RNA–Cas protein complex. Cell 139, 945–956 (2009).

Abudayyeh, O. O. et al. C2c2 is a single-component programmable RNA-guided RNA-targeting CRISPR effector. Science 353, aaf5573 (2016).

East-Seletsky, A. et al. Two distinct RNase activities of CRISPR-C2c2 enable guide-RNA processing and RNA detection. Nature 538, 270–273 (2016).

Anantharaman, V., Makarova, K. S., Burroughs, A. M., Koonin, E. V. & Aravind, L. Comprehensive analysis of the HEPN superfamily: identification of novel roles in intra-genomic conflicts, defense, pathogenesis and RNA processing. Biol. Direct 8, 15 (2013).

Konermann, S. et al. Transcriptome engineering with RNA-targeting type VI-D CRISPR effectors. Cell 173, 665–676.e14 (2018).

Yan, W. X. et al. Cas13d is a compact RNA-targeting type VI CRISPR effector positively modulated by a WYL-domain-containing accessory protein. Mol. Cell 70, 327–339.e5 (2018).

Smargon, A. A. et al. Cas13b is a type VI-B CRISPR-associated RNA-guided RNase differentially regulated by accessory proteins Csx27 and Csx28. Mol. Cell 65, 618–630.e7 (2017).

Gootenberg, J. S. et al. Nucleic acid detection with CRISPR–Cas13a/C2c2. Science 356, 438–442 (2017).

Gootenberg, J. S. et al. Multiplexed and portable nucleic acid detection platform with Cas13, Cas12a, and Csm6. Science 360, 439–444 (2018).

Myhrvold, C. et al. Field-deployable viral diagnostics using CRISPR–Cas13. Science 360, 444–448 (2018).

Abudayyeh, O. O., Gootenberg, J. S., Kellner, M. J. & Zhang, F. nucleic acid detection of plant genes using CRISPR–Cas13. CRISPR J. 2, 165–171 (2019).

Kellner, M. J., Koob, J. G., Gootenberg, J. S., Abudayyeh, O. O. & Zhang, F. SHERLOCK: nucleic acid detection with CRISPR nucleases. Nat. Protoc. 14, 2986–3012 (2019).

Abudayyeh, O. O. et al. RNA targeting with CRISPR–Cas13. Nature 550, 280–284 (2017).

Cox, D. B. T. et al. RNA editing with CRISPR–Cas13. Science 358, 1019–1027 (2017).

Wilson, C., Chen, P. J., Miao, Z. & Liu, D. R. Programmable m6A modification of cellular RNAs with a Cas13-directed methyltransferase. Nat. Biotechnol. 38, 1431–1440 (2020).

Koonin, E. V. & Zhang, F. Coupling immunity and programmed cell suicide in prokaryotes: life-or-death choices. Bioessays 39, 1–9 (2017).

Makarova, K. S., Grishin, N. V., Shabalina, S. A., Wolf, Y. I. & Koonin, E. V. A putative RNA-interference-based immune system in prokaryotes: computational analysis of the predicted enzymatic machinery, functional analogies with eukaryotic RNAi, and hypothetical mechanisms of action. Biol. Direct 1, 7 (2006).

Silas, S. et al. Direct CRISPR spacer acquisition from RNA by a natural reverse transcriptase–Cas1 fusion protein. Science 351, aad4234 (2016).

Shmakov, S. A. et al. The CRISPR spacer space is dominated by sequences from species-specific mobilomes. mBio 8, e01397-17 (2017).

Abudayyeh, O. O. et al. A cytosine deaminase for programmable single-base RNA editing. Science 365, 382–386 (2019).

Putzbach, W. et al. Many si/shRNAs can kill cancer cells by targeting multiple survival genes through an off-target mechanism. eLife 6, e29702 (2017).

Uhlén, M. et al. Tissue-based map of the human proteome. Science 347, 1260419 (2015).

Zhu, W., Lomsadze, A. & Borodovsky, M. Ab initio gene identification in metagenomic sequences. Nucleic Acids Res. 38, e132 (2010).

Couvin, D. et al. CRISPRCasFinder, an update of CRISRFinder, includes a portable version, enhanced performance and integrates search for Cas proteins. Nucleic Acids Res. 46, W246–W251 (2018).

Edgar, R. C. PILER-CR: fast and accurate identification of CRISPR repeats. BMC Bioinf. 8, 18 (2007).

Joung, J. et al. Genome-scale CRISPR–Cas9 knockout and transcriptional activation screening. Nat. Protoc. 12, 828–863 (2017).

Dobin, A. et al. STAR: ultrafast universal RNA-seq aligner. Bioinformatics 29, 15–21 (2013).

Law, C. W., Chen, Y., Shi, W. & Smyth, G. K. voom: precision weights unlock linear model analysis tools for RNA-seq read counts. Genome Biol. 15, R29 (2014).

Robinson, M. D., McCarthy, D. J. & Smyth, G. K. edgeR: a Bioconductor package for differential expression analysis of digital gene expression data. Bioinformatics 26, 139–140 (2010).

Ritchie, M. E. et al. limma powers differential expression analyses for RNA-sequencing and microarray studies. Nucleic Acids Res. 43, e47 (2015).
Acknowledgements
We thank M. Terns, E. Sontheimer and M. Mittens for discussions; A. Badran for discussions and plate-reader assistance; P. Reginato, D. Weston and E. Boyden for MiSeq instrumentation; S. Tonegawa and D. King for centrifuge assistance; G. Feng and D. Wang for gel imager support; G. Paradis and M. Griffin for flow cytometry assistance; A. Sejr Hansen for providing mES cells; and R. Desimone, J. Crittenden and S. Lall for support and discussions. O.O.A. and J.S.G. are supported by NIH grant 1R21-AI149694; The McGovern Institute Neurotechnology (MINT) program; and the McGovern Institute. K.S.M. and E.V.K. are supported by the Intramural Research Program of the National Institutes of Health (National Library of Medicine). The funders had no role in study design, data collection and analysis, decision to publish or preparation of the manuscript.
Ethics declarations
Competing interests
O.O.A. and J.S.G. are co-inventors on a patent application (US 63/073,898) filed by MIT relating to work in this manuscript. O.O.A. and J.S.G. are co-founders of Sherlock Biosciences, Proof Diagnostics, Moment Biosciences and Tome Biosciences. O.O.A. and J.S.G. were advisors for Beam Therapeutics during the performance of the described research.
Additional information
Peer review information Nature thanks Malcolm White and the other, anonymous, reviewer(s) for their contribution to the peer review of this work.
Publisher's note Springer Nature remains neutral with regard to jurisdictional claims in published maps and institutional affiliations.
Extended data figures and tables
Supplementary information
Rights and permissions
Springer Nature or its licensor holds exclusive rights to this article under a publishing agreement with the author(s) or other rightsholder(s); author self-archiving of the accepted manuscript version of this article is solely governed by the terms of such publishing agreement and applicable law.
About this article
Cite this article
Özcan, A., Krajeski, R., Ioannidi, E. et al. Programmable RNA targeting with the single-protein CRISPR effector Cas7-11. Nature 597, 720–725 (2021). https://doi.org/10.1038/s41586-021-03886-5
Received:

Accepted:

Published:

Issue Date:

DOI: https://doi.org/10.1038/s41586-021-03886-5
Comments
By submitting a comment you agree to abide by our Terms and Community Guidelines. If you find something abusive or that does not comply with our terms or guidelines please flag it as inappropriate.