Abstract
Oxygen is critical for a multitude of metabolic processes that are essential for human life. Biological processes can be identified by treating cells with 18O2 or other isotopically labelled gases and systematically identifying biomolecules incorporating labeled atoms. Here we labelled cell lines of distinct tissue origins with 18O2 to identify the polar oxy-metabolome, defined as polar metabolites labelled with 18O under different physiological O2 tensions. The most highly 18O-labelled feature was 4-hydroxymandelate (4-HMA). We demonstrate that 4-HMA is produced by hydroxyphenylpyruvate dioxygenase-like (HPDL), a protein of previously unknown function in human cells. We identify 4-HMA as an intermediate involved in the biosynthesis of the coenzyme Q10 (CoQ10) headgroup in human cells. The connection of HPDL to CoQ10 biosynthesis provides crucial insights into the mechanisms underlying recently described neurological diseases related to HPDL deficiencies1,2,3,4 and cancers with HPDL overexpression5.
Access options
Subscribe to Nature+
Get immediate online access to the entire Nature family of 50+ journals
Subscribe to Journal
Get full journal access for 1 year
$199.00
only $3.90 per issue
All prices are NET prices.
VAT will be added later in the checkout.
Tax calculation will be finalised during checkout.
Buy article
Get time limited or full article access on ReadCube.
$32.00
All prices are NET prices.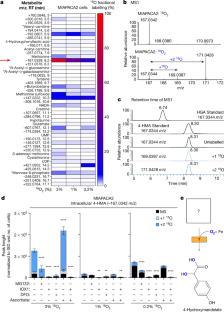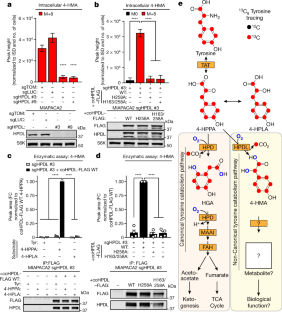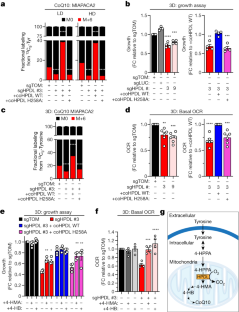 Data availability
TLCV2-sgHPDL and coHPDL expression plasmids are available from Addgene (IDs 174128, 174129, 174130, 174131, 174165 and 174166). All other data supporting the findings of this study are available from the corresponding author upon reasonable request. Source data are provided with this paper.
References
Morgan, N. V. et al. Evidence that autosomal recessive spastic cerebral palsy-1 (CPSQ1) is caused by a missense variant in HPDL. Brain Commun. 3, fcab002 (2021).

Husain, R. A. et al. Bi-allelic HPDL variants cause a neurodegenerative disease ranging from neonatal encephalopathy to adolescent-onset spastic paraplegia. Am. J. Hum. Genet. 107, 364–373 (2020).

Ghosh, S. G. et al. Biallelic variants in HPDL, encoding 4-hydroxyphenylpyruvate dioxygenase-like protein, lead to an infantile neurodegenerative condition. Genet. Med. 23, 524–533 (2021).

Wiessner, M. et al. Biallelic variants in HPDL cause pure and complicated hereditary spastic paraplegia. Brain 144, 1422–1434 (2021).

Ye, X. et al. 4-hydroxyphenylpyruvate dioxygenase-like protein promotes pancreatic cancer cell progression and is associated with glutamine-mediated redox balance. Front. Oncol. 10, 3074 (2021).

Tang, D., Kang, R., Berghe, T. V., Vandenabeele, P. & Kroemer, G. The molecular machinery of regulated cell death. Cell Res. 29, 347–364 (2019).

Hirsila, M., Koivunen, P., Gunzler, V., Kivirikko, K. I. & Myllyharju, J. Characterization of the human prolyl 4-hydroxylases that modify the hypoxia-inducible factor. J. Biol. Chem. 278, 30772–30780 (2003).

Masson, N. et al. Conserved N-terminal cysteine dioxygenases transduce responses to hypoxia in animals and plants. Science 365, 65–69 (2019).

Laukka, T. et al. Fumarate and succinate regulate expression of hypoxia-inducible genes via TET enzymes. J. Biol. Chem. 291, 4256–4265 (2016).

Moran, G. R. 4-Hydroxyphenylpyruvate dioxygenase. Arch. Biochem. Biophys. 433, 117–128 (2005).

Ast, T. & Mootha, V. K. Oxygen and mammalian cell culture: are we repeating the experiment of Dr. Ox? Nature Metabolism 1, 858–860 (2019).

Deshpande, A. R., Wagenpfeil, K., Pochapsky, T. C., Petsko, G. A. & Ringe, D. Metal-dependent function of a mammalian acireductone dioxygenase. Biochemistry 55, 1398–1407 (2016).

Drazic, A. & Winter, J. The physiological role of reversible methionine oxidation. Biochim. Biophys. Acta 1844, 1367–1382 (2014).

Choroba, O. W., Williams, D. H. & Spencer, J. B. Biosynthesis of the vancomycin group of antibiotics:  involvement of an unusual dioxygenase in the pathway to (S)-4-hydroxyphenylglycine. JACS 122, 5389–5390 (2000).

Hubbard, B. K., Thomas, M. G. & Walsh, C. T. Biosynthesis of l-p-hydroxyphenylglycine, a non-proteinogenic amino acid constituent of peptide antibiotics. Chem. Biol. 7, 931–942 (2000).

Lemberger, L., Klutch, A. & Kuntzman, R. The metabolism of tyramine in rabbits. J. Pharmacol. Exp. Ther. 153, 183 (1966).

Lichter-Konecki, U., Hipke, C. M. & Konecki, D. S. Human phenylalanine hydroxylase gene expression in kidney and other nonhepatic tissues. Mol. Genet. Metab. 67, 308–316 (1999).

Gunsior, M., Ravel, J., Challis, G. L. & Townsend, C. A. Engineering p-hydroxyphenylpyruvate dioxygenase to a p-hydroxymandelate synthase and evidence for the proposed benzene oxide intermediate in homogentisate formation. Biochemistry 43, 663–674 (2004).

O'Hare, H. M., Huang, F., Holding, A., Choroba, O. W. & Spencer, J. B. Conversion of hydroxyphenylpyruvate dioxygenases into hydroxymandelate synthases by directed evolution. FEBS Lett. 580, 3445–3450 (2006).

Gunsior, M. et al. The biosynthetic gene cluster for a monocyclic β-lactam antibiotic, nocardicin A. Chem. Biol. 11, 927–938 (2004).

Bhat, S. G. & Vaidyanathan, C. S. Involvement of 4-hydroxymandelic acid in the degradation of mandelic acid by Pseudomonas convexa. J. Bacteriol. 127, 1108–1118 (1976).

Stefely, J. A. & Pagliarini, D. J. Biochemistry of mitochondrial coenzyme Q biosynthesis. Trends Biochem. Sci. 42, 824–843 (2017).

Lu, T.-T., Lee, S. J., Apfel, U.-P. & Lippard, S. J. Aging-associated enzyme human clock-1: substrate-mediated reduction of the diiron center for 5-demethoxyubiquinone hydroxylation. Biochemistry 52, 2236–2244 (2013).

Wang, Y. et al. The anti-neurodegeneration drug clioquinol inhibits the aging-associated protein CLK-1. J. Biol. Chem. 284, 314–323 (2009).

Payet, L.-A. et al. Mechanistic details of early steps in coenzyme Q biosynthesis pathway in yeast. Cell Chem. Biol. 23, 1241–1250 (2016).

Stefely, J. A. et al. Mitochondrial protein functions elucidated by multi-omic mass spectrometry profiling. Nat. Biotechnol. 34, 1191–1197 (2016).

Valera, M. J. et al. The mandelate pathway, an alternative to the phenylalanine ammonia lyase pathway for the synthesis of benzenoids in ascomycete yeasts. Appl. Environ. Microbiol. 86, e00701–20 (2020).

Kaymak, I. et al. Mevalonate pathway provides ubiquinone to maintain pyrimidine synthesis and survival in p53-deficient cancer cells exposed to metabolic stress. Cancer Res. 80, 189–203 (2020).

Kapalczynska, M. et al. 2D and 3D cell cultures - a comparison of different types of cancer cell cultures. Arch. Med. Sci. 14, 910–919 (2018).

Doimo, M. et al. Genetics of coenzyme q10 deficiency. Mol. Syndromol. 5, 156–162 (2014).

Martínez-Reyes, I. et al. Mitochondrial ubiquinol oxidation is necessary for tumour growth. Nature 585, 288–292 (2020).

Xie, L. X. et al. Resveratrol and para-coumarate serve as ring precursors for coenzyme Q biosynthesis. J. Lipid Res. 56, 909–919 (2015).

Fernández-del-Río, L. et al. Kaempferol increases levels of coenzyme Q in kidney cells and serves as a biosynthetic ring precursor. Free Radical Biol. Med. 110, 176–187 (2017).

Booth, A. N. et al. Urinary phenolic acid metabolites of tyrosine. J. Biol. Chem. 235, 2649–2652 (1960).

Hartl, J., Kiefer, P., Meyer, F. & Vorholt, J. A. Longevity of major coenzymes allows minimal de novo synthesis in microorganisms. Nat Microbiol 2, 17073 (2017).

Meyers, R. M. et al. Computational correction of copy number effect improves specificity of CRISPRCas9 essentiality screens in cancer cells. Nat. Genet. 49, 1779–1784 (2017).

Uphoff, C. C. & Drexler, H. G. Detecting mycoplasma contamination in cell cultures by polymerase chain reaction. Methods Mol. Biol. 731, 93–103 (2011).

Parker, S. J. et al. LKB1 promotes metabolic flexibility in response to energy stress. Metab. Eng. 43, 208–217 (2017).

Wenig, P. & Odermatt, J. OpenChrom: a cross-platform open source software for the mass spectrometric analysis of chromatographic data. BMC Bioinf. 11, 405 (2010).

Fernandez, C. A., Des Rosiers, C., Previs, S. F., David, F. & Brunengraber, H. Correction of 13C mass isotopomer distributions for natural stable isotope abundance. J. Mass Spectrom. 31, 255–262 (1996).

Gao, J. et al. Integrative analysis of complex cancer genomics and clinical profiles using the cBioPortal. Sci Signal. 6, pl1 (2013).

Cerami, E. et al. The cBio cancer genomics portal: an open platform for exploring multidimensional cancer genomics data. Cancer Discov. 2, 401–404 (2012).
Acknowledgements
We thank D. M. Sabatini for advice and for critical reading of the manuscript; R. L. Possemato and his laboratory for use of an incubator with physiologic oxygen (3% O2); B. G. Neel for support at the inception of this project; and members of the Kimmelman and Pacold laboratories for their help and suggestions. We acknowledge the NYU Langone Health Experimental Pathology Research Laboratory, Microscopy Laboratory and Metabolomics Core Resource Laboratory for their help in acquiring the data presented. These shared resources are partially supported by the Cancer Center Support Grant P30CA016087 at the Laura and Isaac Perlmutter Cancer Center. R.S.B. is a Merck Fellow of the Damon Runyon Cancer Research Foundation (DRG-2348-18). Q.S. was supported by the Wallonie-Bruxelles International (WBI) fellowship. D.E.B. is supported by a Ruth L. Kirschstein Institutional National Research Service Award, T32 CA009161 (Levy), and the NCI F99/K00 award (F99 CA245822). K.Y. was supported by an Uehara Memorial Foundation Research Fellowship. A.C.K. is supported by National Cancer Institute Grants R01CA157490, R01CA188048, P01CA117969, R35CA232124; ACS Research Scholar Grant RSG-13-298-01-TBG; NIH grant R01GM095567; the Lustgarten Foundation, and Stand Up to Cancer (SU2C), a division of the Entertainment Industry Foundation. SU2C is administered by the AACR. M.E.P. is a Damon Runyon-Rachleff Innovation Awardee supported in part by the Damon Runyon Cancer Research Foundation (DRR 63-20), and is supported by a Mary Kay Foundation Cancer Research Grant (017-32), the Shifrin-Myers Breast Cancer Discovery Fund at NYU, a V Foundation V Scholar Grant funded by the Hearst Foundation (V2017-004), an NCI K22 Career Transition Award (K22CA212059), the Tara Miller Melanoma Foundation – MRA Young Investigator Award (668365), the Harry J. Lloyd Trust, and laboratory-directed research funding from Max Raskin.
Ethics declarations
Competing interests
A.C.K. has financial interests in Vescor Therapeutics, LLC. A.C.K. is an inventor on patents pertaining to KRAS-regulated metabolic pathways, redox control pathways in pancreatic cancer, targeting GOT1 as a therapeutic approach, and the autophagic control of iron metabolism. A.C.K is on the SAB of Rafael/Cornerstone Pharmaceuticals. A.C.K has been a consultant for Diciphera Pharmaceuticals. M.E.P. has options in Raze Therapeutics, is the recipient of travel funds from Thermo Fisher Scientific and consulted for aMoon Ventures. R.S.B., Q.S., and M.E.P. are co-inventors on a patent filing on aspects of CoQ10 metabolism. The other authors declare no competing interests.
Additional information
Peer review information Nature thanks Costas Lyssiotis, Joshua Rabinowitz, Jared Rutter and the other, anonymous, reviewer(s) for their contribution to the peer review of this work.
Publisher's note Springer Nature remains neutral with regard to jurisdictional claims in published maps and institutional affiliations.
Extended data figures and tables
Supplementary information
About this article
Cite this article
Banh, R.S., Kim, E.S., Spillier, Q. et al. The polar oxy-metabolome reveals the 4-hydroxymandelate CoQ10 synthesis pathway. Nature 597, 420–425 (2021). https://doi.org/10.1038/s41586-021-03865-w
Received:

Accepted:

Published:

Issue Date:

DOI: https://doi.org/10.1038/s41586-021-03865-w
Comments
By submitting a comment you agree to abide by our Terms and Community Guidelines. If you find something abusive or that does not comply with our terms or guidelines please flag it as inappropriate.