Abstract
T cells are important in tumour immunity but a better understanding is needed of the differentiation of antigen-specific T cells in human cancer1,2. Here we studied CD8 T cells in patients with human papillomavirus (HPV)-positive head and neck cancer and identified several epitopes derived from HPV E2, E5 and E6 proteins that allowed us to analyse virus-specific CD8 T cells using major histocompatibility complex (MHC) class I tetramers. HPV-specific CD8 T cells expressed PD-1 and were detectable in the tumour at levels that ranged from 0.1% to 10% of tumour-infiltrating CD8 T lymphocytes (TILs) for a given epitope. Single-cell RNA-sequencing analyses of tetramer-sorted HPV-specific PD-1+ CD8 TILs revealed three transcriptionally distinct subsets. One subset expressed TCF7 and other genes associated with PD-1+ stem-like CD8 T cells that are critical for maintaining T cell responses in conditions of antigen persistence. The second subset expressed more effector molecules, representing a transitory cell population, and the third subset was characterized by a terminally differentiated gene signature. T cell receptor clonotypes were shared between the three subsets and pseudotime analysis suggested a hypothetical differentiation trajectory from stem-like to transitory to terminally differentiated cells. More notably, HPV-specific PD-1+TCF-1+ stem-like TILs proliferated and differentiated into more effector-like cells after in vitro stimulation with the cognate HPV peptide, whereas the more terminally differentiated cells did not proliferate. The presence of functional HPV-specific PD-1+TCF-1+CD45RO+ stem-like CD8 T cells with proliferative capacity shows that the cellular machinery to respond to PD-1 blockade exists in HPV-positive head and neck cancer, supporting the further investigation of PD-1 targeted therapies in this malignancy. Furthermore, HPV therapeutic vaccination efforts have focused on E6 and E7 proteins; our results suggest that E2 and E5 should also be considered for inclusion as vaccine antigens to elicit tumour-reactive CD8 T cell responses of maximal breadth.
This is a preview of subscription content
Access options
Subscribe to Journal
Get full journal access for 1 year
$199.00
only $3.90 per issue
All prices are NET prices.
VAT will be added later in the checkout.
Tax calculation will be finalised during checkout.
Rent or Buy article
Get time limited or full article access on ReadCube.
from$8.99
All prices are NET prices.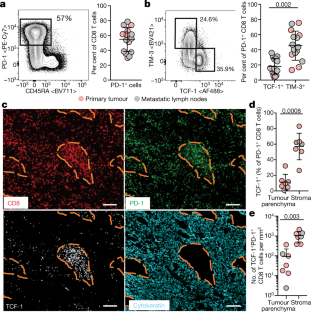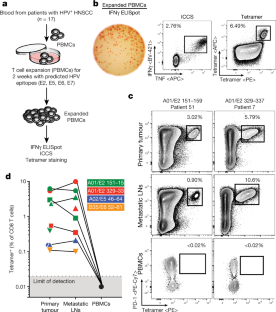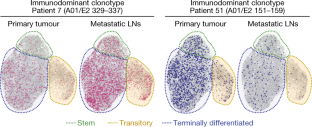 Data availability
The following protein sequences were used for predicting and generating HPV peptides: E2 (Uniprot P03120), E5 (Uniprot P06927), E6 (Uniprot P03126), and E7 (Uniprot P03129). scRNA-seq data are available in the NCBI Gene Expression Omnibus (GEO) database under the accession number GSE180268. Other relevant data are available from the corresponding authors upon reasonable request.
Code availability
Custom code for scRNA-seq is available from the corresponding authors upon reasonable request.
References
1.

Hashimoto, M. et al. CD8 T cell exhaustion in chronic infection and cancer: opportunities for interventions. Annu. Rev. Med. 69, 301–318 (2018).

2.

McLane, L. M., Abdel-Hakeem, M. S. & Wherry, E. J. CD8 T cell exhaustion during chronic viral infection and cancer. Annu. Rev. Immunol. 37, 457–495 (2019).

3.

Gallimore, A. et al. Induction and exhaustion of lymphocytic choriomeningitis virus-specific cytotoxic T lymphocytes visualized using soluble tetrameric major histocompatibility complex class I-peptide complexes. J. Exp. Med. 187, 1383–1393 (1998).

4.

Zajac, A. J. et al. Viral immune evasion due to persistence of activated T cells without effector function. J. Exp. Med. 188, 2205–2213 (1998).

5.

Barber, D. L. et al. Restoring function in exhausted CD8 T cells during chronic viral infection. Nature 439, 682–687 (2006).

6.

Im, S. J. et al. Defining CD8+ T cells that provide the proliferative burst after PD-1 therapy. Nature 537, 417–421 (2016).

7.

Utzschneider, D. T. et al. T cell factor 1-expressing memory-like CD8+ T cells sustain the immune response to chronic viral infections. Immunity 45, 415–427 (2016).

8.

He, R. et al. Follicular CXCR5- expressing CD8+ T cells curtail chronic viral infection. Nature 537, 412–428 (2016).

9.

Jadhav, R. R. et al. Epigenetic signature of PD-1+TCF1+CD8 T cells that act as resource cells during chronic viral infection and respond to PD-1 blockade. Proc. Natl Acad. Sci. USA 116, 14113–14118 (2019).

10.

Zander, R. et al. CD4+ T cell help is required for the formation of a cytolytic CD8+ T cell subset that protects against chronic infection and cancer. Immunity 51, 1028–1042 (2019).

11.

Hudson, W. H. et al. Proliferating transitory T cells with an effector-like transcriptional signature emerge from PD-1+ stem-like CD8+ T cells during chronic infection. Immunity 51, 1043–1058 (2019).

12.

Sade-Feldman, M. et al. Defining T cell states associated with response to checkpoint immunotherapy in melanoma. Cell 175, 998–1013 (2018).

13.

Brummelman, J. et al. High-dimensional single cell analysis identifies stem-like cytotoxic CD8+ T cells infiltrating human tumors. J. Exp. Med. 215, 2520–2535 (2018).

14.

Jansen, C. S. et al. An intra-tumoral niche maintains and differentiates stem-like CD8 T cells. Nature 576, 465–470 (2019).

15.

Mann, T. H. & Kaech, S. M. Tick-TOX, it's time for T cell exhaustion. Nat. Immunol. 20, 1092–1094 (2019).

16.

Bhatt, K. H. et al. Profiling HPV-16-specific T cell responses reveals broad antigen reactivities in oropharyngeal cancer patients. J. Exp. Med. 217, e20200389 (2020).

17.

Krishna, S. et al. Human papilloma virus specific immunogenicity and dysfunction of CD8+ T cells in head and neck cancer. Cancer Res. 78, 6159–6170 (2018).

18.

Bobisse, S. et al. Sensitive and frequent identification of high avidity neo-epitope specific CD8+ T cells in immunotherapy-naive ovarian cancer. Nat. Commun. 9, 1092 (2018).

19.

Wieland, A. et al. T cell receptor sequencing of activated CD8 T cells in the blood identifies tumor-infiltrating clones that expand after PD-1 therapy and radiation in a melanoma patient. Cancer Immunol. Immunother. 67, 1767–1776 (2018).

20.

Simoni, Y. et al. Bystander CD8+ T cells are abundant and phenotypically distinct in human tumour infiltrates. Nature 557, 575–579 (2018).

21.

Rosato, P. C. et al. Virus-specific memory T cells populate tumors and can be repurposed for tumor immunotherapy. Nat. Commun. 10, 567 (2019).

22.

Gattinoni, L. et al. A human memory T cell subset with stem cell-like properties. Nat. Med. 17, 1290–1297 (2011).

23.

Kamphorst, A. O. et al. Rescue of exhausted CD8 T cells by PD-1-targeted therapies is CD28-dependent. Science 355, 1423–1427 (2017).

24.

Patel, J. J., Levy, D. A., Nguyen, S. A., Knochelmann, H. M. & Day, T. A. Impact of PD-L1 expression and human papillomavirus status in anti-PD1/PDL1 immunotherapy for head and neck squamous cell carcinoma—systematic review and meta-analysis. Head Neck 42, 774–786 (2020).

25.

Skeate, J. G., Woodham, A. W., Einstein, M. H., Da Silva, D. M. & Kast, W. M. Current therapeutic vaccination and immunotherapy strategies for HPV-related diseases. Hum. Vaccines Immunother. 12, 1418–1429 (2016).

26.

Ha, S. J. et al. Enhancing therapeutic vaccination by blocking PD-1-mediated inhibitory signals during chronic infection. J. Exp. Med. 205, 543–555 (2008).

27.

de Martel, C., Georges, D., Bray, F., Ferlay, J. & Clifford, G. M. Global burden of cancer attributable to infections in 2018: a worldwide incidence analysis. Lancet Glob. Health 8, e180–e190 (2020).

28.

Wieland, A. et al. Defining HPV-specific B cell responses in patients with head and neck cancer. Nature, https://doi.org/10.1038/s41586-020-2931-3 (2020).

29.

NIH Tetramer Core Facility. Production Protocols: Class I MHC Tetramer Preparation https://tetramer.yerkes.emory.edu/support/protocols#10 (2006).

30.

Vita, R. et al. The Immune Epitope Database (IEDB): 2018 update. Nucleic Acids Res. 47, D339–D343 (2019).

31.

Sidney, J. et al. Measurement of MHC/peptide interactions by gel filtration or monoclonal antibody capture. Current Protoc. Immunol. 100, 18.3.1–18.3.36 (2013).

32.

Satija, R., Farrell, J. A., Gennert, D., Schier, A. F. & Regev, A. Spatial reconstruction of single-cell gene expression data. Nat. Biotechnol. 33, 495–502 (2015).

33.

DeTomaso, D. & Yosef, N. FastProject: a tool for low-dimensional analysis of single-cell RNA-seq data. BMC Bioinformatics 17, 315 (2016).

34.

Trapnell, C. et al. The dynamics and regulators of cell fate decisions are revealed by pseudotemporal ordering of single cells. Nat. Biotechnol. 32, 381–386 (2014).
Acknowledgements
This work was supported by funding from the Ambrose Monell Foundation (R.A.); the T. J. Martell Foundation (R.A.); NIH grants 5U19AI057266 and P01AI056299 (R.A.); the Oliver S. and Jennie R. Donaldson Charitable Trust (R.A.); a Winship Invest$ Pilot grant (R.A., Z.G.C. and N.F.S.); Swiss National Science Foundation grant P300PB_174483 (C.S.E.); a Eugenio Litta Foundation grant (C.S.E.); NCI grant 1-R00-CA197891 (H.T.K.); the James M. Cox Foundation and James C. Kennedy (H.T.K.); the Prostate Cancer Foundation (H.T.K. and N.P.); and a Triological Society Research Career Development Award (M.R.P.). We thank H. Wu for technical assistance and M. Clayton for administrative support. We acknowledge the Emory Flow Cytometry Core supported by the National Center for Georgia Clinical and Translational Science Alliance of the NIH under award number UL1TR002378; the Integrated Cellular Imaging Microscopy Core of the Winship Cancer Institute of Emory University and the NIH–NCI under award number, 2P30CA138292-04; and the Yerkes NHP Genomics Core, which is supported in part by NIH P51 OD011132. This research was supported in part by the Intramural Research Program of the NIH, the Frederick National Laboratory for Cancer Research and the Center for Cancer Research. The project has been funded in part with federal funds from the Frederick National Laboratory for Cancer Research, under contract no. HHSN261200800001E. The content of this publication does not necessarily reflect the views or policies of the Department of Health and Human Services, nor does mention of trade names, commercial products or organizations imply endorsement by the US Government.
Ethics declarations
Competing interests
R.A. holds patents related to the PD-1 inhibitory pathway. C.S.E., A.W. and R.A. are inventors on a patent application filed by Emory University relating to the use of HPV-specific TCR sequences. All other authors declare no competing interests.
Additional information
Peer review information Nature thanks Benny Chain, Evan Newell and the other, anonymous, reviewer(s) for their contribution to the peer review of this work.
Publisher's note Springer Nature remains neutral with regard to jurisdictional claims in published maps and institutional affiliations.
Extended data figures and tables
Supplementary information
Predicted HPV-peptides used for T cell expansion and epitope mapping.
About this article
Cite this article
Eberhardt, C.S., Kissick, H.T., Patel, M.R. et al. Functional HPV-specific PD-1+ stem-like CD8 T cells in head and neck cancer. Nature 597, 279–284 (2021). https://doi.org/10.1038/s41586-021-03862-z
Received:

Accepted:

Published:

Issue Date:
Comments
By submitting a comment you agree to abide by our Terms and Community Guidelines. If you find something abusive or that does not comply with our terms or guidelines please flag it as inappropriate.