Abstract
Centenarians have a decreased susceptibility to ageing-associated illnesses, chronic inflammation and infectious diseases1,2,3. Here we show that centenarians have a distinct gut microbiome that is enriched in microorganisms that are capable of generating unique secondary bile acids, including various isoforms of lithocholic acid (LCA): iso-, 3-oxo-, allo-, 3-oxoallo- and isoallolithocholic acid. Among these bile acids, the biosynthetic pathway for isoalloLCA had not been described previously. By screening 68 bacterial isolates from the faecal microbiota of a centenarian, we identified Odoribacteraceae strains as effective producers of isoalloLCA both in vitro and in vivo. Furthermore, we found that the enzymes 5α-reductase (5AR) and 3β-hydroxysteroid dehydrogenase (3β-HSDH) were responsible for the production of isoalloLCA. IsoalloLCA exerted potent antimicrobial effects against Gram-positive (but not Gram-negative) multidrug-resistant pathogens, including Clostridioides difficile and Enterococcus faecium. These findings suggest that the metabolism of specific bile acids may be involved in reducing the risk of infection with pathobionts, thereby potentially contributing to the maintenance of intestinal homeostasis.
This is a preview of subscription content
Access options
Subscribe to Journal
Get full journal access for 1 year
$199.00
only $3.90 per issue
All prices are NET prices.
VAT will be added later in the checkout.
Tax calculation will be finalised during checkout.
Rent or Buy article
Get time limited or full article access on ReadCube.
from$8.99
All prices are NET prices.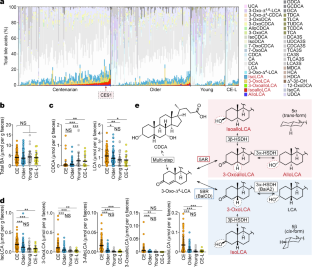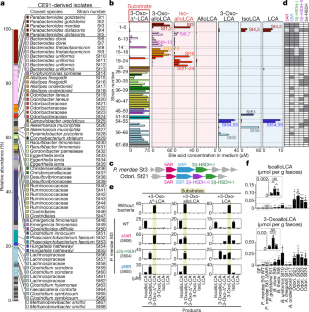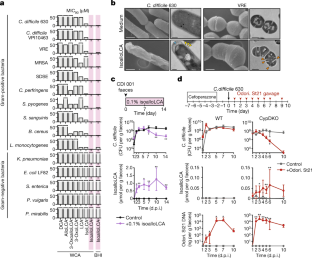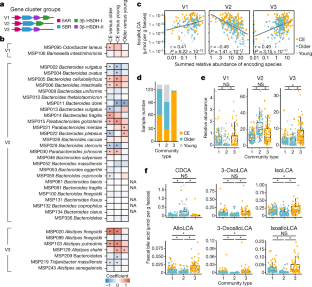 Data availability
Shotgun sequencing data are deposited in NCBI under BioProject PRJNA675598. Genome sequences of the 68 strains isolated from a centenarian and 16S rRNA amplicon sequence data are deposited in the DNA Data Bank of Japan under BioProject PRJDB11902 and PRJDB11894, respectively. LC–MS/MS data are deposited in Metabolomics Workbench (https://www.metabolomicsworkbench.org/) under project ID PR001168 with study ID ST001851 for human faeces data and study ID ST001852 for in vitro data. Source data are provided with this paper.
References
1.

Hirata, T. et al. Associations of cardiovascular biomarkers and plasma albumin with exceptional survival to the highest ages. Nat. Commun. 11, 3820 (2020).

2.

Sebastiani, P. et al. Meta‐analysis of genetic variants associated with human exceptional longevity. Aging 5, 653–661 (2013).

3.

Wu, L. et al. A cross-sectional study of compositional and functional profiles of gut microbiota in Sardinian centenarians. mSystems 4, e00325-19 (2019).

4.

Franceschi, C., Garagnani, P., Parini, P., Giuliani, C. & Santoro, A. Inflammaging: a new immune-metabolic viewpoint for age-related diseases. Nat. Rev. Endocrinol. 14, 576–590 (2018).

5.

Bárcena, C. et al. Healthspan and lifespan extension by fecal microbiota transplantation into progeroid mice. Nat. Med. 25, 1234–1242 (2019).

6.

Biagi, E. et al. Gut microbiota and extreme longevity. Curr. Biol. 26, 1480–1485 (2016).

7.

Rampelli, S. et al. Shotgun metagenomics of gut microbiota in humans with up to extreme longevity and the increasing role of xenobiotic degradation. mSystems 5, e00124-20 (2020).

8.

Funabashi, M. et al. A metabolic pathway for bile acid dehydroxylation by the gut microbiome. Nature 582, 566–570 (2020).

9.

Ridlon, J. M., Harris, S. C., Bhowmik, S., Kang, D. J. & Hylemon, P. B. Consequences of bile salt biotransformations by intestinal bacteria. Gut Microbes 7, 22–39 (2016).

10.

David, L. A. et al. Diet rapidly and reproducibly alters the human gut microbiome. Nature 505, 559–563 (2014).

11.

Devlin, A. S. & Fischbach, M. A. A biosynthetic pathway for a prominent class of microbiota-derived bile acids. Nat. Chem. Biol. 11, 685–690 (2015).

12.

Nixon, M., Upreti, R. & Andrew, R. 5α-Reduced glucocorticoids: a story of natural selection. J. Endocrinol. 212, 111–127 (2012).

13.

Hang, S. et al. Bile acid metabolites control TH17 and Treg cell differentiation. Nature 576, 143–148 (2019).

14.

Campbell, C. et al. Bacterial metabolism of bile acids promotes generation of peripheral regulatory T cells. Nature 581, 475–479 (2020).

15.

Song, X. et al. Microbial bile acid metabolites modulate gut RORγ+ regulatory T cell homeostasis. Nature 577, 410–415 (2020).

16.

Paik, D. et al. Human gut bacteria produce TH17-modulating bile acid metabolites. Preprint at https://doi.org/10.1101/2021.01.08.425913 (2021).

17.

Li, W. et al. A bacterial bile acid metabolite modulates Treg activity through the nuclear hormone receptor NR4A1. Preprint at https://doi.org/10.1101/2021.01.08.425963 (2021).

18.

Buffie, C. G. et al. Precision microbiome reconstitution restores bile acid mediated resistance to Clostridium difficile. Nature 517, 205–208 (2015).

19.

Begley, M., Gahan, C. G. M. & Hill, C. The interaction between bacteria and bile. FEMS Microbiol. Rev. 29, 625–651 (2005).

20.

Thanissery, R., Winston, J. A. & Theriot, C. M. Inhibition of spore germination, growth, and toxin activity of clinically relevant C. difficile strains by gut microbiota derived secondary bile acids. Anaerobe 45, 86–100 (2017).

21.

Honda, A. et al. Regulation of bile acid metabolism in mouse models with hydrophobic bile acid composition. J. Lipid Res. 61, 54–69 (2020).

22.

Holmes, I., Harris, K. & Quince, C. Dirichlet multinomial mixtures: generative models for microbial metagenomics. PLoS ONE 7, e30126 (2012).

23.

Atarashi, K. et al. Ectopic colonization of oral bacteria in the intestine drives TH1 cell induction and inflammation. Science 358, 359–365 (2017).

24.

Li, D., Liu, C. M., Luo, R., Sadakane, K. & Lam, T. W. MEGAHIT: an ultra-fast single-node solution for large and complex metagenomics assembly via succinct de Bruijn graph. Bioinformatics 31, 1674–1676 (2015).

25.

Hyatt, D. et al. Prodigal: prokaryotic gene recognition and translation initiation site identification. BMC Bioinformatics 11, 119 (2010).

26.

Fu, L., Niu, B., Zhu, Z., Wu, S. & Li, W. CD-HIT: accelerated for clustering the next-generation sequencing data. Bioinformatics 28, 3150–3152 (2012).

27.

Qin, J. et al. A human gut microbial gene catalogue established by metagenomic sequencing. Nature 464, 59–65 (2010).

28.

Li, H. & Durbin, R. Fast and accurate short read alignment with Burrows–Wheeler transform. Bioinformatics 25, 1754–1760 (2009).

29.

Plaza Oñate, F. et al. MSPminer: abundance-based reconstitution of microbial pan-genomes from shotgun metagenomic data. Bioinformatics 35, 1544–1552 (2019).

30.

Li, J. et al. An integrated catalog of reference genes in the human gut microbiome. Nat. Biotechnol. 32, 834–841 (2014).

31.

Segata, N., Börnigen, D., Morgan, X. C. & Huttenhower, C. PhyloPhlAn is a new method for improved phylogenetic and taxonomic placement of microbes. Nat. Commun. 4, 2304 (2013).

32.

Khelaifia, S., Raoult, D. & Drancourt, M. A versatile medium for cultivating methanogenic archaea. PLoS ONE 8, e61563 (2013).

33.

Aziz, R. K. et al. The RAST Server: rapid annotations using subsystems technology. BMC Genomics 9, 75 (2008).

34.

Seemann, T. Prokka: rapid prokaryotic genome annotation. Bioinformatics 30, 2068–2069 (2014).

35.

García-Bayona, L. & Comstock, L. E. Streamlined genetic manipulation of diverse Bacteroides and Parabacteroides isolates from the human gut microbiota. mBio 10, e01762-19 (2019).

36.

Ferrières, L. et al. Silent mischief: bacteriophage Mu insertions contaminate products of Escherichia coli random mutagenesis performed using suicidal transposon delivery plasmids mobilized by broad-host-range RP4 conjugative machinery. J. Bacteriol. 192, 6418–6427 (2010).

37.

Atarashi, K. et al. Treg induction by a rationally selected mixture of Clostridia strains from the human microbiota. Nature 500, 232–236 (2013).

38.

Quinn, R. A. et al. Global chemical effects of the microbiome include new bile-acid conjugations. Nature 579, 123–129 (2020).

39.

McDonald, J. A. K. et al. Evaluation of microbial community reproducibility, stability and composition in a human distal gut chemostat model. J. Microbiol. Methods 95, 167–174 (2013).

40.

Claesson, M. J. et al. Gut microbiota composition correlates with diet and health in the elderly. Nature 488, 178–184 (2012).
Acknowledgements
We thank L. Besse for project management and making data available through the SRA and the Broad Institute Genomics Platform and Microbial 'Omics Core for sample processing and sequencing data generation; A. Minowa, M. Asakawa, K. Sugita and members of the JSR-Keio University Medical and Chemical Innovation Center for their technical support; N. Hasegawa, K. Fukunaga, T. Kanai, K. Masaki, S. Azekawa, K. Sasahara, S. Hosomi, M. Shimura and Y. Abe for their assistance in collecting clinical samples; S. Atsushi and members of the Honda laboratory for their suggestions during the course of this studies. K.H. was funded through AMED LEAP under grant number JP20gm0010003, Grant-in-Aid for Specially Promoted Research from JSPS (no. 20H05627), Public/Private R&D Investment Strategic Expansion Program (PRISM) from Cabinet Office of the Government of Japan, the Naito Foundation and the Takeda Science Foundation. The centenarian study was funded by the Japan Ministry of Agriculture, Forestry and Fisheries (M.S.) and Keio Global Research Institute (Y.A. and N.H.). The older-participant recruitment study was funded by a Grant-in-Aid for Scientific Research (no. 18H03055) from the Japan Society for the Promotion of Science and JST Research Complex Program (JP15667051). D.R.P. and R.J.X. were funded by the Center for the Study of Inflammatory Bowel Disease (DK043351), Center for Microbiome informatics and Therapeutics (CMIT) and AT009708. Y. Sato. was supported by the Terumo Life Science Foundation.
Ethics declarations
Competing interests
K.H. is a scientific advisory board member of Vedanta Biosciences and 4BIO CAPITAL.
Additional information
Peer review information Nature thanks Pieter Dorrestein, Andrew Patterson and the other, anonymous, reviewer(s) for their contribution to the peer review of this work.
Publisher's note Springer Nature remains neutral with regard to jurisdictional claims in published maps and institutional affiliations.
Extended data figures and tables
Supplementary information
About this article
Cite this article
Sato, Y., Atarashi, K., Plichta, D.R. et al. Novel bile acid biosynthetic pathways are enriched in the microbiome of centenarians. Nature 599, 458–464 (2021). https://doi.org/10.1038/s41586-021-03832-5
Received:

Accepted:

Published:

Issue Date:
Further reading
Xiaoyong Xue
Jianzhi Wu
Xiaojiaoyang Li

Chinese Medicine (2021)

Bipin Rimal
Andrew D. Patterson

Nature (2021)

Nature Reviews Microbiology (2021)
Comments
By submitting a comment you agree to abide by our Terms and Community Guidelines. If you find something abusive or that does not comply with our terms or guidelines please flag it as inappropriate.