Abstract
Plants deploy cell-surface and intracellular leucine rich-repeat domain (LRR) immune receptors to detect pathogens1. LRR receptor kinases and LRR receptor proteins at the plasma membrane recognize microorganism-derived molecules to elicit pattern-triggered immunity (PTI), whereas nucleotide-binding LRR proteins detect microbial effectors inside cells to confer effector-triggered immunity (ETI). Although PTI and ETI are initiated in different host cell compartments, they rely on the transcriptional activation of similar sets of genes2, suggesting pathway convergence upstream of nuclear events. Here we report that PTI triggered by the Arabidopsis LRR receptor protein RLP23 requires signalling-competent dimers of the lipase-like proteins EDS1 and PAD4, and of ADR1 family helper nucleotide-binding LRRs, which are all components of ETI. The cell-surface LRR receptor kinase SOBIR1 links RLP23 with EDS1, PAD4 and ADR1 proteins, suggesting the formation of supramolecular complexes containing PTI receptors and transducers at the inner side of the plasma membrane. We detected similar evolutionary patterns in LRR receptor protein and nucleotide-binding LRR genes across Arabidopsis accessions; overall higher levels of variation in LRR receptor proteins than in LRR receptor kinases are consistent with distinct roles of these two receptor families in plant immunity. We propose that the EDS1–PAD4–ADR1 node is a convergence point for defence signalling cascades, activated by both surface-resident and intracellular LRR receptors, in conferring pathogen immunity.
This is a preview of subscription content
Access options
Subscribe to Journal
Get full journal access for 1 year
$199.00
only $3.90 per issue
All prices are NET prices.
VAT will be added later in the checkout.
Tax calculation will be finalised during checkout.
Rent or Buy article
Get time limited or full article access on ReadCube.
from$8.99
All prices are NET prices.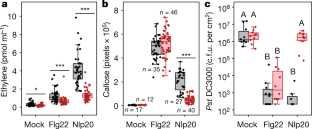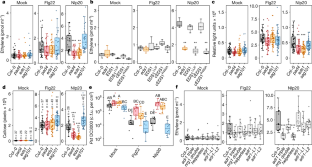 References
1.

Jones, J. D. & Dangl, J. L. The plant immune system. Nature 444, 323–329 (2006).

2.

Lu, Y. & Tsuda, K. Intimate association of PRR- and NLR-mediated signaling in plant immunity. Mol. Plant Microbe Interact. 34, 3–14 (2021).

3.

Wan, W. L., Fröhlich, K., Pruitt, R. N., Nürnberger, T. & Zhang, L. Plant cell surface immune receptor complex signaling. Curr. Opin. Plant Biol. 50, 18–28 (2019).

4.

Monteiro, F. & Nishimura, M. T. Structural, functional, and genomic diversity of plant NLR proteins: an evolved resource for rational engineering of plant immunity. Annu. Rev. Phytopathol. 56, 243–267 (2018).

5.

Lapin, D., Bhandari, D. D. & Parker, J. E. Origins and immunity networking functions of EDS1 family proteins. Annu. Rev. Phytopathol. 58, 253–276 (2020).

6.

Feehan, J. M., Castel, B., Bentham, A. R. & Jones, J. D. Plant NLRs get by with a little help from their friends. Curr. Opin. Plant Biol. 56, 99–108 (2020).

7.

Yuan, M. et al. Pattern-recognition receptors are required for NLR-mediated plant immunity. Nature 592, 105–109 (2021).

8.

Ngou, B. P. M., Ahn, H. K., Ding, P. & Jones, J. D. G. Mutual potentiation of plant immunity by cell-surface and intracellular receptors. Nature 592, 110–115 (2021).

9.

Wan, W. L. et al. Comparing Arabidopsis receptor kinase and receptor protein-mediated immune signaling reveals BIK1-dependent differences. New Phytol. 221, 2080–2095 (2019).

10.

Rao, S. et al. Roles of receptor-like cytoplasmic kinase VII members in pattern-triggered immune signaling. Plant Physiol. 177, 1679–1690 (2018).

11.

Zhang, L. et al. Distinct immune sensors for fungal endopolygalacturonases in closely related Brassicaceae. Nat. Plants, https://doi.org/10.1038/s41477-021-00982-2 (2021).

12.

Fan, L. et al. Genotyping-by-sequencing-based identification of Arabidopsis pattern recognition receptor RLP32 recognizing proteobacterial translation initiation factor IF1. Preprint at https://doi.org/10.1101/2021.03.04.433884 (2021).

13.

Böttcher, C. et al. The multifunctional enzyme CYP71B15 (PHYTOALEXIN DEFICIENT3) converts cysteine-indole-3-acetonitrile to camalexin in the indole-3-acetonitrile metabolic network of Arabidopsis thaliana. Plant Cell 21, 1830–1845 (2009).

14.

Mishina, T. E. & Zeier, J. The Arabidopsis flavin-dependent monooxygenase FMO1 is an essential component of biologically induced systemic acquired resistance. Plant Physiol. 141, 1666–1675 (2006).

15.

Böhm, H. et al. A conserved peptide pattern from a widespread microbial virulence factor triggers pattern-induced immunity in Arabidopsis. PLoS Pathog. 10, e1004491 (2014).

16.

Sun, X. et al. Pathogen effector recognition-dependent association of NRG1 with EDS1 and SAG101 in TNL receptor immunity. Nat. Commun. 12, 3335 (2021).

17.

Lapin, D. et al. A coevolved EDS1–SAG101–NRG1 module mediates cell death signaling by TIR-domain immune receptors. Plant Cell 31, 2430–2455 (2019).

18.

Cui, H. et al. A core function of EDS1 with PAD4 is to protect the salicylic acid defense sector in Arabidopsis immunity. New Phytol. 213, 1802–1817 (2017).

19.

Wagner, S. et al. Structural basis for signaling by exclusive EDS1 heteromeric complexes with SAG101 or PAD4 in plant innate immunity. Cell Host Microbe 14, 619–630 (2013).

20.

Bhandari, D. D. et al. An EDS1 heterodimer signalling surface enforces timely reprogramming of immunity genes in Arabidopsis. Nat. Commun. 10, 772 (2019).

21.

Joglekar, S. et al. Chemical activation of EDS1/PAD4 signaling leading to pathogen resistance in Arabidopsis. Plant Cell Physiol. 59, 1592–1607 (2018).

22.

Saile, S. C. et al. Two unequally redundant "helper" immune receptor families mediate Arabidopsis thaliana intracellular "sensor" immune receptor functions. PLoS Biol. 18, e3000783 (2020).

23.

Reuter, L. et al. Light-triggered and phosphorylation-dependent 14-3-3 association with NONPHOTOTROPIC HYPOCOTYL 3 is required for hypocotyl phototropism. Preprint at https://doi.org/10.1101/2021.04.09.439179 (2021).

24.

Koenig, D. et al. Long-term balancing selection drives evolution of immunity genes in Capsella. eLife 8, e43606 (2019).

25.

Guo, Y. L. et al. Genome-wide comparison of nucleotide-binding site-leucine-rich repeat-encoding genes in Arabidopsis. Plant Physiol. 157, 757–769 (2011).

26.

1001 Genomes Consortium. 1,135 Genomes reveal the global pattern of polymorphism in Arabidopsis thaliana. Cell 166, 481–491 (2016).

27.

Cao, J. et al. Whole-genome sequencing of multiple Arabidopsis thaliana populations. Nat. Genet. 43, 956–963 (2011).

28.

Lin, Z. J., Liebrand, T. W., Yadeta, K. A. & Coaker, G. PBL13 is a serine/threonine protein kinase that negatively regulates Arabidopsis immune responses. Plant Physiol. 169, 2950–2962 (2015).

29.

Thomma, B. P., Nürnberger, T. & Joosten, M. H. Of PAMPs and effectors: the blurred PTI–ETI dichotomy. Plant Cell 23, 4–15 (2011).

30.

Gust, A. A., Pruitt, R. & Nürnberger, T. Sensing danger: key to activating plant immunity. Trends Plant Sci. 22, 779–791 (2017).

31.

Felix, G., Duran, J. D., Volko, S. & Boller, T. Plants have a sensitive perception system for the most conserved domain of bacterial flagellin. Plant J. 18, 265–276 (1999).

32.

Kunze, G. et al. The N terminus of bacterial elongation factor Tu elicits innate immunity in Arabidopsis plants. Plant Cell 16, 3496–3507 (2004).

33.

Jehle, A. K. et al. The receptor-like protein ReMAX of Arabidopsis detects the microbe-associated molecular pattern eMax from Xanthomonas. Plant Cell 25, 2330–2340 (2013).

34.

Bai, Y. et al. Functional overlap of the Arabidopsis leaf and root microbiota. Nature 528, 364–369 (2015).

35.

Albert, M. et al. Regulation of cell behaviour by plant receptor kinases: pattern recognition receptors as prototypical models. Eur. J. Cell Biol. 89, 200–207 (2010).

36.

Jin, L. & Mackey, D. M. Measuring callose deposition, an indicator of cell wall reinforcement, during bacterial infection in Arabidopsis. Methods Mol. Biol. 1578, 195–205 (2017).

37.

Willmann, R., Haischer, D. J. & Gust, A. A. Analysis of MAPK activities using MAPK-specific antibodies. Methods Mol. Biol. 1171, 27–37 (2014).

38.

Chinchilla, D. et al. A flagellin-induced complex of the receptor FLS2 and BAK1 initiates plant defence. Nature 448, 497–500 (2007).

39.

El Kasmi, F. et al. Signaling from the plasma-membrane localized plant immune receptor RPM1 requires self-association of the full-length protein. Proc. Natl Acad. Sci. USA 114, E7385–E7394 (2017).

40.

Grefen, C. & Blatt, M. R. A. A 2in1 cloning system enables ratiometric bimolecular fluorescence complementation (rBiFC). Biotechniques 53, 311–314 (2012).

41.

Mehlhorn, D. G., Wallmeroth, N., Berendzen, K. W. & Grefen, C. 2in1 vectors improve in planta BiFC and FRET analyses. Methods Mol. Biol. 1691, 139–158 (2018).

42.

Chen, H. et al. Firefly luciferase complementation imaging assay for protein–protein interactions in plants. Plant Physiol. 146, 323–324 (2008).

43.

Liebrand, T. W. et al. Receptor-like kinase SOBIR1/EVR interacts with receptor-like proteins in plant immunity against fungal infection. Proc. Natl Acad. Sci. USA 110, 10010–10015 (2013).

44.

Nakagawa, T. et al. Development of series of gateway binary vectors, pGWBs, for realizing efficient construction of fusion genes for plant transformation. J. Biosci. Bioeng. 104, 34–41 (2007).

45.

Karimi, M., Inzé, D. & Depicker, A. GATEWAY vectors for Agrobacterium-mediated plant transformation. Trends Plant Sci. 7, 193–195 (2002).

46.

Glöckner, N. et al. Three-fluorophore FRET enables the analysis of ternary protein association in living plant cells. Preprint at https://doi.org/10.1101/722124 (2020).

47.

Rappsilber, J., Ishihama, Y. & Mann, M. Stop and go extraction tips for matrix-assisted laser desorption/ionization, nanoelectrospray, and LC/MS sample pretreatment in proteomics. Anal. Chem. 75, 663–670 (2003).

48.

Cox, J. & Mann, M. MaxQuant enables high peptide identification rates, individualized p.p.b.-range mass accuracies and proteome-wide protein quantification. Nat. Biotechnol. 26, 1367–1372 (2008).

49.

Tyanova, S., Temu, T. & Cox, J. The MaxQuant computational platform for mass spectrometry-based shotgun proteomics. Nat. Protoc. 11, 2301–2319 (2016).

50.

Deutsch, E. W. et al. The ProteomeXchange consortium in 2020: enabling 'big data' approaches in proteomics. Nucleic Acids Res. 48, D1145–D1152 (2020).

51.

Perez-Riverol, Y. et al. The PRIDE database and related tools and resources in 2019: improving support for quantification data. Nucleic Acids Res. 47, D442–D450 (2019).

52.

Li, H. & Durbin, R. Fast and accurate short read alignment with Burrows–Wheeler transform. Bioinformatics 25, 1754–1760 (2009).

53.

Li, H. et al. The Sequence Alignment/Map format and SAMtools. Bioinformatics 25, 2078–2079 (2009).

54.

Wang, G. et al. A genome-wide functional investigation into the roles of receptor-like proteins in Arabidopsis. Plant Physiol. 147, 503–517 (2008).

55.

Shiu, S. H. et al. Comparative analysis of the receptor-like kinase family in Arabidopsis and rice. Plant Cell 16, 1220–1234 (2004).

56.

Kurup, S. et al. Marking cell lineages in living tissues. Plant J. 42, 444–453 (2005).
Acknowledgements
This work was supported by Deutsche Forschungsgemeinschaft (DFG) grants Nu 70/15-1 and ERA-CAPS-Grant SICOPID Nu 70/16-1 to T.N.; grant CRC-1101 to K.H., C.O., D.W., F.E.K. and T.N., and grant CRC-1403-414786233 to J.E.P. S. C. Saile was supported by the Reinhard Frank Stiftung (Project 'helperless plant'). F.L., J.E.P., H.N., D.K. and D.W. were supported by the Max Planck Society. We thank S. Harter, M. Fechter, B. Löffelhardt and V. Scholz for assistance with cloning and genotyping; B. Kemmerling for statistical data evaluation; E. Chae for annotation information of NLRs; and P. Schulze-Lefert for the Lysobacter strain Root690.
Ethics declarations
Competing interests
The authors declare no competing interests.
Additional information
Peer review information Nature thanks Gitta Coaker and the other, anonymous, reviewer(s) for their contribution to the peer review of this work. Peer reviewer reports are available.
Publisher's note Springer Nature remains neutral with regard to jurisdictional claims in published maps and institutional affiliations.
Extended data figures and tables
Supplementary information
About this article
Cite this article
Pruitt, R.N., Locci, F., Wanke, F. et al. The EDS1–PAD4–ADR1 node mediates Arabidopsis pattern-triggered immunity. Nature 598, 495–499 (2021). https://doi.org/10.1038/s41586-021-03829-0
Received:

Accepted:

Published:

Issue Date:
Comments
By submitting a comment you agree to abide by our Terms and Community Guidelines. If you find something abusive or that does not comply with our terms or guidelines please flag it as inappropriate.