Abstract
Particle accelerators are essential tools in science, hospitals and industry1,2,3,4,5,6. Yet their costs and large footprint, ranging in length from metres to several kilometres, limit their use. The recently demonstrated nanophotonics-based acceleration of charged particles can reduce the cost and size of these accelerators by orders of magnitude7,8,9. In this approach, a carefully designed nanostructure transfers energy from laser light to the particles in a phase-synchronous manner, accelerating them. To accelerate particles to the megaelectronvolt range and beyond, with minimal particle loss10,11, the particle beam needs to be confined over extended distances, but the necessary control of the electron beam's phase space has been elusive. Here we demonstrate complex electron phase-space control at optical frequencies in the 225-nanometre narrow channel of a silicon-based photonic nanostructure that is 77.7 micrometres long. In particular, we experimentally show alternating phase focusing10,11,12,13, a particle propagation scheme for minimal-loss transport that could, in principle, be arbitrarily long. We expect this work to enable megaelectronvolt electron-beam generation on a photonic chip, with potential for applications in radiotherapy and compact light sources9, and other forms of electron phase-space control resulting in narrow energy or zeptosecond-bunched beams14,15,16.
Relevant articles
Open Access articles citing this article.
Lu Wang

,

Uwe Niedermayer

…

Liejia Qian

Communications Physics Open Access 05 July 2022

Jan-Wilke Henke

,

Arslan Sajid Raja

…

Tobias J. Kippenberg

Nature Open Access 22 December 2021
Access options
Access Nature and 54 other Nature Portfolio journals
Get Nature+, our best-value online-access subscription
$29.99 / 30 days
cancel any time
Subscribe to this journal
Receive 51 print issues and online access
$199.00 per year
only $3.90 per issue
Rent or buy this article
Get just this article for as long as you need it
$39.95
Prices may be subject to local taxes which are calculated during checkout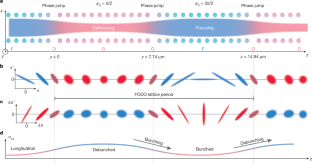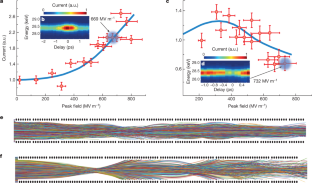 References
Aad, G. et al. A particle consistent with the Higgs boson observed with the ATLAS detector at the large hadron collider. Science 338, 1576–1582 (2012).

Chatrchyan, S. et al. A new boson with a mass of 125 GeV observed with the CMS experiment at the large hadron collider. Science 338, 1569–1575 (2012).

Focus: Synchrotron techniques. Nat. Rev. Mater. https://www.nature.com/collections/vjzmtcbvzy (2018).

Bucksbaum, P., Möller, T. & Ueda, K. Frontiers of free-electron laser science. J. Phys. At. Mol. Opt. Phys. 46, 160201 (2013).

Karzmark, C. J. Advances in linear accelerator design for radiotherapy. Med. Phys. 11, 105–128 (1984).

Podgorsak, E. B. Radiation Oncology Physics: A Handbook for Teachers and Students (International Atomic Energy Agency, 2005).

Breuer, J. & Hommelhoff, P. Laser-based acceleration of nonrelativistic electrons at a dielectric structure. Phys. Rev. Lett. 111, 134803 (2013).

Peralta, E. A. et al. Demonstration of electron acceleration in a laser-driven dielectric microstructure. Nature 503, 91–94 (2013).

England, R. J. et al. Dielectric laser accelerators. Rev. Mod. Phys. 86, 1337–1389 (2014).

Wangler, T. P. RF Linear Accelerators 2nd edition (Wiley-VCH, 2008).

Chao, A. W., Mess, K. H., Tigner, M. & Zimmermann, F. Handbook of Accelerator Physics and Engineering 2nd edition (2013).

Courant, E. D. & Snyder, H. S. Theory of the alternating-gradient synchrotron. Ann. Phys. 3, 1–48 (1958).

Niedermayer, U., Egenolf, T., Boine-Frankenheim, O. & Hommelhoff, P. Alternating-phase focusing for dielectric-laser acceleration. Phys. Rev. Lett. 121, 214801 (2018).

Schönenberger, N. et al. Generation and characterization of attosecond microbunched electron pulse trains via dielectric laser acceleration. Phys. Rev. Lett. 123, 264803 (2019).

Black, D. S. et al. Net acceleration and direct measurement of attosecond electron pulses in a silicon dielectric laser accelerator. Phys. Rev. Lett. 123, 264802 (2019).

Niedermayer, U. et al. Low-energy-spread attosecond bunching and coherent electron acceleration in dielectric nanostructures. Phys. Rev. Appl. 15, L021002 (2021).

Panofsky, W. K. H. & Wenzel, W. A. Some considerations concerning the transverse deflection of charged particles in radio-frequency fields. Rev. Sci. Instrum. 27, 967 (1956).

Shimoda, K. Proposal for an electron accelerator using an optical maser. Appl. Opt. 1, 33–35 (1962).

Lohmann, A. Electron acceleration by light waves. IBM Tech. Note 5, 169–182 (1962).

Cesar, D. et al. High-field nonlinear optical response and phase control in a dielectric laser accelerator. Commun. Phys. 1, 46 (2018).

Leedle, K. J., Fabian Pease, R., Byer, R. L. & Harris, J. S. Laser acceleration and deflection of 96.3 keV electrons with a silicon dielectric structure. Optica 2, 158–161 (2015).

Kozák, M. et al. Optical gating and streaking of free electrons with sub-optical cycle precision. Nat. Commun. 8, 14342 (2017).

Leedle, K. J. et al. Phase-dependent laser acceleration of electrons with symmetrically driven silicon dual pillar gratings. Opt. Lett. 43, 2181 (2018).

McNeur, J. et al. Elements of a dielectric laser accelerator. Optica 5, 687–690 (2018).

Black, D. S. et al. Laser-driven electron lensing in silicon microstructures. Phys. Rev. Lett. 122, 104801 (2019).

Sapra, N. V. et al. On-chip integrated laser-driven particle accelerator. Science 367, 79–83 (2020).

Shiltsev, V. & Zimmermann, F. Modern and future colliders. Rev. Mod. Phys. 93, 015006 (2021).

Naranjo, B., Valloni, A., Putterman, S. & Rosenzweig, J. B. Stable charged-particle acceleration and focusing in a laser accelerator using spatial harmonics. Phys. Rev. Lett. 109, 164803 (2012).

Niedermayer, U., Egenolf, T. & Boine-Frankenheim, O. Three dimensional alternating-phase focusing for dielectric-laser electron accelerators. Phys. Rev. Lett. 125, 164801 (2020).

Kozák, M. et al. Ultrafast scanning electron microscope applied for studying the interaction between free electrons and optical near-fields of periodic nanostructures. J. Appl. Phys. 124, 023104 (2018).

Yousefi, P. et al. Dielectric laser electron acceleration in a dual pillar grating with a distributed Bragg reflector. Opt. Lett. 44, 1520 (2019).

Roques-Carmes, C. et al. Towards integrated tunable all-silicon free-electron light sources. Nat. Commun. 10, 3176 (2019).

Wiedemann, H. Particle Accelerator Physics (Springer, 2015).

Hirano, T. et al. A compact electron source for the dielectric laser accelerator. Appl. Phys. Lett. (2020).

Zhao, Z. et al. Design of a multichannel photonic crystal dielectric laser accelerator. Photon. Res. 8, 1586–1598 (2020).

Staude, I. et al. Waveguides in three-dimensional photonic bandgap materials for particle-accelerator on a chip architectures. Opt. Express 20, 5607–5612 (2012).

Egenolf, T., Niedermayer, U. & Boine-Frankenheim, O. Tracking with wakefields in dielectric laser acceleration grating structures. Phys. Rev. Accel. Beams 23, 054402 (2020). 0987654321``

Kimura, W. D., Poaorelsky, I. V & Schächter, L. CO2-laser-driven dielectric laser accelerator. In 2018 IEEE Advanced Accelerator Concepts Workshop (AAC) https://doi.org/10.1109/AAC.2018.8659403 (2018).

Egerton, R. F. Outrun radiation damage with electrons? Adv. Struct. Chem. Imaging 1, 5 (2015).

Cros, B. & Muggli, P. Input to the European Particle Physics Strategy Update. in Advanced Linear Collider Study Group (ALEGRO collaboration) (2018).

Brüning, O. S. et al. LHC Design Report CERN-2004-003-V-1 (2004).
Acknowledgements
We acknowledge discussions with the members of the Accelerator on a Chip International Program (ACHIP). We thank the clean-room facility staff at the Max Planck Institute for the Science of Light for continued assistance. We acknowledge funding by the Gordon and Betty Moore Foundation (#GBMF4744), ERC grants NearFieldAtto (#616823) and AccelOnChip (#884217) and BMBF projects 05K19WEB and 05K19RDE.
Ethics declarations
Competing interests
The authors declare no competing interests.
Additional information
Peer review information Nature thanks James Rosenzweig, Yelong Wei and the other, anonymous, reviewer(s) for their contribution to the peer review of this work.
Publisher's note Springer Nature remains neutral with regard to jurisdictional claims in published maps and institutional affiliations.
Extended data figures and tables
About this article
Cite this article
Shiloh, R., Illmer, J., Chlouba, T. et al. Electron phase-space control in photonic chip-based particle acceleration. Nature 597, 498–502 (2021). https://doi.org/10.1038/s41586-021-03812-9
Received:

Accepted:

Published:

Issue Date:

DOI: https://doi.org/10.1038/s41586-021-03812-9
Comments
By submitting a comment you agree to abide by our Terms and Community Guidelines. If you find something abusive or that does not comply with our terms or guidelines please flag it as inappropriate.