Abstract
In mammals, cyclic GMP–AMP (cGAMP) synthase (cGAS) produces the cyclic dinucleotide 2′3′-cGAMP in response to cytosolic DNA and this triggers an antiviral immune response. cGAS belongs to a large family of cGAS/DncV-like nucleotidyltransferases that is present in both prokaryotes1 and eukaryotes2,3,4,5. In bacteria, these enzymes synthesize a range of cyclic oligonucleotides and have recently emerged as important regulators of phage infections6,7,8. Here we identify two cGAS-like receptors (cGLRs) in the insect Drosophila melanogaster. We show that cGLR1 and cGLR2 activate Sting- and NF-κB-dependent antiviral immunity in response to infection with RNA or DNA viruses. cGLR1 is activated by double-stranded RNA to produce the cyclic dinucleotide 3′2′-cGAMP, whereas cGLR2 produces a combination of 2′3′-cGAMP and 3′2′-cGAMP in response to an as-yet-unidentified stimulus. Our data establish cGAS as the founding member of a family of receptors that sense different types of nucleic acids and trigger immunity through the production of cyclic dinucleotides beyond 2′3′-cGAMP.
Relevant articles
Open Access articles citing this article.
Mengyi Yin

,

Wenhua Kuang

…

Manli Wang

Nature Communications Open Access 14 November 2022

Christa Kietz

&

Annika Meinander

Cell Death & Differentiation Open Access 09 July 2022

Yao Fan

,

Long Zhang

&

Fangfang Zhou

Signal Transduction and Targeted Therapy Open Access 25 October 2021
Access options
Access Nature and 54 other Nature Portfolio journals
Get Nature+, our best-value online-access subscription
$29.99 / 30 days
cancel any time
Subscribe to this journal
Receive 51 print issues and online access
$199.00 per year
only $3.90 per issue
Rent or buy this article
Prices vary by article type
from$1.95
to$39.95
Prices may be subject to local taxes which are calculated during checkout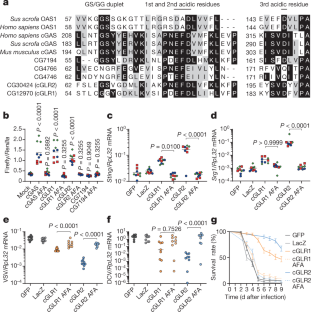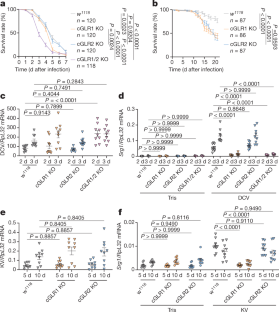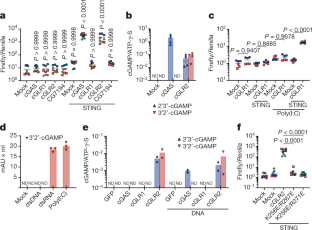 Data availability
The authors declare that the data supporting the findings of this study are available within the Article and its Supplementary Information. The sequences and structures used in this study are CG12970 (UniProt: A1ZA55), CG30424 (UniProt: A8DYP7), CG4746 (UniProt: Q9U3W6), CG4766 (UniProt: Q9Y106), CG7194 (UniProt: Q9VSH0), porcine OAS1 (UniProt: Q29599), human OAS1 (UniProt: P00973-1), human cGAS (UniProt: Q8N884-1), porcine cGAS (UniProt: I3LM39), mouse cGAS (UniProt: Q8BSY1) and mouse cGAS in complex with DNA and a cGAMP intermediate analogue (Protein Data Bank code 4K98). Source data are provided with this paper.
References
Whiteley, A. T. et al. Bacterial cGAS-like enzymes synthesize diverse nucleotide signals. Nature 567, 194–199 (2019).

Ablasser, A. et al. cGAS produces a 2′-5′-linked cyclic dinucleotide second messenger that activates STING. Nature 498, 380–384 (2013).

Civril, F. et al. Structural mechanism of cytosolic DNA sensing by cGAS. Nature 498, 332–337 (2013).

Sun, L., Wu, J., Du, F., Chen, X. & Chen, Z. J. Cyclic GMP–AMP synthase is a cytosolic DNA sensor that activates the type I interferon pathway. Science 339, 786–791 (2013).

Wu, J. et al. Cyclic GMP–AMP is an endogenous second messenger in innate immune signaling by cytosolic DNA. Science 339, 826–830 (2013).

Lowey, B. et al. CBASS immunity uses CARF-related effectors to sense 3′-5′- and 2′-5′-linked cyclic oligonucleotide signals and protect bacteria from phage infection. Cell 182, 38–49 (2020).

Morehouse, B. R. et al. STING cyclic dinucleotide sensing originated in bacteria. Nature 586, 429–433 (2020).

Cohen, D. et al. Cyclic GMP–AMP signalling protects bacteria against viral infection. Nature 574, 691–695 (2019).

Guo, Z., Li, Y. & Ding, S. W. Small RNA-based antimicrobial immunity. Nat. Rev. Immunol. 19, 31–44 (2019).

Schneider, J. & Imler, J. L. Sensing and signalling viral infection in Drosophila. Dev. Comp. Immunol. 117, 103985 (2021).

Goto, A. et al. The kinase IKKβ regulates a STING- and NF-κB-dependent antiviral response pathway in Drosophila. Immunity 49, 225–234 (2018).

Liu, Y. et al. Inflammation-induced, STING-dependent autophagy restricts Zika virus infection in the Drosophila brain. Cell Host Microbe 24, 57–68 (2018).

Hua, X. et al. Stimulator of interferon genes (STING) provides insect antiviral immunity by promoting Dredd caspase-mediated NF-κB activation. J. Biol. Chem. 293, 11878–11890 (2018).

Donelick, H. M. et al. In vitro studies provide insight into effects of Dicer-2 helicase mutations in Drosophila melanogaster. RNA 26, 1847–1861 (2020).

Jin, L. et al. MPYS is required for IFN response factor 3 activation and type I IFN production in the response of cultured phagocytes to bacterial second messengers cyclic-di-AMP and cyclic-di-GMP. J. Immunol. 187, 2595–2601 (2011).

Burdette, D. L. et al. STING is a direct innate immune sensor of cyclic di-GMP. Nature 478, 515–518 (2011).

Diner, E. J. et al. The innate immune DNA sensor cGAS produces a noncanonical cyclic dinucleotide that activates human STING. Cell Rep. 3, 1355–1361 (2013).

Gao, P. et al. Cyclic [G(2′,5′)pA(3′,5′)p] is the metazoan second messenger produced by DNA-activated cyclic GMP–AMP synthase. Cell 153, 1094–1107 (2013).

Kranzusch, P. J., Lee, A. S., Berger, J. M. & Doudna, J. A. Structure of human cGAS reveals a conserved family of second-messenger enzymes in innate immunity. Cell Rep. 3, 1362–1368 (2013).

Zhang, X. et al. Cyclic GMP–AMP containing mixed phosphodiester linkages is an endogenous high-affinity ligand for STING. Mol. Cell 51, 226–235 (2013).

Cai, H. et al. 2′3′-cGAMP triggers a STING- and NF-κB-dependent broad antiviral response in Drosophila. Sci. Signal. 13, eabc4537 (2020).

Wu, X. et al. Molecular evolutionary and structural analysis of the cytosolic DNA sensor cGAS and STING. Nucleic Acids Res. 42, 8243–8257 (2014).

Martin, M., Hiroyasu, A., Guzman, R. M., Roberts, S. A. & Goodman, A. G. Analysis of Drosophila STING reveals an evolutionarily conserved antimicrobial function. Cell Rep. 23, 3537–3550.e6 (2018).

Caygill, E. E. & Brand, A. H. The GAL4 system: a versatile system for the manipulation and analysis of gene expression. Methods Mol. Biol. 1478, 33–52 (2016).

Tanaka, Y. & Chen, Z. J. STING specifies IRF3 phosphorylation by TBK1 in the cytosolic DNA signaling pathway. Sci. Signal. 5, ra20 (2012).

Zhong, B. et al. The adaptor protein MITA links virus-sensing receptors to IRF3 transcription factor activation. Immunity 29, 538–550 (2008).

Palmer, W. H., Medd, N. C., Beard, P. M. & Obbard, D. J. Isolation of a natural DNA virus of Drosophila melanogaster, and characterisation of host resistance and immune responses. PLoS Pathog. 14, e1007050 (2018).

Slavik, K. M. et al. cGAS-like receptors sense RNA and control 3′2′-cGAMP signaling in Drosophila. Nature, https://doi.org/10.1038/s41586-021-03743-5 (2021).

Hartmann, R., Justesen, J., Sarkar, S. N., Sen, G. C. & Yee, V. C. Crystal structure of the 2′-specific and double-stranded RNA-activated interferon-induced antiviral protein 2′-5′-oligoadenylate synthetase. Mol. Cell 12, 1173–1185 (2003).

Gui, X. et al. Autophagy induction via STING trafficking is a primordial function of the cGAS pathway. Nature 567, 262–266 (2019).

McFarland, A. P. et al. Sensing of bacterial cyclic dinucleotides by the oxidoreductase RECON promotes NF-κB activation and shapes a proinflammatory antibacterial state. Immunity 46, 433–445 (2017).

Eaglesham, J. B., McCarty, K. L. & Kranzusch, P. J. Structures of diverse poxin cGAMP nucleases reveal a widespread role for cGAS–STING evasion in host–pathogen conflict. eLife 9, e59753 (2020).

Eaglesham, J. B., Pan, Y., Kupper, T. S. & Kranzusch, P. J. Viral and metazoan poxins are cGAMP-specific nucleases that restrict cGAS–STING signalling. Nature 566, 259–263 (2019).

Hernáez, B. et al. Viral cGAMP nuclease reveals the essential role of DNA sensing in protection against acute lethal virus infection. Sci. Adv. 6, eabb4565 (2020).

Lowey, B. & Kranzusch, P. J. CD-NTases and nucleotide second messenger signaling. Curr. Biol. 30, R1106–R1108 (2020).

Andersen, L. L. et al. Frequently used bioinformatics tools overestimate the damaging effect of allelic variants. Genes Immun. 20, 10–22 (2019).

Andersen, L. L. et al. Functional IRF3 deficiency in a patient with herpes simplex encephalitis. J. Exp. Med. 212, 1371–1379 (2015).

Schulz, A., Jankowski, V., Zidek, W. & Jankowski, J. Highly sensitive, selective and rapid LC-MS method for simultaneous quantification of diadenosine polyphosphates in human plasma. J. Chromatogr. B Analyt. Technol. Biomed. Life Sci. 961, 91–96 (2014).

Wang, Y., Holleufer, A., Gad, H. H. & Hartmann, R. Length dependent activation of OAS proteins by dsRNA. Cytokine 126, 154867 (2020).

Holleufer, A. & Hartmann, R. A highly sensitive anion exchange chromatography method for measuring cGAS activity in vitro. Bio Protoc. 8, e3055 (2018).

Dalskov, L. et al. SARS-CoV-2 evades immune detection in alveolar macrophages. EMBO Rep. 21, e51252 (2020).
Acknowledgements
We thank K. Slavik and P. Kranzusch for discussing and sharing information before publication; P. E. Andersen for help with generating Sting-knockout S2 cells; D. Obbard for providing Kallithea virus; and C. Meignin, J. Marques, J. Schneider and G. Haas for helpful discussions. R.H was supported by grants from the Novo Nordisk Foundation (NNF17OC0028184) and the Danish Council for Independent Research (4183-0032B and 0135-00338B). J.-L.I. was supported by Agence Nationale de la Recherche (ANR-17-CE15-0014), Investissement d'Avenir Programs (ANR-10-LABX-0036, ANR-11-EQPX-0022), Institut Universitaire de France and the Chinese National Overseas Expertise Introduction Center for Discipline Innovation (Project '111' (D18010)). H.C was supported by the Natural Science Foundation (32000662) and the Foreign Experts Program (2020A1414010306). A.P. was supported by an ERC consolidator grant (ERC-CoG ProDAP, 817798) and grants from the German Research Foundation (PI 1084/5, TRR179 and TRR237).
Ethics declarations
Competing interests
The authors declare no competing interests.
Additional information
Peer review information Nature thanks Osamu Nureki and the other, anonymous, reviewer(s) for their contribution to the peer review of this work. Peer reviewer reports are available.
Publisher's note Springer Nature remains neutral with regard to jurisdictional claims in published maps and institutional affiliations.
Extended data figures and tables
Supplementary information
This file contains the uncropped gel source data for Extended Data Figs 2, 4, 10 and 11.
About this article
Cite this article
Holleufer, A., Winther, K.G., Gad, H.H. et al. Two cGAS-like receptors induce antiviral immunity in Drosophila. Nature 597, 114–118 (2021). https://doi.org/10.1038/s41586-021-03800-z
Received:

Accepted:

Published:

Issue Date:

DOI: https://doi.org/10.1038/s41586-021-03800-z
Comments
By submitting a comment you agree to abide by our Terms and Community Guidelines. If you find something abusive or that does not comply with our terms or guidelines please flag it as inappropriate.