Abstract
Cellular dynamics and fate decision in early human embryogenesis remain largely unknown owing to the challenges of performing studies in human embryos1. Here, we explored whole-genomes of 334 single-cell colonies and targeted deep sequences of 379 bulk tissues obtained from various anatomical locations of seven recently deceased adult human donors. Using somatic mutations as an intrinsic barcode, we reconstructed early cellular phylogenies that demonstrate (1) an endogenous mutational rate that is higher in the first cell division but decreases to approximately one per cell per cell division later in life; (2) universal unequal contribution of early cells to embryo proper, resulting from early cellular bottlenecks that stochastically set aside epiblast cells within the embryo; (3) examples of varying degrees of early clonal imbalances between tissues on the left and right sides of the body, different germ layers and specific anatomical parts and organs; (4) emergence of a few ancestral cells that will substantially contribute to adult cell pools in blood and liver; and (5) presence of mitochondrial DNA heteroplasmy in the fertilized egg. Our approach also provides insights into the age-related mutational processes and loss of sex chromosomes in normal somatic cells. In sum, this study provides a foundation for future studies to complete cellular phylogenies in human embryogenesis.
Access options
Access Nature and 54 other Nature Portfolio journals
Get Nature+, our best-value online-access subscription
$29.99 / 30 days
cancel any time
Subscribe to this journal
Receive 51 print issues and online access
$199.00 per year
only $3.90 per issue
Rent or buy this article
Prices vary by article type
from$1.95
to$39.95
Prices may be subject to local taxes which are calculated during checkout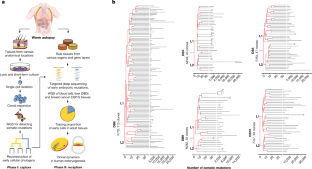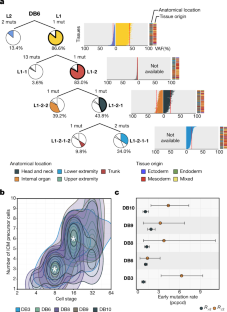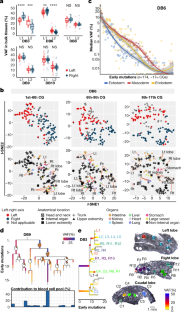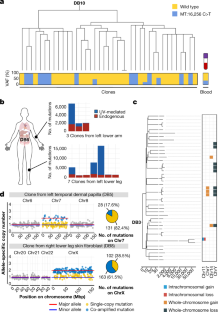 Similar content being viewed by others
Data availability
Whole-genome and targeted sequencing data are deposited in the European Genome-phenome Archive (EGA) with accession EGAS00001004824 and are available for general research use.
References
Wamaitha, S. E. & Niakan, K. K. Human pre-gastrulation development. Curr Top Dev Biol 128, 295–338 (2018).

Sender, R., Fuchs, S. & Milo, R. Revised estimates for the number of human and bacteria cells in the body. PLoS Biol. 14, e1002533 (2016).

Gasser, R. F., Cork, R. J., Stillwell, B. J. & McWilliams, D. T. Rebirth of human embryology. Dev. Dyn. 243, 621–628 (2014).

Nakamura, T. et al. A developmental coordinate of pluripotency among mice, monkeys and humans. Nature 537, 57–62 (2016).

Rossant, J. Mouse and human blastocyst-derived stem cells: vive les differences. Development 142, 9–12 (2015).

Xiang, L. et al. A developmental landscape of 3D-cultured human pre-gastrulation embryos. Nature 577, 537–542 (2020).

Shahbazi, M. N. & Zernicka-Goetz, M. Deconstructing and reconstructing the mouse and human early embryo. Nat. Cell Biol. 20, 878–887 (2018).

Samuels, M. E. & Friedman, J. M. Genetic mosaics and the germ line lineage. Genes (Basel) 6, 216–237 (2015).

Stratton, M. R., Campbell, P. J. & Futreal, P. A. The cancer genome. Nature 458, 719–724 (2009).

Ju, Y. S. et al. Somatic mutations reveal asymmetric cellular dynamics in the early human embryo. Nature 543, 714–718 (2017).

Behjati, S. et al. Genome sequencing of normal cells reveals developmental lineages and mutational processes. Nature 513, 422–425 (2014).

Gerlinger, M. et al. Intratumor heterogeneity and branched evolution revealed by multiregion sequencing. N. Engl. J. Med. 366, 883–892 (2012).

Lee-Six, H. et al. Population dynamics of normal human blood inferred from somatic mutations. Nature 561, 473–478 (2018).

Lodato, M. A. et al. Somatic mutation in single human neurons tracks developmental and transcriptional history. Science 350, 94–98 (2015).

Alexandrov, L. B. et al. The repertoire of mutational signatures in human cancer. Nature 578, 94–101 (2020).

Coorens, T. H. H. et al. Extensive phylogenies of human development reveal variable embryonic patterns. Nature https://doi.org/10.1038/s41586-021-0379-y (2021).

Sulston, J. E., Schierenberg, E., White, J. G. & Thomson, J. N. The embryonic cell lineage of the nematode Caenorhabditis elegans. Dev. Biol. 100, 64–119 (1983).

Hardy, K., Handyside, A. H. & Winston, R. M. The human blastocyst: cell number, death and allocation during late preimplantation development in vitro. Development 107, 597–604 (1989).

Sancho, M. et al. Competitive interactions eliminate unfit embryonic stem cells at the onset of differentiation. Dev. Cell 26, 19–30 (2013).

Biggins, J. S., Royer, C., Watanabe, T. & Srinivas, S. Towards understanding the roles of position and geometry on cell fate decisions during preimplantation development. Semin. Cell Dev. Biol. 47-48, 74–79 (2015).

Spencer Chapman, M. et al. Lineage tracing of human development through somatic mutations. Nature 595, 85-90 (2021).

Wennekamp, S., Mesecke, S., Nédélec, F. & Hiiragi, T. A self-organization framework for symmetry breaking in the mammalian embryo. Nat. Rev. Mol. Cell Biol. 14, 452–459 (2013).

Blakeley, P. et al. Defining the three cell lineages of the human blastocyst by single-cell RNA-seq. Development 142, 3151–3165 (2015).

Schulz, K. N. & Harrison, M. M. Mechanisms regulating zygotic genome activation. Nat. Rev. Genet. 20, 221–234 (2019).

Gardner, R. L. Normal bias in the direction of fetal rotation depends on blastomere composition during early cleavage in the mouse. PLoS ONE 5, e9610 (2010).

McKenna, A. et al. Whole-organism lineage tracing by combinatorial and cumulative genome editing. Science 353, aaf7907 (2016).

Alemany, A., Florescu, M., Baron, C. S., Peterson-Maduro, J. & van Oudenaarden, A. Whole-organism clone tracing using single-cell sequencing. Nature 556, 108–112 (2018).

Shlush, L. I. Age-related clonal hematopoiesis. Blood 131, 496–504 (2018).

Wai, T., Teoli, D. & Shoubridge, E. A. The mitochondrial DNA genetic bottleneck results from replication of a subpopulation of genomes. Nat. Genet. 40, 1484–1488 (2008).

Cummins, J. M. The role of maternal mitochondria during oogenesis, fertilization and embryogenesis. Reprod. Biomed. Online 4, 176–182 (2002).

Floros, V. I. et al. Segregation of mitochondrial DNA heteroplasmy through a developmental genetic bottleneck in human embryos. Nat. Cell Biol. 20, 144–151 (2018).

Coller, H. A. et al. High frequency of homoplasmic mitochondrial DNA mutations in human tumors can be explained without selection. Nat. Genet. 28, 147–150 (2001).

Wonnapinij, P., Chinnery, P. F. & Samuels, D. C. The distribution of mitochondrial DNA heteroplasmy due to random genetic drift. Am. J. Hum. Genet. 83, 582–593 (2008).

Sanders, M. A. et al. Life without mismatch repair. Preprint at https://doi.org/10.1101/2021.04.14.437578 (2021).

Thompson, D. J. et al. Genetic predisposition to mosaic Y chromosome loss in blood. Nature 575, 652–657 (2019).

Lee, J. J.-K. et al. Tracing oncogene rearrangements in the mutational history of lung adenocarcinoma. Cell 177, 1842–1857.e21 (2019).

Lodato, M. A. et al. Aging and neurodegeneration are associated with increased mutations in single human neurons. Science 359, 555–559 (2018).

Brunner, S. F. et al. Somatic mutations and clonal dynamics in healthy and cirrhotic human liver. Nature 574, 538–542 (2019).

Lee-Six, H. et al. The landscape of somatic mutation in normal colorectal epithelial cells. Nature 574, 532–537 (2019).

Moore, L. et al. The mutational landscape of normal human endometrial epithelium. Nature 580, 640–646 (2020).

Moore, L. et al. The mutational landscape of human somatic and germline cells. Nature https://doi.org/10.1038/s41586-021-03822-7 (2021).

Martincorena, I. et al. Somatic mutant clones colonize the human esophagus with age. Science 362, 911–917 (2018).

Martincorena, I. et al. Tumor evolution. High burden and pervasive positive selection of somatic mutations in normal human skin. Science 348, 880–886 (2015).

Yokoyama, A. et al. Age-related remodelling of oesophageal epithelia by mutated cancer drivers. Nature 565, 312–317 (2019).

Zhu, M. et al. Somatic mutations increase hepatic clonal fitness and regeneration in chronic liver disease. Cell 177, 608–621.e12 (2019).

Fasching et al. Early developmental asymmetries in cell lineage trees in living individuals? Science 371, 1245–1248 (2021). 

Jones, G. E. & Wise, C. J. Establishment, maintenance, and cloning of human dermal fibroblasts. Methods Mol. Biol. 75, 13–21 (1997).

Rittié, L. & Fisher, G. J. Isolation and culture of skin fibroblasts. Methods Mol. Med. 117, 83–98 (2005).

Vangipuram, M., Ting, D., Kim, S., Diaz, R. & Schüle, B. Skin punch biopsy explant culture for derivation of primary human fibroblasts. J. Vis. Exp. (77), e3779 (2013). https://doi.org/10.3791/3779.

Spinazzola, J. M. & Gussoni, E. Isolation of primary human skeletal muscle cells. Bio Protoc. 7, e2591 (2017).

Oh, J. W. et al. A guide to studying human hair follicle cycling in vivo. J. Invest. Dermatol. 136, 34–44 (2016).

Li, H. & Durbin, R. Fast and accurate short read alignment with Burrows–Wheeler transform. Bioinformatics 25, 1754–1760 (2009).

McKenna, A. et al. The Genome Analysis Toolkit: a MapReduce framework for analyzing next-generation DNA sequencing data. Genome Res. 20, 1297–1303 (2010).

Van der Auwera, G. A. et al. From FastQ data to high confidence variant calls: the Genome Analysis Toolkit best practices pipeline. Curr Protoc Bioinformatics 11, 11.10.1–11.10.33 (2013).

Koboldt, D. C. et al. VarScan 2: somatic mutation and copy number alteration discovery in cancer by exome sequencing. Genome Res. 22, 568–576 (2012).

Robinson, J. T. et al. Integrative genomics viewer. Nat. Biotechnol. 29, 24–26 (2011).

Nik-Zainal, S. et al. The life history of 21 breast cancers. Cell 149, 994–1007 (2012).

Gusfield, D. Efficient algorithms for inferring evolutionary trees. Networks 21, 19–28 (1991).

Yu, G., Smith, D. K., Zhu, H., Guan, Y. & Lam, T. T.-Y. GGTREE: An R package for visualization and annotation of phylogenetic trees with their covariates and other associated data. Methods Ecol. Evol. (2016).

Strnad, P. et al. Inverted light-sheet microscope for imaging mouse pre-implantation development. Nat. Methods 13, 139–142 (2016).

Bertorelle, G., Benazzo, A. & Mona, S. ABC as a flexible framework to estimate demography over space and time: some cons, many pros. Mol. Ecol. 19, 2609–2625 (2010).

Zernicka-Goetz, M., Morris, S. A. & Bruce, A. W. Making a firm decision: multifaceted regulation of cell fate in the early mouse embryo. Nat. Rev. Genet. 10, 467–477 (2009).

Csilléry, K., François, O. & Blum, M. G. B. abc: an R package for approximate Bayesian computation (ABC). Methods Ecol. Evol. 3, 475–479 (2012).

Krijthe, J. H. Rtsne: t-distributed stochastic neighbor embedding using a Barnes–Hut implementation (R package, 2015).

van den Ameele, J., Li, A. Y. Z., Ma, H. & Chinnery, P. F. Mitochondrial heteroplasmy beyond the oocyte bottleneck. Semin. Cell Dev. Biol. 97, 156–166 (2020).

Taylor, R. W. & Turnbull, D. M. Mitochondrial DNA mutations in human disease. Nat. Rev. Genet. 6, 389–402 (2005).

Hickerson, M. J., Stahl, E. & Takebayashi, N. msBayes: pipeline for testing comparative phylogeographic histories using hierarchical approximate Bayesian computation. BMC Bioinformatics 8, 268 (2007).

Alexandrov, L. B. et al. Signatures of mutational processes in human cancer. Nature 500, 415–421 (2013).

Borchers, H. W. pracma: practical numerical math functions (R package, 2019).

Favero, F. et al. Sequenza: allele-specific copy number and mutation profiles from tumor sequencing data. Ann. Oncol. 26, 64–70 (2015).

Rausch, T. et al. DELLY: structural variant discovery by integrated paired-end and split-read analysis. Bioinformatics 28, i333–i339 (2012).
Acknowledgements
We are deeply indebted to the individuals who donated their cells and tissues for this study. We thank M. R. Stratton, P. J. Campbell, T. H. H. Coorens, R. Rahbari, L. Moore, A. Cagan and M. V. Plikus for their fruitful comments and discussions. We thank J.-Y. Shin, M. S. Jun, H. Jung, J. H. Lee, H. S. Lee, J. Y. Jeon, J. H. Jeon, S. Cho and J. S. Lee, for their methodological advice and technical assistance. This work was supported by the Korea Health Technology R&D Project through the Korea Health Industry Development Institute funded by the Ministry of Health and Welfare of Korea (HI17C1836 to Y.S.J.), the Suh Kyungbae Foundation (SUHF-18010082 to Y.S.J.), a National Research Foundation (NRF) of Korea funded by the Korean Government (NRF-2020R1A3B2078973 to Y.S.J.; NRF-2019R1I1A3A01060675, NRF-2020R1A5A2017323 and NRF-2021R1C1C1014425 to J.W.O.; NRF-2020R1A6A3A01100621 to S.P.; and NRF-2019H1D3A2A02061168 to S.Y.K.).
Ethics declarations
Competing interests
Y.S.J. is a founder and chief executive officer of GENOME INSIGHT Inc. J.W.O. is a founder and chief executive officer of Immune Square Inc.
Additional information
Peer review information Nature thanks Chloé Baron, Aaron Mckenna and the other, anonymous, reviewer(s) for their contribution to the peer review of this work.
Publisher's note Springer Nature remains neutral with regard to jurisdictional claims in published maps and institutional affiliations.
Extended data figures and tables
Supplementary information
About this article
Cite this article
Park, S., Mali, N.M., Kim, R. et al. Clonal dynamics in early human embryogenesis inferred from somatic mutation. Nature 597, 393–397 (2021). https://doi.org/10.1038/s41586-021-03786-8
Received:

Accepted:

Published:

Issue Date:

DOI: https://doi.org/10.1038/s41586-021-03786-8
Comments
By submitting a comment you agree to abide by our Terms and Community Guidelines. If you find something abusive or that does not comply with our terms or guidelines please flag it as inappropriate.