Abstract
The mammalian brain develops through a complex interplay of spatial cues generated by diffusible morphogens, cell–cell interactions and intrinsic genetic programs that result in probably more than a thousand distinct cell types. A complete understanding of this process requires a systematic characterization of cell states over the entire spatiotemporal range of brain development. The ability of single-cell RNA sequencing and spatial transcriptomics to reveal the molecular heterogeneity of complex tissues has therefore been particularly powerful in the nervous system. Previous studies have explored development in specific brain regions1,2,3,4,5,6,7,8, the whole adult brain9 and even entire embryos10. Here we report a comprehensive single-cell transcriptomic atlas of the embryonic mouse brain between gastrulation and birth. We identified almost eight hundred cellular states that describe a developmental program for the functional elements of the brain and its enclosing membranes, including the early neuroepithelium, region-specific secondary organizers, and both neurogenic and gliogenic progenitors. We also used in situ mRNA sequencing to map the spatial expression patterns of key developmental genes. Integrating the in situ data with our single-cell clusters revealed the precise spatial organization of neural progenitors during the patterning of the nervous system.
This is a preview of subscription content
Access options
Subscribe to Journal
Get full journal access for 1 year
$199.00
only $3.90 per issue
All prices are NET prices.
VAT will be added later in the checkout.
Tax calculation will be finalised during checkout.
Rent or Buy article
Get time limited or full article access on ReadCube.
from$8.99
All prices are NET prices.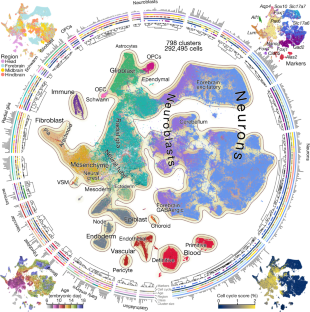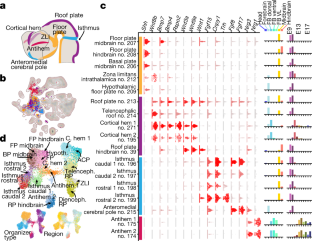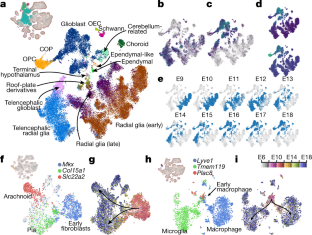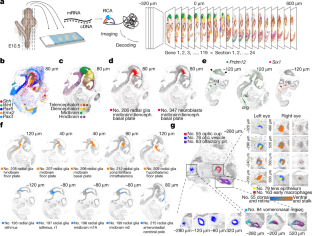 References
1.

Camp, J. G. et al. Human cerebral organoids recapitulate gene expression programs of fetal neocortex development. Proc. Natl Acad. Sci. USA 112, 15672–15677 (2015).

2.

Pollen, A. A. et al. Molecular identity of human outer radial glia during cortical development. Cell 163, 55–67 (2015).

3.

Nowakowski, T. J. et al. Spatiotemporal gene expression trajectories reveal developmental hierarchies of the human cortex. Science 358, 1318–1323 (2017).

4.

Zhong, S. et al. A single-cell RNA-seq survey of the developmental landscape of the human prefrontal cortex. Nature 555, 524–528 (2018).

5.

Telley, L. et al. Temporal patterning of apical progenitors and their daughter neurons in the developing neocortex. Science 364, eaav2522 (2019).

6.

La Manno, G. et al. Molecular diversity of midbrain development in mouse, human, and stem cells. Cell 167, 566–580.e19 (2016).

7.

Carter, R. A. et al. A single-cell transcriptional atlas of the developing murine cerebellum. Curr. Biol. 28, 2910–2920.e2 (2018).

8.

Zeisel, A. et al. Molecular architecture of the mouse nervous system. Cell 174, 999–1014.e22 (2018).

9.

Rosenberg, A. B. et al. Single-cell profiling of the developing mouse brain and spinal cord with split-pool barcoding. Science 360, 176–182 (2018).

10.

Cao, J. et al. The single-cell transcriptional landscape of mammalian organogenesis. Nature 566, 496–502 (2019).

11.

Siegenthaler, J. A. & Pleasure, S. J. in Patterning and Cell Type Specification in the Developing CNS and PNS (eds. Rubenstein, J. L. R. & Rakic, P.) 835–849 (Elsevier, 2013).

12.

Niwa, H., Miyazaki, J. & Smith, A. G. Quantitative expression of Oct-3/4 defines differentiation, dedifferentiation or self-renewal of ES cells. Nat. Genet. 24, 372–376 (2000).

13.

Burtscher, I. & Lickert, H. Foxa2 regulates polarity and epithelialization in the endoderm germ layer of the mouse embryo. Development 136, 1029–1038 (2009).

14.

Li, L. et al. Location of transient ectodermal progenitor potential in mouse development. Development 140, 4533–4543 (2013).

15.

Zhang, X. et al. Pax6 is a human neuroectoderm cell fate determinant. Cell Stem Cell 7, 90–100 (2010).

16.

Hatakeyama, J. et al. Hes genes regulate size, shape and histogenesis of the nervous system by control of the timing of neural stem cell differentiation. Development 131, 5539–5550 (2004).

17.

Pijuan-Sala, B. et al. A single-cell molecular map of mouse gastrulation and early organogenesis. Nature 566, 490–495 (2019).

18.

Tamai, H. et al. Pax6 transcription factor is required for the interkinetic nuclear movement of neuroepithelial cells. Genes Cells 12, 983–996 (2007).

19.

Alves dos Santos, M. T. M. & Smidt, M. P. En1 and Wnt signaling in midbrain dopaminergic neuronal development. Neural Dev. 6, 23 (2011).

20.

Schwarz, M. et al. Pax2/5 and Pax6 subdivide the early neural tube into three domains. Mech. Dev. 82, 29–39 (1999).

21.

Sato, S. et al. Regulation of Six1 expression by evolutionarily conserved enhancers in tetrapods. Dev. Biol. 368, 95–108 (2012).

22.

Dasgupta, K. & Jeong, J. Developmental biology of the meninges. Genesis 57, e23288 (2019).

23.

DeSisto, J. et al. Single-cell transcriptomic analyses of the developing meninges reveal meningeal fibroblast diversity and function. Dev. Cell 54, 43–59.e4 (2020).

24.

Hammond, T. R. et al. Single-cell RNA sequencing of microglia throughout the mouse lifespan and in the injured brain reveals complex cell-state changes. Immunity 50, 253–271.e6 (2019).

25.

Lein, E. S. et al. Genome-wide atlas of gene expression in the adult mouse brain. Nature 445, 168–176 (2007).

26.

Murdoch, J. N., Eddleston, J., Leblond-Bourget, N., Stanier, P. & Copp, A. J. Sequence and expression analysis of Nhlh1: a basic helix-loop-helix gene implicated in neurogenesis. Dev. Genet. 24, 165–177 (1999).

27.

Gyllborg, D. et al. Hybridization-based in situ sequencing (HybISS) for spatially resolved transcriptomics in human and mouse brain tissue. Nucleic Acids Res. 48, e112 (2020).

28.

Biancalani, T. et al. Deep learning and alignment of spatially-resolved whole transcriptomes of single cells in the mouse brain with Tangram. Preprint at https://doi.org/10.1101/2020.08.29.272831 (2020).

29.

Kinameri, E. et al. Prdm proto-oncogene transcription factor family expression and interaction with the Notch-Hes pathway in mouse neurogenesis. PLoS ONE 3, e3859 (2008).

30.

Sakamoto, T. & Ishibashi, T. Hyalocytes: essential cells of the vitreous cavity in vitreoretinal pathophysiology? Retina 31, 222–228 (2011).

31.

La Manno, G. et al. RNA velocity of single cells. Nature 560, 494–498 (2018).

32.

Gyllborg, D. & Nilsson, M. HybISS: hybridization-based in situ sequencing. protocols.io., https://doi.org/10.17504/protocols.io.xy4fpyw (2020).

33.

Gopalan, P., Hofman, J. M. & Blei, D. M. Scalable recommendation with Poisson factorization. Preprint at https://arxiv.org/abs/1311.1704 (2013).

34.

Kobak, D. & Berens, P. The art of using t-SNE for single-cell transcriptomics. Nat. Commun. 10, 5416 (2019).

35.

Chalfoun, J. et al. MIST: accurate and scalable microscopy image stitching tool with stage modeling and error minimization. Sci. Rep. 7, 4988 (2017).
Acknowledgements
We thank H. Hochgerner and A. Zeisel for advice; E. Arenas for assistance with anatomical annotation; P. Ernfors for supporting the work of A.F.; and the National Genomics Infrastructure for sequencing services. This work was supported by grants from the Knut and Alice Wallenberg Foundation (2015.0041 and 2018.0220 to S.L., and 2018.0172 to S.L. and M.N.), the Erling Persson Family Foundation (HDCA, to S.L. and M.N.), the Chan Zuckerberg Initiative, Torsten Söderberg Foundation and the Swedish Foundation for Strategic Research (RIF 15-0057 and SB16-0065) to S.L., Hjärnfonden (PS2018-0012) to D.G., the Chan Zuckerberg Initiative DAF, an advised fund of Silicon Valley Community Foundation (2018-191929) to M.N., and the Swiss National Science Foundation (CRSK-3_190495 and PZ00P3_193445) and the School of Life Sciences – EPFL to G.L.M. K.S. was supported by the European Molecular Biology Organization (ALTF 1015-2018).
Ethics declarations
Competing interests
M.N. serves as a scientific advisor for 10x Genomics. All other authors declare no competing financial interests.
Additional information
Peer review information Nature thanks Jennie Close, Mario Suva and the other, anonymous, reviewer(s) for their contribution to the peer review of this work. Peer reviewer reports are available.
Publisher's note Springer Nature remains neutral with regard to jurisdictional claims in published maps and institutional affiliations.
Extended data figures and tables
Supplementary information
About this article
Cite this article
La Manno, G., Siletti, K., Furlan, A. et al. Molecular architecture of the developing mouse brain. Nature 596, 92–96 (2021). https://doi.org/10.1038/s41586-021-03775-x
Received:

Accepted:

Published:

Issue Date:
Comments
By submitting a comment you agree to abide by our Terms and Community Guidelines. If you find something abusive or that does not comply with our terms or guidelines please flag it as inappropriate.