Abstract
The mTOR complex 1 (mTORC1) controls cell growth in response to amino acid levels1. Here we report SAR1B as a leucine sensor that regulates mTORC1 signalling in response to intracellular levels of leucine. Under conditions of leucine deficiency, SAR1B inhibits mTORC1 by physically targeting its activator GATOR2. In conditions of leucine sufficiency, SAR1B binds to leucine, undergoes a conformational change and dissociates from GATOR2, which results in mTORC1 activation. SAR1B–GATOR2–mTORC1 signalling is conserved in nematodes and has a role in the regulation of lifespan. Bioinformatic analysis reveals that SAR1B deficiency correlates with the development of lung cancer. The silencing of SAR1B and its paralogue SAR1A promotes mTORC1-dependent growth of lung tumours in mice. Our results reveal that SAR1B is a conserved leucine sensor that has a potential role in the development of lung cancer.
Access options
Subscribe to Journal
Get full journal access for 1 year
$199.00
only $3.90 per issue
All prices are NET prices.
VAT will be added later in the checkout.
Tax calculation will be finalised during checkout.
Rent or Buy article
Get time limited or full article access on ReadCube.
from$8.99
All prices are NET prices.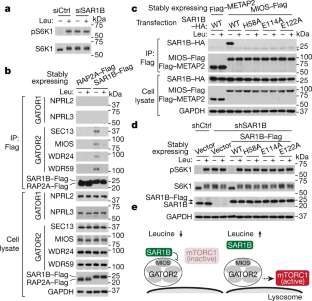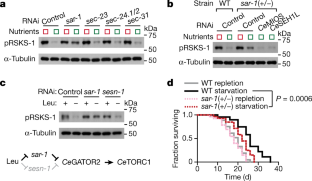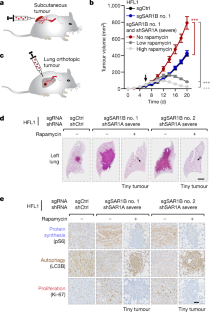 Data availability
All data that support the findings of this study are contained in the Article and its Supplementary Information; any further relevant data are available from corresponding authors upon reasonable request. Source data are provided with this paper.
References
1.

Dibble, C. C. & Manning, B. D. Signal integration by mTORC1 coordinates nutrient input with biosynthetic output. Nat. Cell Biol. 15, 555–564 (2013).

2.

Wullschleger, S., Loewith, R. & Hall, M. N. TOR signaling in growth and metabolism. Cell 124, 471–484 (2006).

3.

Jewell, J. L., Russell, R. C. & Guan, K. L. Amino acid signalling upstream of mTOR. Nat. Rev. Mol. Cell Biol. 14, 133–139 (2013).

4.

Bar-Peled, L. et al. A Tumor suppressor complex with GAP activity for the Rag GTPases that signal amino acid sufficiency to mTORC1. Science 340, 1100–1106 (2013).

5.

Chantranupong, L. et al. The CASTOR proteins are arginine sensors for the mTORC1 pathway. Cell 165, 153–164 (2016).

6.

Wolfson, R. L. et al. Sestrin2 is a leucine sensor for the mTORC1 pathway. Science 351, 43–48 (2016).

7.

Zanetti, G., Pahuja, K. B., Studer, S., Shim, S. & Schekman, R. COPII and the regulation of protein sorting in mammals. Nat. Cell Biol. 14, 20–28 (2012).

8.

Sancak, Y. et al. The Rag GTPases bind raptor and mediate amino acid signaling to mTORC1. Science 320, 1496–1501 (2008).

9.

Wolfson, R. L. et al. KICSTOR recruits GATOR1 to the lysosome and is necessary for nutrients to regulate mTORC1. Nature 543, 438–442 (2017).

10.

Lynch, C. J., Fox, H. L., Vary, T. C., Jefferson, L. S. & Kimball, S. R. Regulation of amino acid-sensitive TOR signaling by leucine analogues in adipocytes. J. Cell. Biochem. 77, 234–251 (2000).

11.

Lynch, C. J. Role of leucine in the regulation of mTOR by amino acids: revelations from structure–activity studies. J. Nutr. 131, 861S–865S (2001).

12.

Lapierre, L. R. et al. The TFEB orthologue HLH-30 regulates autophagy and modulates longevity in Caenorhabditis elegans. Nat. Commun. 4, 2267 (2013).

13.

Chen, J. et al. Metformin extends C. elegans lifespan through lysosomal pathway. eLife 6, e31268 (2017).

14.

Vellai, T. et al. Genetics: influence of TOR kinase on lifespan in C. elegans. Nature 426, 620 (2003).

15.

Harrison, D. E. et al. Rapamycin fed late in life extends lifespan in genetically heterogeneous mice. Nature 460, 392–395 (2009).

16.

Guertin, D. A. & Sabatini, D. M. Defining the role of mTOR in cancer. Cancer Cell 12, 9–22 (2007).

17.

Ding, B., Parmigiani, A., Yang, C. & Budanov, A. V. Sestrin2 facilitates death receptor-induced apoptosis in lung adenocarcinoma cells through regulation of XIAP degradation. Cell Cycle 14, 3231–3241 (2015).

18.

Chen, K. B. et al. Sestrin2 expression is a favorable prognostic factor in patients with non-small cell lung cancer. Am. J. Transl. Res. 8, 1903–1909 (2016).

19.

Buse, M. G. & Reid, S. S. Leucine. a possible regulator of protein turnover in muscle. J. Clin. Invest. 56, 1250–1261 (1975).

20.

Chen, J. et al. KLHL22 activates amino-acid-dependent mTORC1 signalling to promote tumorigenesis and ageing. Nature 557, 585–589 (2018).
Acknowledgements
We thank I. Hanson for reading and editing the manuscript. This work was supported by the National Natural Science Foundation of China (31925012 and 91854205), the National Key Research and Development Program of China (2017YFA0504000973) and an HHMI International Research Scholar Program (55008739) to Y. Liu. Y. Liu was also supported by Beijing Advanced Innovation Center for Genomics, Peking-Tsinghua Center for Life Sciences, and the Tencent Foundation through the XPLORER PRIZE.
Ethics declarations
Competing interests
The authors declare no competing interests.
Additional information
Peer review information Nature thanks Tibor Vellai and the other, anonymous, reviewer(s) for their contribution to the peer review of this work. Peer reviewer reports are available.
Publisher's note Springer Nature remains neutral with regard to jurisdictional claims in published maps and institutional affiliations.
Extended data figures and tables
Supplementary information
About this article
Cite this article
Chen, J., Ou, Y., Luo, R. et al. SAR1B senses leucine levels to regulate mTORC1 signalling. Nature (2021). https://doi.org/10.1038/s41586-021-03768-w
Received:

Accepted:

Published:
Comments
By submitting a comment you agree to abide by our Terms and Community Guidelines. If you find something abusive or that does not comply with our terms or guidelines please flag it as inappropriate.