Abstract
Hepatocellular carcinoma (HCC)—the most common form of liver cancer—is an aggressive malignancy with few effective treatment options1. Lenvatinib is a small-molecule inhibitor of multiple receptor tyrosine kinases that is used for the treatment of patients with advanced HCC, but this drug has only limited clinical benefit2. Here, using a kinome-centred CRISPR–Cas9 genetic screen, we show that inhibition of epidermal growth factor receptor (EGFR) is synthetic lethal with lenvatinib in liver cancer. The combination of the EGFR inhibitor gefitinib and lenvatinib displays potent anti-proliferative effects in vitro in liver cancer cell lines that express EGFR and in vivo in xenografted liver cancer cell lines, immunocompetent mouse models and patient-derived HCC tumours in mice. Mechanistically, inhibition of fibroblast growth factor receptor (FGFR)  by lenvatinib treatment leads to feedback activation of the EGFR–PAK2–ERK5 signalling axis, which is blocked by EGFR inhibition. Treatment of 12 patients with advanced HCC who were unresponsive to lenvatinib treatment with the combination of lenvatinib plus gefitinib (trial identifier NCT04642547) resulted in meaningful clinical responses. The combination therapy identified here may represent a promising strategy for the approximately 50% of patients with advanced HCC who have high levels of EGFR.
Relevant articles
Open Access articles citing this article.
Erbao Chen

,

Yu He

…

Jian Zhang

Experimental Hematology & Oncology Open Access 13 January 2023

Yang Yang

,

Shuo Li

…

Qiu Li

Signal Transduction and Targeted Therapy Open Access 17 September 2022

Xuhui Ma

,

Shanshan Wu

…

Cun Wang

Cell Discovery Open Access 23 August 2022
Access options
Subscribe to Nature+
Get immediate online access to Nature and 55 other Nature journal
Subscribe to Journal
Get full journal access for 1 year
$199.00
only $3.90 per issue
All prices are NET prices.
VAT will be added later in the checkout.
Tax calculation will be finalised during checkout.
Buy article
Get time limited or full article access on ReadCube.
$32.00
All prices are NET prices.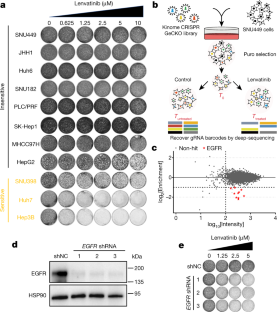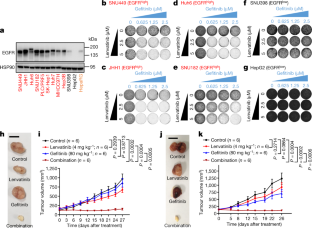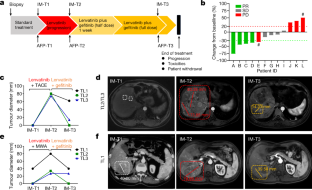 Data availability
All data that support the findings of this study are available from the corresponding authors upon reasonable request. The RNA-sequencing data have been deposited in the Gene Expression Omnibus (GSE157905). Source data are provided with this paper.
References
Villanueva, A. Hepatocellular carcinoma. N. Engl. J. Med. 380, 1450–1462 (2019).

Kudo, M. et al. Lenvatinib versus sorafenib in first-line treatment of patients with unresectable hepatocellular carcinoma: a randomised phase 3 non-inferiority trial. Lancet 391, 1163–1173 (2018).

Sung, H. et al. Global cancer statistics 2020: GLOBOCAN estimates of incidence and mortality worldwide for 36 cancers in 185 countries. CA Cancer J. Clin. 71, 209–249 (2021).

Zucman-Rossi, J., Villanueva, A., Nault, J.-C. & Llovet, J. M. Genetic landscape and biomarkers of hepatocellular carcinoma. Gastroenterology 149, 1226–1239 (2015).

Llovet, J. M. et al. Sorafenib in advanced hepatocellular carcinoma. N. Engl. J. Med. 359, 378–390 (2008).

Finn, R. S. et al. Atezolizumab plus bevacizumab in unresectable hepatocellular carcinoma. N. Engl. J. Med. 382, 1894–1905 (2020).

Evers, B. et al. CRISPR knockout screening outperforms shRNA and CRISPRi in identifying essential genes. Nat. Biotechnol. 34, 631–633 (2016).

Zhu, A. X. et al. SEARCH: a phase III, randomized, double-blind, placebo-controlled trial of sorafenib plus erlotinib in patients with advanced hepatocellular carcinoma. J. Clin. Oncol. 33, 559–566 (2015).

Matsuki, M. et al. Lenvatinib inhibits angiogenesis and tumor fibroblast growth factor signaling pathways in human hepatocellular carcinoma models. Cancer Med. 7, 2641–2653 (2018).

Wagle, M.-C. et al. A transcriptional MAPK Pathway Activity Score (MPAS) is a clinically relevant biomarker in multiple cancer types. NPJ Precis. Oncol. 2, 7 (2018).

Pirker, R. et al. EGFR expression as a predictor of survival for first-line chemotherapy plus cetuximab in patients with advanced non-small-cell lung cancer: analysis of data from the phase 3 FLEX study. Lancet Oncol. 13, 33–42 (2012).

Kimura, T. et al. Immunomodulatory activity of lenvatinib contributes to antitumor activity in the Hepa1-6 hepatocellular carcinoma model. Cancer Sci. 109, 3993–4002 (2018).

Li, E., Lin, L., Chen, C. W. & Ou, D. L. Mouse models for immunotherapy in hepatocellular carcinoma. Cancers (Basel) 11, 1800 (2019).

Keng, V. W. et al. A conditional transposon-based insertional mutagenesis screen for genes associated with mouse hepatocellular carcinoma. Nat. Biotechnol. 27, 264–274 (2009).

He, H. et al. Platelet-derived growth factor requires epidermal growth factor receptor to activate p21-activated kinase family kinases. J. Biol. Chem. 276, 26741–26744 (2001).

Lee, S.-W. et al. EGFR–Pak signaling selectively regulates glutamine deprivation-induced macropinocytosis. Dev. Cell 50, 381–392 (2019).

Vaseva, A. V. et al. KRAS suppression-induced degradation of MYC is antagonized by a MEK5–ERK5 compensatory mechanism. Cancer Cell 34, 807–822 (2018).

Duncan, J. S. et al. Dynamic reprogramming of the kinome in response to targeted MEK inhibition in triple-negative breast cancer. Cell 149, 307–321 (2012).

Lito, P. et al. Relief of profound feedback inhibition of mitogenic signaling by RAF inhibitors attenuates their activity in BRAFV600E melanomas. Cancer Cell 22, 668–682 (2012).

Kosoff, R. E. et al. Pak2 restrains endomitosis during megakaryopoiesis and alters cytoskeleton organization. Blood 125, 2995–3005 (2015).

Kobayashi, S. et al. Transcriptional profiling identifies cyclin D1 as a critical downstream effector of mutant epidermal growth factor receptor signaling. Cancer Res. 66, 11389–11398 (2006).

Philip, P. A. et al. Phase II study of erlotinib (OSI-774) in patients with advanced hepatocellular cancer. J. Clin. Oncol. 23, 6657–6663 (2005).

Chan, S. L. et al. New utility of an old marker: serial α-fetoprotein measurement in predicting radiologic response and survival of patients with hepatocellular carcinoma undergoing systemic chemotherapy. J. Clin. Oncol. 27, 446–452 (2009).

Llovet, J. M. & Lencioni, R. mRECIST for HCC: performance and novel refinements. J. Hepatol. 72, 288–306 (2020).

Ding, X. et al. Genomic and epigenomic features of primary and recurrent hepatocellular carcinomas. Gastroenterology 157, 1630–1645 (2019).

Cremolini, C. et al. Early tumor shrinkage and depth of response predict long-term outcome in metastatic colorectal cancer patients treated with first-line chemotherapy plus bevacizumab: results from phase III TRIBE trial by the Gruppo Oncologico del Nord Ovest. Ann. Oncol. 26, 1188–1194 (2015).

Love, M. I., Huber, W. & Anders, S. Moderated estimation of fold change and dispersion for RNA-seq data with DESeq2. Genome Biol. 15, 550 (2014).

Jin, H. et al. Regulator of calcineurin 1 gene isoform 4, down-regulated in hepatocellular carcinoma, prevents proliferation, migration, and invasive activity of cancer cells and metastasis of orthotopic tumors by inhibiting nuclear translocation of NFAT1. Gastroenterology 153, 799–811 (2017).

Mazières, J. et al. Evaluation of EGFR protein expression by immunohistochemistry using H-score and the magnification rule: re-analysis of the SATURN study. Lung Cancer 82, 231–237 (2013).

Sun, C. et al. Reversible and adaptive resistance to BRAF(V600E) inhibition in melanoma. Nature 508, 118–122 (2014).

Wang, L. et al. High-throughput functional genetic and compound screens identify targets for senescence induction in cancer. Cell Rep. 21, 773–783 (2017).

Schuhmacher, M. et al. The transcriptional program of a human B cell line in response to Myc. Nucleic Acids Res. 29, 397–406 (2001).

Wang, C. et al. Inducing and exploiting vulnerabilities for the treatment of liver cancer. Nature 574, 268–272 (2019).

World Medical Association. World Medical Association Declaration of Helsinki. Ethical principles for medical research involving human subjects. Bull. World Health Organ. 79, 373–374 (2001).
Acknowledgements
We thank R. G. H. Beets-Tan for discussion and assistance in MRI image analysis. This work was funded by grants from the European Research Council (ERC 787925 to R.B.), the Dutch Cancer Society through the Oncode Institute, the National Natural Science Foundation of China (82073039 to H.J., 82011530441 to H.J., 81702838 to H.J., 81920108025 to W.Q. and 81801800 to Y.S.), National Science and Technology Key Project of China (2018ZX10732202-002-003 to W.Q. and 2018ZX10302205-002-003 to H.J.), Shanghai Rising-Star Program (19QA1408200 to H.J.), Shanghai Municipal Science and Technology Project (20JC1411100 to W.Q.), 111 project (B21024 to W.Q.), Shanghai Municipal Commission of Health and Family Planning (2018YQ20 to H.J.) and Shanghai Jiao Tong University School of Medicine (YG2019GD01 to H.J. and PY11-17-013 to H.J.). We thank the facilities of The Netherlands Cancer Institute.
Ethics declarations
Competing interests
H.J. and R.B. are listed as inventors on a patent application using the drug combination described here. The other authors declare no competing interests.
Additional information
Peer review information Nature thanks the anonymous reviewers for their contribution to the peer review of this work. Peer reviewer reports are available.
Publisher's note Springer Nature remains neutral with regard to jurisdictional claims in published maps and institutional affiliations.
Extended data figures and tables
Supplementary information
About this article
Cite this article
Jin, H., Shi, Y., Lv, Y. et al. EGFR activation limits the response of liver cancer to lenvatinib. Nature 595, 730–734 (2021). https://doi.org/10.1038/s41586-021-03741-7
Received:

Accepted:

Published:

Issue Date:

DOI: https://doi.org/10.1038/s41586-021-03741-7
Comments
By submitting a comment you agree to abide by our Terms and Community Guidelines. If you find something abusive or that does not comply with our terms or guidelines please flag it as inappropriate.