Abstract
Coping with threatening situations requires both identifying stimuli that predict danger and selecting adaptive behavioural responses to survive1. The dorsomedial prefrontal cortex (dmPFC) is a critical structure that is involved in the regulation of threat-related behaviour2,3,4. However, it is unclear how threat-predicting stimuli and defensive behaviours are associated within prefrontal networks to successfully drive adaptive responses. Here we used a combination of extracellular recordings, neuronal decoding approaches, pharmacological and optogenetic manipulations to show that, in mice, threat representations and the initiation of avoidance behaviour are dynamically encoded in the overall population activity of dmPFC neurons. Our data indicate that although dmPFC population activity at stimulus onset encodes sustained threat representations driven by the amygdala, it does not predict action outcome. By contrast, transient dmPFC population activity before the initiation of action reliably predicts avoided from non-avoided trials. Accordingly, optogenetic inhibition of prefrontal activity constrained the selection of adaptive defensive responses in a time-dependent manner. These results reveal that the adaptive selection of defensive responses relies on a dynamic process of information linking threats with defensive actions, unfolding within prefrontal networks.
Access options
Subscribe to Journal
Get full journal access for 1 year
$199.00
only $3.90 per issue
All prices are NET prices.
VAT will be added later in the checkout.
Tax calculation will be finalised during checkout.
Rent or Buy article
Get time limited or full article access on ReadCube.
from$8.99
All prices are NET prices.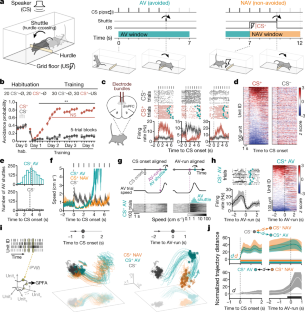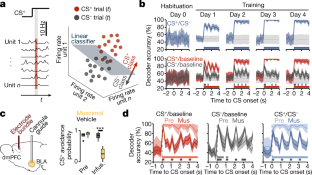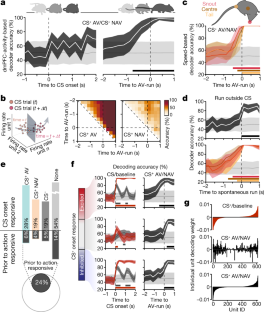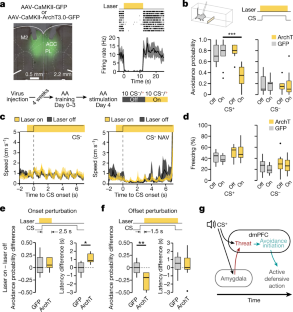 Data availability
The data that support the findings of this study are available from the corresponding authors on request.
Code availability
The custom-written codes used to analyse data from this study are available from the corresponding authors on request.
References
1.

Pearce, J. M. & Bouton, M. E. Theories of associative learning in animals. Annu. Rev. Psychol. 52, 111–139 (2001).

2.

Sotres-Bayon, F. & Quirk, G. J. Prefrontal control of fear: more than just extinction. Curr. Opin. Neurobiol. 20, 231–235 (2010).

3.

Herry, C. & Johansen, J. P. Encoding of fear learning and memory in distributed neuronal circuits. Nat. Neurosci. 17, 1644–1654 (2014).

4.

Klavir, O., Prigge, M., Sarel, A., Paz, R. & Yizhar, O. Manipulating fear associations via optogenetic modulation of amygdala inputs to prefrontal cortex. Nat. Neurosci. 20, 836–844 (2017).

5.

Laubach, M., Wessberg, J. & Nicolelis, M. A. Cortical ensemble activity increasingly predicts behaviour outcomes during learning of a motor task. Nature 405, 567–571 (2000).

6.

Ährlund-Richter, S. et al. A whole-brain atlas of monosynaptic input targeting four different cell types in the medial prefrontal cortex of the mouse. Nat. Neurosci. 22, 657–668 (2019).

7.

Kennerley, S. W., Walton, M. E., Behrens, T. E., Buckley, M. J. & Rushworth, M. F. Optimal decision making and the anterior cingulate cortex. Nat. Neurosci. 9, 940–947 (2006).

8.

Saez, A., Rigotti, M., Ostojic, S., Fusi, S. & Salzman, C. D. Abstract context representations in primate amygdala and prefrontal cortex. Neuron 87, 869–881 (2015).

9.

Salay, L. D., Ishiko, N. & Huberman, A. D. A midline thalamic circuit determines reactions to visual threat. Nature 557, 183–189 (2018).

10.

Hayden, B. Y. & Platt, M. L. Neurons in anterior cingulate cortex multiplex information about reward and action. J. Neurosci. 30, 3339–3346 (2010).

11.

Do-Monte, F. H., Quiñones-Laracuente, K. & Quirk, G. J. A temporal shift in the circuits mediating retrieval of fear memory. Nature 519, 460–463 (2015).

12.

Taub, A. H., Perets, R., Kahana, E. & Paz, R. Oscillations synchronize amygdala-to-prefrontal primate circuits during aversive learning. Neuron 97, 291–298 (2018).

13.

Courtin, J. et al. Prefrontal parvalbumin interneurons shape neuronal activity to drive fear expression. Nature 505, 92–96 (2014).

14.

Dejean, C. et al. Prefrontal neuronal assemblies temporally control fear behaviour. Nature 535, 420–424 (2016).

15.

Karalis, N. et al. 4-Hz oscillations synchronize prefrontal-amygdala circuits during fear behavior. Nat. Neurosci. 19, 605–612 (2016).

16.

Likhtik, E., Stujenske, J. M., Topiwala, M. A., Harris, A. Z. & Gordon, J. A. Prefrontal entrainment of amygdala activity signals safety in learned fear and innate anxiety. Nat. Neurosci. 17, 106–113 (2014).

17.

Burgos-Robles, A. et al. Amygdala inputs to prefrontal cortex guide behavior amid conflicting cues of reward and punishment. Nat. Neurosci. 20, 824–835 (2017).

18.

Diehl, M. M. et al. Active avoidance requires inhibitory signaling in the rodent prelimbic prefrontal cortex. eLife 7, e34657 (2018).

19.

Bravo-Rivera, C., Roman-Ortiz, C., Brignoni-Perez, E., Sotres-Bayon, F. & Quirk, G. J. Neural structures mediating expression and extinction of platform-mediated avoidance. J. Neurosci. 34, 9736–9742 (2014).

20.

Capuzzo, G. & Floresco, S. B. Prelimbic and infralimbic prefrontal regulation of active and inhibitory avoidance and reward-seeking. J. Neurosci. 40, 4773–4787 (2020).

21.

Yu, B. M. et al. Gaussian-process factor analysis for low-dimensional single-trial analysis of neural population activity. J. Neurophysiol. 102, 614–635 (2009).

22.

Rozeske, R. R. et al. Prefrontal-periaqueductal gray-projecting neurons mediate context fear discrimination. Neuron 97, 898–910.e6 (2018).

23.

Legendre, P. & Legendre, L. Numerical Ecology (Developments in Environmental Modelling) (Elsevier, 1998).

24.

Rigotti, M. et al. The importance of mixed selectivity in complex cognitive tasks. Nature 497, 585–590 (2013).

25.

Choi, J. S., Cain, C. K. & LeDoux, J. E. The role of amygdala nuclei in the expression of auditory signaled two-way active avoidance in rats. Learn. Mem. 17, 139–147 (2010).

26.

Quirk, G. J., Repa, C. & LeDoux, J. E. Fear conditioning enhances short-latency auditory responses of lateral amygdala neurons: parallel recordings in the freely behaving rat. Neuron 15, 1029–1039 (1995).

27.

Duvarci, S. & Pare, D. Amygdala microcircuits controlling learned fear. Neuron 82, 966–980 (2014).

28.

Pape, H. C. & Pare, D. Plastic synaptic networks of the amygdala for the acquisition, expression, and extinction of conditioned fear. Physiol. Rev. 90, 419–463 (2010).

29.

Goosens, K. A., Hobin, J. A. & Maren, S. Auditory-evoked spike firing in the lateral amygdala and Pavlovian fear conditioning: mnemonic code or fear bias? Neuron 40, 1013–1022 (2003).

30.

Senn, V. et al. Long-range connectivity defines behavioral specificity of amygdala neurons. Neuron 81, 428–437 (2014).

31.

Sotres-Bayon, F., Sierra-Mercado, D., Pardilla-Delgado, E. & Quirk, G. J. Gating of fear in prelimbic cortex by hippocampal and amygdala inputs. Neuron 76, 804–812 (2012).

32.

Poremba, A. & Gabriel, M. Amygdalar lesions block discriminative avoidance learning and cingulothalamic training-induced neuronal plasticity in rabbits. J. Neurosci. 17, 5237–5244 (1997).

33.

Sierra-Mercado, D., Padilla-Coreano, N. & Quirk, G. J. Dissociable roles of prelimbic and infralimbic cortices, ventral hippocampus, and basolateral amygdala in the expression and extinction of conditioned fear. Neuropsychopharmacology 36, 529–538 (2011).

34.

Ramirez, F., Moscarello, J. M., LeDoux, J. E. & Sears, R. M. Active avoidance requires a serial basal amygdala to nucleus accumbens shell circuit. J. Neurosci. 35, 3470–3477 (2015).

35.

LeDoux, J. E., Moscarello, J., Sears, R. & Campese, V. The birth, death and resurrection of avoidance: a reconceptualization of a troubled paradigm. Mol. Psychiatry 22, 24–36 (2017).

36.

Mathis, A. et al. DeepLabCut: markerless pose estimation of user-defined body parts with deep learning. Nat. Neurosci. 21, 1281–1289 (2018).

37.

Franklin, K. B. J. & Paxinos, G. The Mouse Brain in Stereotaxic Coordinates (Academic, 2001).

38.

Meyers, E. M., Qi, X. L. & Constantinidis, C. Incorporation of new information into prefrontal cortical activity after learning working memory tasks. Proc. Natl Acad. Sci. USA 109, 4651–4656 (2012).
Acknowledgements
We thank D. Salzman, A. Luthi, K. Benchenane, S. Bagur and R. Rozeske for discussions and reading of the manuscript; A. Sant Ana and S. Khoder for preliminary experiments; T. Stefanelli for electrode building assistance; K. Deisseroth and E. Boyden for sharing material; and S. Laumond, J. Tessaire and the technical staff of the housing and experimental animal facility of the Neurocentre Magendie. Microscopy was performed in the Bordeaux Imaging Center of the CNRS-INSERM and Bordeaux University, a member of France BioImaging. This work was supported by grants from the French National Research Agency (ANR-DOPAFEAR, ANR-PRELONGIN, ANR-10-EQPX-08 OPTOPATH), the Conseil Regional d'Aquitaine, and the Fondation pour la Recherche Médicale (FRM-Equipes FRM 2017).
Ethics declarations
Competing interests
The authors declare no competing interests.
Additional information
Peer review information Nature thanks Andrew Huberman, Joshua Johansen and the other, anonymous, reviewer(s) for their contribution to the peer review of this work. Peer reviewer reports are available.
Publisher's note Springer Nature remains neutral with regard to jurisdictional claims in published maps and institutional affiliations.
Extended data figures and tables
Supplementary information
About this article
Cite this article
Jercog, D., Winke, N., Sung, K. et al. Dynamical prefrontal population coding during defensive behaviours. Nature 595, 690–694 (2021). https://doi.org/10.1038/s41586-021-03726-6
Received:

Accepted:

Published:

Issue Date:
Comments
By submitting a comment you agree to abide by our Terms and Community Guidelines. If you find something abusive or that does not comply with our terms or guidelines please flag it as inappropriate.