Abstract
Long-lasting internal arousal states motivate and pattern ongoing behaviour, enabling the temporary emergence of innate behavioural programs that serve the needs of an animal, such as fighting, feeding, and mating. However, how internal states shape sensory processing or behaviour remains unclear. In Drosophila, male flies perform a lengthy and elaborate courtship ritual that is triggered by the activation of sexually dimorphic P1 neurons1,2,3,4,5, during which they faithfully follow and sing to a female6,7. Here, by recording from males as they court a virtual 'female', we gain insight into how the salience of visual cues is transformed by a male's internal arousal state to give rise to persistent courtship pursuit. The gain of LC10a visual projection neurons is selectively increased during courtship, enhancing their sensitivity to moving targets. A concise network model indicates that visual signalling through the LC10a circuit, once amplified by P1-mediated arousal, almost fully specifies a male's tracking of a female. Furthermore, P1 neuron activity correlates with ongoing fluctuations in the intensity of a male's pursuit to continuously tune the gain of the LC10a pathway. Together, these results reveal how a male's internal state can dynamically modulate the propagation of visual signals through a high-fidelity visuomotor circuit to guide his moment-to-moment performance of courtship.
Relevant articles
Open Access articles citing this article.
Laura Hermans

,

Murat Kaynak

…

Pavan Ramdya

Nature Communications Open Access 25 August 2022

Johannes M. Kappel

,

Dominique Förster

…

Johannes Larsch

Nature Open Access 13 July 2022

Neuroscience Bulletin Open Access 28 May 2022
Access options
Access Nature and 54 other Nature Portfolio journals
Get Nature+, our best-value online-access subscription
$29.99 per month
cancel any time
Subscribe to this journal
Receive 51 print issues and online access
$199.00 per year
only $3.90 per issue
Rent or buy this article
Get just this article for as long as you need it
$39.95
Prices may be subject to local taxes which are calculated during checkout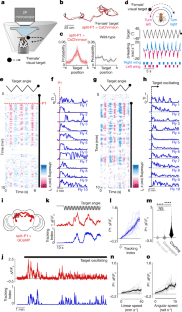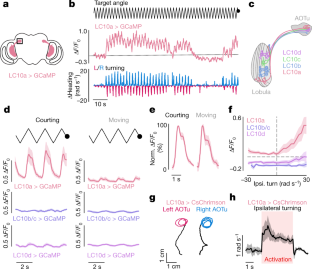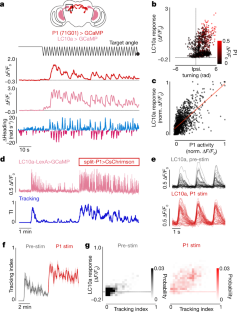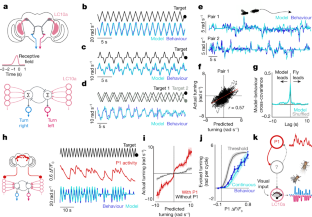 Data availability
All data underlying this study are available upon request from the corresponding author. Source data are provided with this paper.
References
Kimura, K., Hachiya, T., Koganezawa, M., Tazawa, T. & Yamamoto, D. Fruitless and doublesex coordinate to generate male-specific neurons that can initiate courtship. Neuron 59, 759–769 (2008).

von Philipsborn, A. C. et al. Neuronal control of Drosophila courtship song. Neuron 69, 509–522 (2011).

Yamamoto, D. & Koganezawa, M. Genes and circuits of courtship behaviour in Drosophila males. Nat. Rev. Neurosci. 14, 681–692 (2013).

Yu, J. Y., Kanai, M. I., Demir, E., Jefferis, G. S. X. E. & Dickson, B. J. Cellular organization of the neural circuit that drives Drosophila courtship behavior. Curr. Biol. 20, 1602–1614 (2010).

Pan, Y., Meissner, G. W. & Baker, B. S. Joint control of Drosophila male courtship behavior by motion cues and activation of male-specific P1 neurons. Proc. Natl Acad. Sci. USA 109, 10065–10070 (2012).

Bastock, M. & Manning, A. The courtship of Drosophila melanogaster. Behaviour 8, 85–111 (1955).

Spieth, H. T. Courtship behavior in Drosophila. Annu. Rev. Entomol. 19, 385–405 (1974).

Kohatsu, S. & Yamamoto, D. Visually induced initiation of Drosophila innate courtship-like following pursuit is mediated by central excitatory state. Nat. Commun. 6, 6457 (2015).

Seeholzer, L. F., Seppo, M., Stern, D. L. & Ruta, V. Evolution of a central neural circuit underlies Drosophila mate preferences. Nature 559, 564–569 (2018).

Clowney, E. J., Iguchi, S., Bussell, J. J., Scheer, E. & Ruta, V. Multimodal chemosensory circuits controlling male courtship in Drosophila. Neuron 87, 1036–1049 (2015).

Kallman, B. R., Kim, H. & Scott, K. Excitation and inhibition onto central courtship neurons biases Drosophila mate choice. eLife 4, e11188 (2015).

Zhang, S. X., Miner, L. E., Boutros, C. L., Rogulja, D. & Crickmore, M. A. Motivation, perception, and chance converge to make a binary decision. Neuron 99, 376–388.e6 (2018).

Bath, D. E. et al. FlyMAD: rapid thermogenetic control of neuronal activity in freely walking Drosophila. Nat. Methods 11, 756–762 (2014).

Inagaki, H. K. et al. Optogenetic control of Drosophila using a red-shifted channelrhodopsin reveals experience-dependent influences on courtship. Nat. Methods 11, 325–332 (2014).

Hoopfer, E. D., Jung, Y., Inagaki, H. K., Rubin, G. M. & Anderson, D. J. P1 interneurons promote a persistent internal state that enhances inter-male aggression in Drosophila. eLife 4, e11346 (2015).

Götz, K. G. & Wenking, H. Visual control of locomotion in the walking fruitfly Drosophila. J. Comp. Physiol. 85, 235–266 (1973).

Agrawal, S., Safarik, S. & Dickinson, M. The relative roles of vision and chemosensation in mate recognition of Drosophila melanogaster. J. Exp. Biol. 217, 2796–2805 (2014).

Billeter, J.-C., Atallah, J., Krupp, J. J., Millar, J. G. & Levine, J. D. Specialized cells tag sexual and species identity in Drosophila melanogaster. Nature 461, 987–991 (2009).

Zhang, S. X., Rogulja, D. & Crickmore, M. A. Dopaminergic circuitry underlying mating drive. Neuron 91, 168–181 (2016).

Ribeiro, I. M. A. et al. Visual projection neurons mediating directed courtship in Drosophila. Cell 174, 607–621.e18 (2018).

Wu, M. et al. Visual projection neurons in the Drosophila lobula link feature detection to distinct behavioral programs. eLife 5, e21022 (2016).

Otsuna, H. & Ito, K. Systematic analysis of the visual projection neurons of Drosophila melanogaster. I. Lobula-specific pathways. J. Comp. Neurol. 497, 928–958 (2006).

Scheffer, L. K. et al. A connectome and analysis of the adult Drosophila central brain. eLife 9, e57443 (2020).

Talay, M. et al. Transsynaptic mapping of second-order taste neurons in flies by trans-Tango. Neuron 96, 783–795.e4 (2017).

Namiki, S., Dickinson, M. H., Wong, A. M., Korff, W. & Card, G. M. The functional organization of descending sensory-motor pathways in Drosophila. eLife 7, e34272 (2018).

Schretter, C. E. et al. Cell types and neuronal circuitry underlying female aggression in Drosophila. eLife 9, e58942 (2020).

Rayshubskiy, A. et al. Neural circuit mechanisms for steering control in walking Drosophila. Preprint at https://doi.org/10.1101/2020.04.04.024703 (2020).

Heisenberg, M. & Wolf, R. Vision in Drosophila: Genetics of Microbehavior (Springer, 1984).

Land, M. F. & Collett, T. S. Chasing behaviour of houseflies (Fannia canicularis): a description and analysis. J. Comp. Physiol. 89, 331–357 (1974).

Wehrhahn, C., Poggio, T. & Bülthoff, H. Tracking and chasing in houseflies (Musca): an analysis of 3-D flight trajectories. Biol. Cybern. 45, 123–130 (1982).

Soto-Yéber, L., Soto-Ortiz, J., Godoy, P. & Godoy-Herrera, R. The behavior of adult Drosophila in the wild. PLoS ONE 13, e0209917 (2018).

Trivers, R. in Sexual Selection and the Descent of Man, 1871–1971 (Aldine, 1972).

Kohatsu, S., Koganezawa, M. & Yamamoto, D. Female contact activates male-specific interneurons that trigger stereotypic courtship behavior in Drosophila. Neuron 69, 498–508 (2011).

Tinbergen, N. The Study of Instinct (Clarendon, 1951).

Klapoetke, N. C. et al. Independent optical excitation of distinct neural populations. Nat. Methods 11, 338–346 (2014).

Chen, T.-W. et al. Ultrasensitive fluorescent proteins for imaging neuronal activity. Nature 499, 295–300 (2013).

Mohammad, F. et al. Optogenetic inhibition of behavior with anion channelrhodopsins. Nat. Methods 14, 271–274 (2017).

Dana, H. et al. High-performance calcium sensors for imaging activity in neuronal populations and microcompartments. Nat. Methods 16, 649–657 (2019).

Eyjolfsdottir, E. et al. Detecting social actions of fruit flies. In Computer Vision — ECCV 2014 (eds. Fleet, D., Pajdla, T., Schiele, B. & Tuytelaars, T.) vol. 8690, 772–787 (Springer, 2014).

Maimon, G., Straw, A. D. & Dickinson, M. H. Active flight increases the gain of visual motion processing in Drosophila. Nat. Neurosci. 13, 393–399 (2010).

Green, J. et al. A neural circuit architecture for angular integration in Drosophila. Nature 546, 101–106 (2017).

Seelig, J. D. & Jayaraman, V. Neural dynamics for landmark orientation and angular path integration. Nature 521, 186–191 (2015).

Moore, R. J. D. et al. FicTrac: a visual method for tracking spherical motion and generating fictive animal paths. J. Neurosci. Methods 225, 106–119 (2014).

Aronov, D. & Tank, D. W. Engagement of neural circuits underlying 2D spatial navigation in a rodent virtual reality system. Neuron 84, 442–456 (2014).

Berens, P. CircStat: a Matlab toolbox for circular statistics. J. Stat. Softw. 31, 1–21 (2009).

Nojima, T. et al. A sex-specific switch between visual and olfactory inputs underlies adaptive sex differences in behavior. Curr. Biol. 31, 1175–1191.e6 (2021).

Pnevmatikakis, E. A. & Giovannucci, A. NoRMCorre: an online algorithm for piecewise rigid motion correction of calcium imaging data. J. Neurosci. Methods 291, 83–94 (2017).

Giovannucci, A. et al. CaImAn an open source tool for scalable calcium imaging data analysis. eLife 8, e38173 (2019).

Dayan, P. & Abbott, L. F. Theoretical Neuroscience: Computational and Mathematical Modeling of Neural Systems (Massachusetts Institute of Technology Press, 2001).

Friedrich, J. & Paninski, L. Fast active set methods for online spike inference from calcium imaging. In Advances in Neural Information Processing Systems 29 (eds. Lee, D. D., Sugiyama, M., Luxburg, U. V., Guyon, I. & Garnett, R.) 1984–1992 (2016).

Clements, J. et al. neuPrint: analysis tools for EM connectomics. Preprint at https://doi.org/10.1101/2020.01.16.909465 (2020).
Acknowledgements
We thank K. Kuchibhotla, B. Noro, L. Abbott, S. R. Datta, R. Coleman, and P. Brand for comments on the manuscript; I. Ribeiro for discussions and sharing the LC10a split-GAL4 and LC10a-LexA driver lines; Y. Aso for LexAop-GCaMP6s/UAS-CsChrimson flies; J. Weisman and G. Maimon for sharing their designs for an integrated, projector-based system for presenting tethered, walking flies with visual stimuli in advance of publication; R. Coleman, I. Morantte, A. Siliciano, J. Petrillo, and Rockefeller Precision Instrumentation Technologies for technical advice; and G. Maimon, C. Bargmann, L. Abbott, and members of the Ruta laboratory for discussion. Stocks obtained from the Bloomington Drosophila Stock Center, NIH P40OD018537 were used in this study. This work was supported by the Simons Collaboration on the Global Brain, a Reem-Kayden Award, grant 5R35NS111611 from the National Institute of Health to V.R., a David Rockefeller Fellowship and National Science Foundation Graduate Research Fellowship Program to T.H.S., and an HHMI Hanna H. Gray Fellowship to A.O.
Ethics declarations
Competing interests
The authors declare no competing interests.
Additional information
Peer review information Nature thanks Michael Reiser and the other, anonymous, reviewer(s) for their contribution to the peer review of this work. Peer reviewer reports are available.
Publisher's note Springer Nature remains neutral with regard to jurisdictional claims in published maps and institutional affiliations.
Extended data figures and tables
Supplementary information
About this article
Cite this article
Hindmarsh Sten, T., Li, R., Otopalik, A. et al. Sexual arousal gates visual processing during Drosophila courtship. Nature 595, 549–553 (2021). https://doi.org/10.1038/s41586-021-03714-w
Received:

Accepted:

Published:

Issue Date:

DOI: https://doi.org/10.1038/s41586-021-03714-w
Comments
By submitting a comment you agree to abide by our Terms and Community Guidelines. If you find something abusive or that does not comply with our terms or guidelines please flag it as inappropriate.