Abstract
Icosahedral quasicrystals (IQCs) are materials that exhibit long-range order but lack periodicity in any direction. Although IQCs were the first reported quasicrystals1, they have been experimentally observed only in metallic alloys2, not in other materials. By contrast, quasicrystals with other symmetries (particularly dodecagonal) have now been found in several soft-matter systems3,4,5. Here we introduce a class of IQCs built from model patchy colloids that could be realized experimentally using DNA origami particles. Our rational design strategy leads to systems that robustly assemble in simulations into a target IQC through directional bonding. This is illustrated for both body-centred and primitive IQCs, with the simplest systems involving just two particle types. The key design feature is the geometry of the interparticle interactions favouring the propagation of an icosahedral network of bonds, despite this leading to many particles not being fully bonded. As well as furnishing model systems in which to explore the fundamental physics of IQCs, our approach provides a potential route towards functional quasicrystalline materials.
Access options
Access Nature and 54 other Nature Portfolio journals
Get Nature+, our best-value online-access subscription
$29.99 / 30 days
cancel any time
Subscribe to this journal
Receive 51 print issues and online access
$199.00 per year
only $3.90 per issue
Rent or buy this article
Prices vary by article type
from$1.95
to$39.95
Prices may be subject to local taxes which are calculated during checkout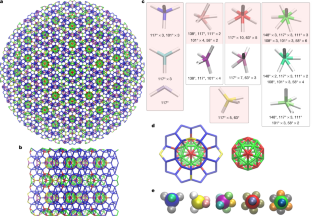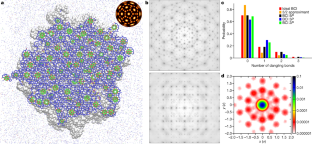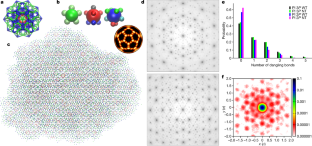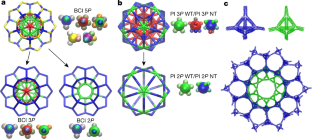 References
Shechtman, D., Blech, I., Gratias, D. & Cahn, J. W. Metallic phase with long-range orientational order and no translational symmetry. Phys. Rev. Lett. 53, 1951–1953 (1984).

Takakura, H., Gómez, C. P., Yamamoto, A., Boissieu, M. D. & Tsai, A. P. Atomic structure of the binary icosahedral Yb–Cd quasicrystal. Nat. Mater. 6, 58–63 (2007).

Zeng, X. et al. Supramolecular dendritic quasicrystals. Nature 428, 157–160 (2004).

Haji-Akbari, A. et al. Disordered, quasicrystalline and crystalline phases of densely packed tetrahedra. Nature 462, 773–777 (2009).

Dotera, T. Quasicrystals in soft matter. Isr. J. Chem. 51, 1197–1205 (2011).

Dotera, T., Oshiro, T. & Ziherl, P. Mosaic two-length scale quasicrystals. Nature 506, 208–211 (2014).

Savitz, S., Babadi, M. & Lifshitz, R. Multiple-scale structures: from Faraday waves to soft-matter quasicrystals. IUCrJ 5, 247–268 (2018).

Subramanian, P., Archer, A. J., Knobloch, E. & Rucklidge, A. M. Three-dimensional icosahedral phase field quasicrystal. Phys. Rev. Lett. 117, 075501 (2016).

Engel, M., Damasceno, P. F., Phillips, C. L. & Glotzer, S. C. Computational self-assembly of a one-component icosahedral quasicrystal. Nat. Mater. 14, 109–116 (2015).

Damasceno, P. F., Glotzer, S. C. & Engel, M. Non-close-packed three-dimensional quasicrystals. J. Phys. Condens. Matter 29, 234005 (2017).

Reinhardt, A., Schreck, J. S., Romano, F. & Doye, J. P. K. Self-assembly of two-dimensional binary quasicrystals: a possible route to a DNA quasicrystal. J. Phys. Condens. Matter 29, 014006 (2017).

Sadoc, J.-F. & Mosseri, R. Geometric Frustration (Cambridge Univ. Press, 1999).

Doye, J. P. K. & Wales, D. J. Structural consequences of the range of the interatomic potential: a menagerie of clusters. J. Chem. Soc. Faraday Trans. 93, 4233–4243 (1997).

Dmitrienko, V. & Kléman, M. Tetrahedral structures with icosahedral order and their relation to quasi-crystals. Crystallogr. Rep. 46, 527–533 (2001).

Liu, L., Li, Z., Li, Y. & Mao, C. Rational design and self-assembly of two-dimensional dodecagonal quasicrystals. J. Am. Chem. Soc. 141, 4248–4251 (2019).

Tracey, D. F., Noya, E. G. & Doye, J. P. K. Programming patchy particles to form complex ordered structures. J. Chem. Phys. 151, 224506 (2019).

Janot, C. Quasicrystals: A Primer (Oxford Univ. Press, 2002).

Cademartiri, L. & Bishop, K. J. M. Programmable self-assembly. Nat. Mater. 14, 2–9 (2015).

Liu, W., Halverson, J., Tian, Y., Tkachenko, A. V. & Gang, O. Self-organized architectures from assorted DNA-framed nanoparticles. Nat. Chem. 8, 867–873 (2016).

Zhang, Z., Keys, A. S., Chen, T. & Glotzer, S. C. Self-assembly of patchy particles into diamond structures through molecular mimicry. Langmuir 21, 11547–11551 (2005).

Vega, C., Sanz, E., Abascal, J. L. F. & Noya, E. G. Determination of phase diagrams via computer simulation: methodology and applications to water, electrolytes and proteins. J. Phys. Condens. Matter 20, 153101 (2008).

Glotzer, S. C. & Solomon, M. J. Anisotropy of building blocks and their assembly into complex structures. Nat. Mater. 6, 557–562 (2007).

Li, W. et al. Colloidal molecules and patchy particles: complementary concepts, synthesis and self-assembly. Chem. Soc. Rev. 49, 1955–1976 (2020).

Xiong, Y. et al. Three-dimensional patterning of nanoparticles by molecular stamping. ACS Nano 14, 6823–6833 (2020).

Veneziano, R. et al. Designer nanoscale DNA assemblies programmed from the top down. Science 352, 1534 (2016).

Tian, Y. et al. Ordered three-dimensional nanomaterials using DNA-prescribed and valence-controlled material voxels. Nat. Mater. 19, 789–796 (2020).

Ma, N. et al. Directional assembly of nanoparticles by DNA shapes: towards designed architectures and functionality. Top. Curr. Chem. 378, 36 (2020).

Man, W., Megens, M., Steinhardt, P. J. & Chaikin, P. M. Experimental measurement of the photonic properties of icosahedral quasicrystals. Nature 436, 993–996 (2005).

Steurer, W. Boron-based quasicrystals with sevenfold symmetry. Phil. Mag. 87, 2707–2712 (2007).

Snodin, B. E. K. et al. Introducing improved structural properties and salt dependence into a coarse-grained model of DNA. J. Chem. Phys. 142, 234901 (2015).

Wilber, A. W., Doye, J. P. K., Louis, A. A. & Lewis, A. C. F. Monodisperse self-assembly in a model with protein-like interactions. J. Chem. Phys. 131, 175102 (2009).

Ben Zion, M. Y. et al. Self-assembled three-dimensional chiral colloidal architecture. Science 358, 633–636 (2017).

Anderson, J. A., Jankowski, E., Grubb, T. L., Engel, M. & Glotzer, S. C. Massively parallel Monte Carlo for many-particle simulations on GPUs. J. Comput. Phys. 254, 27–38 (2013).

Rapaport, D. C. The Art of Molecular Dynamics Simulation (Cambridge Univ. Press, 2004).

Engel, M., Umezaki, M., Trebin, H.-R. & Odagaki, T. Dynamics of particle flips in two-dimensional quasicrystals. Phys. Rev. B 82, 134206 (2010).

Rovigatti, L., Šulc, P., Reguly, I. Z. & Romano, F. A comparison between parallelization approaches in molecular dynamics simulations on GPUs. J. Comput. Chem. 36, 1–8 (2015).

Bai, X.-C., Martin, T. G., Scheres, S. H. W. & Dietz, H. Cryo-EM structure of a 3D DNA-origami object. Proc. Natl Acad. Sci. USA 109, 20012–20017 (2012).

Snodin, B. E. K., Schreck, J. S., Romano, F., Louis, A. A. & Doye, J. P. K. Coarse-grained modelling of the structural properties of DNA origami. Nucleic Acids Res. 47, 1585–1597 (2019).

Jun, H. et al. Automated sequence design of 3D polyhedral wireframe DNA origami with honeycomb edges. ACS Nano 13, 2083–2093 (2019).

Douglas, S. M. et al. Rapid prototyping of 3D DNA-origami shapes with caDNAno. Nucleic Acids Res. 37, 5001–5006 (2009).

Suma, A. et al. TacoxDNA: a user-friendly web server for simulations of complex DNA structures, from single strands to origami. J. Comput. Chem. 40, 2586–2595 (2019).

Dietz, H., Douglas, S. M. & Shih, W. M. Folding DNA into twisted and curved nanoscale shapes. Science 325, 725–730 (2009).
Acknowledgements
We are grateful for financial support from the Agencia Estatal de Investigación and the Fondo Europeo de Desarrollo Regional (FEDER) under grant numbers FIS2015-72946-EXP(AEI) and FIS2017-89361-C3-2-P(AEI/FEDER,UE) (to E.G.N.) and the Croucher Foundation (to C.K.W.). We acknowledge the use of the University of Oxford Advanced Research Computing (ARC) facility and the Cambridge Service for Data Driven Discovery (CSD3).
Ethics declarations
Competing interests
The authors declare no competing interests.
Additional information
Peer review information Nature thanks Oleg Gang, Ron Lifshitz and the other, anonymous, reviewer(s) for their contribution to the peer review of this work.
Publisher's note Springer Nature remains neutral with regard to jurisdictional claims in published maps and institutional affiliations.
Extended data figures and tables
Supplementary information
This file contains supplementary text, supplementary equations s1 – s17, supplementary figures s1 – s15 and supplementary references.
About this article
Cite this article
Noya, E.G., Wong, C.K., Llombart, P. et al. How to design an icosahedral quasicrystal through directional bonding. Nature 596, 367–371 (2021). https://doi.org/10.1038/s41586-021-03700-2
Received:

Accepted:

Published:

Issue Date:

DOI: https://doi.org/10.1038/s41586-021-03700-2
This article is cited by
Xiangbing Zeng
Benjamin Glettner
Carsten Tschierske

Nature Chemistry (2023)
Comments
By submitting a comment you agree to abide by our Terms and Community Guidelines. If you find something abusive or that does not comply with our terms or guidelines please flag it as inappropriate.