Abstract
Tissue stem cells are generated from a population of embryonic progenitors through organ-specific morphogenetic events1,2. Although tissue stem cells are central to organ homeostasis and regeneration, it remains unclear how they are induced during development, mainly because of the lack of markers that exclusively label prospective stem cells. Here we combine marker-independent long-term 3D live imaging and single-cell transcriptomics to capture a dynamic lineage progression and transcriptome changes in the entire epithelium of the mouse hair follicle as it develops. We found that the precursors of different epithelial lineages were aligned in a 2D concentric manner in the basal layer of the hair placode. Each concentric ring acquired unique transcriptomes and extended to form longitudinally aligned, 3D cylindrical compartments. Prospective bulge stem cells were derived from the peripheral ring of the placode basal layer, but not from suprabasal cells (as was previously suggested3). The fate of placode cells is determined by the cell position, rather than by the orientation of cell division. We also identified 13 gene clusters: the ensemble expression dynamics of these clusters drew the entire transcriptional landscape of epithelial lineage diversification, consistent with cell lineage data. Combining these findings with previous work on the development of appendages in insects4,5, we describe the 'telescope model', a generalized model for the development of ectodermal organs in which 2D concentric zones in the placode telescope out to form 3D longitudinally aligned cylindrical compartments.
Your institute does not have access to this article
Relevant articles
Open Access articles citing this article.
Yuteng Weng

,

Haicheng Wang

…

Zuolin Wang

Cell Research Open Access 12 July 2022

Jingru Wang

,

Jia He

…

Xiaodong Chen

Stem Cell Reviews and Reports Open Access 10 February 2022
Access options
Subscribe to Nature+
Get immediate online access to the entire Nature family of 50+ journals
Subscribe to Journal
Get full journal access for 1 year
$199.00
only $3.90 per issue
All prices are NET prices.
VAT will be added later in the checkout.
Tax calculation will be finalised during checkout.
Buy article
Get time limited or full article access on ReadCube.
$32.00
All prices are NET prices.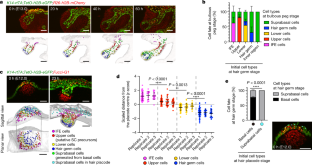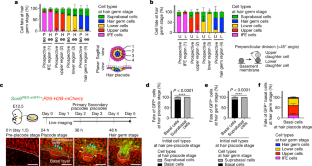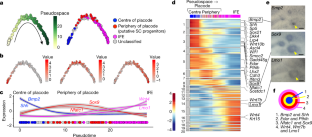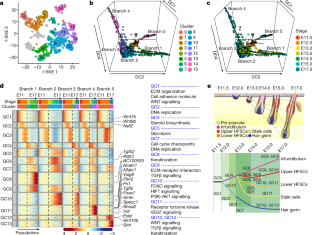 References
Xin, T., Greco, V. & Myung, P. Hardwiring stem cell communication through tissue structure. Cell 164, 1212–1225 (2016).

Guiu, J. et al. Tracing the origin of adult intestinal stem cells. Nature 570, 107–111 (2019).

Ouspenskaia, T., Matos, I., Mertz, A. F., Fiore, V. F. & Fuchs, E. WNT–SHH antagonism specifies and expands stem cells prior to niche formation. Cell 164, 156–169 (2016).

Lecuit, T. & Cohen, S. M. Proximal–distal axis formation in the Drosophila leg. Nature 388, 139–145 (1997).

Ruiz-Losada, M., Blom-Dahl, D., Córdoba, S. & Estella, C. Specification and patterning of Drosophila appendages. J. Dev. Biol. 6, E17 (2018).

Pispa, J. & Thesleff, I. Mechanisms of ectodermal organogenesis. Dev. Biol. 262, 195–205 (2003).

Fujiwara, H., Tsutsui, K. & Morita, R. Multi-tasking epidermal stem cells: beyond epidermal maintenance. Dev. Growth Differ. 60, 531–541 (2018).

Solanas, G. & Benitah, S. A. Regenerating the skin: a task for the heterogeneous stem cell pool and surrounding niche. Nat. Rev. Mol. Cell Biol. 14, 737–748 (2013).

Nowak, J. A., Polak, L., Pasolli, H. A. & Fuchs, E. Hair follicle stem cells are specified and function in early skin morphogenesis. Cell Stem Cell 3, 33–43 (2008).

Liu, Y., Lyle, S., Yang, Z. & Cotsarelis, G. Keratin 15 promoter targets putative epithelial stem cells in the hair follicle bulge. J. Invest. Dermatol. 121, 963–968 (2003).

Rhee, H., Polak, L. & Fuchs, E. Lhx2 maintains stem cell character in hair follicles. Science 312, 1946–1949 (2006).

Horsley, V., Aliprantis, A. O., Polak, L., Glimcher, L. H. & Fuchs, E. NFATc1 balances quiescence and proliferation of skin stem cells. Cell 132, 299–310 (2008).

Xu, Z. et al. Embryonic attenuated Wnt/β-catenin signaling defines niche location and long-term stem cell fate in hair follicle. eLife 4, e10567 (2015).

Morita, R. et al. Coordination of cellular dynamics contributes to tooth epithelium deformations. PLoS ONE 11, e0161336 (2016).

Tsutsui, H., Karasawa, S., Shimizu, H., Nukina, N. & Miyawaki, A. Semi-rational engineering of a coral fluorescent protein into an efficient highlighter. EMBO Rep. 6, 233–238 (2005).

Hayashi, T. et al. Single-cell full-length total RNA sequencing uncovers dynamics of recursive splicing and enhancer RNAs. Nat. Commun. 9, 619 (2018).

Qiu, X. et al. Single-cell mRNA quantification and differential analysis with Census. Nat. Methods 14, 309–315 (2017).

Qiu, X. et al. Reversed graph embedding resolves complex single-cell trajectories. Nat. Methods 14, 979–982 (2017).

Huelsken, J., Vogel, R., Erdmann, B., Cotsarelis, G. & Birchmeier, W. β-Catenin controls hair follicle morphogenesis and stem cell differentiation in the skin. Cell 105, 533–545 (2001).

Närhi, K. et al. Sostdc1 defines the size and number of skin appendage placodes. Dev. Biol. 364, 149–161 (2012).

Kandyba, E. et al. Competitive balance of intrabulge BMP/Wnt signaling reveals a robust gene network ruling stem cell homeostasis and cyclic activation. Proc. Natl Acad. Sci. USA 110, 1351–1356 (2013).

Genander, M. et al. BMP signaling and its pSMAD1/5 target genes differentially regulate hair follicle stem cell lineages. Cell Stem Cell 15, 619–633 (2014).

Joost, S. et al. Single-cell transcriptomics reveals that differentiation and spatial signatures shape epidermal and hair follicle heterogeneity. Cell Syst. 3, 221–237 (2016).

Kandyba, E., Hazen, V. M., Kobielak, A., Butler, S. J. & Kobielak, K. Smad1 and 5 but not Smad8 establish stem cell quiescence which is critical to transform the premature hair follicle during morphogenesis toward the postnatal state. Stem Cells 32, 534–547 (2014).

Saxena, N., Mok, K. W. & Rendl, M. An updated classification of hair follicle morphogenesis. Exp. Dermatol. 28, 332–344 (2019).

Maini, P. K., Baker, R. E. & Chuong, C. M. The Turing model comes of molecular age. Science 314, 1397–1398 (2006).

Ahtiainen, L. et al. Directional cell migration, but not proliferation, drives hair placode morphogenesis. Dev. Cell 28, 588–602 (2014).

Glover, J. D. et al. Hierarchical patterning modes orchestrate hair follicle morphogenesis. PLoS Biol. 15, e2002117 (2017).

Abe, T. et al. Establishment of conditional reporter mouse lines at ROSA26 locus for live cell imaging. Genesis 49, 579–590 (2011).

Vassar, R., Rosenberg, M., Ross, S., Tyner, A. & Fuchs, E. Tissue-specific and differentiation-specific expression of a human K14 keratin gene in transgenic mice. Proc. Natl Acad. Sci. USA 86, 1563–1567 (1989).

Sakaue-Sawano, A. et al. Visualizing spatiotemporal dynamics of multicellular cell-cycle progression. Cell 132, 487–498 (2008).

Biggs, L. C. et al. Hair follicle dermal condensation forms via Fgf20 primed cell cycle exit, cell motility, and aggregation. eLife 7, e36468 (2018).

Stuart, T. et al. Comprehensive integration of single-cell data. Cell 177, 1888–1902 (2019).

La Manno, G. et al. RNA velocity of single cells. Nature 560, 494–498 (2018).

Angerer, P. et al. destiny: diffusion maps for large-scale single-cell data in R. Bioinformatics 32, 1241–1243 (2016).

Street, K. et al. Slingshot: cell lineage and pseudotime inference for single-cell transcriptomics. BMC Genomics 19, 477 (2018).

Yu, G., Wang, L. G., Han, Y. & He, Q. Y. clusterProfiler: an R package for comparing biological themes among gene clusters. OMICS 16, 284–287 (2012).

Nakao, K. et al. The development of a bioengineered organ germ method. Nat. Methods 4, 227–230 (2007).
Acknowledgements
We thank S. Kuraku and O. Nishimura for assistance with RNA sequencing and data processing; the RIKEN Genome Network Analysis Support Facility (GeNAS) for RNA sequencing; RIKEN Kobe Light Microscopy Facility, Laboratory for Animal Resources and Genetic Engineering and Unit for Four-Dimensional Tissue Analysis for technical assistance; F. Matsuzaki for critical reading of the manuscript; T. Matsuzaki for an important suggestion related to the telescope model; S. Onami for discussions; M. Morimoto for providing a mouse line; A. Iijima for help with cell tracking analysis; and A. Matsushima and M. Ishii for their assistance with the infrastructure for the data analysis. This work was supported by a RIKEN intramural grant, the RIKEN Single Cell Project, the Platform Project for Supporting in Drug Discovery and Life Science Research from MEXT and AMED and the JST CREST program (JPMJCR1926) to H.F. and JSPS Grant-in-Aid for Young Scientists (B) (15K19709 and 17K16361), JSPS Grant-in-Aid for Scientific Research (C) (19K08763), the RIKEN BDR-Otsuka Pharmaceutical Collaboration Center (RBOC) founding program and a Shiseido Female Researcher Science Grant to R.M. This work was partially supported by JST CREST grant number JPMJCR16G3 to I.N.
Ethics declarations
Competing interests
The authors declare no competing interests.
Additional information
Peer review information Nature thanks Maria Kasper, Michael Rendl and the other, anonymous, reviewer(s) for their contribution to the peer review of this work. Peer reviewer reports are available.
Publisher's note Springer Nature remains neutral with regard to jurisdictional claims in published maps and institutional affiliations.
Extended data figures and tables
Supplementary information
About this article
Cite this article
Morita, R., Sanzen, N., Sasaki, H. et al. Tracing the origin of hair follicle stem cells. Nature 594, 547–552 (2021). https://doi.org/10.1038/s41586-021-03638-5
Received:

Accepted:

Published:

Issue Date:

DOI: https://doi.org/10.1038/s41586-021-03638-5
Further reading
Yuteng Weng
Haicheng Wang
Zuolin Wang

Cell Research (2022)

Jingru Wang
Jia He
Xiaodong Chen

Stem Cell Reviews and Reports (2022)

Nivedita Saxena
Michael Rendl

Nature (2021)
Comments
By submitting a comment you agree to abide by our Terms and Community Guidelines. If you find something abusive or that does not comply with our terms or guidelines please flag it as inappropriate.