Abstract
Obesity is a worldwide epidemic that predisposes individuals to many age-associated diseases, but its exact effects on organ dysfunction are largely unknown1. Hair follicles—mini-epithelial organs that grow hair—are miniaturized by ageing to cause hair loss through the depletion of hair follicle stem cells (HFSCs)2. Here we report that obesity-induced stress, such as that induced by a high-fat diet (HFD), targets HFSCs to accelerate hair thinning. Chronological gene expression analysis revealed that HFD feeding for four consecutive days in young mice directed activated HFSCs towards epidermal keratinization by generating excess reactive oxygen species, but did not reduce the pool of HFSCs. Integrative analysis using stem cell fate tracing, epigenetics and reverse genetics showed that further feeding with an HFD subsequently induced lipid droplets and NF-κB activation within HFSCs via autocrine and/or paracrine IL-1R signalling. These integrated factors converge on the marked inhibition of Sonic hedgehog (SHH) signal transduction in HFSCs, thereby further depleting lipid-laden HFSCs through their aberrant differentiation and inducing hair follicle miniaturization and eventual hair loss. Conversely, transgenic or pharmacological activation of SHH rescued HFD-induced hair loss. These data collectively demonstrate that stem cell inflammatory signals induced by obesity robustly represses organ regeneration signals to accelerate the miniaturization of mini-organs, and suggests the importance of daily prevention of organ dysfunction.
Relevant articles
Open Access articles citing this article.
Shota Shimizu

,

Tomohiro Iba

…

Nobuyuki Takakura

Angiogenesis Open Access 10 August 2023

Yongcui Mao

,

Pinyan Liu

…

Jia Yao

Stem Cell Reviews and Reports Open Access 05 June 2023

Zhicao Yue

,

Fang Yang

…

Cheng-Ming Chuong

Cell Regeneration Open Access 01 July 2022
Access options
Access Nature and 54 other Nature Portfolio journals
Get Nature+, our best-value online-access subscription
$29.99 / 30 days
cancel any time
Subscribe to this journal
Receive 51 print issues and online access
$199.00 per year
only $3.90 per issue
Rent or buy this article
Prices vary by article type
from$1.95
to$39.95
Prices may be subject to local taxes which are calculated during checkout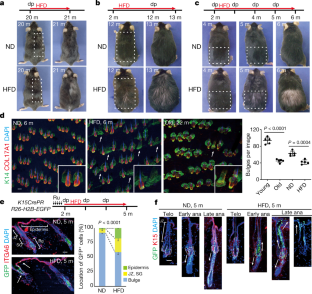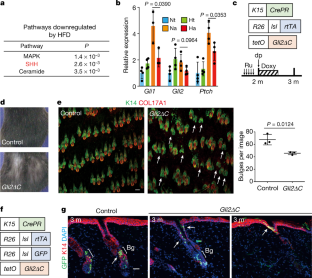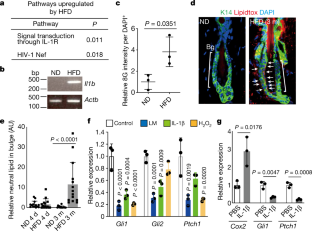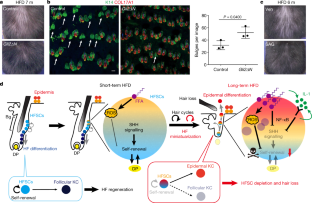 Data availability
Microarray data have been deposited in the GEO database (accession number GSE131958). RNA-seq data have been deposited in the GEO public database (accession number GSE169173). All ATAC data have been deposited in the DNA Databank of Japan (DDBJ) database (https://www.ddbj.nig.ac.jp; accession number DRA008515) Source data are provided with this paper.
References
Novak, J. S. S., Baksh, S. C. & Fuchs, E. Dietary interventions as regulators of stem cell behavior in homeostasis and disease. Genes Dev. 35, 199–211 (2021).

Matsumura, H. et al. Hair follicle aging is driven by transepidermal elimination of stem cells via COL17A1 proteolysis. Science 351, aad4395 (2016).

Calle, E. E., Rodriguez, C., Walker-Thurmond, K. & Thun, M. J. Overweight, obesity, and mortality from cancer in a prospectively studied cohort of U.S. adults. N. Engl. J. Med. 348, 1625–1638 (2003).

Sakaue, S. et al. Trans-biobank analysis with 676,000 individuals elucidates the association of polygenic risk scores of complex traits with human lifespan. Nat. Med. 26, 542–548 (2020).

Aune, D. et al. BMI and all cause mortality: systematic review and non-linear dose-response meta-analysis of 230 cohort studies with 3.74 million deaths among 30.3 million participants. Br. Med. J. 353, i2156 (2016).

Ambrosi, T. H. et al. Adipocyte accumulation in the bone marrow during obesity and aging impairs stem cell-based hematopoietic and bone regeneration. Cell Stem Cell 20, 771–784.e6 (2017).

Beyaz, S. et al. High-fat diet enhances stemness and tumorigenicity of intestinal progenitors. Nature 531, 53–58 (2016).

Inomata, K. et al. Genotoxic stress abrogates renewal of melanocyte stem cells by triggering their differentiation. Cell 137, 1088–1099 (2009).

Oh, J., Lee, Y. D. & Wagers, A. J. Stem cell aging: mechanisms, regulators and therapeutic opportunities. Nat. Med. 20, 870–880 (2014).

Flach, J. et al. Replication stress is a potent driver of functional decline in ageing haematopoietic stem cells. Nature 512, 198–202 (2014).

Matsumura, H. et al. Distinct types of stem cell divisions determine organ regeneration and aging in hair follicles. Nat. Aging 1, 190–204 (2021).

Matilainen, V., Koskela, P. & Keinänen-Kiukaanniemi, S. Early androgenetic alopecia as a marker of insulin resistance. Lancet 356, 1165–1166 (2000).

Driskell, R. R. et al. Distinct fibroblast lineages determine dermal architecture in skin development and repair. Nature 504, 277–281 (2013).

Salzer, M. C. et al. Identity noise and adipogenic traits characterize dermal fibroblast aging. Cell 175, 1575–1590.e22 (2018).

Chen, C. C., Plikus, M. V., Tang, P. C., Widelitz, R. B. & Chuong, C. M. The modulatable stem cell niche: tissue interactions during hair and feather follicle regeneration. J. Mol. Biol. 428, 1423–1440 (2016).

Festa, E. et al. Adipocyte lineage cells contribute to the skin stem cell niche to drive hair cycling. Cell 146, 761–771 (2011).

Rompolas, P. & Greco, V. Stem cell dynamics in the hair follicle niche. Semin. Cell Dev. Biol. 25-26, 34–42 (2014).

Nakajima, T. et al. Roles of MED1 in quiescence of hair follicle stem cells and maintenance of normal hair cycling. J. Invest. Dermatol. 133, 354–360 (2013).

Greco, V. et al. A two-step mechanism for stem cell activation during hair regeneration. Cell Stem Cell 4, 155–169 (2009).

Xing, L. et al. Alopecia areata is driven by cytotoxic T lymphocytes and is reversed by JAK inhibition. Nat. Med. 20, 1043–1049 (2014).

St-Jacques, B. et al. Sonic hedgehog signaling is essential for hair development. Curr. Biol. 8, 1058–1068 (1998).

Ouspenskaia, T., Matos, I., Mertz, A. F., Fiore, V. F. & Fuchs, E. WNT-SHH antagonism specifies and expands stem cells prior to niche formation. Cell 164, 156–169 (2016).

Hsu, Y. C., Li, L. & Fuchs, E. Transit-amplifying cells orchestrate stem cell activity and tissue regeneration. Cell 157, 935–949 (2014).

Ermilov, A. N. et al. Maintenance of taste organs is strictly dependent on epithelial hedgehog/GLI signaling. PLoS Genet. 12, e1006442 (2016).

Furukawa, S. et al. Increased oxidative stress in obesity and its impact on metabolic syndrome. J. Clin. Invest. 114, 1752–1761 (2004).

Lichti, U., Anders, J. & Yuspa, S. H. Isolation and short-term culture of primary keratinocytes, hair follicle populations and dermal cells from newborn mice and keratinocytes from adult mice for in vitro analysis and for grafting to immunodeficient mice. Nat. Protocols 3, 799–810 (2008).

Wang, Y. et al. Interleukin-1β induces blood-brain barrier disruption by downregulating Sonic hedgehog in astrocytes. PLoS ONE 9, e110024 (2014).

Horai, R. et al. Production of mice deficient in genes for interleukin (IL)-1α, IL-1β, IL-1 α/β, and IL-1 receptor antagonist shows that IL-1β is crucial in turpentine-induced fever development and glucocorticoid secretion. J. Exp. Med. 187, 1463–1475 (1998).

Tanaka, Y. et al. NF-E2-related factor 2 inhibits lipid accumulation and oxidative stress in mice fed a high-fat diet. J. Pharmacol. Exp. Ther. 325, 655–664 (2008).

Grachtchouk, M. et al. Basal cell carcinomas in mice arise from hair follicle stem cells and multiple epithelial progenitor populations. J. Clin. Invest. 121, 1768–1781 (2011).

Ito, M. et al. Stem cells in the hair follicle bulge contribute to wound repair but not to homeostasis of the epidermis. Nat. Med. 11, 1351–1354 (2005).

Taniyama, Y. et al. Beneficial effect of intracoronary verapamil on microvascular and myocardial salvage in patients with acute myocardial infarction. J. Am. Coll. Cardiol. 30, 1193–1199 (1997).

Itoh, K. et al. An Nrf2/small Maf heterodimer mediates the induction of phase II detoxifying enzyme genes through antioxidant response elements. Biochem. Biophys. Res. Commun. 236, 313–322 (1997).

Nishie, W. et al. Humanization of autoantigen. Nat. Med. 13, 378–383 (2007).

Yang, R. L., Li, W., Shi, Y. H. & Le, G. W. Lipoic acid prevents high-fat diet-induced dyslipidemia and oxidative stress: a microarray analysis. Nutrition 24, 582–588 (2008).

Fujiwara, H. et al. The basement membrane of hair follicle stem cells is a muscle cell niche. Cell 144, 577–589 (2011).

Jensen, K. B., Driskell, R. R. & Watt, F. M. Assaying proliferation and differentiation capacity of stem cells using disaggregated adult mouse epidermis. Nat. Protocols 5, 898–911 (2010).

Ba, X. & Boldogh, I. 8-Oxoguanine DNA glycosylase 1: beyond repair of the oxidatively modified base lesions. Redox Biol. 14, 669–678 (2018).

Solanas, G. et al. Aged stem cells reprogram their daily rhythmic functions to adapt to stress. Cell 170, 678–692.e20 (2017).
Acknowledgements
We thank R. Yajima, H. Katagiri, I. Manabe, S. Wakana and Y. Nabeshima for technical support, and DASS Manuscript for editing. E.K.N. is supported by an AMED Project for Elucidating and Controlling Mechanisms of Ageing and Longevity (JP17gm5010002–JP21gm5010002), Scientific Research on Innovative Areas 'Stem Cell Aging and Disease' (26115003) and by Aderans Co Ltd. H. Morinaga is supported by a JSPS Grant-in-Aid for Young Scientists (B) (17K15663). A.A.D is supported by an NIH grant (R01 AR045973) and Cancer Center Support grant (P30 CA046592).
Ethics declarations
Competing interests
E.K.N. is an inventor on a patent application (in preparation) related to this manuscript, which will be filed by the Tokyo Medical and Dental University. The other authors declare no competing interests.
Additional information
Peer review information Nature thanks Ömer Yilmaz and the other, anonymous, reviewer(s) for their contribution to the peer review of this work.
Publisher's note Springer Nature remains neutral with regard to jurisdictional claims in published maps and institutional affiliations.
Extended data figures and tables
Supplementary information
This file contains Supplementary Figures 1-4.
About this article
Cite this article
Morinaga, H., Mohri, Y., Grachtchouk, M. et al. Obesity accelerates hair thinning by stem cell-centric converging mechanisms. Nature 595, 266–271 (2021). https://doi.org/10.1038/s41586-021-03624-x
Received:

Accepted:

Published:

Issue Date:

DOI: https://doi.org/10.1038/s41586-021-03624-x
Comments
By submitting a comment you agree to abide by our Terms and Community Guidelines. If you find something abusive or that does not comply with our terms or guidelines please flag it as inappropriate.