Abstract
Interactions between tumour cells and the surrounding microenvironment contribute to tumour progression, metastasis and recurrence1,2,3. Although mosaic analyses in Drosophila have advanced our understanding of such interactions4,5, it has been difficult to engineer parallel approaches in vertebrates. Here we present an oncogene-associated, multicolour reporter mouse model—the Red2Onco system—that allows differential tracing of mutant and wild-type cells in the same tissue. By applying this system to the small intestine, we show that oncogene-expressing mutant crypts alter the cellular organization of neighbouring wild-type crypts, thereby driving accelerated clonal drift. Crypts that express oncogenic KRAS or PI3K secrete BMP ligands that suppress local stem cell activity, while changes in PDGFRloCD81+ stromal cells induced by crypts with oncogenic PI3K alter the WNT signalling environment. Together, these results show how oncogene-driven paracrine remodelling creates a niche environment that is detrimental to the maintenance of wild-type tissue, promoting field transformation dominated by oncogenic clones.
Relevant articles
Open Access articles citing this article.
Gabriele Colozza

,

So-Yeon Park

&

Bon-Kyoung Koo

Experimental & Molecular Medicine Open Access 18 September 2022

Yalong Wang

,

Wanlu Song

…

Ye-Guang Chen

Cell Regeneration Open Access 01 September 2022

Dedrick Kok Hong Chan

&

Simon James Alexander Buczacki

Oncogenesis Open Access 16 July 2021
Access options
Subscribe to Nature+
Get immediate online access to Nature and 55 other Nature journal
Subscribe to Journal
Get full journal access for 1 year
$199.00
only $3.90 per issue
All prices are NET prices.
VAT will be added later in the checkout.
Tax calculation will be finalised during checkout.
Buy article
Get time limited or full article access on ReadCube.
$32.00
All prices are NET prices.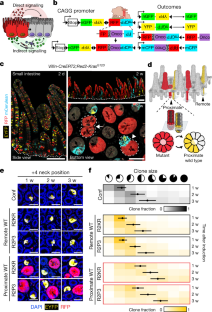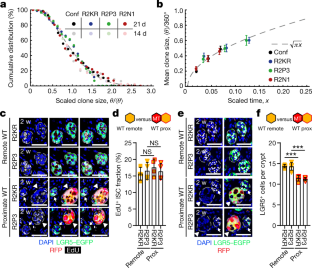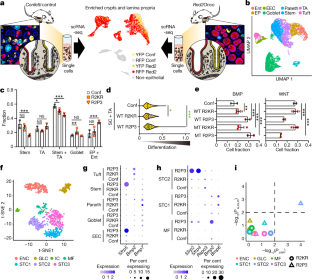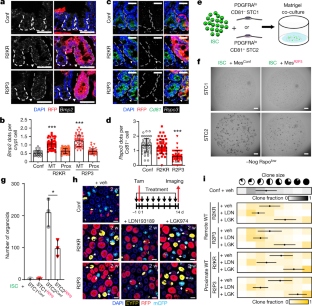 Code availability
The statistical analysis of the clone fate data, based on a fit to the established modelling scheme, was performed using a FORTRAN (G95 compiler) code developed for this study. The scRNA-seq data were analysed using publicly available R packages. The codes and data used for clonal analysis and scRNA-seq data analysis have been deposited in GitHub (available at https://github.com/BenSimonsLab/Yum_Nature_2021).
References
Hanahan, D. & Weinberg, R. A. Hallmarks of cancer: the next generation. Cell 144, 646–674 (2011).

Medema, J. P. & Vermeulen, L. Microenvironmental regulation of stem cells in intestinal homeostasis and cancer. Nature 474, 318–326 (2011).

Quail, D. F. & Joyce, J. A. Microenvironmental regulation of tumor progression and metastasis. Nat. Med. 19, 1423–1437 (2013).

Clavería, C. & Torres, M. Cell competition: mechanisms and physiological roles. Annu. Rev. Cell Dev. Biol. 32, 411–439 (2016).

Di Gregorio, A., Bowling, S. & Rodriguez, T. A. Cell competition and its role in the regulation of cell fitness from development to cancer. Dev. Cell 38, 621–634 (2016).

Moreno, E. & Rhiner, C. Darwin's multicellularity: from neurotrophic theories and cell competition to fitness fingerprints. Curr. Opin. Cell Biol. 31, 16–22 (2014).

Maruyama, T. & Fujita, Y. Cell competition in mammals — novel homeostatic machinery for embryonic development and cancer prevention. Curr. Opin. Cell Biol. 48, 106–112 (2017).

Egeblad, M., Nakasone, E. S. & Werb, Z. Tumors as organs: complex tissues that interface with the entire organism. Dev. Cell 18, 884–901 (2010).

Bjerknes, M. & Cheng, H. Colossal crypts bordering colon adenomas in ApcMin mice express full-length Apc. Am. J. Pathol. 154, 1831–1834 (1999).

Curtius, K., Wright, N. A. & Graham, T. A. An evolutionary perspective on field cancerization. Nat. Rev. Cancer 18, 19–32 (2018).

Vermeulen, L. & Snippert, H. J. Stem cell dynamics in homeostasis and cancer of the intestine. Nat. Rev. Cancer 14, 468–480 (2014).

Baron, C. S. & van Oudenaarden, A. Unravelling cellular relationships during development and regeneration using genetic lineage tracing. Nat. Rev. Mol. Cell Biol. 20, 753–765 (2019).

Zong, H., Espinosa, J. S., Su, H. H., Muzumdar, M. D. & Luo, L. Mosaic analysis with double markers in mice. Cell 121, 479–492 (2005).

Pontes-Quero, S. et al. Dual ifgMosaic: a versatile method for multispectral and combinatorial mosaic gene-function analysis. Cell 170, 800–814 (2017).

Snippert, H. J. et al. Intestinal crypt homeostasis results from neutral competition between symmetrically dividing Lgr5 stem cells. Cell 143, 134–144 (2010).

Sheng, H., Shao, J., Townsend, C. M., Jr & Evers, B. M. Phosphatidylinositol 3-kinase mediates proliferative signals in intestinal epithelial cells. Gut 52, 1472–1478 (2003).

Haigis, K. M. et al. Differential effects of oncogenic K-Ras and N-Ras on proliferation, differentiation and tumor progression in the colon. Nat. Genet. 40, 600–608 (2008).

Stanger, B. Z., Datar, R., Murtaugh, L. C. & Melton, D. A. Direct regulation of intestinal fate by Notch. Proc. Natl Acad. Sci. USA 102, 12443–12448 (2005).

Lopez-Garcia, C., Klein, A. M., Simons, B. D. & Winton, D. J. Intestinal stem cell replacement follows a pattern of neutral drift. Science 330, 822–825 (2010).

Ritsma, L. et al. Intestinal crypt homeostasis revealed at single-stem-cell level by in vivo live imaging. Nature 507, 362–365 (2014).

Cancer Genome Atlas Network. Comprehensive molecular characterization of human colon and rectal cancer. Nature 487, 330–337 (2012).

Fearon, E. R. Molecular genetics of colorectal cancer. Annu. Rev. Pathol. 6, 479–507 (2011).

Nicholson, A. M. et al. Fixation and spread of somatic mutations in adult human colonic epithelium. Cell Stem Cell 22, 909–918 (2018).

Leedham, S. J. et al. Clonality, founder mutations, and field cancerization in human ulcerative colitis-associated neoplasia. Gastroenterology 136, 542–550 (2009).

Galandiuk, S. et al. Field cancerization in the intestinal epithelium of patients with Crohn's ileocolitis. Gastroenterology 142, 855–864 (2012).

Vermeulen, L. et al. Defining stem cell dynamics in models of intestinal tumor initiation. Science 342, 995–998 (2013).

Snippert, H. J., Schepers, A. G., van Es, J. H., Simons, B. D. & Clevers, H. Biased competition between Lgr5 intestinal stem cells driven by oncogenic mutation induces clonal expansion. EMBO Rep. 15, 62–69 (2014).

Kozar, S. et al. Continuous clonal labeling reveals small numbers of functional stem cells in intestinal crypts and adenomas. Cell Stem Cell 13, 626–633 (2013).

Huels, D. J. et al. Wnt ligands influence tumour initiation by controlling the number of intestinal stem cells. Nat. Commun. 9, 1132 (2018).

Bruens, L., Ellenbroek, S. I. J., van Rheenen, J. & Snippert, H. J. In vivo imaging reveals existence of crypt fission and fusion in adult mouse intestine. Gastroenterology 153, 674–677 (2017).

Grün, D. et al. Single-cell messenger RNA sequencing reveals rare intestinal cell types. Nature 525, 251–255 (2015).

Haber, A. L. et al. A single-cell survey of the small intestinal epithelium. Nature 551, 333–339 (2017).

Ayyaz, A. et al. Single-cell transcriptomes of the regenerating intestine reveal a revival stem cell. Nature 569, 121–125 (2019).

Cheng, C. W. et al. Ketone body signaling mediates intestinal stem cell homeostasis and adaptation to diet. Cell 178, 1115–1131 (2019).

Gehart, H. & Clevers, H. Tales from the crypt: new insights into intestinal stem cells. Nat. Rev. Gastroenterol. Hepatol. 16, 19–34 (2019).

Stzepourginski, I. et al. CD34+ mesenchymal cells are a major component of the intestinal stem cells niche at homeostasis and after injury. Proc. Natl Acad. Sci. USA 114, E506–E513 (2017).

Greicius, G. et al. PDGFRα + pericryptal stromal cells are the critical source of Wnts and RSPO3 for murine intestinal stem cells in vivo. Proc. Natl Acad. Sci. USA 115, E3173–E3181 (2018).

McCarthy, N. et al. Distinct mesenchymal cell populations generate the essential intestinal BMP signaling gradient. Cell Stem Cell 26, 391–402 (2020).

Jin, Z. et al. Differentiation-defective stem cells outcompete normal stem cells for niche occupancy in the Drosophila ovary. Cell Stem Cell 2, 39–49 (2008).

Ellis, S. J. et al. Distinct modes of cell competition shape mammalian tissue morphogenesis. Nature 569, 497–502 (2019).

Kinross, K. M. et al. An activating Pik3ca mutation coupled with Pten loss is sufficient to initiate ovarian tumorigenesis in mice. J. Clin. Invest. 122, 553–557 (2012).

Murtaugh, L. C., Stanger, B. Z., Kwan, K. M. & Melton, D. A. Notch signaling controls multiple steps of pancreatic differentiation. Proc. Natl Acad. Sci. USA 100, 14920–14925 (2003).

Orsulic, S. et al. Induction of ovarian cancer by defined multiple genetic changes in a mouse model system. Cancer Cell 1, 53–62 (2002).

Zhao, J. J. et al. The oncogenic properties of mutant p110α and p110β phosphatidylinositol 3-kinases in human mammary epithelial cells. Proc. Natl Acad. Sci. USA 102, 18443–18448 (2005).

Susaki, E. A. et al. Advanced CUBIC protocols for whole-brain and whole-body clearing and imaging. Nat. Protocols 10, 1709–1727 (2015).

Snippert, H. J., Schepers, A. G., Delconte, G., Siersema, P. D. & Clevers, H. Slide preparation for single-cell-resolution imaging of fluorescent proteins in their three-dimensional near-native environment. Nat. Protocols 6, 1221–1228 (2011).

Stzepourginski, I., Eberl, G. & Peduto, L. An optimized protocol for isolating lymphoid stromal cells from the intestinal lamina propria. J. Immunol. Methods 421, 14–19 (2015).

Sato, T. et al. Single Lgr5 stem cells build crypt-villus structures in vitro without a mesenchymal niche. Nature 459, 262–265 (2009).

Lun, A. T., Bach, K. & Marioni, J. C. Pooling across cells to normalize single-cell RNA sequencing data with many zero counts. Genome Biol. 17, 75 (2016).

Feng, Y. et al. Mutant Kras promotes hyperplasia and alters differentiation in the colon epithelium but does not expand the presumptive stem cell pool. Gastroenterology 141, 1003–1013 (2011).

Herman, J. S., Sagar, & Grün, D. FateID infers cell fate bias in multipotent progenitors from single-cell RNA-seq data. Nat. Methods 15, 379–386 (2018).

Pinto, D., Gregorieff, A., Begthel, H. & Clevers, H. Canonical Wnt signals are essential for homeostasis of the intestinal epithelium. Genes Dev. 17, 1709–1713 (2003).

Qi, Z. et al. BMP restricts stemness of intestinal Lgr5+ stem cells by directly suppressing their signature genes. Nat. Commun. 8, 13824 (2017).

Sansom, O. J. et al. Myc deletion rescues Apc deficiency in the small intestine. Nature 446, 676–679 (2007).

Kim, T. H. et al. Broadly permissive intestinal chromatin underlies lateral inhibition and cell plasticity. Nature 506, 511–515 (2014).

Skinnider, M. A. et al. Cell type prioritization in single-cell data. Nat. Biotechnol. 39, 30–34 (2021).

Huang, W., Sherman, B. T. & Lempicki, R. A. Systematic and integrative analysis of large gene lists using DAVID bioinformatics resources. Nat. Protocols 4, 44–57 (2009).
Acknowledgements
We thank S. Alexandrova and members of the Simons laboratory for discussions, C. J. Hindley for reading the manuscript, S. Bae for assistance with graphic illustrations, the Gurdon Institute Imaging Facility for microscopy and image analysis support, and the Cancer Research UK Cambridge Institute Genomics Core Facility for sequencing and library generation. This work was supported by a Cancer Research UK Multidisciplinary Project Award to B.-K.K. and B.D.S. (C52767/A23363), and grants to A.P. (Cancer Research UK, A25636), J.-H.L. (Wellcome Trust, 107633/Z/15/Z; ERC Starting Grant, 679411), B.-K.K. (ERC Starting Grant, 639050; Human Frontier Science Program, RGY0071/2018; Interpark Bio-Convergence Center Grant Program, IBCC-IMBA-2020-01) and B.D.S. (Wellcome Trust, 098357/Z/12/Z and 219478/Z/19/Z), as well as by studentships and fellowships to J.F. (Wellcome Trust), S.-H.S.W. (DOC Fellowship of the Austrian Academy of Sciences), L.C. (Herchel Smith Fund), S.H. (Human Frontier Science Program, LT000092/2016-L; Basic Science Research Program NRF-2014R1A6A3A01005675) and B.D.S. (Royal Society EP Abraham Research Professorship, RP\R1\180165). The research team also acknowledges core grant support from the Austrian Academy of Sciences to the Institute of Molecular Biotechnology, the Wellcome Trust and MRC to the Wellcome–MRC Cambridge Stem Cell Institute, and the Wellcome Trust (092096) and CRUK (C6946/A14492) to the Gurdon Institute.
Ethics declarations
Competing interests
The authors declare no competing interests.
Additional information
Peer review information Nature thanks Hans Clevers, James DeGregori, Dominic Grün and Toshiro Sato for their contribution to the peer review of this work. Peer reviewer reports are available.
Publisher's note Springer Nature remains neutral with regard to jurisdictional claims in published maps and institutional affiliations.
Extended data figures and tables
Supplementary information
About this article
Cite this article
Yum, M.K., Han, S., Fink, J. et al. Tracing oncogene-driven remodelling of the intestinal stem cell niche. Nature 594, 442–447 (2021). https://doi.org/10.1038/s41586-021-03605-0
Received:

Accepted:

Published:

Issue Date:

DOI: https://doi.org/10.1038/s41586-021-03605-0
Comments
By submitting a comment you agree to abide by our Terms and Community Guidelines. If you find something abusive or that does not comply with our terms or guidelines please flag it as inappropriate.