Abstract
The second integument of the angiosperm ovule is unique among seed plants, with developmental genetics that are distinct from those of the inner integument1. Understanding how the second integument should be compared to structures in other seed plants is therefore crucial to resolving the long-standing question of the origin of angiosperms2,3,4,5,6. Attention has focused on several extinct plants with recurved cupules that are reminiscent of the anatropous organization of the basic bitegmic ovules of angiosperms1,2,3,4,5,6, but interpretations have been hampered by inadequate information on the relevant fossils. Here we describe abundant exceptionally well-preserved recurved cupules from a newly discovered silicified peat dating to the Early Cretaceous epoch (around 125.6 million years ago) in Inner Mongolia, China. The new material, combined with re-examination of potentially related fossils, indicates that the recurved cupules of several groups of Mesozoic plants are all fundamentally comparable, and that their structure is consistent with the recurved form and development of the second integument in the bitegmic anatropous ovules of angiosperms. Recognition of these angiosperm relatives (angiophytes) provides a partial answer to the question of angiosperm origins, will help to focus future work on seed plant phylogenetics and has important implications for ideas on the origin of the angiosperm carpel.
Relevant articles
Open Access articles citing this article.
EvoDevo Open Access 15 December 2021
Access options
Access Nature and 54 other Nature Portfolio journals
Get Nature+, our best-value online-access subscription
$29.99 per month
cancel any time
Subscribe to this journal
Receive 51 print issues and online access
$199.00 per year
only $3.90 per issue
Rent or buy this article
Get just this article for as long as you need it
$39.95
Prices may be subject to local taxes which are calculated during checkout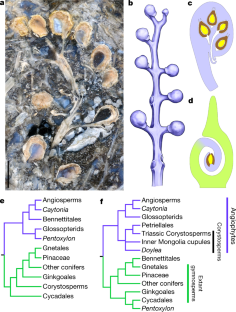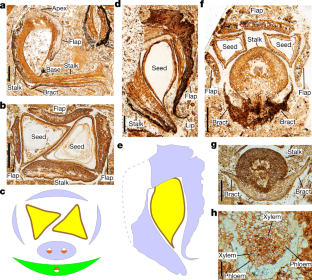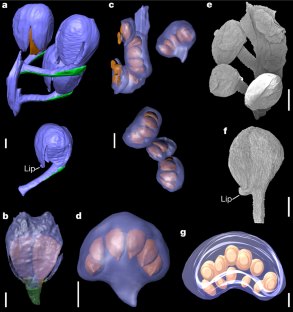 Code availability
The MrBayes commands for Bayesian analysis are included in the NEXUS formatted file in Supplementary Data 2.
References
Gasser, C. S. & Skinner, D. J. Development and evolution of the unique ovules of flowering plants. Curr. Top. Dev. Biol. 131, 373–399 (2019).

Gaussen, H. Les Gymnospermes, Actuelles et Fossiles. Travaux du Laboratoire Forestier de Toulouse, Tome 2. Étud. Dendrol. Sect. 1, Vol. 1 (1946).

Stebbins, G. L. Flowering Plants: Evolution Above the Species Level (Harvard Univ. Press, 1974).

Doyle, J. A. Origin of angiosperms. Annu. Rev. Ecol. Syst. 9, 365–392 (1978).

Crane, P. R. Phylogenetic analysis of seed plants and the origin of angiosperms. Ann. Mo. Bot. Gard. 72, 716–793 (1985).

Frohlich, M. W. & Chase, M. W. After a dozen years of progress the origin of angiosperms is still a great mystery. Nature 450, 1184–1189 (2007).

Harris, T. M. A new member of the Caytoniales. New Phytol. 32, 97–113 (1933).

Harris, T. M. The Yorkshire Jurassic Flora, II. Caytoniales, Cycadales & Pteridosperms (British Museum, Natural History, 1964).

Hilton, J. & Bateman, R. M. Pteridosperms are the backbone of seed-plant phylogeny. J. Torrey Bot. Soc. 133, 119–168 (2006).

Doyle, J. A. Integrating molecular phylogenetic and paleobotanical evidence on origin of the flower. Int. J. Plant Sci. 169, 816–843 (2008).

Rothwell, G. W. & Stockey, R. A. Phylogenetic diversification of Early Cretaceous seed plants: the compound seed cone of Doylea tetrahedrasperma. Am. J. Bot. 103, 923–937 (2016).

Shi, G. et al. Diversity and homologies of corystosperm seed-bearing structures from the Early Cretaceous of Mongolia. J. Syst. Palaeontology 17, 997–1029 (2019).

Anderson, J. M. & Anderson, H. M. Heyday of the Gymnosperms: Systematics and Biodiversity of the Late Triassic Molteno Fructifications (Strelitzia, 2003).

Klavins, S. D., Taylor, T. N. & Taylor, E. L. Anatomy of Umkomasia (Corystospermales) from the Triassic of Antarctica. Am. J. Bot. 89, 664–676 (2002).

Axsmith, B. J., Taylor, E. L., Taylor, T. N. & Cuneo, N. R. New perspectives on the Mesozoic seed fern order Corystospermales based on attached organs from the Triassic of Antarctica. Am. J. Bot. 87, 757–768 (2000).

Taylor, T. N., Del Fueyo, G. M. & Taylor, E. L. Permineralized seed fern cupules from the Triassic of Antarctica: implications for cupule and carpel evolution. Am. J. Bot. 81, 666–677 (1994).

Bomfleur, B. et al. Habit and ecology of the Petriellales, an unusual group of seed plants from the Triassic of Gondwana. Int. J. Plant Sci. 175, 1062–1075 (2014).

Taylor, T. N. & Archangelsky, S. The Cretaceous pteridosperms Ruflorinia and Ktalenia and implications on cupule and carpel evolution. Am. J. Bot. 72, 1842–1853 (1985).

Friis, E. M. & Crane, P. R. & Pedersen, K. R. Geminispermum, an Early Cretaceous (early–middle Albian) cupulate unit from the angiosperm-dominated Puddledock flora of eastern North America. Acta Palaeobot. 59, 229–239 (2019).

Barbacka, M. & Boka, K. A new Early Liassic Caytoniales fructification from Hungary. Acta Palaeobot. 40, 85–111 (2000).

Crane, P. R. in Origin and Evolution of Gymnosperms (ed. Beck, C. B.) 218–272 (Columbia Univ. Press, 1988).

Endress, P. K. Angiosperm ovules: diversity, development, evolution. Ann. Bot. 107, 1465–1489 (2011).

Doyle, J. A. & Donoghue, M. J. Phylogenies and angiosperm diversification. Paleobiology 19, 141–167 (1993).

Blomenkemper, P., Kerp, H., Abu Hamad, A., DiMichele, W. A. & Bomfleur, B. A hidden cradle of plant evolution in Permian tropical lowlands. Science 362, 1414–1416 (2018).

Deng, S. Early Cretaceous Flora of Huolinhe Basin, Inner Mongolia, Northeast China (Geological Publishing House, 1995).

Shi, G. et al. Age of the Huolinhe Formation in the Huolinhe Basin, eastern Inner Mongolia, China: evidence from U–Pb zircon dating and palynological assemblages. J. Stratigr. 45, 69–81 (2021).

Crane, P. R. & Herendeen, P. S. Bennettitales from the Grisethorpe Bed (Middle Jurassic) at Cayton Bay, Yorkshire, UK. Am. J. Bot. 96, 284–295 (2009).

Huang, D. The Daohugou Biota (Shanghai Scientific & Technical Publishers, 2016).

Galtier, J. & Phillips, T. L. in Fossil Plants and Spores: Modern Techniques (eds Jones, T. P. & Rowe, N. P.) 67–70 (Geological Society of London, 1999).

Friis, E. M. et al. Phase-contrast X-ray microtomography links Cretaceous seeds with Gnetales and Bennettitales. Nature 450, 549–552 (2007).
Acknowledgements
We thank B. Zhang, C. Dong, S. Yin, S. Hu, H. Jiang, Q. Li, W. Zhang and F. Lu for assistance with fieldwork in Inner Mongolia, China; R. Serbet and B. Atkinson for assistance with examination and the loan of Petriellaea specimens from the University of Kansas collections; X. Wang and F. Zheng for the loan of the Caytonia fossils from the Daohugou Bed in the collections of the Institute of Vertebrate Paleontology and Paleoanthropology, Chinese Academy of Sciences; Z.-X. Luo, A. I. Neander and C. Brodersen for assistance with micro-computed tomography (micro-CT) scanning; E.M. Friis, X. Xu and S. Donskaya for assistance in processing micro-CT data; H. Wang, C. Zhang and M. Carvalho for assistance with phylogenetic analyses; and D. Yang for assistance with drawing. This work was supported by the Youth Innovation Promotion Association of the Chinese Academy of Sciences (2017359), the US National Science Foundation grant DEB-1748286, the Strategic Priority Research Program of the Chinese Academy of Sciences (XDB26000000), the National Natural Science Foundation of China (41790454) and the Oak Spring Garden Foundation.
Ethics declarations
Competing interests
The authors declare no competing interests.
Additional information
Peer review information Nature thanks William Friedman, Michael Frohlich and Douglas Soltis for their contribution to the peer review of this work. Peer reviewer reports are available.
Publisher's note Springer Nature remains neutral with regard to jurisdictional claims in published maps and institutional affiliations.
Extended data figures and tables
Supplementary information
About this article
Cite this article
Shi, G., Herrera, F., Herendeen, P.S. et al. Mesozoic cupules and the origin of the angiosperm second integument. Nature 594, 223–226 (2021). https://doi.org/10.1038/s41586-021-03598-w
Received:

Accepted:

Published:

Issue Date:

DOI: https://doi.org/10.1038/s41586-021-03598-w
This article is cited by
EvoDevo (2021)

Nature (2021)
Comments
By submitting a comment you agree to abide by our Terms and Community Guidelines. If you find something abusive or that does not comply with our terms or guidelines please flag it as inappropriate.