Abstract
The key to advancing lithium-ion battery technology—in particular, fast charging—is the ability to follow and understand the dynamic processes occurring in functioning materials under realistic conditions, in real time and on the nano- to mesoscale. Imaging of lithium-ion dynamics during battery operation (operando imaging) at present requires sophisticated synchrotron X-ray1,2,3,4,5,6,7 or electron microscopy8,9 techniques, which do not lend themselves to high-throughput material screening. This limits rapid and rational materials improvements. Here we introduce a simple laboratory-based, optical interferometric scattering microscope10,11,12,13 to resolve nanoscopic lithium-ion dynamics in battery materials, and apply it to follow cycling of individual particles of the archetypal cathode material14,15, LixCoO2, within an electrode matrix. We visualize the insulator-to-metal, solid solution and lithium ordering phase transitions directly and determine rates of lithium diffusion at the single-particle level, identifying different mechanisms on charge and discharge. Finally, we capture the dynamic formation of domain boundaries between different crystal orientations associated with the monoclinic lattice distortion at the Li0.5CoO2 composition16. The high-throughput nature of our methodology allows many particles to be sampled across the entire electrode and in future will enable exploration of the role of dislocations, morphologies and cycling rate on battery degradation. The generality of our imaging concept means that it can be applied to study any battery electrode, and more broadly, systems where the transport of ions is associated with electronic or structural changes. Such systems include nanoionic films, ionic conducting polymers, photocatalytic materials and memristors.
Relevant articles
Open Access articles citing this article.
Christopher Klose

,

Felix Büttner

…

Bastian Pfau

Nature Open Access 18 January 2023

Ben Niu

,

Wenxuan Jiang

…

Wei Wang

Nature Communications Open Access 28 April 2022
Access options
Access Nature and 54 other Nature Portfolio journals
Get Nature+, our best-value online-access subscription
$29.99 / 30 days
cancel any time
Subscribe to this journal
Receive 51 print issues and online access
$199.00 per year
only $3.90 per issue
Rent or buy this article
Prices vary by article type
from$1.95
to$39.95
Prices may be subject to local taxes which are calculated during checkout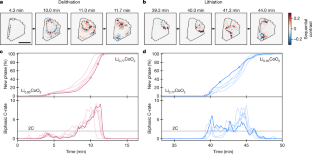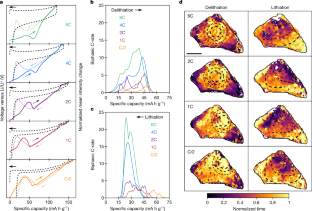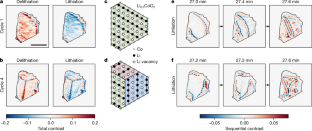 Data availability
The data underlying all figures in the main text and the Extended Data are publicly available from the University of Cambridge repository at https://doi.org/10.17863/CAM.70023.
Code availability
All code used in this work is available from the corresponding authors upon reasonable request.
References
Yu, Y.-S. et al. Three-dimensional localization of nanoscale battery reactions using soft X-ray tomography. Nat. Commun. 9, 921 (2018).

Lim, J. et al. Origin and hysteresis of lithium compositional spatiodynamics within battery primary particles. Science 353, 566–571 (2016).

Li, S. et al. Mutual modulation between surface chemistry and bulk microstructure within secondary particles of nickel-rich layered oxides. Nat. Commun. 11, 4433 (2020).

Tsai, P.-C. et al. Single-particle measurements of electrochemical kinetics in NMC and NCA cathodes for Li-ion batteries. Energy Environ. Sci. 11, 860–871 (2018).

Xu, Y. et al. In situ visualization of state-of-charge heterogeneity within a LiCoO2 particle that evolves upon cycling at different rates. ACS Energy Lett. 2, 1240–1245 (2017).

Singer, A. et al. Nucleation of dislocations and their dynamics in layered oxide cathode materials during battery charging. Nat. Energy 3, 641–647 (2018).

Zhang, X. et al. Direct view on the phase evolution in individual LiFePO4 nanoparticles during Li-ion battery cycling. Nat. Commun. 6, 8333 (2015).

Holtz, M. E. et al. Nanoscale imaging of lithium ion distribution during in situ operation of battery electrode and electrolyte. Nano Lett. 14, 1453–1459 (2014).

He, K. et al. Operando liquid cell electron microscopy of discharge and charge kinetics in lithium-oxygen batteries. Nano Energy 49, 338–345 (2018).

Lindfors, K., Kalkbrenner, T., Stoller, P. & Sandoghdar, V. Detection and spectroscopy of gold nanoparticles using supercontinuum white light confocal microscopy. Phys. Rev. Lett. 93, 037401 (2004).

Ortega-Arroyo, J. & Kukura, P. Interferometric scattering microscopy (iSCAT): new frontiers in ultrafast and ultrasensitive optical microscopy. Phys. Chem. Chem. Phys. 14, 15625–15636 (2012).

Young, G. & Kukura, P. Interferometric scattering microscopy. Annu. Rev. Phys. Chem. 70, 301–322 (2019).

Taylor, R. W. & Sandoghdar, V. in Label-free Super-resolution Microscopy (ed. Astratov, V.) 25–65 (Springer, 2019).

Mizushima, K., Jones, P. C., Wiseman, P. J. & Goodenough, J. B. LixCoO2 (0 < x ≤ l): a new cathode material for batteries of high energy density. Mater. Res. Bull. 15, 783–789 (1980).

Amatucci, G. G., Tarascon, J. M. & Klein, L. C. CoO2, the end member of the LixCoO2 solid solution. J. Electrochem. Soc. 143, 1114–1123 (1996).

Reimers, J. N. & Dahn, J. R. Electrochemical and in situ X‐ray diffraction studies of lithium intercalation in LixCoO2. J. Electrochem. Soc. 139, 2091–2097 (1992).

Liu, H. et al. Capturing metastable structures during high-rate cycling of LiFePO4 nanoparticle electrodes. Science 344, 1252817 (2014).

Zhang, Y., Yang, Z. & Tian, C. Probing and quantifying cathode charge heterogeneity in Li ion batteries. J. Mater. Chem. A 7, 23628–23661 (2019).

Wu, Y. & Liu, N. Visualizing battery reactions and processes by using in situ and in operando microscopies. Chem 4, 438–465 (2018).

Otoyama, M., Kowada, H., Sakuda, A., Tatsumisago, M. & Hayashi, A. Operando confocal microscopy for dynamic changes of Li+ ion conduction path in graphite electrode layers of all-solid-state batteries. J. Phys. Chem. Lett. 11, 900–904 (2020).

Kazyak, E. et al. Li penetration in ceramic solid electrolytes: operando microscopy analysis of morphology, propagation, and reversibility. Matter 2, 1025–1048 (2020).

Wood, K. N. et al. Dendrites and pits: untangling the complex behavior of lithium metal anodes through operando video microscopy. ACS Cent. Sci. 2, 790–801 (2016).

Namink, K., Meng, X., Koper, M. T. M., Kukura, P. & Faez, S. Electric-double-layer-modulation microscopy. Phys. Rev. Appl. 13, 044065 (2020).

Ortega Arroyo, J., Cole, D. & Kukura, P. Interferometric scattering microscopy and its combination with single-molecule fluorescence imaging. Nat. Protocols 11, 617–633 (2016).

Piliarik, M. & Sandoghdar, V. Direct optical sensing of single unlabelled proteins and super-resolution imaging of their binding sites. Nat. Commun. 5, 4495 (2014).

Gholami Mahmoodabadi, R. et al. Point spread function in interferometric scattering microscopy (iSCAT). Part I: aberrations in defocusing and axial localization. Opt. Express 28, 25969–25988 (2020).

Van der Ven, A. & Ceder, G. Lithium diffusion in layered LixCoO2. Electrochem. Solid-State Lett. 3, 301–304 (2000).

Sugiyama, J. et al. Li diffusion in LixCoO2 probed by muon-spin spectroscopy. Phys. Rev. Lett. 103, 147601 (2009).

Jang, Y.-I., Neudecker, B. J. & Dudney, N. J. Lithium diffusion in LixCoO2 (0.45 < x < 0.7) intercalation cathodes. Electrochem. Solid-State Lett. 4, A74–A77 (2001).

Xia, H., Lu, L. & Ceder, G. Li diffusion in LiCoO2 thin films prepared by pulsed laser deposition. J. Power Sources 159, 1422–1427 (2006).

Xie, J. et al. Orientation dependence of Li–ion diffusion kinetics in LiCoO2 thin films prepared by RF magnetron sputtering. Solid State Ion. 179, 362–370 (2008).

Takeuchi, S. et al. Epitaxial LiCoO2 films as a model system for fundamental electrochemical studies of positive electrodes. ACS Appl. Mater. Interfaces 7, 7901–7911 (2015).

Dokko, K. et al. Kinetic characterization of single particles of LiCoO2 by AC impedance and potential step methods. J. Electrochem. Soc. 148, A422–A426 (2001).

Ménétrier, M., Saadoune, I., Levasseur, S. & Delmas, C. The insulator-metal transition upon lithium deintercalation from LiCoO2: electronic properties and 7Li NMR study. J. Mater. Chem. 9, 1135–1140 (1999).

Ménétrier, M., Carlier, D., Blangero, M. & Delmas, C. On "really" stoichiometric LiCoO2. Electrochem. Solid-State Lett. 11, A179–A182 (2008).

Liu, H. L. et al. Electronic structure and lattice dynamics of LixCoO2 single crystals. New J. Phys. 17, 103004 (2015).

Rubin, M., von Rottkay, K., Wen, S.-J., Özer, N. & Slack, J. Optical indices of lithiated electrochromic oxides. Sol. Energy Mater. Sol. Cells 54, 49–57 (1998).

Sung, J. et al. Long-range ballistic propagation of carriers in methylammonium lead iodide perovskite thin films. Nat. Phys. 16, 171–176 (2020).

Schnedermann, C. et al. Ultrafast tracking of exciton and charge carrier transport in optoelectronic materials on the nanometer scale. J. Phys. Chem. Lett. 10, 6727–6733 (2019).

Evans, R. C., Nilsson, Z. N. & Sambur, J. B. High-throughput single-nanoparticle-level imaging of electrochemical ion insertion reactions. Anal. Chem. 91, 14983–14991 (2019).

Fraggedakis, D. et al. A scaling law to determine phase morphologies during ion intercalation. Energy Environ. Sci. 13, 2142–2152 (2020).

Zhang, W., Srinivasan, S. & Ploehn, H. J. Analysis of transient hydrogen uptake by metal alloy particles. J. Electrochem. Soc. 143, 4039–4047 (1996).

Singh, G. K., Ceder, G. & Bazant, M. Z. Intercalation dynamics in rechargeable battery materials: general theory and phase-transformation waves in LiFePO4. Electrochim. Acta 53, 7599–7613 (2008).

Li, Y. et al. Current-induced transition from particle-by-particle to concurrent intercalation in phase-separating battery electrodes. Nat. Mater. 13, 1149–1156 (2014).

Nadkarni, N., Zhou, T., Fraggedakis, D., Gao, T. & Bazant, M. Z. Modeling the metal–insulator phase transition in LixCoO2 for energy and information storage. Adv. Funct. Mater. 29, 1902821 (2019).

Bazant, M. Z. Theory of chemical kinetics and charge transfer based on nonequilibrium thermodynamics. Acc. Chem. Res. 46, 1144–1160 (2013).

Van der Ven, A., Bhattacharya, J. & Belak, A. A. Understanding Li diffusion in Li-intercalation compounds. Acc. Chem. Res. 46, 1216–1225 (2013).

Morcrette, M. et al. In situ X-ray diffraction techniques as a powerful tool to study battery electrode materials. Electrochim. Acta 47, 3137–3149 (2002).

Shao-Horn, Y., Levasseur, S., Weill, F. & Delmas, C. Probing lithium and vacancy ordering in O3 layered LixCoO2 (x ~ 0.5): an electron diffraction study. J. Electrochem. Soc. 150, A366–A373 (2003).

Delor, M., Weaver, H. L., Yu, Q. & Ginsberg, N. S. Imaging material functionality through three-dimensional nanoscale tracking of energy flow. Nat. Mater. 19, 56–62 (2020).

Folie, B. D. et al. Effect of anisotropic confinement on electronic structure and dynamics of band edge excitons in inorganic perovskite nanowires. J. Phys. Chem. A 124, 1867–1876 (2020).

Chen, K.-H. et al. Dead lithium: mass transport effects on voltage, capacity, and failure of lithium metal anodes. J. Mater. Chem. A 5, 11671–11681 (2017).

Spindler, S. et al. Visualization of lipids and proteins at high spatial and temporal resolution via interferometric scattering (iSCAT) microscopy. J. Phys. D 49, 274002 (2016); erratum 49, 349601 (2016).
Acknowledgements
The authors acknowledge financial support from the Faraday Institution, Battery Characterisation Call. A.J.M. acknowledges support from the EPSRC Cambridge NanoDTC, EP/L015978/1. C.S. acknowledges financial support by the Royal Commission of the Exhibition of 1851. We acknowledge financial support from the EPSRC and the Winton Program for the Physics of Sustainability. This project has received funding from the European Research Council (ERC) under the European Union's Horizon 2020 research and innovation programme (grant agreement no. 758826). We thank P. Kukura, A. Fineberg and G. Young for helpful discussions during the initial phase of the project.
Ethics declarations
Competing interests
The authors declare no competing interests.
Additional information
Peer review information Nature thanks Aashutosh Mistry, Yan Hui Ying and the other, anonymous, reviewer(s) for their contribution to the peer review of this work.
Publisher's note Springer Nature remains neutral with regard to jurisdictional claims in published maps and institutional affiliations.
Extended data figures and tables
Supplementary information
About this article
Cite this article
Merryweather, A.J., Schnedermann, C., Jacquet, Q. et al. Operando optical tracking of single-particle ion dynamics in batteries. Nature 594, 522–528 (2021). https://doi.org/10.1038/s41586-021-03584-2
Received:

Accepted:

Published:

Issue Date:

DOI: https://doi.org/10.1038/s41586-021-03584-2
Comments
By submitting a comment you agree to abide by our Terms and Community Guidelines. If you find something abusive or that does not comply with our terms or guidelines please flag it as inappropriate.