Abstract
Inflammation is a defence response to tissue damage that requires tight regulation in order to prevent impaired healing. Tissue-resident macrophages have a key role in tissue repair1, but the precise molecular mechanisms that regulate the balance between inflammatory and pro-repair macrophage responses during healing remain poorly understood. Here we demonstrate a major role for sensory neurons in promoting the tissue-repair function of macrophages. In a sunburn-like model of skin damage in mice, the conditional ablation of sensory neurons expressing the Gαi-interacting protein (GINIP) results in defective tissue regeneration and in dermal fibrosis. Elucidation of the underlying molecular mechanisms revealed a crucial role for the neuropeptide TAFA4, which is produced in the skin by C-low threshold mechanoreceptors—a subset of GINIP+ neurons. TAFA4 modulates the inflammatory profile of macrophages directly in vitro. In vivo studies in Tafa4-deficient mice revealed that TAFA4 promotes the production of IL-10 by dermal macrophages after UV-induced skin damage. This TAFA4–IL-10 axis also ensures the survival and maintenance of IL-10+TIM4+ dermal macrophages, reducing skin inflammation and promoting tissue regeneration. These results reveal a neuroimmune regulatory pathway driven by the neuropeptide TAFA4 that promotes the anti-inflammatory functions of macrophages and prevents fibrosis after tissue damage, and could lead to new therapeutic perspectives for inflammatory diseases.
Relevant articles
Open Access articles citing this article.
Shuyao Qiu

,

Xiangqian Luo

…

Pingchang Yang

npj Vaccines Open Access 31 October 2022

Emma Rousi

,

Afonso Malheiro

…

Lorenzo Moroni

In vitro models Open Access 10 June 2022
Access options
Subscribe to Nature+
Get immediate online access to Nature and 55 other Nature journal
Subscribe to Journal
Get full journal access for 1 year
$199.00
only $3.90 per issue
All prices are NET prices.
VAT will be added later in the checkout.
Tax calculation will be finalised during checkout.
Buy article
Get time limited or full article access on ReadCube.
$32.00
All prices are NET prices.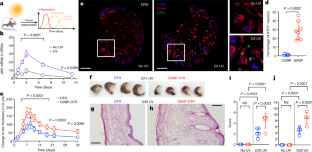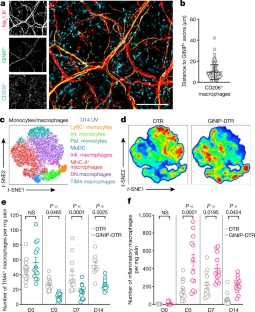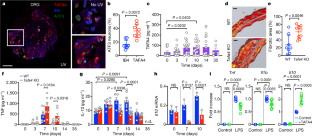 Data availability
All data supporting the findings of this study are found within the manuscript and its Supplementary Information, and are available from the corresponding author upon reasonable request. Source data are provided with this paper.
References
Wynn, T. A. & Vannella, K. M. Macrophages in tissue repair, regeneration, and fibrosis. Immunity 44, 450–462 (2016).

Merad, M. et al. Langerhans cells renew in the skin throughout life under steady-state conditions. Nat. Immunol. 3, 1135–1141 (2002).

La Russa, F. et al. Disruption of the sensory system affects sterile cutaneous inflammation in vivo. J. Invest. Dermatol. 139, 1936–1945.e3 (2019).

Lopes, D. M. & McMahon, S. B. Ultraviolet radiation on the skin: a painful experience? CNS Neurosci. Ther. 22, 118–126 (2016).

Chiu, I. M. et al. Bacteria activate sensory neurons that modulate pain and inflammation. Nature 501, 52–57 (2013).

Riol-Blanco, L. et al. Nociceptive sensory neurons drive interleukin-23-mediated psoriasiform skin inflammation. Nature 510, 157–161 (2014).

Kashem, S. W. et al. Nociceptive sensory fibers drive interleukin-23 production from CD301b+ dermal dendritic cells and drive protective cutaneous immunity. Immunity 43, 515–526 (2015).

Pinho-Ribeiro, F. A. et al. Blocking neuronal signaling to immune cells treats streptococcal invasive infection. Cell 173, 1083–1097.e22 (2018).

Cohen, J. A. et al. Cutaneous TRPV1+ neurons trigger protective innate type 17 anticipatory immunity. Cell 178, 919–932.e14 (2019).

Gaillard, S. et al. GINIP, a Gαi-interacting protein, functions as a key modulator of peripheral GABAB receptor-mediated analgesia. Neuron 84, 123–136 (2014).

Basbaum, A. I., Bautista, D. M., Scherrer, G. & Julius, D. Cellular and molecular mechanisms of pain. Cell 139, 267–284 (2009).

Abraira, V. E. & Ginty, D. D. The sensory neurons of touch. Neuron 79, 618–639 (2013).

Abrahamsen, B. et al. The cell and molecular basis of mechanical, cold, and inflammatory pain. Science 321, 702–705 (2008).

Bráz, J. M. & Basbaum, A. I. Differential ATF3 expression in dorsal root ganglion neurons reveals the profile of primary afferents engaged by diverse noxious chemical stimuli. Pain 150, 290–301 (2010).

Urien, L. et al. Genetic ablation of GINIP-expressing primary sensory neurons strongly impairs formalin-evoked pain. Sci. Rep. 7, 43493 (2017).

Gomez Perdiguero, E. et al. Tissue-resident macrophages originate from yolk-sac-derived erythro-myeloid progenitors. Nature 518, 547–551 (2015).

Hoeffel, G. et al. C-Myb+ erythro-myeloid progenitor-derived fetal monocytes give rise to adult tissue-resident macrophages. Immunity 42, 665–678 (2015).

Hoeffel, G. & Ginhoux, F. Fetal monocytes and the origins of tissue-resident macrophages. Cell. Immunol. 330, 5–15 (2018).

Ginhoux, F. & Jung, S. Monocytes and macrophages: developmental pathways and tissue homeostasis. Nat. Rev. Immunol. 14, 392–404 (2014).

Guilliams, M., Mildner, A. & Yona, S. Developmental and functional heterogeneity of monocytes. Immunity 49, 595–613 (2018).

Li, L. et al. The functional organization of cutaneous low-threshold mechanosensory neurons. Cell 147, 1615–1627 (2011).

Delfini, M. C. et al. TAFA4, a chemokine-like protein, modulates injury-induced mechanical and chemical pain hypersensitivity in mice. Cell Rep. 5, 378–388 (2013).

Reynders, A. et al. Transcriptional profiling of cutaneous MRGPRD free nerve endings and C-LTMRs. Cell Rep. 10, 1007–1019 (2015).

Tang, Y. T. et al. TAFA: a novel secreted family with conserved cysteine residues and restricted expression in the brain. Genomics 83, 727–734 (2004).

Wang, W. et al. FAM19A4 is a novel cytokine ligand of formyl peptide receptor 1 (FPR1) and is able to promote the migration and phagocytosis of macrophages. Cell. Mol. Immunol. 12, 615–624 (2015).

Grimbaldeston, M. A., Nakae, S., Kalesnikoff, J., Tsai, M. & Galli, S. J. Mast cell-derived interleukin 10 limits skin pathology in contact dermatitis and chronic irradiation with ultraviolet B. Nat. Immunol. 8, 1095–1104 (2007).

Yona, S. et al. Fate mapping reveals origins and dynamics of monocytes and tissue macrophages under homeostasis. Immunity 38, 79–91 (2013).

Hoeffel, G. et al. Adult Langerhans cells derive predominantly from embryonic fetal liver monocytes with a minor contribution of yolk sac-derived macrophages. J. Exp. Med. 209, 1167–1181 (2012).

Ip, W. K. E., Hoshi, N., Shouval, D. S., Snapper, S. & Medzhitov, R. Anti-inflammatory effect of IL-10 mediated by metabolic reprogramming of macrophages. Science 356, 513–519 (2017).

Eming, S. A. et al. Accelerated wound closure in mice deficient for interleukin-10. Am. J. Pathol. 170, 188–202 (2007).

Cavanaugh, D. J. et al. Distinct subsets of unmyelinated primary sensory fibers mediate behavioral responses to noxious thermal and mechanical stimuli. Proc. Natl Acad. Sci. USA 106, 9075–9080 (2009).

Usoskin, D. et al. Unbiased classification of sensory neuron types by large-scale single-cell RNA sequencing. Nat. Neurosci. 18, 145–153 (2015).

Sharma, N. et al. The emergence of transcriptional identity in somatosensory neurons. Nature 577, 392–398 (2020).

Madan, R. et al. Nonredundant roles for B cell-derived IL-10 in immune counter-regulation. J. Immunol. 183, 2312–2320 (2009).

Reber, L. L. et al. Imaging protective mast cells in living mice during severe contact hypersensitivity. JCI Insight 2, e92900 (2017).

Misharin, A. V. et al. Monocyte-derived alveolar macrophages drive lung fibrosis and persist in the lung over the life span. J. Exp. Med. 214, 2387–2404 (2017).

Hoeffel, G. & Ginhoux, F. Ontogeny of tissue-resident macrophages. Front. Immunol. 6, 486 (2015).

Renthal, W. et al. Transcriptional reprogramming of distinct peripheral sensory neuron subtypes after axonal injury. Neuron 108, 128–144.e9 (2020).

Tamoutounour, S. et al. Origins and functional specialization of macrophages and of conventional and monocyte-derived dendritic cells in mouse skin. Immunity 39, 925–938 (2013).

Gentek, R. et al. Hemogenic endothelial fate mapping reveals dual developmental origin of mast cells. Immunity 48, 1160–1171.e5 (2018).

Serhan, N. et al. House dust mites activate nociceptor-mast cell clusters to drive type 2 skin inflammation. Nat. Immunol. 20, 1435–1443 (2019).
Acknowledgements
We thank V. Feuillet for reading the manuscript and for comments and discussions, B. Escaliere for statistical insights, J. Galluso for mouse breeding and genotyping, and M. Lucattelli and L. Zitvogel for providing Fpr1-knockout bone marrow cells. We thank S. Memet and J. P. Gorvel for providing the IL-10GFP/GFP mice and S. Sarrazin and M. Sieweke for providing the CX3CR1CreERT2:R26-YFP mice. We thank the Centre d'Immunologie de Marseille-Luminy (CIML) mouse house and core cytometry, imaging and histology facilities. The S.U. laboratory received funding from the European Research Council under the European Union's Horizon 2020 research and innovation program, under grant agreement no. 648768; from the Agence Nationnale de la Recherche (no. ANR-14-CE14-0009-01); and from the Fondation pour la Recherche Médicale (no. ECO201906009090). This work was also supported by institutional grants from INSERM, CNRS, Aix-Marseille University and Marseille-Immunopole to the CIML.
Ethics declarations
Competing interests
Inserm Transfert have filed a provisional international patent application (WO2020/064907) on the clinical use of TAFA4 for treating inflammatory diseases, which lists S.U., G.H., G.D. and A.M. as authors. A.M. is the founder of Tafalgie Thérapeutics, which exploits a patent on the clinical use of TAFA4 (DI 06104-01). All other authors declare no competing interests.
Additional information
Peer review information Nature thanks Isaac Chiu and the other, anonymous, reviewer(s) for their contribution to the peer review of this work.
Publisher's note Springer Nature remains neutral with regard to jurisdictional claims in published maps and institutional affiliations.
Extended data figures and tables
Supplementary information
About this article
Cite this article
Hoeffel, G., Debroas, G., Roger, A. et al. Sensory neuron-derived TAFA4 promotes macrophage tissue repair functions. Nature 594, 94–99 (2021). https://doi.org/10.1038/s41586-021-03563-7
Received:

Accepted:

Published:

Issue Date:

DOI: https://doi.org/10.1038/s41586-021-03563-7
Comments
By submitting a comment you agree to abide by our Terms and Community Guidelines. If you find something abusive or that does not comply with our terms or guidelines please flag it as inappropriate.