Abstract
The human genome expresses thousands of natural antisense transcripts (NAT) that can regulate epigenetic state, transcription, RNA stability or translation of their overlapping genes1,2. Here we describe MAPT-AS1, a brain-enriched NAT that is conserved in primates and contains an embedded mammalian-wide interspersed repeat (MIR), which represses tau translation by competing for ribosomal RNA pairing with the MAPT mRNA internal ribosome entry site3. MAPT encodes tau, a neuronal intrinsically disordered protein (IDP) that stabilizes axonal microtubules. Hyperphosphorylated, aggregation-prone tau forms the hallmark inclusions of tauopathies4. Mutations in MAPT cause familial frontotemporal dementia, and common variations forming the MAPT H1 haplotype are a significant risk factor in many tauopathies5 and Parkinson's disease. Notably, expression of MAPT-AS1 or minimal essential sequences from MAPT-AS1 (including MIR) reduces—whereas silencing MAPT-AS1 expression increases—neuronal tau levels, and correlate with tau pathology in human brain. Moreover, we identified many additional NATs with embedded MIRs (MIR-NATs), which are overrepresented at coding genes linked to neurodegeneration and/or encoding IDPs, and confirmed MIR-NAT-mediated translational control of one such gene, PLCG1. These results demonstrate a key role for MAPT-AS1 in tauopathies and reveal a potentially broad contribution of MIR-NATs to the tightly controlled translation of IDPs6, with particular relevance for proteostasis in neurodegeneration.
Relevant articles
Open Access articles citing this article.
Ellen Tedford

,

Norhidayah Binti Badya

…

Glenn Alan McConkey

Scientific Reports Open Access 27 April 2023

Tatsuya Ohhata

,

Maya Suzuki

…

Masatoshi Kitagawa

Scientific Reports Open Access 15 September 2022

Kathryn R. Bowles

,

Derian A. Pugh

…

A. M. Goate

Molecular Neurodegeneration Open Access 15 July 2022
Access options
Access Nature and 54 other Nature Portfolio journals
Get Nature+, our best-value online-access subscription
$29.99 / 30 days
cancel any time
Subscribe to this journal
Receive 51 print issues and online access
$199.00 per year
only $3.90 per issue
Rent or buy this article
Prices vary by article type
from$1.95
to$39.95
Prices may be subject to local taxes which are calculated during checkout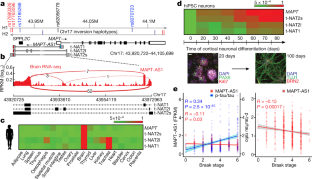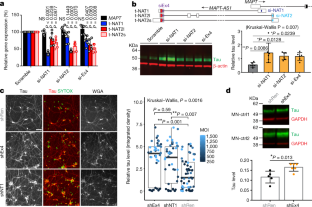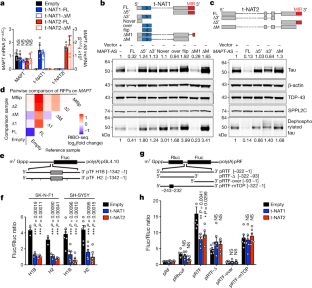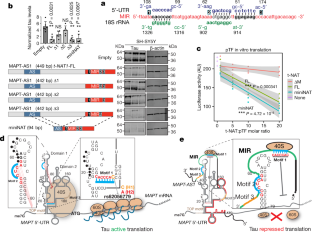 Data availability
The RIBO-seq and QuantSeq data generated as part of this work can be retrieved from ArrayExpress (E-MTAB-9921). Source data are provided with this paper.
References
Pelechano, V. & Steinmetz, L. M. Gene regulation by antisense transcription. Nat. Rev. Genet. 14, 880–893 (2013).

Statello, L., Guo, C.-J., Chen, L.-L. & Huarte, M. Gene regulation by long non-coding RNAs and its biological functions. Nat. Rev. Mol. Cell Biol. 22, 96–118 (2021).

Veo, B. L. & Krushel, L. A. Secondary RNA structure and nucleotide specificity contribute to internal initiation mediated by the human tau 5′ leader. RNA Biol. 9, 1344–1360 (2012).

Spillantini, M. G. & Goedert, M. Tau pathology and neurodegeneration. Lancet Neurol. 12, 609–622 (2013).

Pittman, A. M. et al. Linkage disequilibrium fine mapping and haplotype association analysis of the tau gene in progressive supranuclear palsy and corticobasal degeneration. J. Med. Genet. 42, 837–846 (2005).

Gsponer, J., Futschik, M. E., Teichmann, S. A. & Babu, M. M. Tight regulation of unstructured proteins: from transcript synthesis to protein degradation. Science 322, 1365–1368 (2008).

Zucchelli, S. et al. Antisense transcription in loci associated to hereditary neurodegenerative diseases. Mol. Neurobiol. 56, 5392–5415 (2019).

Sibley, C. R. et al. Recursive splicing in long vertebrate genes. Nature 521, 371–375 (2015).

Miller, J. A. et al. Neuropathological and transcriptomic characteristics of the aged brain. eLife 6, e31126 (2017).

Bennett, D. A. et al. Religious orders study and rush memory and aging project. J. Alzheimers Dis. 64 (s1), S161–S189 (2018).

Coupland, K. G. et al. Role of the long non-coding RNA MAPT-AS1 in regulation of microtubule associated protein tau (MAPT) expression in Parkinson's disease. PLoS ONE 11, e0157924 (2016).

Elkouris, M. et al. Long non-coding RNAs associated with neurodegeneration-linked genes are reduced in Parkinson's disease patients. Front. Cell. Neurosci. 13, 58 (2019).

Smit, A. F. & Riggs, A. D. MIRs are classic, tRNA-derived SINEs that amplified before the mammalian radiation. Nucleic Acids Res. 23, 98–102 (1995).

Gilbert, N. & Labuda, D. CORE-SINEs: eukaryotic short interspersed retroposing elements with common sequence motifs. Proc. Natl Acad. Sci. USA 96, 2869–2874 (1999).

Lander, E. S. et al. Initial sequencing and analysis of the human genome. Nature 409, 860–921 (2001).

Morita, T. & Sobue, K. Specification of neuronal polarity regulated by local translation of CRMP2 and Tau via the mTOR–p70S6K pathway. J. Biol. Chem. 284, 27734–27745 (2009).

Bottley, A., Phillips, N. M., Webb, T. E., Willis, A. E. & Spriggs, K. A. eIF4A inhibition allows translational regulation of mRNAs encoding proteins involved in Alzheimer's disease. PLoS ONE 5, e13030 (2010).

Mauro, V. P. & Edelman, G. M. The ribosome filter hypothesis. Proc. Natl Acad. Sci. USA 99, 12031–12036 (2002).

Andorfer, C. et al. Hyperphosphorylation and aggregation of tau in mice expressing normal human tau isoforms. J. Neurochem. 86, 582–590 (2003).

Nalls, M. A. et al. Large-scale meta-analysis of genome-wide association data identifies six new risk loci for Parkinson's disease. Nat. Genet. 46, 989–993 (2014).

Hon, C.-C. et al. An atlas of human long non-coding RNAs with accurate 5′ ends. Nature 543, 199–204 (2017).

Kapusta, A. et al. Transposable elements are major contributors to the origin, diversification, and regulation of vertebrate long noncoding RNAs. PLoS Genet. 9, e1003470 (2013).

Holcik, M. in The Oxford Handbook of Neuronal Protein Synthesis (ed. Sossin, W. S.) (Oxford Univ. Press, 2018).

Weingarten-Gabbay, S. et al. Comparative genetics. Systematic discovery of cap-independent translation sequences in human and viral genomes. Science 351, aad4939 (2016).

Paek, K. Y. et al. Translation initiation mediated by RNA looping. Proc. Natl Acad. Sci. USA 112, 1041–1046 (2015).

Mathys, H. et al. Single-cell transcriptomic analysis of Alzheimer's disease. Nature 570, 332–337 (2019).

Grubman, A. et al. A single-cell atlas of entorhinal cortex from individuals with Alzheimer's disease reveals cell-type-specific gene expression regulation. Nat. Neurosci. 22, 2087–2097 (2019).

Friedman, B. A. et al. Diverse brain myeloid expression profiles reveal distinct microglial activation states and aspects of Alzheimer's disease not evident in mouse models. Cell Rep. 22, 832–847 (2018).

Tomkins, J. E. et al. PINOT: an intuitive resource for integrating protein-protein interactions. Cell Commun. Signal. 18, 92 (2020).

Oates, M. E. et al. D2P2: database of disordered protein predictions. Nucleic Acids Res. 41, D508–D516 (2013).

Ciryam, P., Tartaglia, G. G., Morimoto, R. I., Dobson, C. M. & Vendruscolo, M. Widespread aggregation and neurodegenerative diseases are associated with supersaturated proteins. Cell Rep. 5, 781–790 (2013).

Edwards, Y. J. K., Lobley, A. E., Pentony, M. M. & Jones, D. T. Insights into the regulation of intrinsically disordered proteins in the human proteome by analyzing sequence and gene expression data. Genome Biol. 10, R50 (2009).

Sposito, T. et al. Developmental regulation of tau splicing is disrupted in stem cell-derived neurons from frontotemporal dementia patients with the 10 + 16 splice-site mutation in MAPT. Hum. Mol. Genet. 24, 5260–5269 (2015).

Shi, Y., Kirwan, P. & Livesey, F. J. Directed differentiation of human pluripotent stem cells to cerebral cortex neurons and neural networks. Nat. Protoc. 7, 1836–1846 (2012).

Hall, C. E. et al. Progressive motor neuron pathology and the role of astrocytes in a human stem cell model of VCP-related ALS. Cell Rep. 19, 1739–1749 (2017).

De Palma, M. & Naldini, L. Transduction of a gene expression cassette using advanced generation lentiviral vectors. Methods Enzymol. 346, 514–529 (2002).

Kutner, R. H., Zhang, X.-Y. & Reiser, J. Production, concentration and titration of pseudotyped HIV-1-based lentiviral vectors. Nat. Protoc. 4, 495–505 (2009).

Paxinos, G. & Franklin, K. The Mouse Brain in Stereotaxic Coordinates (Academic, 2004).

Kopec, A. M., Rivera, P. D., Lacagnina, M. J., Hanamsagar, R. & Bilbo, S. D. Optimized solubilization of TRIzol-precipitated protein permits western blotting analysis to maximize data available from brain tissue. J. Neurosci. Methods 280, 64–76 (2017).

Schindelin, J. et al. Fiji: an open-source platform for biological-image analysis. Nat. Methods 9, 676–682 (2012).

Potter, C. J. & Luo, L. Splinkerette PCR for mapping transposable elements in Drosophila. PLoS ONE 5, e10168 (2010).

Trabzuni, D. et al. Quality control parameters on a large dataset of regionally dissected human control brains for whole genome expression studies. J. Neurochem. 119, 275–282 (2011).

Ovcharenko, I., Nobrega, M. A., Loots, G. G. & Stubbs, L. ECR Browser: a tool for visualizing and accessing data from comparisons of multiple vertebrate genomes. Nucleic Acids Res. 32, W280–W286 (2004).

Stoneley, M., Paulin, F. E., Le Quesne, J. P., Chappell, S. A. & Willis, A. E. C-Myc 5′ untranslated region contains an internal ribosome entry segment. Oncogene 16, 423–428 (1998).

Kraushar, M. L. et al. Temporally defined neocortical translation and polysome assembly are determined by the RNA-binding protein Hu antigen R. Proc. Natl Acad. Sci. USA 111, E3815–E3824 (2014).

McGlincy, N. J. & Ingolia, N. T. Transcriptome-wide measurement of translation by ribosome profiling. Methods 126, 112–129 (2017).

Adiconis, X. et al. Comparative analysis of RNA sequencing methods for degraded or low-input samples. Nat. Methods 10, 623–629 (2013).

Blazquez, L. et al. Exon junction complex shapes the transcriptome by repressing recursive splicing. Mol. Cell 72, 496–509.e9 (2018).

Martin, M. Cutadapt removes adapter sequences from high-throughput sequencing reads. EMBnet J. 17, 10 (2011).

Langmead, B. & Salzberg, S. L. Fast gapped-read alignment with Bowtie 2. Nat. Methods 9, 357–359 (2012).

Dobin, A. et al. STAR: ultrafast universal RNA-seq aligner. Bioinformatics 29, 15–21 (2013).

Smith, T., Heger, A. & Sudbery, I. UMI-tools: modeling sequencing errors in Unique Molecular Identifiers to improve quantification accuracy. Genome Res. 27, 491–499 (2017).

Love, M. I., Huber, W. & Anders, S. Moderated estimation of fold change and dispersion for RNA-seq data with DESeq2. Genome Biol. 15, 550 (2014).

Moll, P., Ante, M., Seitz, A. & Reda, T. QuantSeq 3′ mRNA sequencing for RNA quantification. Nat. Methods 11, i–iii (2014).

Quinlan, A. R. & Hall, I. M. BEDTools: a flexible suite of utilities for comparing genomic features. Bioinformatics 26, 841–842 (2010).

Wickham, H. Ggplot2: Elegant Graphics for Data Analysis (Springer, 2009).

Edgar, R. C. MUSCLE: multiple sequence alignment with high accuracy and high throughput. Nucleic Acids Res. 32, 1792–1797 (2004).

Waterhouse, A. M., Procter, J. B., Martin, D. M. A., Clamp, M. & Barton, G. J. Jalview Version 2–a multiple sequence alignment editor and analysis workbench. Bioinformatics 25, 1189–1191 (2009).

Lin, M. F., Jungreis, I. & Kellis, M. PhyloCSF: a comparative genomics method to distinguish protein coding and non-coding regions. Bioinformatics 27, i275–i282 (2011).

Plessy, C. et al. Linking promoters to functional transcripts in small samples with nanoCAGE and CAGEscan. Nat. Methods 7, 528–534 (2010).

Lizio, M. et al. Gateways to the FANTOM5 promoter level mammalian expression atlas. Genome Biol. 16, 22 (2015).

Lorenz, R. et al. ViennaRNA Package 2.0. Algorithms Mol. Biol. 6, 26 (2011).

Ritchie, M. E. et al. limma powers differential expression analyses for RNA-sequencing and microarray studies. Nucleic Acids Res. 43, e47 (2015).

Law, C. W., Chen, Y., Shi, W. & Smyth, G. K. voom: Precision weights unlock linear model analysis tools for RNA-seq read counts. Genome Biol. 15, R29 (2014).

Gu, Z., Eils, R. & Schlesner, M. Complex heatmaps reveal patterns and correlations in multidimensional genomic data. Bioinformatics 32, 2847–2849 (2016).

Chen, E. Y. et al. Enrichr: interactive and collaborative HTML5 gene list enrichment analysis tool. BMC Bioinformatics 14, 128 (2013).

Wang, J., Duncan, D., Shi, Z. & Zhang, B. WEB-based GEne SeT AnaLysis Toolkit (WebGestalt): update 2013. Nucleic Acids Res. 41, W77–W83 (2013).

Shannon, P. et al. Cytoscape: a software environment for integrated models of biomolecular interaction networks. Genome Res. 13, 2498–2504 (2003).

Xia, J., Benner, M. J. & Hancock, R. E. W. NetworkAnalyst—integrative approaches for protein-protein interaction network analysis and visual exploration. Nucleic Acids Res. 42, W167–W174 (2014).

Machiela, M. J. & Chanock, S. J. LDlink: a web-based application for exploring population-specific haplotype structure and linking correlated alleles of possible functional variants. Bioinformatics 31, 3555–3557 (2015).

Luisier, R. et al. Intron retention and nuclear loss of SFPQ are molecular hallmarks of ALS. Nat. Commun. 9, 2010 (2018).

Pisarev, A. V., Kolupaeva, V. G., Yusupov, M. M., Hellen, C. U. T. & Pestova, T. V. Ribosomal position and contacts of mRNA in eukaryotic translation initiation complexes. EMBO J. 27, 1609–1621 (2008).
Acknowledgements
We thank L. Wilson and A. Willis for providing pRF and pRhcvF luciferase reporter vectors; P. Fratta and A. Isaacs for suggestions and comments on the manuscript, and other members of the UK Brain Expression Consortium: S. Guelfi, K. D'Sa, M. Matarin, J. Vandrovcova, A. Ramasamy, J. A. Botia, C. Smith and P. Forabosco. This work was supported by the Reta Lila Weston Trust for Medical Research for funding to T.T.W., R.d.S. and R.S.; CBD Solutions for funding to R.d.S., R.S. and P.S.); the Medical Research Council (G0501560 to R.d.S.), Parkinson's UK (K1212 to R.d.S.), PSP Association (R.d.S.), CurePSP (R.d.S.), Brain Research UK (R.d.S.), Alzheimer's Research UK to R.d.S.; a BBSRC LiDo PhD studentship to F.J.; an AgeUK PhD Studentship to V.A.K.; the NIHR Queen Square Dementia BRU to S.W., E.P. and J.A.H.; the Italian Ministry of Education, University and Research Futuro in Ricerca (RBFR-0895DC) 'Mechanisms of post-transcriptional regulation of gene expression in dementias' to M.A.D.; University of Trento PhD studentship and an IBRO InEurope Short Stay grant to K.S.; and the MRC Sudden Death Brain Bank. This work was supported by the Francis Crick Institute which receives its core funding from Cancer Research UK (FC001002), the UK Medical Research Council (FC001002) and the Wellcome Trust (FC001002). This research was funded in part by the Wellcome Trust (4 Year Wellcome Trust Studentship to O.G.W.) and by the European Research Council under the European Union's Seventh Framework Programme (617837-Translate to J.U.) and under the European Union's Horizon 2020 research and innovation programme (835300-RNPdynamics to J.U.). S.W. holds a Alzheimer's Research UK Senior Research Fellowship (ARUK-SRFEXT2020-001); R.P. holds an MRC Senior Clinical Fellowship (MR/S006591/1). This work was also supported by the UK Dementia Research Institute which receives its funding from DRI Ltd, funded by the UK Medical Research Council, Alzheimer's Society and Alzheimer's Research UK; Medical Research Council (award number MR/N026004/1 to J.A.H.), Wellcome Trust (award number 202903/Z/16/Z to J.A.H.), Dolby Family Fund to J.A.H., National Institute for Health Research University College London Hospitals Biomedical Research Centre funding to J.A.H.
Ethics declarations
Competing interests
R.S. and R.d.S. are named as inventors on Patent WO2017199041A1, which is based on this work.
Additional information
Peer review information Nature thanks Anton Komar, Claes Wahlestedt and the other, anonymous, reviewer(s) for their contribution to the peer review of this work.
Publisher's note Springer Nature remains neutral with regard to jurisdictional claims in published maps and institutional affiliations.
Extended data figures and tables
Supplementary information
About this article
Cite this article
Simone, R., Javad, F., Emmett, W. et al. MIR-NATs repress MAPT translation and aid proteostasis in neurodegeneration. Nature 594, 117–123 (2021). https://doi.org/10.1038/s41586-021-03556-6
Received:

Accepted:

Published:

Issue Date:

DOI: https://doi.org/10.1038/s41586-021-03556-6
This article is cited by
Ellen Tedford
Norhidayah Binti Badya
Glenn Alan McConkey

Scientific Reports (2023)

Tatsuya Ohhata
Maya Suzuki
Masatoshi Kitagawa

Scientific Reports (2022)

Kathryn R. Bowles
Derian A. Pugh
A. M. Goate

Molecular Neurodegeneration (2022)
Comments
By submitting a comment you agree to abide by our Terms and Community Guidelines. If you find something abusive or that does not comply with our terms or guidelines please flag it as inappropriate.