Abstract
AMPA-selective glutamate receptors mediate the transduction of signals between the neuronal circuits of the hippocampus1. The trafficking, localization, kinetics and pharmacology of AMPA receptors are tuned by an ensemble of auxiliary protein subunits, which are integral membrane proteins that associate with the receptor to yield bona fide receptor signalling complexes2. Thus far, extensive studies of recombinant AMPA receptor–auxiliary subunit complexes using engineered protein constructs have not been able to faithfully elucidate the molecular architecture of hippocampal AMPA receptor complexes. Here we obtain mouse hippocampal, calcium-impermeable AMPA receptor complexes using immunoaffinity purification and use single-molecule fluorescence and cryo-electron microscopy experiments to elucidate three major AMPA receptor–auxiliary subunit complexes. The GluA1–GluA2, GluA1–GluA2–GluA3 and GluA2–GluA3 receptors are the predominant assemblies, with the auxiliary subunits TARP-γ8 and CNIH2–SynDIG4 non-stochastically positioned at the B′/D′ and A′/C′ positions, respectively. We further demonstrate how the receptor–TARP-γ8 stoichiometry explains the mechanism of and submaximal inhibition by a clinically relevant, brain-region-specific allosteric inhibitor.
Relevant articles
Open Access articles citing this article.
Shanti Pal Gangwar

,

Laura Y. Yen

…

Alexander I. Sobolevsky

Nature Structural & Molecular Biology Open Access 31 August 2023

Danyang Zhang

,

Remigijus Lape

…

Ingo H. Greger

Nature Communications Open Access 25 March 2023

Andrew Muenks

,

Samantha Zepeda

…

Frank DiMaio

Nature Communications Open Access 01 March 2023
Access options
Access Nature and 54 other Nature Portfolio journals
Get Nature+, our best-value online-access subscription
$29.99 / 30 days
cancel any time
Subscribe to this journal
Receive 51 print issues and online access
$199.00 per year
only $3.90 per issue
Rent or buy this article
Prices vary by article type
from$1.95
to$39.95
Prices may be subject to local taxes which are calculated during checkout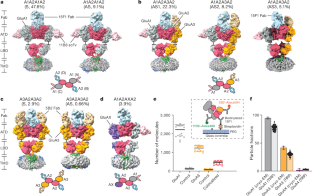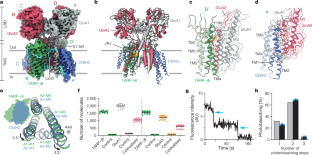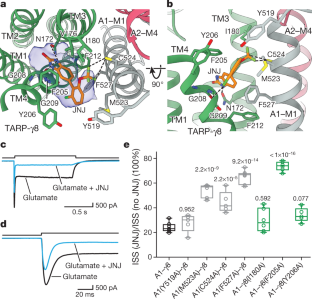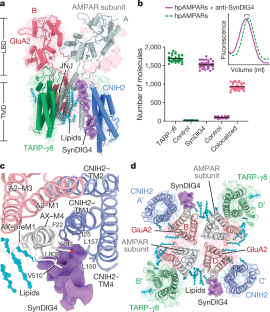 Data availability
The cryo-EM maps and coordinates for overall, the ATD layer and the LBD–TMD layer of the A1A2A1A2 symmetric (S) and A1A2A1A2 asymmetric (AS) complexes have been deposited in the Electron Microscopy Data Bank (EMDB) under accession numbers EMD-23283 and EMD-23284 and in the Protein Data Bank (PDB) under accession codes 7LDD and 7LDE, respectively. The cryo-EM maps for overall, the ATD layer and the LBD–TMD layer of the A1A2A3A2 (AS1), A1A2A3A2 (AS2), A3A2A3A2 (S) and A3A2A3A2 (AS) complexes have been deposited in the EMDB under accession numbers EMD-23285, EMD-23286, EMD-23287 and EMD-23288, respectively. The cryo-EM maps of A1A2A3A2 (AS3) and A1A2AXA2 have been deposited in the EMDB under accession numbers EMD-23289 and EMD-23290, respectively. The cryo-EM map and coordinates for the LBD-TMDmix complex have been deposited in the EMDB and PDB under accession codes EMD-23292 and 7LEP, respectively.
References
Diering, G. H. & Huganir, R. L. The AMPA receptor code of synaptic plasticity. Neuron 100, 314–329 (2018).

Jackson, A. C. & Nicoll, R. A. The expanding social network of ionotropic glutamate receptors: TARPs and other transmembrane auxiliary subunits. Neuron 70, 178–199 (2011).

Collingridge, G. L., Kehl, S. J. & McLennan, H. Excitatory amino acids in synaptic transmission in the Schaffer collateral-commissural pathway of the rat hippocampus. J. Physiol. 334, 33–46 (1983).

Bliss, T. V. & Lomo, T. Long-lasting potentiation of synaptic transmission in the dentate area of the anaesthetized rabbit following stimulation of the perforant path. J. Physiol. 232, 331–356 (1973).

Rosenmund, C., Stern-Bach, Y. & Stevens, C. F. The tetrameric structure of a glutamate receptor channel. Science 280, 1596–1599 (1998).

Sobolevsky, A. I., Rosconi, M. P. & Gouaux, E. X-ray structure, symmetry and mechanism of an AMPA-subtype glutamate receptor. Nature 462, 745–756 (2009).

Traynelis, S. F. et al. Glutamate receptor ion channels: structure, regulation, and function. Pharmacol. Rev. 62, 405–496 (2010).

Keinanen, K. et al. A family of AMPA-selective glutamate receptors. Science 249, 556–560 (1990). 

Schwenk, J. et al. Regional diversity and developmental dynamics of the AMPA-receptor proteome in the mammalian brain. Neuron 84, 41–54 (2014).

Wenthold, R. J., Petralia, R. S., Blahos J, I. I. & Niedzielski, A. S. Evidence for multiple AMPA receptor complexes in hippocampal CA1/CA2 neurons. J. Neurosci. 16, 1982–1989 (1996).

Kamalova, A. & Nakagawa, T. AMPA receptor structure and auxiliary subunits. J. Physiol. 599, 453–469 (2021).

Tomita, S. et al. Functional studies and distribution define a family of transmembrane AMPA receptor regulatory proteins. J. Cell Biol. 161, 805–816 (2003).

Schwenk, J. et al. Functional proteomics identify cornichon proteins as auxiliary subunits of AMPA receptors. Science 323, 1313–1319 (2009).

Chen, L. et al. Stargazin regulates synaptic targeting of AMPA receptors by two distinct mechanisms. Nature 408, 936–943 (2000).

Herguedas, B. et al. Architecture of the heteromeric GluA1/2 AMPA receptor in complex with the auxiliary subunit TARP γ8. Science 364, eaav9011 (2019).

Nakagawa, T. Structures of the AMPA receptor in complex with its auxiliary subunit cornichon. Science 366, 1259–1263 (2019).

Jain, A. et al. Probing cellular protein complexes using single-molecule pull-down. Nature 473, 484–488 (2011).

Zhao, Y., Chen, S., Swensen, A. C., Qian, W. J. & Gouaux, E. Architecture and subunit arrangement of native AMPA receptors elucidated by cryo-EM. Science 364, 355–362 (2019).

Maher, M. P. et al. Discovery and characterization of AMPA receptor modulators selective for TARP-γ8. J. Pharmacol. Exp. Ther. 357, 394–414 (2016).

Lu, W. et al. Subunit composition of synaptic AMPA receptors revealed by a single-cell genetic approach. Neuron 62, 254–268 (2009).

Jacobi, E. & von Engelhardt, J. Diversity in AMPA receptor complexes in the brain. Curr. Opin. Neurobiol. 45, 32–38 (2017).

Morise, J. et al. Distinct cell surface expression patterns of N-glycosylation site mutants of AMPA-type glutamate receptor under the homo-oligomeric expression conditions. Int. J. Mol. Sci. 21, 5101 (2020).

Fukaya, M. et al. Abundant distribution of TARP γ-8 in synaptic and extrasynaptic surface of hippocampal neurons and its major role in AMPA receptor expression on spines and dendrites. Eur. J. Neurosci. 24, 2177–2190 (2006).

Rouach, N. et al. TARP γ-8 controls hippocampal AMPA receptor number, distribution and synaptic plasticity. Nat. Neurosci. 8, 1525–1533 (2005).

Kato, A. S. et al. Hippocampal AMPA receptor gating controlled by both TARP and cornichon proteins. Neuron 68, 1082–1096 (2010).

Carrillo, E. et al. Mechanism of modulation of AMPA receptors by TARP-γ8. J. Gen. Physiol. 152, jgp.201912451 (2020).

Plested, A. J. & Mayer, M. L. AMPA receptor ligand binding domain mobility revealed by functional cross linking. J. Neurosci. 29, 11912–11923 (2009).

Baranovic, J. et al. Dynamics of the ligand binding domain layer during AMPA receptor activation. Biophys. J. 110, 896–911 (2016).

Harmel, N. et al. AMPA receptors commandeer an ancient cargo exporter for use as an auxiliary subunit for signaling. PLoS ONE 7, e30681 (2012).

Boudkkazi, S., Brechet, A., Schwenk, J. & Fakler, B. Cornichon2 dictates the time course of excitatory transmission at individual hippocampal synapses. Neuron 82, 848–858 (2014).

Gill, M. B., Kato, A. S., Wang, H. & Bredt, D. S. AMPA receptor modulation by cornichon-2 dictated by transmembrane AMPA receptor regulatory protein isoform. Eur. J. Neurosci. 35, 182–194 (2012).

Herring, B. E. et al. Cornichon proteins determine the subunit composition of synaptic AMPA receptors. Neuron 77, 1083–1096 (2013).

Sommer, B., Köhler, M., Sprengel, R. & Seeburg, P. H. RNA editing in brain controls a determinant of ion flow in glutamate-gated channels. Cell 67, 11–19 (1991).

Burnashev, N., Villarroel, A. & Sakmann, B. Dimensions and ion selectivity of recombinant AMPA and kainate receptor channels and their dependence on Q/R site residues. J. Physiol. 496, 165–173 (1996).

Swanson, G. T., Kamboj, S. K. & Cull-Candy, S. G. Single-channel properties of recombinant AMPA receptors depend on RNA editing, splice variation, and subunit composition. J. Neurosci. 17, 58–69 (1997).

Bowie, D. & Mayer, M. L. Inward rectification of both AMPA and kainate subtype glutamate receptors generated by polyamine-mediated ion channel block. Neuron 15, 453–462 (1995).

Lomeli, H. et al. Control of kinetic properties of AMPA receptor channels by nuclear RNA editing. Science 266, 1709–1713 (1994).

Kirk, L. M. et al. Distribution of the SynDIG4/proline-rich transmembrane protein 1 in rat brain. J. Comp. Neurol. 524, 2266–2280 (2016).

Matt, L. et al. SynDIG4/Prrt1 is required for excitatory synapse development and plasticity underlying cognitive function. Cell Rep. 22, 2246–2253 (2018).

Troyano-Rodriguez, E., Mann, S., Ullah, R. & Ahmad, M. PRRT1 regulates basal and plasticity-induced AMPA receptor trafficking. Mol. Cell. Neurosci. 98, 155–163 (2019).

Penn, A. C. et al. Hippocampal LTP and contextual learning require surface diffusion of AMPA receptors. Nature 549, 384–388 (2017).

Goehring, A. et al. Screening and large-scale expression of membrane proteins in mammalian cells for structural studies. Nat. Protocols 9, 2574–2585 (2014).

Coleman, J. A., Green, E. M. & Gouaux, E. X-ray structures and mechanism of the human serotonin transporter. Nature 532, 334–339 (2016).

Kawate, T. & Gouaux, E. Fluorescence-detection size-exclusion chromatography for precrystallization screening of integral membrane proteins. Structure 14, 673–681 (2006).

Sultan, F. A. Dissection of different areas from mouse hippocampus. Bio-Protocol 3, e955 (2013).

Mastronarde, D. N. Automated electron microscope tomography using robust prediction of specimen movements. J. Struct. Biol. 152, 36–51 (2005).

Punjani, A., Rubinstein, J. L., Fleet, D. J. & Brubaker, M. A. cryoSPARC: algorithms for rapid unsupervised cryo-EM structure determination. Nat. Methods 14, 290–296 (2017).

Zivanov, J. et al. New tools for automated high-resolution cryo-EM structure determination in RELION-3. eLife 7, e42166 (2018).

Punjani, A., Zhang, H. & Fleet, D. J. Non-uniform refinement: adaptive regularization improves single-particle cryo-EM reconstruction. Nat. Methods 17, 1214–1221 (2020).

Pettersen, E. F. et al. UCSF Chimera—a visualization system for exploratory research and analysis. J. Comput. Chem. 25, 1605–1612 (2004).

Emsley, P. & Cowtan, K. Coot: model-building tools for molecular graphics. Acta Crystallogr. D 60, 2126–2132 (2004).

Afonine, P. V. et al. Real-space refinement in PHENIX for cryo-EM and crystallography. Acta Crystallogr. D 74, 531–544 (2018).

The PyMOL Molecular Graphics System v.2.1 (Schrödinger, 2020).

Biedermann, J., Braunbeck, S., Plested, A. J. & Sun, H. Non-selective cation permeation in an AMPA-type glutamate receptor. Proc. Natl Acad. Sci. USA 118, e2012843118 (2021).

Chen, V. B. et al. MolProbity: all-atom structure validation for macromolecular crystallography. Acta Crystallogr. D 66, 12–21 (2010).

Goddard, T. D. et al. UCSF ChimeraX: meeting modern challenges in visualization and analysis. Protein Sci. 27, 14–25 (2018).

Jain, A., Liu, R., Xiang, Y. K. & Ha, T. Single-molecule pull-down for studying protein interactions. Nat. Protocols 7, 445–452 (2012).

Reeves, P. J., Callewaert, N., Contreras, R. & Khorana, H. G. Structure and function in rhodopsin: high-level expression of rhodopsin with restricted and homogeneous N-glycosylation by a tetracycline-inducible N-acetylglucosaminyltransferase I-negative HEK293S stable mammalian cell line. Proc. Natl Acad. Sci. USA 99, 13419–13424 (2002).
Acknowledgements
We thank the Pacific Northwest Cryo-EM Center (PNCC) and OHSU MMC for microscope use, D. Cawley, P. Streeter, Y. Zhong and N. Sheldon for generating antibodies, A. Goehring for mouse dissections, M. Mayer for his guidance and advice on electrophysiology experiments, J. Elferich for help writing SiMPull processing scripts, S. Chen for help initiating the project, L. Vaskalis for assistance with figures, F. Jalali-Yazdi and H. Owen for help with manuscript preparation and R. Nicoll and members of the Gouaux laboratory for discussions. PNCC is supported by NIH grant U24GM129547 and accessed through EMSL (grid.436923.9), a DOE Office of Science User Facility sponsored by the Office of Biological and Environmental Research. T.H. and J.M. were supported by the NIGMS grant R35GM122569. This work was supported by the NINDS grant R01NS038631 to E.G. T.H. and E.G. are investigators of the Howard Hughes Medical Institute. The content is solely the responsibility of the authors and does not necessarily represent the official views of National Institutes of Health.
Ethics declarations
Competing interests
The authors declare no competing interests.
Additional information
Peer review information Nature thanks Sudha Chakrapani, Vasanthi Jayaraman and Andrew Plested for their contribution to the peer review of this work. Peer reviewer reports are available.
Publisher's note Springer Nature remains neutral with regard to jurisdictional claims in published maps and institutional affiliations.
Extended data figures and tables
Supplementary information
This file contains Supplementary Figure 1 and Supplementary Tables 1-2.
About this article
Cite this article
Yu, J., Rao, P., Clark, S. et al. Hippocampal AMPA receptor assemblies and mechanism of allosteric inhibition. Nature 594, 448–453 (2021). https://doi.org/10.1038/s41586-021-03540-0
Received:

Accepted:

Published:

Issue Date:

DOI: https://doi.org/10.1038/s41586-021-03540-0
Comments
By submitting a comment you agree to abide by our Terms and Community Guidelines. If you find something abusive or that does not comply with our terms or guidelines please flag it as inappropriate.