Abstract
Odours are transported in turbulent plumes, which result in rapid concentration fluctuations1,2 that contain rich information about the olfactory scenery, such as the composition and location of an odour source2,3,4. However, it is unclear whether the mammalian olfactory system can use the underlying temporal structure to extract information about the environment. Here we show that ten-millisecond odour pulse patterns produce distinct responses in olfactory receptor neurons. In operant conditioning experiments, mice discriminated temporal correlations of rapidly fluctuating odours at frequencies of up to 40 Hz. In imaging and electrophysiological recordings, such correlation information could be readily extracted from the activity of mitral and tufted cells—the output neurons of the olfactory bulb. Furthermore, temporal correlation of odour concentrations5 reliably predicted whether odorants emerged from the same or different sources in naturalistic environments with complex airflow. Experiments in which mice were trained on such tasks and probed using synthetic correlated stimuli at different frequencies suggest that mice can use the temporal structure of odours to extract information about space. Thus, the mammalian olfactory system has access to unexpectedly fast temporal features in odour stimuli. This endows animals with the capacity to overcome key behavioural challenges such as odour source separation5, figure–ground segregation6 and odour localization7 by extracting information about space from temporal odour dynamics.
Relevant articles
Open Access articles citing this article.
Carles Bosch

,

Tobias Ackels

…

Andreas T. Schaefer

Nature Communications Open Access 25 May 2022
Access options
Subscribe to Nature+
Get immediate online access to the entire Nature family of 50+ journals
Subscribe to Journal
Get full journal access for 1 year
$199.00
only $3.90 per issue
All prices are NET prices.
VAT will be added later in the checkout.
Tax calculation will be finalised during checkout.
Buy article
Get time limited or full article access on ReadCube.
$32.00
All prices are NET prices.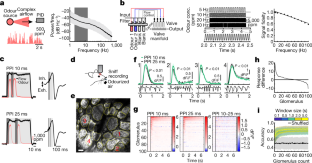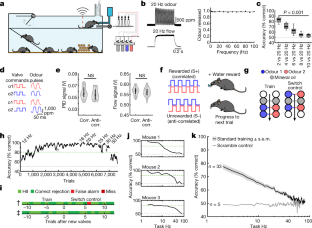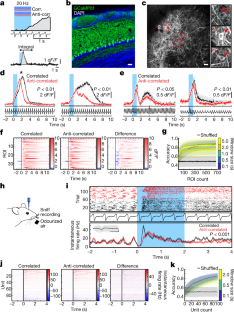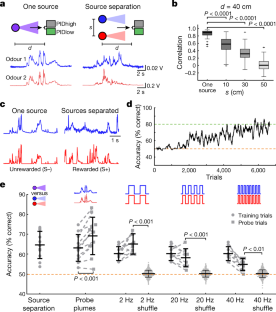 References
Fackrell, J. & Robins, A. Concentration fluctuations and fluxes in plumes from point sources in a turbulent boundary layer. J. Fluid Mech. 117, 1–26 (1982).

Mylne, K. R. & Mason, P. J. Concentration fluctuation measurements in a dispersing plume at a range of up to 1000 m. Q. J. R. Meteorol. Soc. 117, 177–206 (1991).

Schmuker, M., Bahr, V. & Huerta, R. Exploiting plume structure to decode gas source distance using metal-oxide gas sensors. Sens. Actuators B Chem. 235, 636–646 (2016).

Murlis, J., Elkington, J. S. & Carde, R. T. Odor plumes and how insects use them. Annu. Rev. Entomol. 37, 505–532 (1992).

Hopfield, J. J. Olfactory computation and object perception. Proc. Natl Acad. Sci. USA 88, 6462–6466 (1991).

Rokni, D., Hemmelder, V., Kapoor, V. & Murthy, V. N. An olfactory cocktail party: figure-ground segregation of odorants in rodents. Nat. Neurosci. 17, 1225–1232 (2014).

Vergassola, M., Villermaux, E. & Shraiman, B. I. 'Infotaxis' as a strategy for searching without gradients. Nature 445, 406–409 (2007).

Celani, A., Villermaux, E. & Vergassola, M. Odor landscapes in turbulent environments. Phys. Rev. X 4, 041015 (2014).

Crimaldi, J. P. & Koseff, J. R. High-resolution measurements of the spatial and temporal scalar structure of a turbulent plume. Exp. Fluids 31, 90–102 (2001).

Moore, P. A. & Atema, J. Spatial information in the three-dimensional fine structure of an aquatic odor plume. Biol. Bull. 181, 408–418 (1991).

Mafra-Neto, A. & Cardé, R. T. Fine-scale structure of pheromone plumes modulates upwind orientation of flying moths. Nature 369, 142–144 (1994).

Vickers, N. J. Mechanisms of animal navigation in odor plumes. Biol. Bull. 198, 203–212 (2000).

Riffell, J. A. et al. Flower discrimination by pollinators in a dynamic chemical environment. Science 344, 1515–1518 (2014).

Szyszka, P., Stierle, J. S., Biergans, S. & Galizia, C. G. The speed of smell: odor-object segregation within milliseconds. PLoS ONE 7, e36096 (2012).

Szyszka, P., Gerkin, R. C., Galizia, C. G. & Smith, B. H. High-speed odor transduction and pulse tracking by insect olfactory receptor neurons. Proc. Natl Acad. Sci. USA 111, 16925–16930 (2014).

Kepecs, A., Uchida, N. & Mainen, Z. F. The sniff as a unit of olfactory processing. Chem. Senses 31, 167–179 (2006).

Shusterman, R., Smear, M. C., Koulakov, A. A. & Rinberg, D. Precise olfactory responses tile the sniff cycle. Nat. Neurosci. 14, 1039–1044 (2011).

Cury, K. M. & Uchida, N. Robust odor coding via inhalation-coupled transient activity in the mammalian olfactory bulb. Neuron 68, 570–585 (2010).

Burton, S. D. Inhibitory circuits of the mammalian main olfactory bulb. J. Neurophysiol. 118, 2034–2051 (2017).

Duchamp-Viret, P., Chaput, M. A. & Duchamp, A. Odor response properties of rat olfactory receptor neurons. Science 284, 2171–2174 (1999).

Munger, S. D., Leinders-Zufall, T. & Zufall, F. Subsystem organization of the mammalian sense of smell. Annu. Rev. Physiol. 71, 115–140 (2009).

Bressel, O. C., Khan, M. & Mombaerts, P. Linear correlation between the number of olfactory sensory neurons expressing a given mouse odorant receptor gene and the total volume of the corresponding glomeruli in the olfactory bulb. J. Comp. Neurol. 524, 199–209 (2016).

Carr, C. E. & Amagai, S. Processing of temporal information in the brain. Adv. Psychol. 115, 27–52 (1996).

Erskine, A., Bus, T., Herb, J. T. & Schaefer, A. T. AutonoMouse: high throughput automated operant conditioning shows progressive behavioural impairment with graded olfactory bulb lesions. PLoS ONE 14, e0211571 (2019).

Brown, J. L. Visual sensitivity. Annu. Rev. Psychol. 24, 151–186 (1973).

Westheimer, G. & McKee, S. P. Perception of temporal order in adjacent visual stimuli. Vision Res. 17, 887–892 (1977).

Smear, M., Shusterman, R., O'Connor, R., Bozza, T. & Rinberg, D. Perception of sniff phase in mouse olfaction. Nature 479, 397–400 (2011).

Rebello, M. R. et al. Perception of odors linked to precise timing in the olfactory system. PLoS Biol. 12, e1002021 (2014).

Li, A., Gire, D. H., Bozza, T. & Restrepo, D. Precise detection of direct glomerular input duration by the olfactory bulb. J. Neurosci. 34, 16058–16064 (2014).

Geffen, M. N., Broome, B. M., Laurent, G. & Meister, M. Neural encoding of rapidly fluctuating odors. Neuron 61, 570–586 (2009).

Rajan, R., Clement, J. P. & Bhalla, U. S. Rats smell in stereo. Science 311, 666–670 (2006).

Catania, K. C. Stereo and serial sniffing guide navigation to an odour source in a mammal. Nat. Commun. 4, 1441 (2013).

Baker, T., Fadamiro, H. & Cosse, A. Moth uses fine tuning for odour resolution. Nature 393, 530 (1998).

Stierle, J. S., Galizia, C. G. & Szyszka, P. Millisecond stimulus onset-asynchrony enhances information about components in an odor mixture. J. Neurosci. 33, 6060–6069 (2013).

Abeles, M. Time is precious. Science 304, 523–524 (2004).

Padmanabhan, K. & Urban, N. N. Intrinsic biophysical diversity decorrelates neuronal firing while increasing information content. Nat. Neurosci. 13, 1276–1282 (2010).

Park, I. M., Bobkov, Y. V., Ache, B. W. & Príncipe, J. C. Intermittency coding in the primary olfactory system: a neural substrate for olfactory scene analysis. J. Neurosci. 34, 941–952 (2014).

Fukunaga, I., Herb, J. T., Kollo, M., Boyden, E. S. & Schaefer, A. T. Independent control of gamma and theta activity by distinct interneuron networks in the olfactory bulb. Nat. Neurosci. 17, 1208–1216 (2014).

Ishii, T., Hirota, J. & Mombaerts, P. Combinatorial coexpression of neural and immune multigene families in mouse vomeronasal sensory neurons. Curr. Biol. 13, 394–400 (2003).

Haddad, R. et al. Olfactory cortical neurons read out a relative time code in the olfactory bulb. Nat. Neurosci. 16, 949–957 (2013).

Madisen, L. et al. Transgenic mice for intersectional targeting of neural sensors and effectors with high specificity and performance. Neuron 85, 942–958 (2015).

Raiser, G., Galizia, C. G. & Szyszka, P. A high-bandwidth dual-channel olfactory stimulator for studying temporal sensitivity of olfactory processing. Chem. Senses 42, 141–151 (2017).

Abraham, N. M. et al. Maintaining accuracy at the expense of speed: stimulus similarity defines odor discrimination time in mice. Neuron 44, 865–876 (2004).

Wadhwa, N., Rubinstein, M., Durand, F. & Freeman, W. T. Phase-based video motion processing. ACM Trans. Graph. 32, 1–10 (2013).

Lopes, G. et al. Bonsai: an event-based framework for processing and controlling data streams. Front. Neuroinform. 9, 7 (2015).

Ghatpande, A. S. & Reisert, J. Olfactory receptor neuron responses coding for rapid odour sampling. J. Physiol. (Lond.) 589, 2261–2273 (2011).

Pachitariu, M. et al. Suite2p: beyond 10,000 neurons with standard two-photon microscopy. Preprint at https://doi.org/10.1101/061507 (2016).

Pachitariu, M., Steinmetz, N., Kadir, S., Carandini, M. & Harris, K. D. Kilosort: realtime spike-sorting for extracellular electrophysiology with hundreds of channels. bioRxiv 061481 (2016) doi:.

Jordan, R., Fukunaga, I., Kollo, M. & Schaefer, A. T. Active sampling state dynamically enhances olfactory bulb odor representation. Neuron 98, 1214–1228.e5 (2018).

Margrie, T. W., Brecht, M. & Sakmann, B. In vivo, low-resistance, whole-cell recordings from neurons in the anaesthetized and awake mammalian brain. Pflugers Arch. 444, 491–498 (2002).

Abraham, N. M. et al. Synaptic inhibition in the olfactory bulb accelerates odor discrimination in mice. Neuron 65, 399–411 (2010).
Acknowledgements
We thank the animal facilities at the National Institute for Medical Research and the Francis Crick Institute for animal care and technical assistance, the mechanical and electronic workshops in MPI Heidelberg (N. Neef, K. Schmidt, M. Lukat, R. Roedel, C. Kieser) and London (A. Ling, A. Hurst, M. Stopps) for support during development and construction, the Aurora Scientific team for suggestions for adapting the miniPID, T. Margrie for discussion, V. Murthy for discussions and suggestions on the OSN imaging experiments, and A. Fleischmann, K. Franks, F. Guillemot, M. Hausser, F. Iacaruso, R. Jordan, J. Kohl, T. Mrsic-Flogel, V. Pachnis, A. Silver, and P. Znamenskiy for comments on earlier versions of the manuscript. We thank the members of the Odor2Action NeuroNex network, in particular J. Victor, J. Crimaldi, B. Smith, M. Schmucker, and J. Verhagen for discussions. This work was supported by the Francis Crick Institute which receives its core funding from Cancer Research UK (FC001153), the UK Medical Research Council (FC001153), and the Wellcome Trust (FC001153); by the UK Medical Research Council (grant reference MC_UP_1202/5); a Wellcome Trust Investigator grant to A.T.S. (110174/Z/15/Z), a BIF doctoral fellowship to A.C.M., and a DFG postdoctoral fellowship to T.A.
Ethics declarations
Competing interests
The authors declare no competing interests.
Additional information
Peer review information Nature thanks Venkatesh Murthy and Diego Restrepo for their contribution to the peer review of this work. Peer reviewer reports are available.
Publisher's note Springer Nature remains neutral with regard to jurisdictional claims in published maps and institutional affiliations.
Extended data figures and tables
Supplementary information
About this article
Cite this article
Ackels, T., Erskine, A., Dasgupta, D. et al. Fast odour dynamics are encoded in the olfactory system and guide behaviour. Nature 593, 558–563 (2021). https://doi.org/10.1038/s41586-021-03514-2
Received:

Accepted:

Published:

Issue Date:

DOI: https://doi.org/10.1038/s41586-021-03514-2
This article is cited by
Carles Bosch
Tobias Ackels
Andreas T. Schaefer

Nature Communications (2022)

Stefano Panzeri
Monica Moroni
Christopher D. Harvey

Nature Reviews Neuroscience (2022)

John Crimaldi
Hong Lei
Jonathan D. Victor

Journal of Computational Neuroscience (2022)
Comments
By submitting a comment you agree to abide by our Terms and Community Guidelines. If you find something abusive or that does not comply with our terms or guidelines please flag it as inappropriate.