Abstract
Crohn's disease is a chronic inflammatory intestinal disease that is frequently accompanied by aberrant healing and stricturing complications. Crosstalk between activated myeloid and stromal cells is critical in the pathogenicity of Crohn's disease1,2, and increases in intravasating monocytes are correlated with a lack of response to anti-TNF treatment3. The risk alleles with the highest effect on Crohn's disease are loss-of-function mutations in NOD24,5, which increase the risk of stricturing6. However, the mechanisms that underlie pathogenicity driven by NOD2 mutations and the pathways that might rescue a lack of response to anti-TNF treatment remain largely uncharacterized. Here we use direct ex vivo analyses of patients who carry risk alleles of NOD2 to show that loss of NOD2 leads to dysregulated homeostasis of activated fibroblasts and macrophages. CD14+ peripheral blood mononuclear cells from carriers of NOD2 risk alleles produce cells that express high levels of collagen, and elevation of conserved signatures is observed in nod2-deficient zebrafish models of intestinal injury. The enrichment of STAT3 regulation and gp130 ligands in activated fibroblasts and macrophages suggested that gp130 blockade might rescue the activated program in NOD2-deficient cells. We show that post-treatment induction of the STAT3 pathway is correlated with a lack of response to anti-TNF treatment in patients, and demonstrate in vivo in zebrafish the amelioration of the activated myeloid–stromal niche using the specific gp130 inhibitor bazedoxifene. Our results provide insights into NOD2-driven fibrosis in Crohn's disease, and suggest that gp130 blockade may benefit some patients with Crohn's disease—potentially as a complement to anti-TNF therapy.
Relevant articles
Open Access articles citing this article.
Yalong Wang

,

Wanlu Song

…

Ye-Guang Chen

Cell Regeneration Open Access 01 September 2022

Jie Wu

,

Qinjie Liu

…

Jianan Ren

Cell Death & Disease Open Access 28 July 2022

Rodrigo A. Morales

,

Soraya Rabahi

…

Eduardo J. Villablanca

Mucosal Immunology Open Access 15 July 2022
Access options
Subscribe to Nature+
Get immediate online access to Nature and 55 other Nature journal
Subscribe to Journal
Get full journal access for 1 year
$199.00
only $3.90 per issue
All prices are NET prices.
VAT will be added later in the checkout.
Tax calculation will be finalised during checkout.
Buy article
Get time limited or full article access on ReadCube.
$32.00
All prices are NET prices.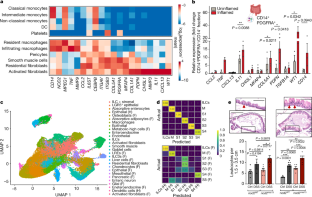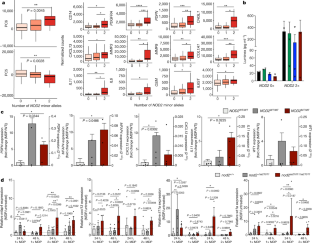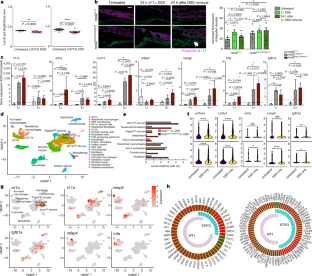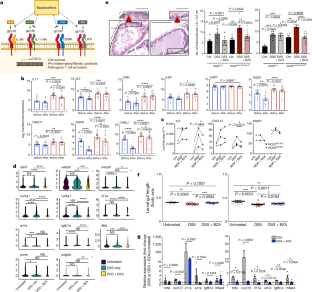 Data availability
All data and supporting findings of this study are available within the Article and its Supplementary Information. All scRNA-seq data for human ileal samples have been deposited in the Gene Expression Omnibus (GEO) repository with accession code GSE134809. All 10X Chromium zebrafish scRNA-seq data have been deposited in the GEO repository with accession code GSE150498. The previously published34 dataset can also be found in the GEO repository with accession code GSE16879. The ZFIN genomic databases can be found at https://zfin.atlassian.net/wiki/spaces/general/pages/1891412257/Genomic+Resources+for+Zebrafish. Source data are provided with this paper.
References
Kugathasan, S. et al. Prediction of complicated disease course for children newly diagnosed with Crohn's disease: a multicentre inception cohort study. Lancet 389, 1710–1718 (2017).

West, N. R. et al. Oncostatin M drives intestinal inflammation and predicts response to tumor necrosis factor-neutralizing therapy in patients with inflammatory bowel disease. Nat. Med. 23, 579–589 (2017).

Martin, J. C. et al. Single-cell analysis of Crohn's disease lesions identifies a pathogenic cellular module associated with resistance to anti-TNF therapy. Cell 178, 1493–1508.e20 (2019).

Ogura, Y. et al. A frameshift mutation in NOD2 associated with susceptibility to Crohn's disease. Nature 411, 603–606 (2001).

Hugot, J. P. et al. Association of NOD2 leucine-rich repeat variants with susceptibility to Crohn's disease. Nature 411, 599–603 (2001).

Lesage, S. et al. CARD15/NOD2 mutational analysis and genotype-phenotype correlation in 612 patients with inflammatory bowel disease. Am. J. Hum. Genet. 70, 845–857 (2002).

Zhou, X. et al. Circuit design features of a stable two-cell system. Cell 172, 744–757.e17 (2018).

Verstockt, B. & Cleynen, I. Genetic influences on the development of fibrosis in Crohn's disease. Front. Med. 3, 24 (2016).

Vermeire, S. et al. NOD2/CARD15 does not influence response to infliximab in Crohn's disease. Gastroenterology 123, 106–111 (2002).

Mascheretti, S. et al. Pharmacogenetic investigation of the TNF/TNF-receptor system in patients with chronic active Crohn's disease treated with infliximab. Pharmacogenomics J. 2, 127–136 (2002).

Brant, S. R. et al. Defining complex contributions of NOD2/CARD15 gene mutations, age at onset, and tobacco use on Crohn's disease phenotypes. Inflamm. Bowel Dis. 9, 281–289 (2003).

Bain, C. C. et al. Constant replenishment from circulating monocytes maintains the macrophage pool in the intestine of adult mice. Nat. Immunol. 15, 929–937 (2014).

Schafer, S. et al. IL-11 is a crucial determinant of cardiovascular fibrosis. Nature 552, 110–115 (2017).

Lim, W.-W. et al. Transgenic interleukin 11 expression causes cross-tissue fibro-inflammation and an inflammatory bowel phenotype in mice. PLoS ONE 15, e0227505 (2020).

Kim, H.-S. et al. Identification of novel Wilms' tumor suppressor gene target genes implicated in kidney development. J. Biol. Chem. 282, 16278–16287 (2007).

Tamplin, O. J. et al. Hematopoietic stem cell arrival triggers dynamic remodeling of the perivascular niche. Cell 160, 241–252 (2015).

Chuang, L.-S. et al. Zebrafish modeling of intestinal injury, bacterial exposures and medications defines epithelial in vivo responses relevant to human inflammatory bowel disease. Dis. Model. Mech. 12, dmm037432 (2019).

Kim, Y.-G. et al. The Nod2 sensor promotes intestinal pathogen eradication via the chemokine CCL2-dependent recruitment of inflammatory monocytes. Immunity 34, 769–780 (2011).

Reilkoff, R. A., Bucala, R. & Herzog, E. L. Fibrocytes: emerging effector cells in chronic inflammation. Nat. Rev. Immunol. 11, 427–435 (2011).

Sun, H. et al. Netrin-1 regulates fibrocyte accumulation in the decellularized fibrotic scleroderma lung microenvironment and in bleomycin induced pulmonary fibrosis. Arthritis Rheumatol. 68, 1251–1261 (2016).

García-de-Alba, C. et al. Expression of matrix metalloproteases by fibrocytes: possible role in migration and homing. Am. J. Respir. Crit. Care Med. 182, 1144–1152 (2010).

Girardin, S. E. et al. Nod2 is a general sensor of peptidoglycan through muramyl dipeptide (MDP) detection. J. Biol. Chem. 278, 8869–8872 (2003).

Orekhov, A. N. et al. Monocyte differentiation and macrophage polarization. Vessel Plus 3, 10 (2019).

Ma, G. et al. Nod2–Rip2 signaling contributes to intestinal injury induced by muramyl dipeptide via oligopeptide transporter in rats. Dig. Dis. Sci. 60, 3264–3270 (2015).

Strober, W., Kitani, A., Fuss, I., Asano, N. & Watanabe, T. The molecular basis of NOD2 susceptibility mutations in Crohn's disease. Mucosal Immunol. 1, S5–S9 (2008).

Liu, Y. et al. Circulating fibrocytes are involved in inflammation and leukocyte trafficking in neonates with necrotizing enterocolitis. Medicine (Baltimore) 96, e7400 (2017).

Ishida, M. et al. Muramyl dipeptide enhances lipopolysaccharide-induced osteoclast formation and bone resorption through increased RANKL expression in stromal cells. J. Immunol. Res. 2015, 132765 (2015).

Kettleborough, R. N. W. et al. A systematic genome-wide analysis of zebrafish protein-coding gene function. Nature 496, 494–497 (2013).

Chassaing, B., Aitken, J. D., Malleshappa, M. & Vijay-Kumar, M. Dextran sulfate sodium (DSS)-induced colitis in mice. Curr. Protoc. Immunol. 104, Unit 15.25 (2014).

Waldner, M. J. & Neurath, M. F. Master regulator of intestinal disease: IL-6 in chronic inflammation and cancer development. Semin. Immunol. 26, 75–79 (2014).

Thilakasiri, P. et al. Repurposing the selective estrogen receptor modulator bazedoxifene to suppress gastrointestinal cancer growth. EMBO Mol. Med. 11, e9539 (2019).

Wei, J. et al. Bazedoxifene as a novel GP130 inhibitor for colon cancer therapy. J. Exp. Clin. Cancer Res. CR 38, 63 (2019).

Wu, X., Cao, Y., Xiao, H., Li, C. & Lin, J. Bazedoxifene as a novel GP130 inhibitor for pancreatic cancer therapy. Mol. Cancer Ther. 15, 2609–2619 (2016).

Arijs, I. et al. Mucosal gene expression of antimicrobial peptides in inflammatory bowel disease before and after first infliximab treatment. PLoS ONE 4, e7984 (2009).

Yeo, S.-Y. et al. A positive feedback loop bi-stably activates fibroblasts. Nat. Commun. 9, 3016 (2018).

Chen, K. L. A., Zhao, Y. C., Hieronymi, K., Smith, B. P. & Madak-Erdogan, Z. Bazedoxifene and conjugated estrogen combination maintains metabolic homeostasis and benefits liver health. PLoS ONE 12, e0189911 (2017).

Sontake, V. et al. Wilms' tumor 1 drives fibroproliferation and myofibroblast transformation in severe fibrotic lung disease. JCI Insight 3, e121252 (2018).

Kinchen, J. et al. Structural remodeling of the human colonic mesenchyme in inflammatory bowel disease. Cell 175, 372–386.e17 (2018).

Buechler, M. B. et al. A stromal niche defined by expression of the transcription factor WT1 mediates programming and homeostasis of cavity-resident macrophages. Immunity 51, 119–130.e5 (2019).

Frei, R. et al. Early initiation of anti-TNF is associated with favourable long-term outcome in Crohn's disease: 10-year-follow-up data from the Swiss IBD cohort study. J. Crohn's Colitis 13, 1292–1301 (2019).

Danese, S. et al. Randomised trial and open-label extension study of an anti-interleukin-6 antibody in Crohn's disease (ANDANTE I and II). Gut 68, 40–48 (2019).

Sands, B. E. et al. Randomized, controlled trial of recombinant human interleukin-11 in patients with active Crohn's disease. Aliment. Pharmacol. Ther. 16, 399–406 (2002).

Viennois, E., Chen, F., Laroui, H., Baker, M. T. & Merlin, D. Dextran sodium sulfate inhibits the activities of both polymerase and reverse transcriptase: lithium chloride purification, a rapid and efficient technique to purify RNA. BMC Res. Notes 6, 360 (2013).

Zhang, X. et al. Luminally polarized mural and vascular remodeling in ileal strictures of Crohn's disease. Hum. Pathol. 79, 42–49 (2018).

Dehairs, J., Talebi, A., Cherifi, Y. & Swinnen, J. V. CRISP-ID: decoding CRISPR mediated indels by Sanger sequencing. Sci. Rep. 6, 28973 (2016).

Haberman, Y. et al. Pediatric Crohn's disease patients exhibit specific ileal transcriptome and microbiome signature. J. Clin. Invest. 124, 3617–3633 (2014).

Gettler, L. et al. Prioritizing Crohn's disease genes by integrating association signals with gene expression implicates monocyte subsets. Genes Immun. 20, 577–588 (2019).

Love, M. I. et al. Moderated estimation of fold change and dispersion for RNA-seq data with DESeq2. Genome Biol. 15, 550 (2014).
Acknowledgements
We thank S. Grossman of the Dr Sanford J. Grossman Center for Integrative Studies in IBD, which is supported by the generosity of The Sanford J. Grossman Charitable Trust; the ISMMS Department of Pathology for providing human tissue samples; D. Derose, K. Svoboda, C. Chasteau and U. Korie for sample collection and coordination; A. Saha and H. Wen for recall of healthy volunteers with NOD2 mutations via the ISMMS BioMe Biobank; F. Avila and M. Garcia-Barros from the Biorepository and Pathology core for assistance with staining human ileal strictures; N. Hsu and N. Villaverde (members of the laboratory of J.H.C.) for discussions; and F. Marlow and B. Rosenberg for discussions relating to zebrafish and single-cell experiments. This work was also supported by National Institutes of Health (NIH) grants R01 DK106593, R01 DK123758-01 and U01 DK062422 to J.H.C.
Ethics declarations
Competing interests
S.N. and J.H.C., through the Icahn School of Medicine at Mount Sinai, have filed a provisional US patent application (no. 63/130,035) on repurposing BZA for clinical use in a subset of patients with Crohn's disease. All other authors declare no competing interests.
Additional information
Peer review information Nature thanks Alison Simmons and the other, anonymous, reviewer(s) for their contribution to the peer review of this work. Peer reviewer reports are available.
Publisher's note Springer Nature remains neutral with regard to jurisdictional claims in published maps and institutional affiliations.
Extended data figures and tables
Supplementary information
About this article
Cite this article
Nayar, S., Morrison, J.K., Giri, M. et al. A myeloid–stromal niche and gp130 rescue in NOD2-driven Crohn's disease. Nature 593, 275–281 (2021). https://doi.org/10.1038/s41586-021-03484-5
Received:

Accepted:

Published:

Issue Date:

DOI: https://doi.org/10.1038/s41586-021-03484-5
Comments
By submitting a comment you agree to abide by our Terms and Community Guidelines. If you find something abusive or that does not comply with our terms or guidelines please flag it as inappropriate.